By

After a five-day wait, the United States Congress has found Chuck Knoblauch. In fact, Congress has withdrawn their subpoena because Chuck said he'll voluntarily speak the nation's elected representatives. Phew. · (1) ·
Short and sweet because everyone knows where we stand on this topic. Let's play connect the dots:
So it seems that this saga will play itself out in the next 10 days. Somehow, I don't think the Yanks are quite yet as out of it as we thought. Surprise.
By

Life in the AL East just got a little easier. The O's shipped the best pitcher in the division to Seattle for a package centered around uber-prospect Adam Jones. No word yet on the other pieces headed to Baltimore, but previous rumors suggest it could a few prospects like Chris Tillman (probably), Carlos Triunfel and Jeff Clement (both doubtful), and/or reliever George Sherrill (likely). I dunno about you, but Bedard-Felix in a short series scares me more than Beckett-DiceK or Sabathia-Fausto.

(hat tip to MLBTR) · (17) ·
I really don't like this story, and I really want it to go away. I knew this would come out soon enough, but it didn't have to. The sad tale of Bernie Williams' last year on the Yankees continues.
Bernie was always a favorite of mine. He was a solid presence on the team and was emblematic of the great Yankee teams in the late 1990s. But he never knew when to quit. After a poor 2005, we all figured Bernie would come back to the Yankees for a farewell tour in 2006. He never saw that season as anything other than just another year, and when Brian Cashman didn't offer him up a contract for 2007, it seemed that the relationship between number 51 and the Yankees grew a little sour.
Now we didn't know that it grew a little sour. Or at least we didn't know until this weekend when Brian Cashman got to talking about it. In discussing baseball with Theo Epstein on Friday, Cashman started opining on Bernie:
Cashman took a few jabs at Bernie Williams, the popular Yankee whose exit from the team was not on friendly terms. Cashman said that Williams was terrible in 2005, but that he brought Williams back as a farewell in 2006. After Williams had a solid year, he wanted to return for 2007. But Cashman did not sign Williams. Cashman said that Williams's music career "took away from his play." Interestingly, Cashman said that Joe Torre, who was then the manager, looked for ways to play Williams in 2006 "ahead of guys who could help us win," so Cashman did not want that to happen in 2007.
We saw this conflict emerge between Cashman and Torre in 2007, and when Torre wasn't welcomed back for 2008, more than a few thoughts of inevitability ran through my head. The Yankees weren't going to have Torre back unless he brought that a World Championship no matter what. Cashman had to take Scott Proctor away from Torre; he had to take Miguel Cairo away from Torre. And when the GM starts taking players away from a seemingly stubborn manager, the future does not look good. It's just too bad that Bernie had to be dragged into this mess.
Meanwhile, Peter Abraham picked up the phone and called Bernie Williams who wasn't too thrilled with Cashman's comments. "I don't think he has any basis to say anything like that," Bernie said to Abraham about Cashman's comments. "Let me put it this way: Questioning a person's commitment to the team is a very serious accusation, at least in my book."
I don't blame Bernie was being upset with Cashman, but at the same time, I don't blame Cashman for not offering Bernie a guaranteed Major League contract for the 2007 season. I just wish this spat hadn't become so public. I wish Bernie hadn't been so stubborn. We all hate seeing our favorite players taken down a notch, and that's what's happening here.
By

As of Friday afternoon, federal marshals still hadn't been able to serve Chuck Knoblauch his subpoena. Knoblauch is due to testify in front of Congress on Tuesday and was originally subpoenaed this Tuesday. For what it's worth, Chuck's mom thinks that he'll show up on Tuesday. I still can't quite figure out why Chuck Knoblauch, of all the people named in the report, is getting picked on by our elected officials. · (0) ·
It's getting to be that time of year again, the time when we can start looking at some prospects for June's first-year player draft. It's obvious now that the Yanks' draft strategy in the early rounds is to take whatever top talent has fallen because of signability/injury concerns/etc., so I've decided to kick off this year's draft coverage by looking at the best players available, since there's always a chance they could fall.
The draft order is basically set (there are only five free agents left unsigned that will bring back compensation), and the Rays have earned the dubious distinction of becoming the first team in the history of man to have back-to-back first overall picks. It's almost unfair considering how ridiculously stacked their farm system is, but what can you do. The remainder of the top 5 picks belong to the usual suspects – the Pirates, Royals, Orioles and Giants.
By

To follow up on what is quickly turning out to be one of the stranger stories of the Winter of Our Steroidal Discontent, Duff Wilson of The Times reports that, as of Thursday afternoon, Chuck Knoblauch had still not been found. Therefore, he has not yet been served his subpoena. To call this weird would be an understatement. · (12) ·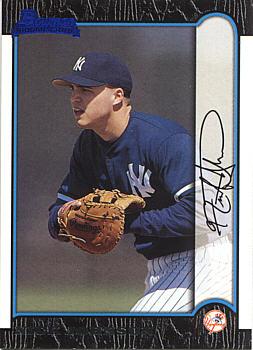 On Thursday afternoon, Joe sat in for a few hours at MLB Trade Rumors. On one of his posts, he pointed the way to this Washington Post piece about Nick Johnson's 16-month rehab for a horrible broken leg. Joe then told us how this is a rumor:
He'll be competing with Dmitri Young for the starting first base gig. Both are signed through 2009, with roughly the same salaries. But there isn't room for both of them on the Nats roster. Each has his pitfalls, making a trade difficult.

So what do you do if you're Jim Bowden? Johnson is the team's second highest-paid player, and Young is just a tick behind. Do you really let one of your top five highest paid players languish on the bench?
At around the same time, Mike, Joe and I all came up with answer to that question. What do you do if you're Jim Bowden? Why, trade Nick Johnson to the Yankees of course. The Yanks are an organization not afraid of paying a full salary and in need of a first-baseman.
After leaving New York, Johnson continued to do what he has always done: get on base and get injured. In 2006, before his collision with Austin Kearns, he seemed to be breaking out. Injury-free, he had 23 home runs in the über-pitching paradise of RFK Stadium and was hitting .290/.428/.520. That's a drool-worthy .948 OPS out of the first base position. The Yanks haven't seen that since Jason Giambi's 2006 campaign, and even then, he DH'd for much of that year.
The keys here of course are convincing the Nationals that they want to give up the younger Nick Johnson instead of the older Dmitri Young, settling on the other pieces of the trade and seeing that Nick Johnson is healthy. But, hey, we can dream, right?