By

From the Times:

"People keep saying, 'Do we really have a No. 1?'" Steinbrenner said. "I'm telling you, we're going to have three No. 1's three years from now, and we may have two or three great closer prospects, too."

Amen brother. · (12) ·
For all the talk that the Red Sox are so much better than the Yankees that we've seen around other parts of the Internet lately, a few writers are admitting what we know: The Yankees, who finished 2 games back of the Red Sox, are still very good. John Beamer, a Braves fan writing at The Hardball Times, takes an unbiased, statistical look at the Yankees (with Johan Santana) and sees a team that is very, very capable of winning 95 games. Without Santana the Yanks are probably hovering right around 90 wins.
The Yanks finished just two games back of Boston after a very poor start last year and were, by most accounts, the better team except for four days in October. I like the sound of what Beamer's selling.
From ESPN.com's MLB homepage at approximately 12:30 a.m. on Thursday morning: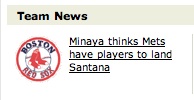 What does Omar Minaya's discussion about the Mets prospects have to do with the Red Sox? I know the Sox are interested in Santana, but please, ESPN, make a show of talking about some other team now and then.
By

Chad Jennings at the excellent SWB Yankees blog has a great piece on Gary Ruby. Ruby is the former pitching coordinator for the Pirates and went through the system with new Yankees reliever Jonathan Albaladejo. Ruby, Yankee fans will be relieved to find out, speaks highly of his former charge. · (3) ·
By

Jon Heyman reports that more teams are in the Santana mix. Considering that Johan is not yet a member of the Red Sox and the Twins don't have to pull the trigger now, this whole saga is far from over. I wonder if the Yanks are actually out of this whole thing. · (30) ·
By

ESPN The Magazine's Future of Sports issue features our very own Joba Chamberlain as the NEXT athlete, but we already knew that. RAB favorite Buster Olney wrote the profile. Not only is Joba a good fit for the Yanks, but he likes to send a lot of text messages. · (20) ·
When Curt Schilling signed his recent one-year deal for 2008, one clause in particular garnered some attention. The Red Sox have to pay Schilling $1 million if he earns so much as one third-place Cy Young vote. With the cozy relationship between writers and players these days, more than a few writers were dismayed by this contract provision.
So today, in an effort to restore some semblance of objectivity in awards voting, the Baseball Writers Associate of America announced today that, starting in 2013, players with incentive clauses will be automatically disqualified from award voting. This ban covers regular season awards only and will not affect a player's Hall of Fame chances.
"When we first started giving out these awards it was just to honor somebody. You got a trophy, there was no monetary reward that went with it," BBWAA Secretary-Treasurer Jack O'Connell said to the Associated Press. "I honestly don't think people vote with that in mind. But the attachment of a bonus to these awards creates a perception that we're trying to make these guys rich."
O'Connell specifically targeted Curt Schilling's response to his incentive clause as one of the driving forces behind this ban. The Red Sox's pitched made an off-hand comment about a kickback for a potential voter, and the red flags went up immediately. "The Schilling thing is disturbing because he doesn't even have to win," O'Connell said. "That's something that none of us finds very funny."
The rule won't go into effect until 2013 so that players, agents and teams can adapt to it. Personally, I find that to be a rather flimsy excuse. While few players are under contract for 2013, why can't the BBWAA just grandfather in the rule for next season? Anyone with incentive clauses in pre-existing contracts can still enjoy those benefits, but anyone negotiated a contract following the conclusion of the 2008 season is automatically ineligible. I can't imagine it will take all that long to get used to this new rule.
Meanwhile, this is a clear-cut victory for those of us who have grown wary of the give-and-take between sportswriters and their subjects. I can't imagine that the Players' Association is too thrilled with this one, but as far as I can tell, they have no remedies.
By

Look, you can chastise Cashman all you want. But understand that the Hughes-Melky-Marquez-Hilligoss rumor didn't necessarily happen. So many rumors have flown about at the Meetings, and many of them are completely bogus. I'd file this in that category.

In any event, even if the offer was made and was rejected, I understand why. Phil Hughes is still in it. He's one of the Big Three. Our mission is to Save the Big Three. Ergo, we don't want to see Hughes go in a deal for Santana. Dispute us on that point if you will. But please don't believe Bill Madden solely because he has a press pass. Because along with that pass comes an agenda. · (20) ·
That question – Did Yanks GM Brian Cashman ax what would have been a done deal? – is what Bill Madden ponders in The Daily News today. The answer could come back to haunt the Yankees or it could open up the door to a new era of sense and sensibility in Yankeeland.
According to Madden, the Yanks walked away from a 4-for-1 deal that would have netted them Santana: Phil Hughes, Melky Cabrera, Jeff Marquez and Mitch Hilligoss to the Twins for the lefty. But it wasn't the talent on which the Yanks were overly concerned. While Cashman was loathe to trade Hughes, the GM was more concerned with the money.
The Yankees concerned with money? What's this world coming to? Well, here's Madden's take:
Once Andy Pettitte announced he was returning to the fold for $16 million, it meant the Yankees had committed $408.4 million this winter to retain six players. The acquisition of Santana would have meant tacking on another $125 million to that figure, and Cashman, who never wanted to do the Santana deal in the first place, blanched at the prospect of adding another $20 million to a payroll that was already on the cusp of $200 million, again. In this respect, the timing of Pettitte's decision to return – while initially seen as giving the Yankees additional leverage in their dealings with the Twins on Santana – actually gave Cashman the "out" he needed…

Bad as it was to be sacrificing Hughes, Cashman told the Yankee high command, look at what the payroll was going to be now if they added $20 million-$21 million for Santana on top of the $16 million they just tacked on with Pettitte…In the end, Cashman prevailed, convincing Hank and Hal Steinbrenner of something he could never have done with their dad – that trading for Johan Santana was simply too expensive for the New York Yankees.
Madden notes that many of the Yanks' bad contracts – Pavano, Giambi – are responsible for the currently inflated Yankee payroll. One season of an expensive Santana before those two albatrosses fly away wouldn't have been the worst thing to happen to the Yanks.
But Brian Cashman has spent the last few years developing the Yankee farm system; he wasn't quite yet ready to give it away. Cashman, whose contract expires this year, is clearly staking his future on this non-trade. If Hughes, Chamberlain and Kennedy develop, if Melky remains a viable option in center field, if the Yankees make the playoffs and win, he'll look smart. Otherwise, he and all other Yankee fans will look back at this deal – a deal that the Yanks, as Tim Marchman so succinctly put it yesterday, probably should have made – and wonder what could have been.
We've gotten tons and tons of comments and email about this whole Johan Santana situation. Some were for the deal and some weren't, but the sheer volume of input from you guys (which we love getting and truly appreciate, by the way) makes it difficult to get a sense of how Yankee Universe really feels about this mess. So take a second and vote in the poll below, and as always, feel free to add your two cents in the comments.
How do you feel about the Johan Santana near deal?