In what is turning into a soap opera to rival Gossip Girls, John Harper checked in with Scott Boras and A-Rod last week. The two, he writes, are still in a fight, and Scott Boras isn't too happy about it.
Harper notes that many in the New York media believed the whole opt-out/opt-in saga was orchestrated by Boras and A-Rod for some reason, but in reality, it seems that Boras really did make a mistake. While he's still rolling in money enjoying his commission, Boras doesn't like being on the outside of A-Rod's life looking in. Harper writes:
Baseball insiders insist the hard feelings on A-Rod's part toward Boras are genuine, that in taking over the negotiations himself he accused his agent of betrayal by misleading him about the level of interest from the Yankees. Likewise, they say that Boras is reeling from the ego blow A-Rod dealt him by telling the world on "60 Minutes" he's not even speaking to his agent these days.

"Yeah, (Boras) made his commission," a prominent agent said this week, "but, come on, do you know how much money he has? With Boras it's all about being king of the jungle, the most powerful agent and the toughest negotiator in the game.

"He loves being the guy that everyone in baseball fears. He wouldn't for a minute concoct a plan that would diminish his reputation. His image as a god to the players is too important to him. A-Rod might not be the most popular guy in the game, but don't think he didn't do some serious damage to Boras' image. He basically called the guy a lying weasel on national TV. Nobody in the business is shedding any tears for Boras, believe me, but he took a serious hit."
It's no secret that Scott Boras wants to shape the economics of baseball in his own image. The rich would dole out more money and get all the good players while the have-nots linger in baseball purgatory — now known as Kansas City and Pittsburgh. This A-Rod debacle won't be the end of Boras, and it's doubtful that another agent will step up and fill the shoes seemingly left empty by Boras' failures. But for now, Scott Boras is licking his wounds and trying to recover from a very rare and very high-profile misstep.
By

Via MLB Trade Rumors comes the news that the Yankees have their eyes — and checkbook — on 21-year-old Iranian-Japanese pitcher Yu Darvish. Darvis, according to East Windup Chronicle, is already one of the most dominant pitchers in the NPB and could command upwards of $12 million a year from a Major League team. Darvish will pitch for Japan at the 2008 Olympics — the last featuring baseball as an Olympic Sport — and the Nippon Ham Fighters could post him following the 2008 season. While the reports of the Yankees' interest seem rather speculative, Darvish would be an intriguing pickup to say the least. · (20) ·
Let's continue debating points made by other people today. After Joe's excellent rebuttal of a Warren Goldstein piece on baseball history, I want to look at something more current and something near and dear to our hearts: Johan Santana.
Up in Minnesota, where it storm in the winter, David Zingler thinks that other teams are trying to lowball the Twins (hat tip to Baseball Musings). He writes:
The Big Market Teams (BMT) are low-balling the Twins with offers that won't include another star player (like Jose Reyes or Robinson Cano) or two-top shelf prospects (like Jacoby Ellsbury and Jon Lester). This is a travesty.
Now, we can debit the merits of trading Robinson Cano as much as we'd like. In fact, some of you have beaten this one into ground. But the fact is that no one is lowballing the Twins.
As we've said over and over again, the Twins are, in effect, trading away one year of Johan Santana — his final before his potentially hits free agency — and the exclusive negotiating rights to a contract extension. The Twins, when they give up Santana, will lose just one year of his services, and nothing more. So that's how the Yankees, Red Sox and Mets are viewing this trade.
What would you give up for one year of Johan Santana? From the Yankees' perspective, it doesn't make much sense to give up multiple years of multiple cost-controlled younger players in this deal. So in the end, it's not really a lowball offer as much as it is a market correction. Had the Twins signed Santana to a low contract extension and they tried to trade him right away, the discussion would be different. But the reality is that the Twins are losing just one year of Santana if they trade him now, and that's all that other teams are considering in putting together trade proposals.
Meanwhile, if the reports are accurate. The Yankees were willing to hand over a rather substantial package of prospects at one point. I don't think any deal centered around Phil Hughes and involving other players is a low-ball offer, but that just might be my Yankee bias speaking.
Caught this post on the Huffington Post this morning, written by historian and basbeall fan Warren Goldstein. He's been writing a lot about steroids and the Mitchell Report lately, and today talks about — well, I'm not sure what he's talking about. I can't tell if the inclusion of many Yankees and few Red Sox means poetic justice to Goldstein, but that was my first thought.
Anyway, he blames the Yankees for a lot of things:
During that time it's been New York, and the Yankees, who've led the U.S. economic powerhouse, and built the most successful and lucrative franchise in the history of American sports. Whose screw-up opened the door to free agency? Who built the most gigantic payroll in the game, all the while complaining about "high-priced free agents"? And which sports town trains the most scrutiny on its teams, from all kinds of media? In which city do athletes most worry about the "pressure" of the hometown media and fans? In which city team is winning a pennant and losing the World Series considered a deep failure? And on which team do we have the most evidence of widespread steroid use–and I love this, given the economic parallels–and distribution?
Yeah, well, you're going to have more evidence when the only two people to testify for the report were in New York. Had they nabbed a Boston trainer, you can be sure more Red Sox would have been on this list. But for a Yankee hater, that's neither here nor there. Someone implicated some Yankees, and that's good enough for them.
Notice the line I bolded, though. Uh, how did a Yankees screw-up lead to free agency? Anyone with a knowledge of baseball history knows that Dave McNally and Andy Messersmith opened the door to free agency when they didn't sign their contracts for the 1975 season. An arbiter ruled that because they hadn't signed contracts, they were not subject to the reserve clause, and thus granted free agency. McNally moved from Baltimore to Montreal, and Messersmith went from Los Angeles to Atlanta. Notice that the Yankees aren't involved here.
Perhaps he's referring to Catfish Hunter, whose incident occurred a year prior to McNally and Messersmith. The story is that A's owner Charles Finley didn't make an insurance payment on time, and Catfish had his contract voided. He then signed with the Yankees. So it was Finley's screw-up there. The Yankees just took advantage of the situation.
Going back even further, we can tie the destruction of the reserve clause to Curt Flood's Supreme Court case, which he ultimately lost. Thing is, Flood never played for the Yankees.
You'd think a historian would know all this, though…
Justin Snyder | UTIL
Background
Snyder was born and raised in Lakeside, CA, a relatively small suburb north of San Diego. He attended El Capitan High School, where he starred as a three sport athlete. He lettered in baseball, football and soccer, and helped turn a mediocre baseball program into a Southern California powerhouse alongside future college teammates Jordan Abruzzo and Dustin Church. Snyder batted .407, was named First Team All-State, and helped the Vaqueros win their first California Interscholastic Federation Championship his junior season. He followed that up by hitting .470 as a senior, bringing El Capitan it's second consecutive CIF Championship title. He again received All-State honors, but added All-American honors as well. Snyder went undrafted in 2004, and chose to attend The University of San Diego over San Diego State because of academics, even though Tony Gwynn's alma mater recruited him more heavily.
By

Baseball news has slowed to a crawl these days, but you my have heard a little something about a football game being played tonight. I'm a Jets fan by trade, but I'm waiving my allegiance tonight so I can cheer on the G-Men as they attempt to foil the Patriots' run at perfection. I can't stand that no-talent ass clown known as Tom Brady, and in general I just hate all Boston area sports teams. The game is being broadcast simultaneously on CBS, NBC, MY9 and the NFL Network; discuss it here if you wish.

Go Giants! (Don't fuck it up, Eli.) · (43) ·
On Friday, I dropped in a short post about the current exhibit on New York baseball history at the Museum of the City of New York. The exhibit runs through Monday, and if you're looking for something to do over the next few days, I strongly recommend it.
But for those of you in not in the New York area or with no free time this weekend, worry not: I snapped a whole bunch of pictures at the exhibit of some of what I thought to be the more interesting sights. At left is a photo from the 1950s of a group of kids posed outside of Yankee Stadium. It's a great shot of the exterior of the stadium before the renovations in the 1970s robbed the Stadium of that history. The new stadium — I'll post photos of that next week — restores an entryway reminiscent of the original Yankee Stadium.
But what else can you see at the exhibit? Take a look. All links open the images in new windows:
If you can make it up to 103rd and Fifth for an hour or two tomorrow or Monday, check it out. The Glory Days of New York Baseball will be gone soon.
By

Tim from MLBTR found a report saying that the Yanks forked over a 2-yr, $2M deal to the now 38-yr old, Mitchell Report named ex-slugger. Juan Gone may have made the biggest blunder in the history of the universe when he rejected the Tigers' 8-yr, $140M contract offer in 2001, a deal that would still have 2 years remaining. I don't believe the report for a second – the Yanks have zero use for another DH, let alone a DH that hasn't seen a Major League pitch in over 2 years. Chalk this one up to a slow news time.

Update: Nevermind, turns out December 28th is "el Día de los Santos Inocentes" in Puerto Rico, or "The Day of Holy Innocents." It's their April Fools Day. Oh those clever Puerto Ricans. · (12) ·
By

PeteAbe has a humorous little post up predicting how the Yanks' 2008 season will play out. My favorite part "Nov. 15: Hughes named Cy Young winner. 'I owe it all to the faith an insomniac blogger had in me,' he says." Phil, you have no idea… · (3) ·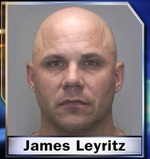 Jim Leyritz was reportedly arrested on suspicion of DUI and vehicular homicide early Friday morning. Miami's Local 10 has more:
Police said Jim Leyritz was behind the wheel of a Ford SUV that collided with another vehicle at the intersection of Southwest Seventh Avenue and Second Street in the Himmarshee area of downtown Fort Lauderdale.

The impact caused the other car to roll over and the female driver of that vehicle was ejected and she died after being taken to Broward General Medical Center, police said.
Leyritz, a fan favorite when he played in the Bronx, currently works for MLB.com. Things do not look good for the King right now.