I think the best way to recap this game is chronologically, so let's do that…

Phil's Best Start Of The Season (Sadly)
After getting completely shellacked in first two outings, Phil Hughes was … um … better on Thursday. Better in the sense that getting punched in  side of the head is better than getting hit in the face with a sledgehammer. He came out of gate throwing harder than he had in his first two starts, but … well just look …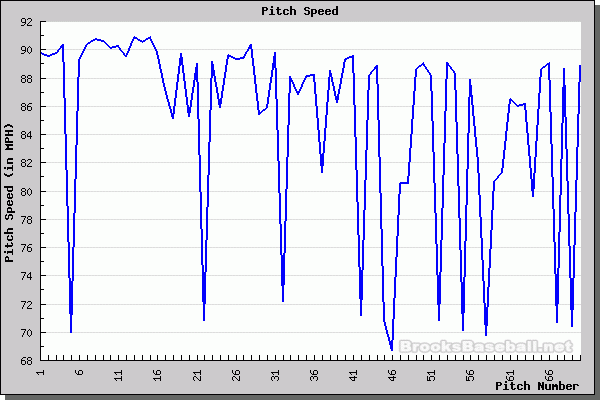 The 90+ mph fastballs lasted about one inning. And it's not just the velocity either; Phil's control is just awful, he's leaving everything right out over the plate and is paying for it. The end result was five runs on seven hits in four-and-a-third innings, but that doesn't count the two great catches made by Curtis Granderson and Nick Swisher on balls hit right to the wall. Sadly, that was his best start of the season. I don't know what the Yankees are going to do from here, but leaving Hughes is the rotation is as close to a non-option as it gets right now. He's just not right.
The Unsung Heroes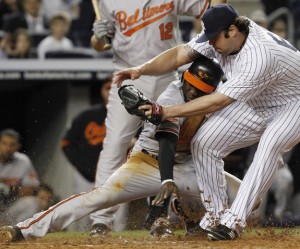 By the time Joe Girardi took the ball from Hughes, the Yankees were already down five-zip and things looked pretty bleak. Jake Arrieta, who seems to have New York's' number for whatever reason, was putting up zero after zero, and five runs is a lot for any team to rally back from. Bartolo Colon waddled out to the mound in relief of Hughes and starting throwing grenades, as has been his forte this year. He fired three shutout innings, recording seven of his nine outs on the ground or via strike three.
Colon's teammates managed to push across four runs across in the meantime, making it a game. Alex Rodriguez and Robinson Cano created the first run with a pair of back-to-back doubles in the fifth, then Mark Teixeira and A-Rod teamed up for a run-scoring single and sac fly in the sixth. Russell Martin plated the fourth run with an RBI ground out in the seventh. Joba Chamberlain took the ball from Colon with men on the corners and one out in the eighth, then almost immediately uncorked a wild pitch to the backstop. Martin relayed the ball to Joba at the plate, who applied the tag to Felix Pie for the second out. Watching it live, it looked like Pie was clearly safe, but replay showed otherwise. Joba practically stepped on the guy and blocked the plate. Great play, great call. The inning came to an end after Mark Reynolds looked at strike three, a 96 mph piece of cheese down-and-away.
After the early deficit, Colon and Joba stepped up and did exactly what they were asked to do: keep the Orioles right where they were and let the Yankees claw their way back into it. Mock them for their food loving ways if you must, but those two deserve a round of applause for their work in this game.
The Ninth Inning
It's been an all or nothing kind of year for Jorge Posada. He came into the game with just six hits, but four of them were homers. His first three at-bats on Thursday resulted in every kind of out imaginable: first a ground out, then a fly out, then a strikeout. Leading off the ninth inning with his team down by one, Jorge jumped all over Kevin Gregg's first pitch of the night, hitting it out to right-center field for his seventh hit and fifth homer of 2011. Just like that, Hughes was off the hook and the comeback was complete. Unfortunately, the rest of the inning was full of dumb.
Granderson followed Posada's homer with a double off the wall, his second of the game, putting the winning run in scoring position with no outs. This is when things got wacky. Martin squared around for a sacrifice bunt, but he ended up spotting Gregg two strikes before striking out. Whether he was told to bunt or did it on his own, we don't know, but good grief. He's one of the team's hottest hitters and you've already got a fast runner in scoring position. Swing the damn bat. After that, both Eric Chavez and Andruw Jones sat on the bench while Brett Gardner struck out for the third time in the game, the second out of the inning. Derek Jeter graciously grounded out to short on the first pitch to end the inning and kill the rally. The bunt attempt was bad enough, but not pinch-hitting for Gardner is pretty inexcusable in my book. The Yankees have a quality bench now, use it Joe.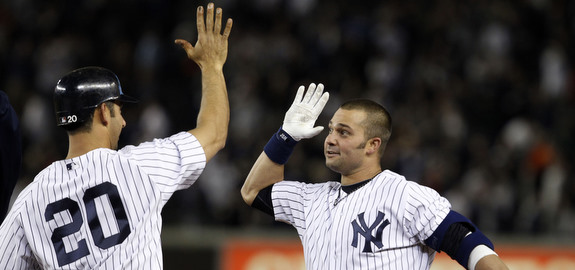 Nick Swisher, Rally Killer
One of the many struggling Yankees coming into this game was Swisher, who was just two for his last 17 when Hughes threw out the first pitch. He flew out to end the second inning, then grounded out to short for the first out in the fourth inning with Cano on second. Thirty or so feet to the right, and it would have at least been a productive out, but instead they got nothing. Swish led off the seventh with a walk, eventually coming around to score on Martin's ground out. An inning later he was at the plate with the tying and go-ahead runs on second and first with two outs, but he ended the inning and the rally with a ground out.
A 2-for-20 stretch is ugly, but Swisher had a shot to redeem himself in the tenth. Tex led the frame off with a walk, and a few pitches later he was standing on third after an A-Rod double down the left field line. Cano lined out to short, but Swisher's margin for error was still pretty big. All he had to do was not strike out and not hit the ball on the infield. Mike Gonzalez started him off with a slider down and out of the zone, but the second slider hung up a little. Swish whacked it out to Nick Markakis is right, bringing Teixeira home for the game-winning run on a walk-off sac fly. An off-line throw certainly helped. There are two ways to end a rally, and Nick experienced both ends of the spectrum tonight.
Leftovers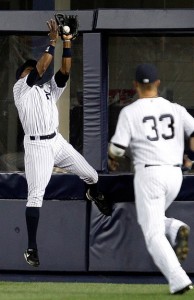 Seriously, how locked in is A-Rod right now? He went 3-for-3 with a pair of doubles and a walk tonight, putting his season batting line at .412/.512/.882. He was already leading baseball in wOBA (.531) when the game began, and that only went up thanks to this game. Not bad, not bad at all.
Just to close the book on the bullpen: Colon, Joba, and Mariano Rivera combined for 5.2 scoreless innings, allowing four hits and a walk while striking out five and getting the same number of ground balls. And the cool part is that if the game continued on, Girardi still had Rafael Soriano and David Robertson at his disposal.
I don't know about you, but my patience with Gardner is wearing mighty thin. He went hitless in five at-bats tonight, striking out three times. He's getting on base in just 22.7% of his plate appearances, which simply isn't good enough for a leadoff guy. I'm not saying he shouldn't lead off or anything like that, but holy crap is he frustrating right now. Hopefully Girardi gives him and not Granderson the day off against the lefty starter on Friday.
Small thing I noticed: Martin keeps his bare hand out in front of his body when he's catching. Dude, you gotta hide that thing behind the leg! A foul tip could do some serious damage to those digits, and that's the last thing the Yankees need.
The Yanks had been alternating wins and losses for almost two weeks now, but thankfully that's over. The last (and only other) time they won consecutive games this year were games one and two against the Tigers. It's way too early to be scoreboard watching and what not, but I might as well mention that the Yankees are now in sole possession of first place in the AL East, one game better than the O's.
WPA Graph & Box Score
Now that is a WPA graph my friends; at one point the Orioles had a 91.4% chance of winning. The biggest hit of the game was (by far) Posada's ninth inning homer at +.404 WPA. A-Rod's tenth inning double was second at +.204, Swish's sac fly was fourth at +.146. The biggest out(s) would be the double play Mariano Rivera coaxed out of Derrek Lee in the tenth (+.198). MLB.com has the box score and video highlights, FanGraphs everything else.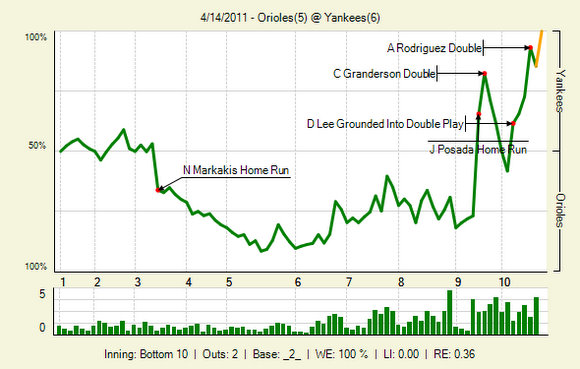 Up Next
Revenge for the ALCS (or something like that)! The Texas Rangers come to town Friday night for the three-game weekend series. Ivan Nova gets the ball against Matt Harrison and his scorching hot start. Interested in going to the series opener? Check out RAB Tickets.