By

Yeah, it would have been strange to see Donnie Baseball in Dodger blue. But I think I speak for the Mattingly fanatics when I say we wished him the best. Then we heard of his divorce filing, which was going to take him away from his hitting coach position and put him in a special assignment role. Well, it seems things are pretty bad for the Mattinglys. Kim Mattingly was arrested over the weekend
Later, police were called back to the scene, where they found Kim trying to leave as the passenger in a car. Police then arrested her. It's sad to see things turn out like this for Donnie and his wife. We wish him the best as he deals with his current situation. · (11) ·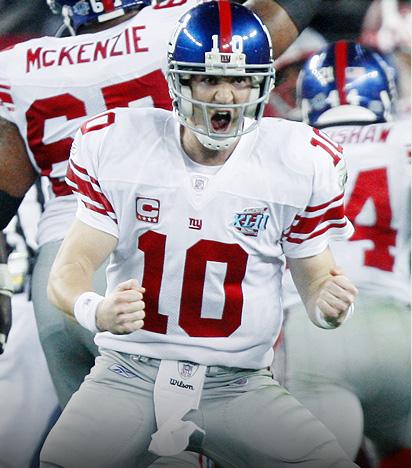 So this it it. Super Bowl Sunday. We're almost free.
Johan Santana is traded. A-Rod, Jorge, Rivera, all re-signed. And it's February. Pitchers and catchers report soon.
But for sports fans, there's one last hurdle before we can really turn our attention to baseball. For 60 minutes tonight, the Giants and the Patriots will finish up the NFL season. And maybe, just maybe, the Giants can finish their stunning postseason with a victory.
Really, it goes beyond one title game. The Giants are playing for a region. Do we really want yet another sports team from Boston winning a title? Already, Celtics fans — with no concept of the East vs. West divide in the NBA — think they could witness their team bring home Boston's third title this season. Last I checked, the Patriots haven't even won yet.
So here we are. In two weeks, pitchers, catchers and just about everyone else will be in Tampa getting ready for the season. But today, we're rooting for the Giants. Bring home a win; New York wants it.
You know it's a slow news time when we're reduced to posting stuff like this:
By

As the ESPN Hot Stove Heater chats continue, Rob Neyer takes on the Joe vs. Joe debate. We've certainly rehashed the Torre vs. Girardi debate a few times this winter. Neyer, for his part, never really comes out on either side of the debate. · (10) ·
By

Is the senior Senator from the great state of Pennsylvania a Giants fan? It can't be, but on the eve of the Super Bowl weekend, Specter, ranking Republican on the Senate Judiciary Committee, wants the NFL to explain why the league destroyed evidence related to the Patriots' spying earlier this year. Anything to distract the favorites before facing Big Blue, right? · (19) ·
It's not easy being Brian Cashman. With numerous bosses and the weight of the epicenter of the baseball world on his shoulders, Cashman's job is not one anyone should take for granted, and as Tyler Kepner masterfully details in The Times today, no one knows this better than Brian Cashman.
"I feel the responsibility of millions of Yankee fans on my shoulders, fans who take this very seriously and for which every game is very important. I think of that every day," Cashman once said to Ernie Accorsi, and as we know, Yankee fans are very demanding, to say nothing of the Steinbrenners.
So here we sit, a few days after the first word of a plan to send Johan Santana to the Mets leaked out, and all eyes are on Brian Cashman. For the Yanks' GM, too, it's been a rough winter. He's dealt with a new leadership structure at work, and last week, as his comments question popular Yankees, including long-time fan-favorite Bernie Williams hit the press, it seemed like this tumultuous off-season was finally catching up to Cashman.
But for all the talk of job troubles and personnel changes, for all the doubt surrounding the Santana trade and the pressures of having a real, actual baseball fan in the form of Hank Steinbrenner peering over his shoulder as much with his mouth as with his eyes, Cashman is right where he wants to be. The Yankees in 2008 are his team, and while many believe his fate will rise and fall with the Yankees, it's not so simple for this 20-year veteran of the Yankee organization. Gone are the days when King George fired people at will.
Kepner details Cashman's struggles:
Usually deft as the Yankees' primary spokesman, Cashman is struggling with Hank Steinbrenner's quick ascension to that role. At times, Cashman has seemed especially cautious; at other times, unusually candid…

Hank Steinbrenner, 50, is not as detail-oriented as his father; he is not apt to demand new carpeting in the training room. He is a passionate fan, in tune with the sport's history, driven to win and often willing to speak his mind. Hal, 38, is considered more fiscally conservative, and he rarely speaks in public.

Cashman got what he wanted this winter. The Yankees re-signed their veterans while protecting their top prospects and also gaining a 2008 draft pick for letting reliever Luis Vizcaíno sign with Colorado. But there is a belief in the industry that it has been a trying winter for Cashman as he adjusts to the team's new leadership, and the possibility that decisions could be made without his consent.
The pressure on Cashman — and make no mistake, a lot of it is self-induced — will be there all season, but we as fans shouldn't be so critical as Cashman. And herein, my RAB friends, lies the rub: A few vocal Yankee bloggers have been ridiculous harsh in their treatment of Brian Cashman this year. They have questioned his every move as GM, and they don't feel that the Yankees have three viable pitchers on their hands in Joba Chamberlain, Phil Hughes and Ian Patrick Kennedy because Jeff Cindrich or Sterling Hitchcock or Ryan Bradley never made it work in New York.
Let's get one thing straight: Rare are the times when any Major League Baseball organization witnesses the meteoric rise of three pitchers with the pedigrees of Joba, Phil and Ian. Rare are the times when three pitchers are utterly dominant at every level of Minor League — and Major League — baseball. These guys are not your garden variety pitching prospects; these are three pitchers ready to contribute at the Major League level now and into the foreseeable future.
Yes, it's true, the three of them may face innings caps this year. The Yankees have some valuable arms, and some caution at the start should pave the way for future success. But what they don't have are question marks. It's not a question of whether these pitchers will be good; it's a question of just how good they will be. We — like Brian Cashman — know the ceilings. So when the New York Post says that Phil is pitching for Cashman's job, it's no big deal. Of course Phil is pitching for Brian's job because Phil is a big part of Brian's long-term plan to invest heavily — and wisely — into young arms. It's going to work.
So as we sit here and watch the media swarm around the Yankees, we see questions and a General Manager under the most powerful of microscopes. But I'm comfortable with what Cashman has and hasn't done this season. I believe in the young arms; I believe in Cashman.
Here's something we wanted to see happen last year, but apparently was blocked by Joe Torre. The Yanks have signed Morgan Ensberg. No word on the nature of the deal — that is, whether it's a major or minor league deal. My guess is that it's a minor league one (saving the Yanks a roster spot), with an opt-out if he doesn't make the big league roster.
I would suppose that he's being brought in as competition for Shelley at first base. He's only played three games in his career off of third base — one at DH, one at first base, and one at shortstop. I'm not quite sure if he'd be a viable bench option. We'll see as Spring Training progresses, though.
Update: It's a minor league deal. Just thought of something else, too. Ensberg could be Giambi insurance. If he goes down in ST, Ensberg would have a seat on the bench. Not a bad fallback plan.
By

Phil Hughes, fan of the Food Network, says he's getting a new number but can't say what it is yet. Our money's on 45. Anyone want to tell Carl Pavano he has to give up the jersey number he never uses? · (39) ·