By

As of Friday afternoon, federal marshals still hadn't been able to serve Chuck Knoblauch his subpoena. Knoblauch is due to testify in front of Congress on Tuesday and was originally subpoenaed this Tuesday. For what it's worth, Chuck's mom thinks that he'll show up on Tuesday. I still can't quite figure out why Chuck Knoblauch, of all the people named in the report, is getting picked on by our elected officials. · (0) ·
It's getting to be that time of year again, the time when we can start looking at some prospects for June's first-year player draft. It's obvious now that the Yanks' draft strategy in the early rounds is to take whatever top talent has fallen because of signability/injury concerns/etc., so I've decided to kick off this year's draft coverage by looking at the best players available, since there's always a chance they could fall.
The draft order is basically set (there are only five free agents left unsigned that will bring back compensation), and the Rays have earned the dubious distinction of becoming the first team in the history of man to have back-to-back first overall picks. It's almost unfair considering how ridiculously stacked their farm system is, but what can you do. The remainder of the top 5 picks belong to the usual suspects – the Pirates, Royals, Orioles and Giants.
By

To follow up on what is quickly turning out to be one of the stranger stories of the Winter of Our Steroidal Discontent, Duff Wilson of The Times reports that, as of Thursday afternoon, Chuck Knoblauch had still not been found. Therefore, he has not yet been served his subpoena. To call this weird would be an understatement. · (12) ·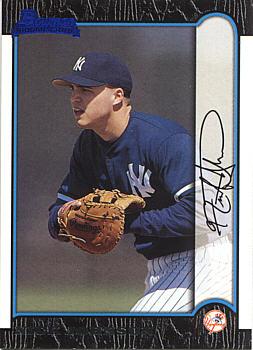 On Thursday afternoon, Joe sat in for a few hours at MLB Trade Rumors. On one of his posts, he pointed the way to this Washington Post piece about Nick Johnson's 16-month rehab for a horrible broken leg. Joe then told us how this is a rumor:
He'll be competing with Dmitri Young for the starting first base gig. Both are signed through 2009, with roughly the same salaries. But there isn't room for both of them on the Nats roster. Each has his pitfalls, making a trade difficult.

So what do you do if you're Jim Bowden? Johnson is the team's second highest-paid player, and Young is just a tick behind. Do you really let one of your top five highest paid players languish on the bench?
At around the same time, Mike, Joe and I all came up with answer to that question. What do you do if you're Jim Bowden? Why, trade Nick Johnson to the Yankees of course. The Yanks are an organization not afraid of paying a full salary and in need of a first-baseman.
After leaving New York, Johnson continued to do what he has always done: get on base and get injured. In 2006, before his collision with Austin Kearns, he seemed to be breaking out. Injury-free, he had 23 home runs in the über-pitching paradise of RFK Stadium and was hitting .290/.428/.520. That's a drool-worthy .948 OPS out of the first base position. The Yanks haven't seen that since Jason Giambi's 2006 campaign, and even then, he DH'd for much of that year.
The keys here of course are convincing the Nationals that they want to give up the younger Nick Johnson instead of the older Dmitri Young, settling on the other pieces of the trade and seeing that Nick Johnson is healthy. But, hey, we can dream, right?
It's fitting that we follow a post about Phil Hughes' much discussed velocity with one about the hardest throwers in the minors. I didn't do the legwork, BA did. We've heard alot about the high success rate of Tommy John surgery, but the #4 pitcher on the 2002 list is a prime example of a guy who's stuff never returned to pre-TJ levels. Having two of the three hardest throwers in the minors is pretty badass.
By

A few among us are skeptical of Phil Hughes because of his decrease in velocity following first a hamstring injury and then an ankle injury. Yankee fans are indeed demanding. But worry not, says Phil, in a Q-and-A on his blog:

After coming back from my injury last season my mechanics were a little out of whack. This led to a little loss of velocity and command. When Dave arrived in September we were able to work out some things and I think that had a lot to do with the success I had at the end of the season. It was nice to finish off the year on a good note so I have something to work toward to get back to my normal self in 2008.


So there you go. Hughes looked great in September and October, and a strong start should put all of you velocity-doubters to rest. · (54) ·
From Ken Rosenthal: The Yanks are close to a four-year deal with Robinson Cano. This would buy out all of his arbitration years for $30 million. Rosenthal says that the contract will include an option or two that will allow the Yanks to buy out some of Cano's free agency.
Scott Boras – at least in the pre-opt-out days – loved to talk about his client's overall value. Forget the .300/.400/.600 MVP seasons that A-Rod produces on a routine basis. His real value comes from his mere presence on the team.
With A-Rod around, Boras argues, the Yankees see year-to-year increases in their record-setting attendance levels, a sustained spike in their YES Network ratings, enjoy increased merchandise sales and generally have a steady stream of revenue due solely to the fact that Alex Rodriguez is a great player and on the Yankees. The same argument, proponents of the deal have said, could apply to Johan Santana as well. But is it true?
In an interesting thought piece on the Biz of Baseball site, Maury Brown goes in depth and determines that Boras' claims aren't totally accurate. They may not be inaccurate, but it's just too hard to tell. Allow me to quote at length:
Ratings for Yankee games have increase 47 percent since he arrived in pinstripes. Now, is that because of A-Rod? The return of Clemens? The fact that the Yankees are the Yankees? Or, winning? It is, of course, all of the above…

It's not as if the day Alex Rodriguez was resigned with the Yankees..that an increase in ratings immediately translates to big bucks based on the deal for carriage. One would certainly see an uptick in terms of advertisement, but in terms of the television deal, by itself, the player would not impact it. That revenue comes by way of subscriber fees from cable operators that carry the RSN. In the case of YES, according to the SBJ, YES pulls in about "about $2.25 per subscriber per month from operators." For YES, that means that rate is locked in over the next 7 years. To try and determine how much a player's value is worth in 7 years would mean trying to dissect that single player out of the winning and losing of the team, the cycling in and out of other possible players with star draw, and factoring brand draw, as but a few examples.

As I said, it's all this background noise that makes claims of being able to define a distinct value to a player's worth, outside of their win values on the field, anything but a way to sell books and articles. In some senses, you're double counting. If the player is adding wins (which increases interest in the team), and has marquee draw, then how do you define whether it was the player's win value, or marquee draw? Could be both. Could be one or the other.
Brown's piece is interesting in that it doesn't come down on one side of the debate or another because we just can't know. Baseball teams enjoy revenue streams from all over the place, and many of those streams are subject to stringent revenue-sharing deals. MLB.com takes in merchandising revenue from their sales; teams enjoy exclusivity in merchandising deals up to a certain distance from their home ballpark; cable deals are convoluted; and revenue sharing leads to a divvying up of resources.
So when Scott Boras or some other agent starts talking about a player's perceived value, it's well worth it raise an eyebrow. There's no doubt that A-Rod puts fans into the seats and draws eyeballs to the screen, but beware the exaggerating agent. It's doubtful that A-Rod is worth $500 million to the Yankees over the course of his deal. But right now, we just don't know.