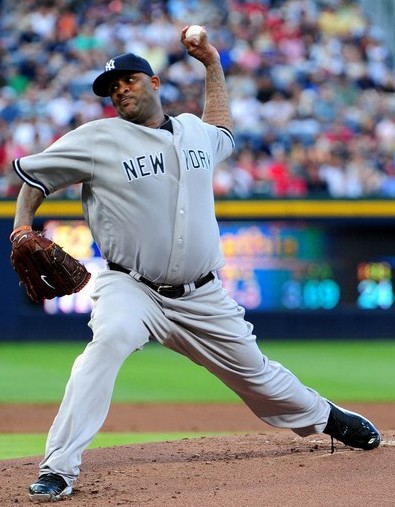 Four earned runs in seven innings isn't the worst start in the world but we've all come to expect more from CC Sabathia. The left-hander owns a 3.80 ERA with a 3.41 FIP through his first 13 starts of the season, solid numbers but hardly ace-like. "You limit the damage and try to get the team a win, but it's frustrating when you have good stuff and can't dominate a game," said the southpaw after last night's start. "I've been grinding all year. There hasn't been a stretch where it has been easy."
The most obvious problem with Sabathia has been his command, or lack thereof. His strikeout (8.97 K/9 and 23.4 K%), swing-and-miss (11.7%), walk (2.53 BB/9 and 6.6 BB%), and ground ball (47.5%) rates are more than fine and almost exactly match last season's rates, but anecdotally he seems to miss his spot more than anytime I can remember. That's led to Sabathia's highest hit (8.87 H/9) and homerun (0.97 HR/9) rates as a Yankee despite a perfectly normal .309 BABIP. His 12.0% HR/FB ratio is a touch high but that's already started to correct itself — he's allowed just one dinger in the last three starts and 26 IP.
The first inning last night was a perfect example of Sabathia's command issue. He fell behind in the count to three of the first four men he faced, but look at the pitch Michael Bourn hit for a leadoff single …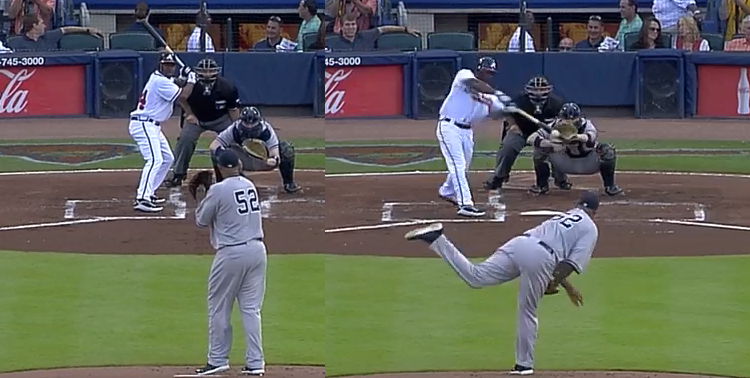 … and the pitch Matt Diaz hit for the bases-clearing double …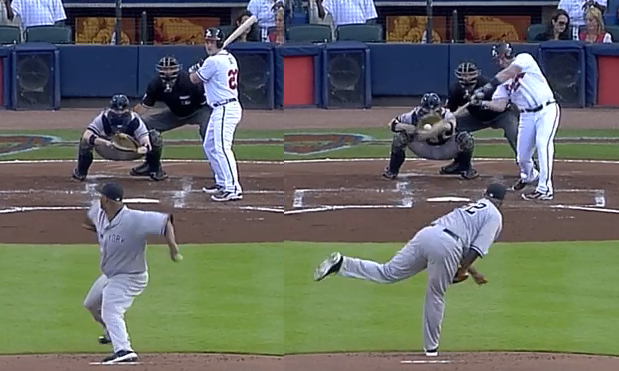 Chris Stewart set up down-and-away for both pitches — both fastballs — but Sabathia missed up both times, plus he caught too much of the plate to Bourn. Those two pitches are a microcosm of CC's season to date; he's missing but not by a ton, just enough for the hitter to do damage.
"It's just at times his fastball cuts," said Joe Girardi prior to yesterday's game. "When that happens, he seems to get in a little bit of trouble. When he doesn't command the down and away to right handers, he seems to get in a little bit of trouble."
Usually when a fastball cuts unintentionally, the pitcher is dropping his arm a bit and it has to "catch up" to the rest of his body. The PitchFX data shows that for the most part, Sabathia's release point this year (right graph) is the same as last year (left graph)…
The PitchFX system uniformly records release points at 55-feet from home plate, so not precisely out of each individual pitcher's hand. Sabathia's right where he was last season for the most part, maybe down an inch or two but nothing drastic. I would be a much better red flag if he was off six inches or something. It's possible that little one inch different — if it even really exists — is causing his fastball to cut, in which case the solution might just be a simple mechanical tweak. No way to know definitively, of course.
I'm pretty sure I've said this before, but I do wonder if Sabathia's weight has led to his command problems early this year. Thirty-ish pounds may seem like a drop in the bucket for a guy his size, but he could be having trouble adjusting to his slimmer body and it's throwing his delivery off a tad. CC had similar command issues early last season before gaining the weight back and getting locked in. If that's the case, the solution isn't to pack on some pounds obviously, he just has to figure out how to pitch with less weight on his frame. I dunno, just thinking out loud here.
Sabathia hasn't been bad this year but he hasn't been dominant really. He ran off a real nice six-start stretch a few weeks ago but otherwise continues to be dogged by the fastball command. Ivan Nova dealt with a similar problem earlier this year and he's starting to get on the right track these last two times out, so hopefully Sabathia does the same and soon. The Yankees have been getting some stellar starting pitching over the last three or four weeks, and it's very odd to see CC as the weak link right now.