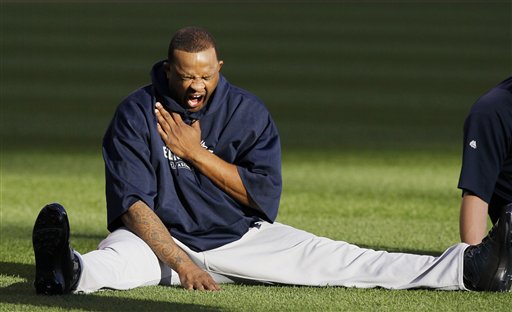 Let's make this clear right now: In no way, shape, or form am I saying that a Game Three loss would be beneficial to the Yankees. It would be quite the opposite actually. No one wants a series to extend longer than necessary, especially in the very first round. However, what I am saying is that if the Yanks do in fact drop the game later tonight, it's not the end of the world. All of you smart people already know that's the case, simply because CC Sabathia and Andy Pettitte would be going in Games Four and Five with just a single win needed to advance. I'll take my chances in that situation every day of the week.
The biggest consequence of losing Game Three would be having to start Sabathia on Sunday night on three day's rest. Even though CC's a horse and has proven to be up to the task on more than one occasion in the past, everyone involved would still like to avoid that situation just out of common sense. He wasn't sharp in his Game One start and potentially compromising his command even more because of short rest is not something worth rooting for. Let's save those bullets for later, basically.
Like everyone else, I've been working under the assumption that if Sabathia does indeed have to start in a Game Four against the Twins, it would throw off his schedule for the next round should the Yankees advance that far. Well, it turns out it won't matter at all. Through the miracle of bad scheduling, the first game of the ALCS won't be playing until next Friday, the 15th. Sabathia would be able to start against the Twins on Sunday, and then again on Friday in the ALCS on his regular four day's rest. How about that?
I certainly don't want to get ahead of myself here, because we've learned the hard way that no series lead is safe. The Yanks have to come out tonight and play like it's Game Seven, holding nothing back because tomorrow is a day you don't want Minnesota to see. The comfort of being able to have Sabathia still pitch the first game of the ALCS while still throwing him in a potential Game Four of the ALDS is just that, a comfort. It's not part of the plan, it's the break glass in case of emergency plan right now.
The Yankees have put themselves in a great spot with their two wins on the road at Target Field. They can afford to play like every game is their last this weekend without all the risk, and they'll still be set up for the ALCS regardless of what happens. They'll have to beat the Twins one more time before we can really concern ourselves with the next round though, so let's hope they finish off the sweep tonight and make all of the worrying about Sabathia moot.