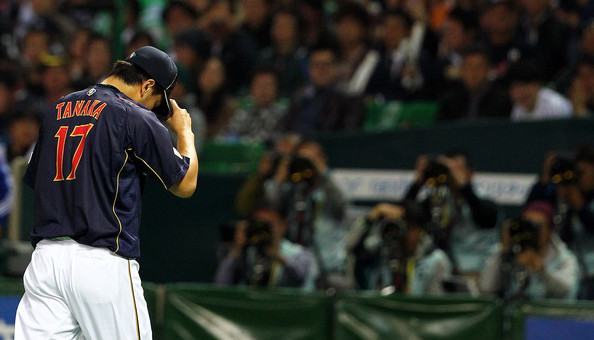 We are right smack in the middle of the slowest time of the offseason. The baseball world is essentially on hold during the holidays, before the bargain shopping begins in January. Here are some bits of news to check out in the meantime.
Tanaka not on partial WBC roster
Team Japan has announced the first 19 players of their 28-man roster for the 2017 World Baseball Classic, reports Jason Coskrey, and Masahiro Tanaka is not among those 19 players. Outfielder Nori Aoki is the only MLB player on the roster. Two-way star Shohei Otani is the headliner, obviously. Final rosters are due sometime in January, which ain't so far away anymore.
"Regarding MLB players, we are not going to announce where we are (in talks) and it's all going to be announced when we actually announce (the final roster)," said Japan baseball secretary general Atsushi Ihara to Coskrey. "We don't really have the timetable, but manager (Hiroki) Kokubo is saying that he wants to set it early."
Tanaka, who pitched in both the 2009 and 2013 WBCs, has said he wants to pitch in the 2017 edition. The Yankees can't stop their ace from participating. Brian Cashman confirmed it. Team Japan did not take MLB players in the last WBC, not even Ichiro, but Ihara's comments and the fact Aoki is the on the roster suggests they'll look to take a few this time around. We'll see what happens with Tanaka.
Yankees, Red Sox could be headed to London
According to Michael Silverman, the Yankees and Red Sox could be headed to London to play a series next season. Hal Steinbrenner and Red Sox owner John Henry have been discussing the possibility for several years now. MLB has been looking to grow the game globally and the new Collective Bargaining Agreement includes provisions to play games outside the country.
"The Yankees have been at the forefront of suggesting that we bring the great game of baseball to London," said Yankees president Randy Levine to Silverman. "There have been some meaningful attempts to do so, and we are hopeful and confident that we can play there soon. Playing the Red Sox in London would be a special and unique event."
It's no surprise the Yankees and Red Sox may end up playing overseas. They're still baseball's premier rivalry and will generate the most buzz. There are a ton of logistical issues to work out though. There's the travel, first and foremost, and also the issue of gate receipts. One of the two teams is going to lose a handful of home games and associated revenue. Still, the Yankees playing in London would be pretty damn cool.
Stottlemyre doing better after health scare
Mel Stottlemyre, former Yankees pitcher and pitching coach, is doing better following a health scare last week, his wife Jean told John Harper. Mel's son Todd wrote on Facebook his father was "in the hospital fighting for his life" last Friday. Stottlemyre has been fighting multiple myeloma, a type of bone marrow cancer, since 2000.
"He's doing much better. We saw a big turnaround with Mel over the last 24 hours. He's not in a life-threatening situation right now," said Jean Stottlemyre to Harper. "It's not the cancer. It was that he got sick from the chemo medicine. He was given antibiotics to fight infection and he's responded well."
Stottlemyre, who turned 75 last month, spent his entire playing career with the Yankees from 1964-74. Those were the "dark years" of the franchise, so Mel never did win a World Series as a player. He won his first ring as Mets pitching coach in 1986, and he added four titles as Yankees pitching coach from 1996-2005. Last year the Yankees surprised Stottlemyre with a plaque in Monument Park. It was one of the best moments of the season.
It was unclear whether Stottlemyre's health would even allow him to make the trip from his home in Washington to Yankee Stadium for Old Timers' Day last year. I'm glad to hear he's doing well after that health scare last week. He's been fighting cancer for close to two decades now, and he's kicking its butt even at age 75. Go Mel.
Yankees to play four times on ESPN
A few days ago ESPN released their Sunday Night Baseball schedule for most of the first half, and, not surprisingly, the Yankees are featured more than a few times. They're still a great draw. Here's the schedule and here are the Sunday night broadcasts that will feature the Yankees:
April 16th: Cardinals at Yankees
May 7th: Yankees at Cubs
May 14th: Astros at Yankees
July 16th: Yankees at Red Sox
That May 14th game is the night the Yankees are retiring Derek Jeter's number, though I'm not sure whether ESPN will show the ceremony. Probably not. YES will air the entire thing, I'm sure. As a reminder, the Yankees are going to play the very first game of 2017 on ESPN. They begin the season at 1pm ET on Sunday, April 2nd, on the road against the Rays. The next game that day begins at 4pm ET.