The following is a guest post from Steven Simineri, whose work can be found at Double G Sports, among other places. He's previously written guest posts on Chris Capuano and Ike Davis.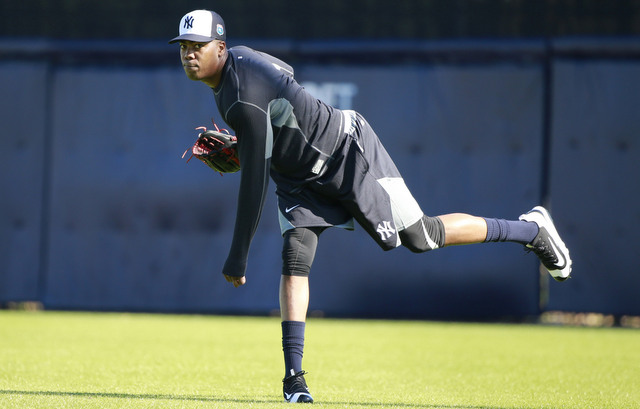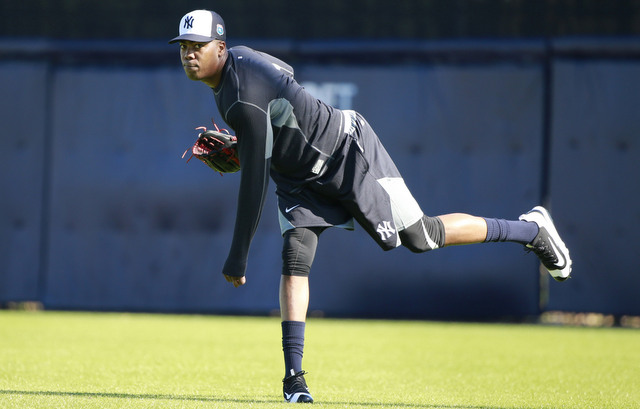 The Yankees acquired Aroldis Chapman to go with Andrew Miller and Dellin Betances, giving New York all three of the relievers who struck out at least 100 batters in 2015 and arguably the strongest 1-2-3-relief punch since the 1990 Cincinnati Reds "Nasty Boys" trio of Norm Charlton, Randy Myers and Rob Dibble.
Last year, the troika of Chapman, Miller and Betances threw 212 innings, with 347 strikeouts and a 1.66 ERA. They ranked 1-2-3 in strikeouts per nine innings among all major-league relievers, all finishing in the top-7 for lowest opponents' batting average, and there is no doubt that Chapman has brought a lot of attention toward the Yankee bullpen.
By talent and what you hear on sports-talk radio, the 2016 Yankees bullpen should be one of the best ever and better than the 2015 Yankees bullpen. But on performance, it'll be hard for this coming year's group to improve on the group that was. In fact, the Yankees last season were 66-3 when leading through 6, 73-2 when leading through 7, and 81-0 when leading after 8. Joe Girardi's bullpen was tied for second in all of baseball with 5.3 fWAR. Additionally, by WPA (Win Probability Added), the Yankees bullpen ranked third, at +8.5.
The loss of Adam Warren and Justin Wilson, who combined for 96 1/3 quality relief innings and were worth 3.7 WAR last season, should not be underestimated and one could argue that the addition of Chapman is not as huge as it could have been, with Warren departing for Chicago and Wilson being shipped off to the Tigers.
Moving Warren hurt somewhat, but made sense because of the return. The North Carolina graduate made 17 starts last year and appeared in 26 other games out of the bullpen. He had a 3.29 ERA, the lowest of any pitcher on the team with over 100 innings. Despite yo-yoing between the bullpen and starting rotation, Warren posted an impressive 2.29 ERA and 4.11 strikeout-to-walk ratio in relief.
While trading Warren for Starlin Castro was necessary to plug a hole at second base, moving Wilson to the Tigers for two mediocre Triple-A starters – Luis Cessa and Chad Green – seemed questionable. Certainly the two youngsters are under team control for a combined 12 seasons, but Wilson was also a key cog in the 2015 bullpen, posting a 2.69 FIP in 61 innings. He went 5-0 with a 3.10 ERA and 66 strikeouts. He was also able to get both lefties and righties out.
It's also important to note that Chapman is essentially replacing Wilson. Both are hard throwing lefties with excellent strikeout numbers and the difference between their performances may not be as big as many might think. Wilson finished with a WPA of 2.58, while Chapman finished with a WPA of 2.59. While Chapman was worth 2.5 fWAR last year, Wilson wasn't far off at 1.5 fWAR. Their Steamer projections also predict a similar one WAR split next season.
On Friday, Chapman and the Yankees avoided salary arbitration, agreeing to a one-year contract worth $11,325,000 — or more than seven times what Wilson will make (with two fewer years of control). Chapman is an upgrade, no question, but by losing the Warren and Wilson, the Yankees will be putting a lot more stress on the top of that pen. And that stress could shift entirely to Betances, Miller, and Chapman. With the two 28-year-olds gone, the question becomes who are now the Yankees' middle relievers?
Of the organizational products, right-hander Bryan Mitchell and left-hander James Pazos likely will get the best looks. The 23-year old Mitchell can start or come out of the bullpen. Pazos, who appeared in 11 big league games and didn't allow a run in five innings after Hal Steinbrenner included him in the list of untouchables before the July 31 trade deadline, appears to have a good shot of breaking camp with the big club.
Chasen Shreve and Jacob Lindgren are also left-handers like Wilson. Despite a solid rookie season where Shreve posted a 3.09 ERA, advanced stats suggest that he is good candidate for a sophomore slump and he imploded during the final month of the season. Lindgren, the team's second-round selection in 2014, has only thrown seven big league innings and underwent elbow surgery last June.
Nick Rumbelow, Nick Goody and Branden Pinder, who all made cameos last season figure to be in the mix. Youngster Johnny Barbato, who was acquired from the Padres for Shawn Kelley, was put on the 40-man roster and perhaps he will get a shot to make the team. It wouldn't even be shocking to see Kirby Yates, Vinnie Pestano or Anthony Swarzak soak up innings at some point.
Brian Cashman can take a plunge into free agency with a couple of interesting right-handed relievers available. Ground ball specialist Burke Badenhop is still unemployed as March approaches. Veterans Casey Janssen and Ross Ohlendorf can be had. They can extend a minor league contract to Long Island native Joe Nathan, who turned 41 over the winter and underwent Tommy John last April. They can even take a flier on former Met Vic Black, who has battled injuries and control issues.
The Yankees have gotten used to strong bullpens, with Girardi proving himself as a bullpen whisperer. In fact, according to how they've actually performed, the Yankees haven't had a below-average bullpen in two decades. This year should obviously be no different and in the best-case scenario for New York, Betances and Miller lead a bridge to Chapman, turning games into a season-long six-inning affair.
The three-headed bullpen monster creates the potential for an all-time bullpen trio, but it's no guarantee that this unit will be much better than last years.