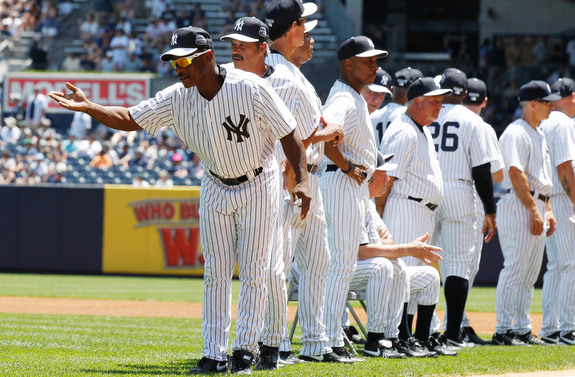 Speaking from experience, Old Timers' Day is an event best experienced live and in person. Television doesn't do it justice. There are so many great players — all-time greats in some cases, a few of the best players the game has ever seen — and fan favorites all in one place. It's really amazing to watch from a seat in the ballpark.
Of course, the Yankees are pretty much the only franchise in sports that can pull off an event like this. Old Timers' Day will be extra special this year because, following the baseline introductions, the Yankees will dedicate a plaque in honor of Goose Gossage to Monument Park. Tino Martinez's plaque was unveiled yesterday and later this summer Paul O'Neill and Joe Torre will be honored.
The full roster of Old Timers can be seen right here. Hideki Matsui and Johnny Damon will be among those making their debuts and I'm sure they'll get huge ovations, especially Matsui. Jorge Posada is still holding out and will not make his Old Timers' Day debut today. Bummer. Mike Mussina is skipping this year too. Another bummer. Still plenty of awesome players and favorites to go around though.
The ceremony and baseline introductions start at approximately 11:30pm ET. All of it can be seen on YES. The Yankees and Orioles are scheduled to play their game at 2:05pm ET. There is no lineup yet, so I'll update the post once it's made available. Enjoy the ceremonies and the game.
Update (11:53am): Here is the Orioles lineup and here is the Yankees lineup for this afternoon's game:
SS Derek Jeter
2B Yangervis Solarte
RF Ichiro Suzuki
RHP Masahiro Tanaka