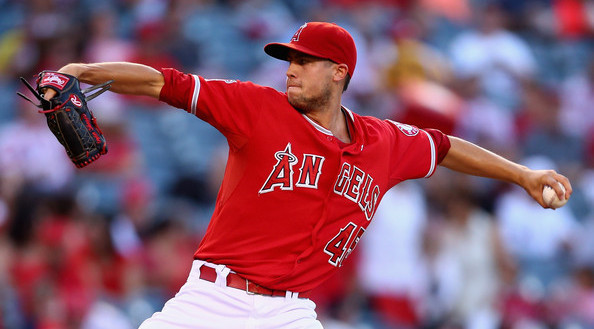 For much of the winter the Yankees have been looking for a young controllable starter, so much so that Brett Gardner and Andrew Miller have been dangled in trade talks. They have not yet acquired such a pitcher, but I don't think it's been due to a lack of effort. The Yankees are looking. They just haven't found anything that makes sense.
The Angels, who hired former Yankees assistant GM Billy Eppler to be their new GM earlier this offseason, are one of the few teams with starting pitching depth. The club needs another bat and they don't want to exceed the luxury tax threshold — they have about $12M in wiggle room after projected arbitration raises — making a big free agent signing unlikely. Trading a starter for a bat has been mentioned as a possibility.
Understandably, Garrett Richards and Andrew Heaney are as close to off limits as it gets. Neither Jered Weaver nor C.J. Wilson make sense for the Yankees, ditto Hector Santiago, albeit to a lesser extent. That leaves Matt Shoemaker (blah), Nick Tropeano (already discussed), and lefty Tyler Skaggs. Does Skaggs make any sense for the pitching needy Yankees? Let's look.
The Performance
Let's start with some background. Skaggs, 24, was a supplemental first round pick (40th overall) out of a Santa Monica high school back in 2009. The Angels traded him to the Diamondbacks in the Dan Haren deal in 2010, then re-acquired him from Arizona in the Mark Trumbo trade in 2013. Baseball America ranked Skaggs as a top 15 global prospect in both 2012 (No. 13) and 2013 (No. 12).
Skaggs received cups of coffee with the D'Backs in 2012 and 2013 before opening the 2014 season in Anaheim's rotation. He made 18 starts before blowing out his elbow that July, ending his season. Skaggs had Tommy John surgery shortly thereafter and hasn't pitched since. Since his big league time was limited in both 2012 and 2013, let's focus on his 2014 performance, the only time he held a regular rotation spot.
| | IP | ERA | FIP | K% | BB% | GB% | HR/9 | Opp. wOBA |
| --- | --- | --- | --- | --- | --- | --- | --- | --- |
| vs. RHB | 91 | — | 3.54 | 18.9% | 6.6% | 51.7% | 0.69 | .292 |
| vs. LHB | 22 | — | 3.59 | 17.2% | 6.1% | 44.6% | 0.82 | .326 |
| Overall | 113 | 4.30 | 3.55 | 18.5% | 6.5% | 50.1% | 0.72 | .299 |
Pretty good! It doesn't knock your socks off, but Skaggs was 22 years old for most of those 113 innings, and when a 22-year-old southpaw does something like that, it's pretty exciting. He limited walks, missed a fair amount of bats, got a bunch of grounders, and kept the ball in the park. Very nice.
There was nothing that made you think Skaggs' elbow was about to give out before his injury. He allowed one run in 5.2 innings against the Tigers in the start prior to getting hurt, and in the actual start when he blew out, Skaggs had struck out seven in 4.2 no-hit innings against the Orioles. He threw a pitch, called for the trainer, and walked off the mound. That was it.
Prior to getting hurt, Skaggs showed an awful lot of promise and was arguably the second best pitcher in Anaheim's rotation behind Richards. He was a high-end prospect who was starting to deliver on the hype. When that happens, it's pretty fun to watch.
The Stuff
Skaggs was a four-pitch pitcher before getting hurt. He averaged 93 mph with both his two and four-seam fastballs, topping out at 96. Skaggs also threw a sharp upper-70s curveball that was his calling card as a prospect. It's the pitch that got him drafted so high. He also has a mid-80s changeup. Here's video of the kid in action:
The delivery looks fine to me, right? Some guys have Tommy John surgery and you can tell why — their deliveries are all herky jerky. I don't think that is the case with Skaggs. It's pretty simple. You can tell he's a good athlete. Skaggs seems to be fully in control of his body while delivering the baseball.
The Angels worked with Skaggs to develop a cutter, though he didn't take to the pitch at all. He threw maybe one or two a start before blowing out his elbow. That's it. Skaggs is a four-pitch pitcher even without the cutter, and both the changeup and curveball give him good weapons against right-handed batters.
Here's some more information on Skaggs' arsenal from 2014, his only regular action in the show. League averages are in parentheses:
| | % Thrown | Avg. Velo | Whiff % | GB% |
| --- | --- | --- | --- | --- |
| Four-Seamer | 37.9% | 92.9 (91.9) | 7.3% (6.9%) | 37.8% (37.9%) |
| Two-Seamer | 27.4% | 92.8 (91.3) | 6.1% (5.4%) | 52.1% (49.5%) |
| Curveball | 24.3% | 77.5 (77.3) | 13.1% (11.1%) | 68.1% (48.7%) |
| Changeup | 9.4% | 85.1 (83.3) | 16.1% (14.9%) | 58.6% (47.8%) |
Across the board, Skaggs' pitches were more or less average at getting swings and misses. He didn't have a knockout pitch with a 20% whiff rate or anything like that. At the same time, getting an average-ish amount of empty swings with four different pitches is pretty darn good. Both his curveball and changeup were good ground ball pitches while the fastballs were average. Nothing really sexy there, but it's effective. Four average or better pitches is rock solid.
In addition to the impressive raw stuff, Skaggs has drawn praise for some of the less than obvious aspects of pitching. Here's what Baseball America (subs. req'd) had to say back in 2013, the last time Skaggs was prospect-eligible:
Skaggs also stands out for his composure on the mound and his idea of what he needs to do with each hitter. He holds runners well with a strong pickoff move, permitting just five steals in eight attempts last year. He didn't give up a single stolen base in his six major league starts and he uses his athleticism to field his position well.
That stuff is easy to overlook but it matters. Skaggs has four quality pitches, an ostensibly good delivery, and he does the little things well like hold runners and field his position. It's no wonder this guy was once considered one of the best prospects in baseball.
Injury History
Like I said, Skaggs has not pitched since having Tommy John surgery in August 2014, which is a big deal. The Angels have taken it slow with his rehab, so Skaggs is going to go about 20 months between surgery and pitching in regular season games. His rehab is going well though — Eppler told Mike DiGiovanna that Skaggs threw a six-inning, 90-pitch bullpen session in early-December and "was getting after it."
Elbow reconstruction is obviously the most serious injury in Skaggs' career. He did also miss a month with a hamstring strain in June 2014, and during his minor league days he missed a start in 2012 with a sore shoulder, but that's it. The shoulder has given him no trouble since and while the hamstring sucks, it was only a hamstring. Players pull them from time to time. The biggest concern is the Tommy John surgery and the fact he hasn't pitched in a competitive game in 17 months now.
Contract Status
Skaggs currently has two years and 66 days of service time. That means he has four years of team control remaining: one as a pre-arbitration player and then three of arbitration-eligibility. As best I can tell, Skaggs has two minor league options remaining, which is good. If he needs more time to shake off the rust following Tommy John surgery, his team can send him to Triple-A for more reps. Roughly 78 days in the minors would delay Skaggs' free agency another year.
What Would It Take?
The Tommy John surgery makes it very tough to gauge Skaggs' trade value. As I mentioned when I examined Alex Wood last week, pitchers like Shelby Miller, Gio Gonzalez, and Jake Arrieta have been traded when they were four years from free agency in recent years. None were coming off Tommy John surgery. Miller and Gonzalez were good and healthy while Arrieta was very bad with close to zero MLB success at the time of his trade. Skaggs fits into none of those buckets.
Players can be traded while injured — the Braves acquired Max Fried, Chris Withrow, and Bronson Arroyo while they were rehabbing from Tommy John surgery last year, for example — as long as the commissioner approves, which is never really an issue. That part isn't a problem. It's properly valuing Skaggs, who was very good when healthy but hasn't been healthy in a year and a half now. Hard to think the Angels would get maximum value for him at this point.
Wrapping Up
Skaggs is pretty much everything the Yankees look for these days. Young and talented? Check. Tall — he's listed at 6-foot-4 and 215 lbs. on the team's official site — power pitcher with a history of limiting walks and getting grounders? Also check. A chance to buy low because of injury or poor performance or something else (coughChapmancough)? Another check. He fits!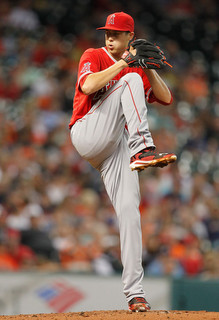 The Tommy John surgery is an obvious and serious red flag. Skaggs' stuff may never bounce back all the way, or it could take longer than expected to get back to 100%, or he could continue to have elbow problems. I know elbow reconstruction has become pretty routine, but it's still a big risk. That has to be factored into the evaluation and price. It's easy to assume Skaggs will bounce back and be fine, but man, you never know until you see it happen.
The Gardner for Skaggs framework seems to work, in theory. The Yankees would get their young controllable starter, albeit one coming off a major injury. The Angels would get their much-needed left fielder, one who would help balance their righty heavy lineup and also hit leadoff, allowing Kole Calhoun to move into a more traditional run-producing lineup spot. Both teams would be dealing from a position of depth to address a need.
The Yankees could always kick in some cash to offset Gardner's salary, allowing the Angels to steer clear of the luxury tax. There's also the potential to expand this as well. The Angels could use a second baseman and the Yankees have a spare Rob Refsnyder lying around. The Yankees need a backup third baseman/utility guy and the Halos have Kyle Kubitza, who may or may not be expendable.
Either way, these two clubs appear to match up well for a trade. The Angels have an obvious need for a player like Gardner and the Yankees are in perpetual search of a young starter. Whether the two sides — specifically Brian Cashman and Eppler, his former top lieutenant — can agree to a deal is another matter. The Angels might not want to sell low on Skaggs, which is understandable. Even after surgery, he's worth a shot if Eppler does make him available.