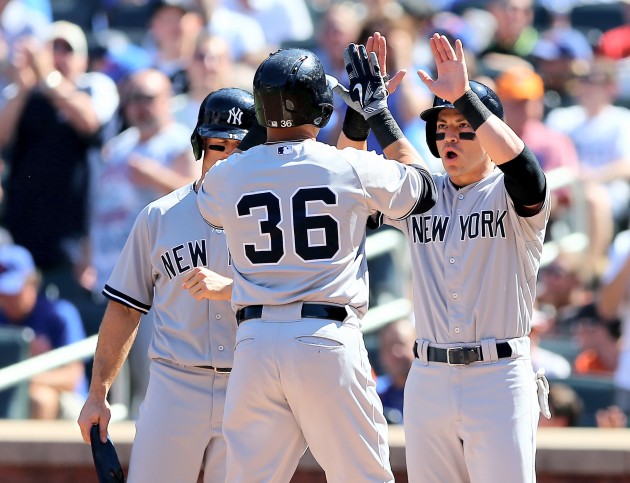 Queens Bombers
On Friday night the Yankees decided to go with a lineup that was missing their top-3 power bats and run producers (combined 86 homers and 249 RBI entering Friday) — Alex Rodriguez, Brian McCann and Mark Teixeira — to try and beat a Mets team that leads the NL in homers and runs scored in the second half of the season. The result was a three-homer barrage by the Mets and a 5-1 loss for the Yankees in the Subway Series opener at Citi Field. Sigh.
They wasted another solid outing by Masahiro Tanaka, who was pitching on regular rest for the second start in a row. After allowing two runs in six innings, he now has a 2.56 ERA in five starts on four days rest this season (and a 3.61 ERA in 18 starts on five-plus days rest).
Round number alert! This was Greg Bird's 30th major-league game, and with seven homers and 21 RBI, he's just the second player in franchise history to reach each of those totals within his first 30 career games. The other? Mr. Shane Spencer, who had 10 home runs and 29 RBI through 30 MLB games.
How do ya like them apples?
The Bronx Bombers reclaimed their nickname in Saturday's 5-0 win, with all five runs scored on homers by Carlos Beltran and Brian McCann. Not only did those home runs help the Yankees win the game, but they also linked Beltran and McCann together with pretty good Hall of Fame backstops.
Beltran's three-run shot in the first inning was his 389th career home run, tying Johnny Bench for 61st on all-time list. McCann extended the lead five frames later with a two-run blast, his 17th career home run against the Mets. The only catchers with more homers against the Mets are Gary Carter (24), Bench (23) and Javy Lopez (19).
Michael Pineda was pitching on extended (six days) rest, a situation that has caused a ton of problems for him in the past. He had no trouble in this game, though, throwing 5 1/3 scoreless innings. Before getting this win, Pineda was 0-6 with a 5.16 ERA in nine starts on six-plus days rest in a Yankee uniform.
There were a couple notable oddities in this game that probably would only happen in a September matchup. One was that the Yankees somehow used four second baseman: starter Dustin Ackley, Stephen Drew, Brendan Ryan and Rob Refsnyder. The only other time in the last 100 seasons that the Yankees used that many second baseman in a nine-inning game was June 22, 1978 in a 4-2 win over the Tigers.
Despite holding a 5-0 lead, Joe Girardi decided to use six relievers to get the final 11 outs because, in the words of the wise manager, "this is a game you can't afford to give away." Anyways, it made for a record-breaking afternoon. This is the first time in franchise history the Yankees used seven pitchers in a shutout win. And the 5-0 score is the largest shutout win by any major-league team in the last 100 years that used seven pitchers in the game. September baseball, gotta love it.
New York's Ace
The Yankees made a statement on Sunday night with their 11-2 blowout victory over the Mets, clinching a series win in what probably was the most meaningful regular-season matchup between the two New York clubs. The nine-run win matches the Yankees' biggest ever on the road against the Mets and the 11 runs are the most they've ever scored in the Queens.
If not for a thing called "innings limits," the Yankees might never have won this game. Matt Harvey dominated the Yankees, striking out seven and allowing just one hit in five scoreless innings. He is the only Mets pitcher to pitch at least five innings and give up no more than one hit in a game against the Yankees.
With that near-perfect performance, he now has a 1.25 ERA with 24 strikeouts in three Subway Series starts. The only other active pitchers with an ERA that low and that many strikeouts against the Yankees are Chris Sale and Dallas Keuchel.
CC Sabathia was masterful in limiting the Mets to just one run on five hits in six innings pitched. He's allowed no more than one earned run in each of his last three starts since coming off the DL, the first time he's had a streak like that since a five-start run from June 25-July 16, 2011.
Dustin Ackley and Greg Bird had two of the biggest swings of the night, each hitting three-run homers once Harvey had departed. Those were the Yankees' major-league-best 44th and 45th home runs with at least two men on base this season; next on the list is the Blue Jays … with 27.