The Yankees put a lot of time and effort (and resources) into improving their bullpen this past offseason, and, of course, halfway through the season three-sevenths of the relief crew has changed. The bullpen to start the season is never ever the one that finishes the season. Changes are inevitable and the Yankees went through several in the first half of the 2015 campaign.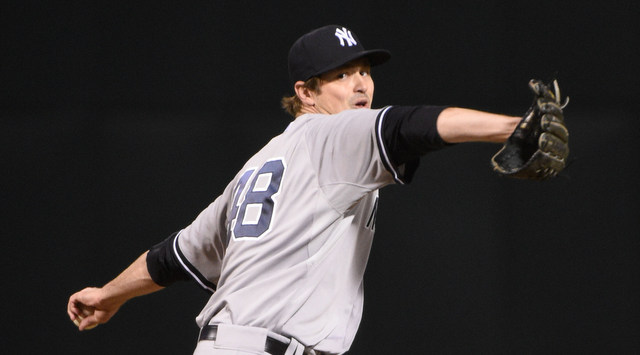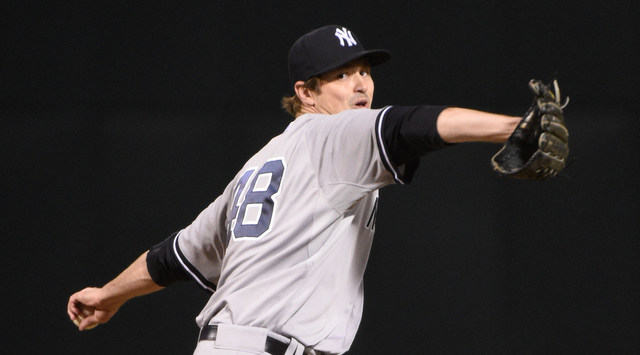 The Not Co-Closers
Even before Spring Training started, Joe Girardi floated the idea of using Andrew Miller and Dellin Betances as co-closers. Miller would face the tough lefties regardless of whether they batted in the eighth or ninth while Betances got the tough righties in those innings. It was a wonderful plan that made perfect sense … until Dellin showed up to Tampa unable to throw strikes. That threw a big wrench into the works.
Betances walked six batters in 9.1 innings during Grapefruit League play and looked worse than that. He couldn't locate his fastball to save his life and his breaking ball was flat. Given his history of being, well, let's say enigmatic in the minors, there was definitely a reason to be concerned. The Yankees were built to win close games on the back of a dominant bullpen, with Betances being the centerpiece. Suddenly that centerpiece didn't look so reliable.
Thankfully, Dellin was able to right the ship a few appearances into the regular season, and while he hasn't been as overwhelming as last year, he has still been one of the three or four best relievers in the game. Heck, if you're a disciple of fWAR, he has been the best reliever in baseball by almost half-a-win. Betances earned himself another trip to the All-Star Game and even picked up a few saves when Miller hit the DL with a forearm problem.
Miller, meanwhile, has stepped into the closer's role smoothly and been overpowering, racking up strikeouts and getting grounders. He's a lefty, yeah, but that doesn't matter. Righties are hitting .082/.212/.165 (.189 wOBA) against him. The four-week DL stint stunk, but Miller returned last week and looks fine aside from some obvious rust. Maybe more than one minor league rehab outing would have been a good idea.
Betances and Miller have anchored the bullpen — they are turning those late-inning leads into wins as planned, the Yankees have a .949 winning percentage when leading after seven innings compared to the .883 league average — and their numbers are straight out of a video game. I know strikeouts are up and pitching dominates today's MLB, but geez, look at this:
| | IP | ERA | FIP | K% | BB% | GB% | HR/9 |
| --- | --- | --- | --- | --- | --- | --- | --- |
| Betances | 47.0 | 1.53 | 1.69 | 42.5% | 10.5% | 48.2% | 0.38 |
| Miller | 29.1 | 1.53 | 2.29 | 39.5% | 9.2% | 54.4% | 0.61 |
| Combined | 76.1 | 1.53 | 1.69 | 41.3% | 10.0% | 50.7% | 0.47 |
They've allowed 30 hits combined in 76.1 innings. They have a combined .194 BABIP, which is extraordinarily low, though Betances and Miller have two of the 20 best soft contact rates in baseball, and soft contact leads to lower than usual BABIPs. Maybe it won't be that low all season, but their true talent BABIP is likely sub-.250.
Even with their higher than you'd like walk rates, Betances and Miller are putting just 0.79 runners on base per inning combined. When hitters have been lucky enough to put the ball in play against these guys, it has usually been on the ground, and the odds of it falling in for a hit are low. Aside from Dellin's little hiccup at the start of the season, these two have been exactly what the Yankees hoped they would be this year. They're dominating in the late innings and are critical pieces of the team's success.
The Flop
As the Yankees overhauled their bullpen this offseason, the only notable right-hander they brought in was David Carpenter. He was supposed to be the third wheel behind Betances and Miller, handling seventh inning duties and filling in in the eighth or ninth when necessary. Carpenter had a lot of success with the Braves from 2013-14 (2.63 ERA and 2.88 FIP) and he fit the Yankees' mold as a hard-throwing strikeout guy. It just didn't work is planned.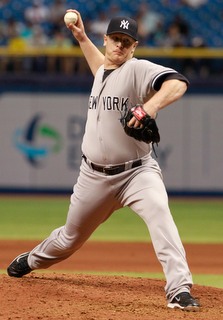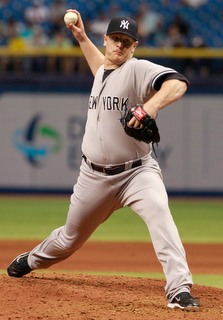 The first real sign that hey, Carpenter might not work out came in Baltimore in the ninth game of the season. He started the sixth inning with a one-run lead, immediately gave up the game-tying home run, then put two more runners on base before being yanked in the eventual loss. A few weeks later Joe Girardi asked Carpenter to protect a six-run lead with three outs to go against the Blue Jays, and the inning went homer, ground ball, fly ball, walk, ground-rule double, single before Miller had to come in.
Carpenter allowed eight runs on ten hits and three walks in a span of 6.2 innings in mid-May, which pushed him into "last guy out of the bullpen" territory. Girardi gave Carpenter plenty of opportunities to right the ship — he appeared in eleven of 22 games (4.32 ERA and a .353/.410/.618 batting line against) before being designated for assignment on June 3rd. He was later traded to the Nationals for an iffy Double-A prospect.
The end result was a 4.82 ERA (5.27 FIP) in 18.2 innings with strikeout (13.4%) and walk (8.5%) rates that were way too close together. Carpenter has a lower ERA with the Nationals (1.50) but he still isn't missing bats (16.0%), which is the real problem. This is a guy who struck out 27.4% of batters faced during his two years in Atlanta. Relievers, man. They go poof without warning all the time.
The Guy Who Doesn't Belong Here
Carpenter's ineffectiveness created a need for a second right-handed reliever behind Betances. Eventually, after a parade of call-ups, the Yankees settled on the guy who held that job so effectively last season: Adam Warren. Warren had been very good as a starter during the first few weeks of the season (3.59 ERA and 4.12 FIP), but Ivan Nova had come back from Tommy John surgery and CC Sabathia wasn't going to lose his rotation spot, so back to the bullpen he went. Life ain't fair.
Warren has thrown six innings in six relief appearances since moving to the bullpen, including 2.2 innings in his very first appearance. Girardi has used Warren like he used him last year, as a handyman capable of pitching in tight games and entering mid-inning. Warren had a little bump in the road last weekend in Boston (0.1 IP, 4 H, 1 R, 1 ER, 1 BB, 0 K) but it happens. Even good relievers have bad days. Now that his time as a starter has come to an end (at least this year, most likely), Warren has joined non-LOOGYs Chasen Shreve and Justin Wilson to form the bridge to Dellin and Miller.
The Long Mans
Every bullpen needs a long man, and for most of this season that long man was Esmil Rogers. And gosh, was he not good (6.27 ERA and 4.62 FIP). Rogers deserves major props for gutting through 4.2 innings in the 19-inning game against the Red Sox — he threw 81 pitches that night after throwing 35 the night before, dude bit the bullet — but he allowed 24 runs (!) and 41 base-runners (!!!) in his last 16.2 innings with the team. Egads. Rogers was dropped from both the 25-man and 40-man rosters in mid-June and is currently in Triple-A.
Chris Capuano has since taken over as the long man after coming to camp as the fifth starter. He hurt his quad, missed two months, allowed eleven runs and 22 base-runners in 12.2 innings in his first three starts back, then was moved to the bullpen. Warren basically Wally Pipp'd him. Capuano hasn't pitched a whole lot since taking over as the long man — that's a good thing, really — throwing just 15.2 innings across ten appearances in the team's last 38 games. He has a 3.45 ERA (3.59 FIP) since moving to the bullpen. If you're expected the long man to be better than that, I suggest recalibrating expectations.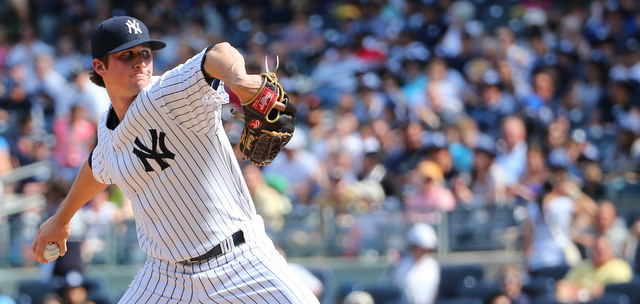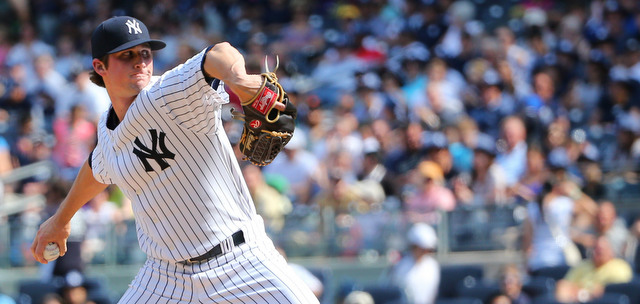 The Revolving Door
A total of 27 different pitchers have appeared in at least one game for the Yankees already this season. 27! It was 33 all of last year and 24 all of 2013. The Yankees used 27+ pitchers once from 2009-13 (28 in 2011) and they've already used 27 at the All-Star break this season. And the craziest thing is that most of the team's core pitchers have stayed healthy, with Miller's forearm and Masahiro Tanaka's wrist/forearm the only exceptions.
There is no way I'm going to recap 20-something pitchers here, especially since several only threw a handful of innings (if that). So instead let's hit on the most notable arms to come through that revolving door, listed alphabetically:
Jacob Lindgren: Lindgren, the team's top draft pick last summer, was called up in late-May and posted a 5.14 ERA (8.08 FIP) in seven innings. It turned out Lindgren had been pitching with a bone spur in his elbow, so he had surgery in late-June and will miss most of the rest of the season. Disappointing!
Chris Martin: Martin was not only on the Opening Day roster, but Girardi showed a lot of faith in his early on as well. He even picked up a save when Betances and Miller were unavailable one night. Martin's elbow started barking in early-May, which landed him on the DL. He hasn't been the same since. Martin has a 5.63 ERA (2.76 FIP) in 16 innings and is currently in Triple-A.
Bryan Mitchell: Mitchell has been up and down a few times but has finally seemed to stick in a short relief role. He has a 2.89 ERA (2.11 FIP) with nine strikeouts in 9.1 innings. PitchFX says he's averaging 96.6 mph with his fastball and 92.6 mph with his cutter. That'll do. Mitchell seems to be carving out a role as a middle innings flamethrower but could wind up in Triple-A if the club acquires an arm.
Chase Whitley: Poor Ace Whitley. The Yankees sent him to Triple-A this year so he could be available as their spot sixth starter, then he got the call when Tanaka landed on the DL. In his fourth start with the team, Whitely blew out his elbow and needed Tommy John surgery. For shame. He had a 4.19 ERA (4.53 FIP) in 19.1 innings before getting hurt.
The Yankees cycled through almost their entire Triple-A bullpen at one point as they looked for someone to emerge as a reliable righty reliever. Well, not really. A lot of those guys were called up simply because the team needed a fresh arm at some point. The Yankees opted to keep Lindgren over Carpenter, and now it looks like Mitchell will be given an opportunity to stick around in the second half. Rogers, Carpenter, and Martin were all on the Opening Day roster and have since been replaced by Capuano, Mitchell, and Warren. So it goes.