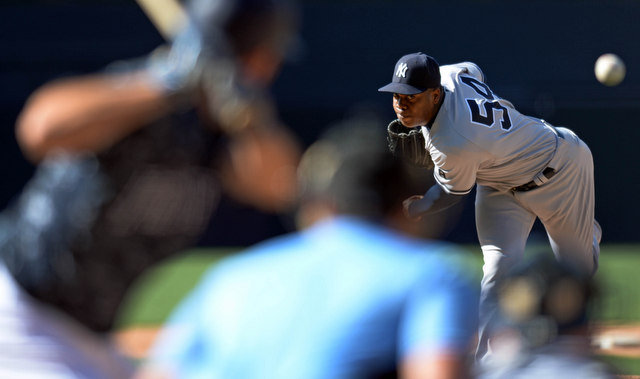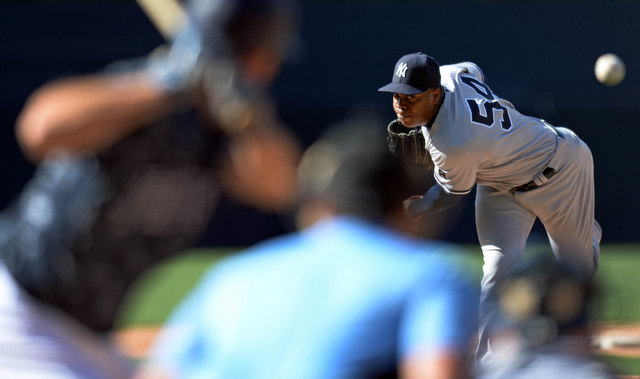 The trade deadline is now only nine days away, and according to FanGraphs, the Yankees have a 9.6% chance to make the postseason. That's not very good. Buster Olney (video link) said yesterday Aroldis Chapman could be dealt as soon as this weekend, though I'm not sure I buy that. "The Yankees are playing it smart and will likely take it to the end to get the most," said an official with another team to George King. Here are the latest trade rumblings.
Nats make top prospects off-limits
Despite their interest in Chapman, Barry Svrluga reports the Nationals will not trade top prospects Lucas Giolito, Trea Turner, Victor Robles, or Reynaldo Lopez for the hard-throwing lefty. Every team says they're unwilling to trade their top prospects this time of year, so I wouldn't make too much of this. It's just posturing.
If the Nationals are serious about getting Chapman (or Andrew Miller), they'll have to put one of those guys on the table. Lopez seems most likely, mostly because he's the lowest rated prospect of the bunch. He's not bad — Baseball America had him 48th in their midseason top 100 — the other guys are just really, really good. Based on what Miller fetched two years ago, I think Lopez would be a fair return for Chapman.
Blue Jays scouted Sabathia
The Blue Jays had a scout watching CC Sabathia's most recent start, reports Jon Heyman. George King says the Astros, Mets, Marlins, and Cubs also had scouts on hand Thursday. It's worth noting Blue Jays president Mark Shapiro was in the Indians' front office all those years Sabathia was in Cleveland, including most as GM. There's a bit of a connection there.
We heard Sabathia has been drawing some interest the other day, though I have a hard time believing it's serious interest. I'm guessing it's more "if you eat a ton of money we'll take him off your hands" interest. Also, an intradivision trade with the Blue Jays probably isn't happening, even though you could argue trading Sabathia to an AL East rival would be good for the Yankees.
Giants, Astros, Cubs among teams to scout Pineda
The Giants, Astros, Cubs, and "a ton" of others were on hand to see Michael Pineda's most recent start, report Jon Morosi and Chris Cotillo. Pineda had his first scoreless start of the season Wednesday, and he had maybe his nastiest slider of the season too. As Katie pointed out in Yankeemetrics, Pineda generated 18 swings and misses with his slider that game, the most by any pitcher in baseball in 2016.
The Yankees are at the point where they have to figure out what they want to do with Pineda and Nathan Eovaldi. Do they want to keep them long-term? If so, they should start thinking about extensions. If they don't want them long-term, then they should trade them soon to get as much back as possible. I understand waiting and hoping they rebuild value in the second half, but I think it's more likely they'll lose value going forward between the injury risk and being closer to free agency.