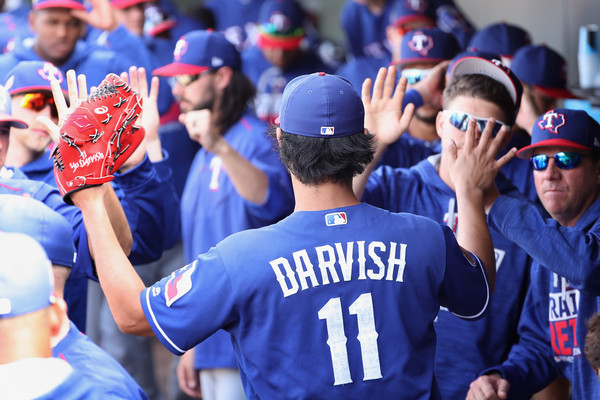 The Last Time They Met
The Rangers visited the Yankees this time last year, splitting a four-game series from June 27-30. Both of the Yankees wins came in walk-off fashion, with one coming by way of long ball, and the other as the result of a passed ball. Ain't baseball grand? A few more notes:
Mark Teixeira went 3-for-5 with a home run in the first game, which ended up being the last three hit effort of his career. It would've been the game-winning home run had Kirby Yates not blown the lead two innings later.
Luis Cessa picked-up the first win of his MLB career in game three. He came in to relieve Masahiro Tanaka in the 7th, and pitched the last three innings of the game.
Alex Rodriguez went 2-for-4 in the final game of the series; it was the last multi-hit game of his career.
The sequence of events that led to the game four walk-off was: walk – sacrifice bunt – walk – fielder's choice (runner's advance to 2nd and 3rd) – passed ball. Jacoby Ellsbury was at the plate for the passed ball, so perhaps we should chalk it up to his catcher's interference magic.
Check out Katie's Yankeemetrics post for more fun with numbers.
Injury Report
While the quality is up for debate, there's no arguing that the Rangers essentially have a pitching staff on the disabled list. Starters Cole Hamels, Andrew Cashner, A.J. Griffin, and Chi Chi Gonzalez, and relievers Tony Barnette, Jake Diekman, and Jeremy Jeffress are all out, and none are expected to return for this series.
Their Story So Far
The Rangers are currently 36-36 with a +22 run differential, and they've won 10 of their last 15. They've dealt with a litany of injuries this year, with their current disabled list only representing a portion of that – Adrian Beltre missed 50-plus games with injuries, Carlos Gomez missed 20-plus games, Tyson Ross didn't pitch until June 16, and Jonathan Lucroy has been dealing with nagging injuries all season. Their ability to hover around .500 so far is impressive, all things considered, and they should improve when (if?) they get healthy.
Surprisingly, the Rangers offense (25th in baseball in wRC+) has been a larger issue than their pitching (13th in park-adjusted ERA). The worst offenders have been Lucroy (78 wRC+), Mike Napoli (77 wRC+), and Rougned Odor (63 wRC+), all of whom were expected to be solid contributors in the lineup.
You can read more about the Rangers over at Lone Star Ball.
The Lineup We Might See
Manager Jeff Banister has been tinkering with the lineup quite a bit over the last month or so, with injuries and underperformance all but forcing his hand. The first, second, and fourth spots in the lineup have been veritable revolving doors, and that's less than ideal when your team is expected to have a potent offense. Nevertheless, the Yankees will probably see something like this over the weekend:
Shin-Soo Choo, RF
Elvis Andrus, SS
Nomar Mazara, LF
Adrian Beltre, DH/3B
Rougned Odor, 2B
Carlos Gomez, CF
Joey Gallo, 3B/DH
Mike Napoli, 1B
Jonathan Lucroy, C
The Starting Pitchers We Will See
Friday (7:05 PM EST): RHP Masahiro Tanaka vs. RHP Yu Darvish
Even with injuries that cost him all of 2015 and much of 2014 and 2016, we should be discussing Darvish as one of the greatest Japanese imports in MLB history. He has 18.1 bWAR through his fifth season (4.4 bWAR per 180 IP), which puts him just three bWAR behind Hideo Nomo and Hiroki Kuroda in significantly fewer innings, and he's still just 30-years-old. He's also a free agent after this season.
Darvish is something of a two-pitch pitcher, with most everything being either a fastball (be it a mid-90s four-seamer, mid-90s two-seamer, or high-80s cutter) or a slider. He'll throw the occasional curveball or change-up, but that's not an every-game occurrence.
Last Outing (vs. SEA on 6/18) – 5.0 IP, 8 H, 5 R, 1 BB, 6 K
Saturday (1:05 PM EST): RHP Luis Cessa vs. RHP Austin Bibens-Dirkx
Yes, that's his real name. Bibens-Dirkx spent the first eleven seasons of his professional career in the minors, pitching in five organizations along the way (as well as in the Mexican League and independent ball). The Rangers signed him to a minor league deal last off-season, and he made his big league debut on May 17, three weeks shy of his 32nd birthday.
Bibens-Dirkx is a borderline junk-baller, with a pair of 90ish MPH fastballs, a mid-80s slider, a mid-80s change-up, and an upper-70s curve. His offspeed pitches have graded extremely well as per PITCHf/x, albeit in just 29.2 IP.
Last Outing (vs. TOR on 6/19) – 5.0 IP, 5 R, 1 BB, 5 K
Sunday (2:05 PM EST): RHP Michael Pineda vs. RHP Nick Martinez
Martinez's path to pitching has been interesting, as well. He was drafted out of Fordham in 2011, having spent most of his time there as an infielder (and occasional reliever). The Rangers converted him to starting in his first professional season, and he's done well-enough since (96 ERA+ and 2.1 bWAR in 364.1 MLB IP). He lack a strikeout pitch, which limits his ceiling, but he has improved his control and groundball rates over time.
Martinez throws three low-90s fastballs (four-seamer, two-seamer, cutter), a curve in the upper-80s, and a mid-80s change-up. It's not premium stuff, but he throws all of his pitches for strikes.
Last Outing (vs. TOR on 6/20) – 6.1 IP, 2 H, 1 R, 3 BB, 2 K
The Bullpen
The Rangers have already used fifteen different relievers this season. It's not surprising, then, that the group has a 4.45 ERA and more blown saves (13) than saves (11); those save and blown save numbers are both second-worst in the majors. Those numbers are at least a bit misleading, though, as Sam Dyson (now on the Giants) was 0-for-4 in save opportunities, and had a 10.80 ERA in 16.2 IP. The remaining relievers – notably closer Matt Bush, set-up man Keone Kela, Jose Leclerc, and Alex Claudio – have been solid or better.
Texas' bullpen has been stretched somewhat over the last week, including being called upon for six innings on Tuesday. Bush and Kela rested yesterday, though.
Yankees Connection
Get excited, folks, as Yankees legends Ernesto Frieri and Pete Kozma will be making their way to the Bronx for the next three games.
Who (Or What) To Watch
Adrian Beltre is healthy, hitting, and just forty hits shy of 3,000. I've always enjoyed watching him play, and I'm excited to (hopefully) see him reach that milestone later this year. And I still feel like few people realize just how close he is to that level of immortality.
Joey Gallo is no Aaron Judge, but he's currently fifth on the exit velocity leaderboard. He's a three-true outcomes hitter, with nearly 56% of his PA resulting in a home run (19 jacks), walk (11.0%), or strikeout (37.3%), and when he manages to make contact the ball really flies off of his bat. He's still only 23-years-old and this is his first extended look in the majors, so there's definitely room for improvement.