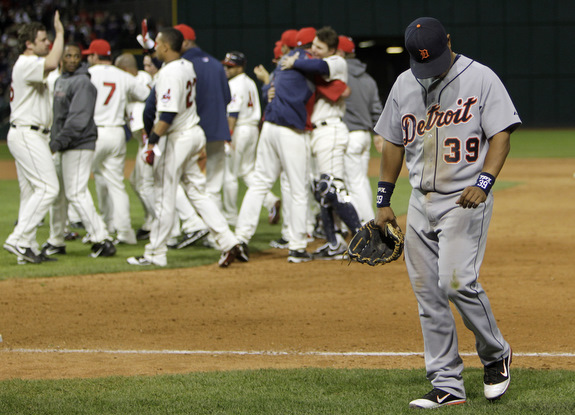 The Yankees kicked off the 2011 season with a three-game series against the Tigers, taking the first two games at home. Now they head to Detroit for a four-game series, catching Jim Leyland's squad at just the right time.
What Have The Tigers Done Lately?
How about lose six games in a row? The Tigers are coming off consecutive sweeps at the hands of the Mariners and Indians, getting outscored 41-17 in the process. They had won four straight and nine of 12 before that, but that must feel like ancient history in MoTown. Detroit is currently 12-16 with a -22 run differential, the third worst mark in the American League and sixth worst in all of baseball.
Tigers on Offense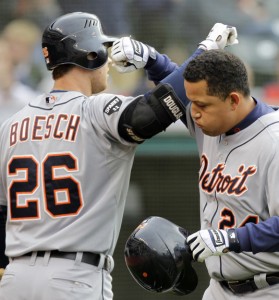 Miguel Cabrera. That's pretty much all I have to say, because the guy is a one man wrecking crew, one of the three best hitters on the planet at any given moment. He's got a .452 wOBA on the season, a top seven mark in the game and a number not too far removed from his true talent level. It wouldn't matter if he had been slumping of late (he's not), the guy is as good as it gets.
Behind him, well that's where the Tigers have problems. Victor Martinez is on the disabled list with a groin strain, but he'll be on a minor league rehab assignment early this week and could return as soon as Wednesday. Magglio Ordonez, the supposed other big bat, has been atrocious this season, with a .185 wOBA (.078 over the last week). Second baseman Will Rhymes, center fielder Austin Jackson, and left fielder Ryan Raburn have picked it up lately; all three have five hits in their last 15 at-bats, while the first two added three walks as well. They're still sporting .270, .246, and .322 wOBA's on the season though, respectively.
That's pretty much it though, Miggy and those three on their three game hot streaks. The left side of the infield – Brandon Inge and Jhonny Peralta – has 21 hits combined in their last 110 at-bats, and although catcher Alex Avila is hitting .316/.326/.500 since V-Mart hit the shelf, that's propped up by a 5-for-7 showing (with two doubles and triple) against the ChiSox two weeks ago. Brennan Boesch is enjoying about strong first half, but he hasn't hit for much power lately and can still swing and miss with the best of 'em. The key to shutting down the Tigers' offense is rather simple: just don't put men on base in front of Cabrera. He's going to get his hits and homers, it's inevitable, but minimize the damage by getting the guys at the top of the order out. That means Jackson, Rhymes, and Raburn mostly.
Tigers on the Mound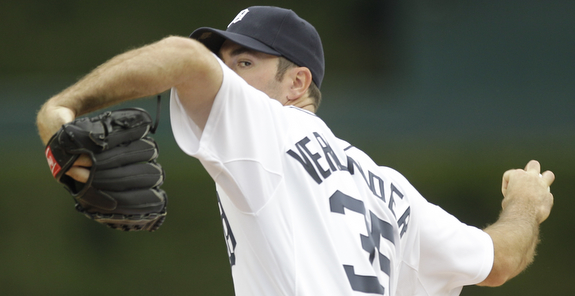 Monday, Justin Verlander: There's really not much to say about Verlander that you don't already know. He's one of the very best pitchers in the game, a guy that legitimately sits in the high-90's with a devastating curveball and now a really good changeup as well. He's struck out 43 and walked just 13 in 42 innings this year, allowing just 30 hits. Verlander has been a bit homer prone of late, giving up three to the White Sox two starts ago then one to the Mariners last time out. Just hope he has an off night or that the Yankees can wait him out and get to the bullpen.
Tuesday, Brad Penny: If it wasn't for seven scoreless, one-hit innings against the ChiSox two starts ago, Penny would have a 7.62 ERA and a 1.62 WHIP right now. Instead, those totals sit at 6.11 and 1.39, respectively. The Yankees traditionally pound the guy, and did just that in the second game of the season by hanging eight runs on him in 4.1 IP. He hasn't fooled anyone with his low-90's fastball, mid-80's changeup, and upper-70's curveball yet this year, and I really don't expect him to anytime soon.
Wednesday, Max Scherzer: It's been a season of two extremes for Scherzer so far. His first start (against the Yankees): 11 baserunners and six runs in five innings. His last start (against the Indians): 11 baserunners and five runs in 6.2 IP. The four starts in between: just five runs total and 35 baserunners in 24 IP. It's been four really good starts sandwiched around two awful ones. Scherzer is a typical power pitcher, with a mid-90's fastball and a slider and changeup that both hover around 80 mph. He certainly misses bats (8.84 K/9 and 8.9 swing-and-miss rate), but he'll walk himself into trouble (4.30 uIBB/9) and he gives up a lot of fly balls (just 37.7% grounders). It won't be an easy assignment, but there's blow up potential here.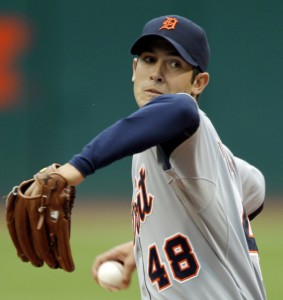 Thursday, Rick Porcello: Still just 22 years old, Porcello is in his third year as a big leaguer and seems to have figured out a way to get strikeouts in addition to all his grounders. He's whiffed 17 batters in his last 19.2 IP (three starts), and it appears to stem from scrapping his curveball and going heavy with his slider and (especially) changeup. Aside from Verlander, Porcello might be the toughest matchup for New York if the strikeouts are real, since most of the contact he does induce will be on the ground. The Yankees have hit him hard in the past, but this might not be the same guy anymore.
Bullpen: Remember that three-year contract the Tigers threw at Joaquin Benoit? Well he's allowed ten runs and eight hits while walking three and striking out just one in his last 1.1 (!!!) IP. That's a 60.75 ERA and a .727/.750/1.000 batting line against. He was awesome before that (0.93 ERA in 10.2 IP), but the wheels have completely fallen off the bus. The three appearances that make up those 1.1 IP have come in the last five days, so expect him to get at least tonight off, if not tomorrow as well.
Detroit does have a super secret weapon though: Al Alburquerque. Laugh at his name if you want (it's not spelled the same as the city), but the dude has the slider from hell and 16 strikeouts in 8.1 IP. The good news: he threw three innings on Saturday, so he's probably off limits until tomorrow, if not Wednesday. Ryan Perry was on the disabled list for a while and has only thrown 5.2 IP, but after appearing in three games over the last four days, he's another guy that might be off limits tonight. Danny Schlereth throws hard from the left side, but the Yankees have had their way with him in the past and he's thrown in four of the last six days. Another guy that might not be able to pitch tonight. Lefty specialist Brad Thomas and closer Jose Valverde are probably go to go though. Knocking Verlander out of the game early is damn near impossible, but it would completely wreck the Tigers bullpen for the series.
Recommended Tigers Reading: Tiger Tales and Bless You Boys.