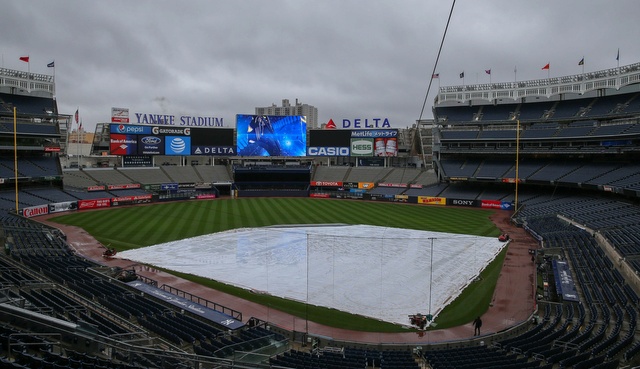 Well folks, the Yankees have nothing left but three meaningless games this season. Meaningless to them, that is. The Yankees were eliminated from postseason contention last night, but their opponent this weekend, the Orioles, is still very much alive in the wildcard race. These three games mean everything to them.
Buck Showalter has been taking shots at the Yankees since they parted ways following the 1995 ALDS. He goes out of the way to needle the Yankees every chance he gets. Now the Bombers have a chance to keep Showalter's team out of the postseason, and gosh, that would be sweet as hell. The Yankees already created some headaches for the Blue Jays and Red Sox this week. Time to do the same for the O's. Here is the Orioles' lineup and here is the Yankees' lineup:
It is cold and windy and rainy in New York. Not exactly baseball weather. There's rain in the forecast pretty much all night too. Seems like it's going to be more mist than outright downpour. We'll see. Tonight's game is scheduled to begin at 7:05pm ET and you can watch on YES. MLB.tv is free this weekend, by the way. Blackouts still apply, however. Enjoy the game.
Injury Updates: It's still undecided whether Masahiro Tanaka (forearm) will make his scheduled start tomorrow. He feels fine, but the Yankees may decide not to risk anything since they're out of the race … Brett Gardner is a bit banged up but is expected to play again before the end of the season … Starlin Castro is out of the lineup essentially as a precaution. The don't want him on the wet field so soon after his hamstring injury.
News: Luis Severino has been fined for his role in Monday's benches clearing brawl(s) with the Blue Jays, but he wasn't suspended. Weird. A.J. Cole just got five games for throwing behind Jung-Ho Kang. Didn't even hit him. Severino threw behind Justin Smoak then hit him with the next pitch, after benches were warned, yet no suspension. I do not understand. Whatever.