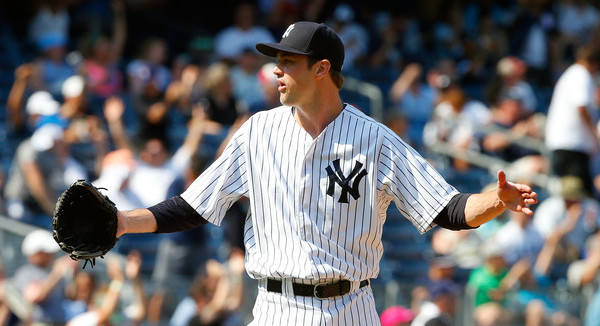 Earlier this week, the Yankees acquired Aroldis Chapman from the Reds in one of their classic out of nowhere trades. The whole thing went down in about an hour, from first rumor to press release. The Yankees added Chapman without giving up significant prospects or dealing anyone off their MLB roster.
Right now the Yankees plan to have Chapman join Andrew Miller and Dellin Betances in the bullpen, forming the most dominant reliever trio in history. That's not hyperbole either. The early-to-mid-2000s Astros had a great bullpen threesome in Billy Wagner, Octavio Dotel, and Brad Lidge, but not even they were as dominant as Chapman, Miller, and Betances.
My guess is Chapman will take over as the closer next season, mostly because he's been one of the best closers in the game for a few years now. Miller was awesome in that role last season, so it's not like he's being replaced because he didn't do the job, it just seems like Chapman will get the ninth inning based on reputation. And Miller is perfectly fine with that. Here's what he told Brendan Kuty after the Chapman deal:
"I signed with the Yankees to win and I'm not stupid, he's a heck of a pitcher," Miller told NJ Advance Media in a phone interview Tuesday. "This is what I signed up for. I signed up to play for the Yankees, to win championships, and if (general manager Brian) Cashman and the Steinbrenners and whoever is part of the decision-making process thinks this is part of the answer, and that this is the way to go about it, that's fine by me."
Miller never did make any kind of stink about being the closer last season. He came to Spring Training and said he would do whatever the team asked, and it just so happened they needed him to close. "For what they're paying me, I'll do anything," he said in early-May, after Joe Girardi finally declared him the closer.
Reports circulated saying Chapman wants to close when it appeared he was headed to the Dodgers a few weeks ago, though I'm not sure how true that is. Saves do pay, though I think at this point everyone knows Chapman is great and he'll get paid accordingly in free agency next winter regardless of his 2016 saves total. That said, even the possibility of losing money due to a lack of saves may be enough to make Chapman uncomfortable.
As far as I'm concerned, there is no wrong answer in the late innings. Girardi could use Chapman or Miller or Betances to close and it would be perfectly fine with me. How could anyone think there's a wrong answer here? They're all great. If Chapman is more comfortable closing, then let him close and put him in the best position to succeed. Works for me.
As for Betances, what does he think about the Chapman addition? "I'm thinking about the game where we each pitch an inning and K all nine hitters we face," he said to John Harper. Mmmhmmm.