By

The Yankees have designated infielder Eduardo Nunez for assignment, Joe Girardi announced. The move clears a 40-man roster spot for Yangervis Solarte. The team has ten days to trade, release, or pass Nunez through waivers. He might get claimed since middle infielders are in short supply, but I've been wrong about the last bench spot literally the entire time, so don't listen to me.

Nunez, 26, hit .267/.313/.379 (86 wRC+) with ten homers and 48 steals in 827 games for the Yankees over the last four seasons. He was a competent backup infielder at the plate, but his defense was a disaster and it just didn't improve. It started to become clear the Yankees were growing tired of him over the winter when they brought in guys like Solarte, Dean Anna, and Scott Sizemore to compete with him directly. It would have been very easy to take Nunez north instead of Solarte, so this is another good sign. We'll always have this, Eddie. (This too.) · (94) ·
After more than four months of offseason and six weeks of Spring Training, meaningful baseball is back. The Yankees open the 2014 season later tonight in the same place they ended last season, at Minute Maid Park in Houston. The Astros will honor Derek Jeter with a ceremony prior to tomorrow's game, according to Evan Drellich. Former Yankees and former Astros Andy Pettitte and Roger Clemens are scheduled to attend. Neato.
What Did They Do Last Year?
Stunk, mostly. The Astros went 51-111 with a -238 run differential, the worst marks in baseball by eleven games and -64 runs, respectively. Terrible. They made a few moves to add legitimate MLB caliber players over the winter but not nearly enough to right this ship. Houston went 12-15 during Grapefruit League play.
Offense
The Yankees were terrible offensively last season thanks to the injuries, and the Astros were just as bad. The two clubs were nearly identical on a rate basis (86 vs. 85 wRC+), though New York did a better job of actually pushing runs across (4.01 vs. 3.77 runs per game). Houston did add one notable position player in OF Dexter Fowler (106 wRC+ in 2013), who they stole from the Rockies for pennies on the dollar.
The Astros' best hitter and best all around player is C Jason Castro (130 wRC+ in 2013), who broke out last summer and lived up to the hype of being the 10th overall pick in the 2008 draft. 1B/DH Chris Carter (113 wRC+) has huge power (29 HR and .223 ISO) and was the club's only other comfortably above-average hitter in 2013. 2B Jose Altuve (85 wRC+) has become one of the game's most overrated players the last year or two. His production is on par with the Yankees version of Melky Cabrera, except instead of having a cool name, he's really short.
3B Matt Dominguez (89 wRC+) quietly swatted 21 homers a year ago. Guys like OF L.J. Hoes (98 wRC+) and OF Robbie Grossman (97 wRC+) had strong showings after being called up at midseason, SS Jonathan Villar (80 wRC+) and 1B Marc Krauss (74 wRC+) less so. OF Alex Presley (career 102 wRC+ vs. RHP) and UTIL Jesus Guzman (career 130 wRC+ vs. LHP) were low-cost offseason pickups who are good platoon options. C Carlos Corporan (79 wRC+) is Castro's seldom used backup and IF Marwin Gonzalez (55 wRC+) is essentially the 25th man on the roster. The top four hitters in the lineup (Fowler, Altuve, Castro, Carter) are MLB caliber, but it really falls off after that.
Pitching Matchups
Tuesday: LHP CC Sabathia vs. RHP Scott Feldman (Career vs. NYY) (Pitcher GIFs)
Feldman, 31, was one of those legitimate MLB players the Astros added this winter, signing him to a three-year, $30M contract. I like him as a back-end starter, but not that much. Anyway, Feldman is coming off a solid season split between the Cubs and Orioles, pitching to a 3.86 ERA (4.03 FIP) in 181.2 innings. His strikeout rate (6.54 K/9 and 17.4 K%) wasn't anything special but he limits walks (2.77 BB/9 and 7.4 BB%) and gets ground balls (49.6%). He also had no platoon split, holding righties to a .297 wOBA and lefties to a .298 wOBA. Freaky. Feldman is primarily a low-90s sinker/upper-80s cutter/mid-70s curveball pitcher, though he will throw the occasional mid-80s splitter that serves as his changeup. Feldman has been around a while and so has most of the Yankees' lineup, so there's some familiarity here.
Wednesday: RHP Hiroki Kuroda vs. RHP Jarred Cosart (Career vs. NYY) (Pitcher GIFs)
Acquired from the Phillies in the Hunter Pence trade, the 23-year-old Cosart made his MLB debut last season and managed a 1.95 ERA (4.35 FIP) in 60 innings. He got a ton of ground balls (54.5%) but walked (5.25 BB/9 and 14.2 BB%) more batters than he struck out (4.95 K/9 and 14.4 K%). Eek. Command has never been his strong suit. The young righty had a reverse platoon split last year — righties had a .376 wOBA, lefties only a .236 wOBA — but that's a sample size thing more than anything. Cosart throws very hard, sitting in the mid-90s and touching 97-98 with a four-seam fastball that he threw more than 70% of the time in 2013. An upper-70s curveball is his top secondary pitch, and he'll also mix in the occasional mid-80s changeup. Cosart did not face the Yankees last season and players on the roster have four combined plate appearances against him, three by Jacoby Ellsbury.
Thursday: RHP Ivan Nova vs. LHP Brett Oberholtzer (Career vs. NYY) (Pitcher GIFs)
Oberholtzer, like Cosart, made his big league debut last season. The 24-year-old had a 2.76 ERA (3.65 FIP) in 71.2 innings, walking no one (1.63 BB/9 and 4.4 BB%) but not striking anyone out either (5.65 K/9 and 15.5 K%). He also didn't get many ground balls (35.6%) or do a particularly good job against same-side hitters — lefties had a .325 wOBA, righties a .271 wOBA — though again, that's probably a sample size thing. Oberholtzer is a classic finesse southpaw, sitting right around 90 mph with his fastball while throwing both his changeup and curveball in the low-80s. The Yankees did face Oberholtzer in Game 160 last year, but the only guy who was in the lineup that day and on the active roster right now is Alfonso Soriano. Here's the box score if you don't believe me.
Bullpen Status
The Astros did spend some money on bullpen help this winter, though RHP Jesse Crain (1.52 FIP in 2013) will open the season on the DL with a biceps strain. Manager Bo Porter has declined to name an closer to start the season, with RHP Chad Qualls (3.32 FIP) and RHP Josh Fields (5.10 FIP) considered the leading candidates.
Porter's middle relief crew is solid, with veteran RHP Matt Albers (3.49 FIP) joining LHP Kevin Chapman (4.28 FIP) and RHP Anthony Bass (4.24 FIP). RHP Brad Peacock (4.98 FIP) is moving into the bullpen after a failed experiment as a starter, so he could take off in his new role as many failed starters have done before. Veteran RHP Jerome Williams (4.60 FIP) is the long reliever. Only one left-hander, so Porter will have to decide whether to save him for Ellsbury or Brian McCann. The game situation will dictate that. There aren't many Astros blogs out there, but The Crawfish Boxes is very good.
Finally, Opening Day has arrived. The Yankees (and Astros) are the last team in baseball to play their first game this year, but at this point, waiting another day or two is no big deal. I kinda enjoyed getting the league-wide Opening Day excitement out of the way yesterday so I can focus exclusively on the Yankees today. Anyway, here are some thoughts before Game One.
1. There's still no word on how the Yankees will squeeze Yangervis Solarte onto the 40-man roster and I honestly have no idea what the move will be. There's nothing obvious. I would be surprised if they cut ties with Eduardo Nunez considering, well, their infield stinks and getting rid of infield depth isn't a good idea right now. Teams like the Tigers, Rangers, and Mets all need middle infield help at the moment and he'd get claimed off waivers in a heartbeat. Maybe Nik Turley and his mysterious arm injury will go to the 60-day DL, but the long delay in announcing the move leads me to believe a trade might be in the works. Something small. Preston Claiborne for a decent prospect. Something like that. One way or another, we'll find out today.
2. Solarte will be one of five rookies on the team's Opening Day roster, joining Masahiro Tanaka, Dean Anna, Vidal Nuno, and Dellin Betances. I have no idea when the last time that happened was. I can't imagine it was recent. The 2009 Yankees had four rookies on the Opening Day roster (Brett Gardner, Ramiro Pena, Phil Coke, Jon Albaladejo) and that's as far back as I looked. Not sure if there's an easier way to do it besides manually, which is hardly easy. Tanaka is obviously very important and both Nuno and Betances have a chance to pitch their way into the club's long-term bullpen picture. Anna and Solarte … they're bench players until proven otherwise in my book. Add in Michael Pineda, Ivan Nova, and some other relievers and the Yankees seem to have more youth on the season-opening roster than at any other point in the last, I dunno, 10-15 years.
3. Aside from Tanaka, Solarte, and Anna, who will be the first player to make his MLB debut with the Yankees this year? Eight guys made their big league debut with New York last season (Nuno, Claiborne, Corban Joseph, David Adams, Zoilo Almonte, John Ryan Murphy, Brett Marshall, Cesar Cabral), though 2013 was an aberration because of all the injuries. I'm guessing the first guy to get called up and make his debut will be lefty Fred Lewis. Almost seems too obvious, no? A reliever is the safe pick because there's so much turnover in the bullpen, and with Matt Thornton looking kinda crappy in camp, a lefty could be called on in a hurry. Lewis seemed to jump Cabral on  the depth chart, though 40-man issues may complicate things.
4. So now that the regular season has started, how long until Stephen Drew signs? It's after Opening Day, meaning he can not receive a qualifying offer next winter if he signs a one-year deal. (He'd have to sign after the draft to not cost a pick.) As I said before, there are a ton of teams out there that need middle infield help, and I can't imagine he'll hang around unsigned much longer. Some team will get desperate and jump on him, and that team will be better for it. Will that team be the Yankees? I think it's possible but unlikely. I'm guessing the team wants to see how Derek Jeter and Brian Roberts perform on an everyday basis before bringing in someone else. Plus there isn't any time to learn a new position. Still makes sense though.
5. Remember when the Yankees always seemed to get off to slow starts? Well, they didn't seem to get off to slow starts, they absolutely did. They went 58-64 in March and April from 2004-08, a .475 winning percentage. Thankfully that isn't the case anymore. In the last five years they've gone 71-45 in March and April, a .612 winning percentage. The scheduling gods did the Yankees a solid this season by sending them to Houston for the first series, giving them a chance to bank some wins early in 2014. We can even expand that to include the second series against the Blue Jays. Six straight games against last place teams from a year ago, meaning the Yankees will have a chance to play their first home game one week from today with four or five wins already in the bank. The AL East is going to be tight this year and the Bombers are in position to get off to a nice start.
The 2014 regular season started today … except for the Yankees. Along with the Astros, they are the last team to play their first game this year. One more day. One more day and we'll have live, meaningful Yankees baseball to enjoy.
The team did workout in Houston this afternoon and there's only two pieces of non-news to come from that. Joe Girardi confirmed that they lineup they planned to use in Saturday's game will indeed be the Opening Day lineup, meaning Brett Gardner will bat seventh. Also, Dean Anna and Vidal Nuno will switch to numbers 45 and 57, respectively. Yangervis Solarte is apparently sticking with 89. Your Spring Training jersey is still good!
Here is your open thread for the night. Rockies-Marlins (De La Rosa vs. Fernandez) and Mariners-Angels (Hernandez vs. Weaver) will both be on ESPN2 tonight. As a reminder, the Extra Innings package is in a free preview this week, so you can watch any game. The Devils and Knicks are both playing tonight as well. Talk about anything here.
Spoiler: There won't be an April Fool's post this year. It totally slipped my mind and I don't have time to put one together tonight. I think the novelty has worn off anyway. Besides, nothing will ever top this. It is our Mona Lisa.
Everyone is focused on Opening Day tomorrow and rightfully so, but let's not forget the minor league season is right around the corner as well. The four full season affiliates open their seasons this coming Thursday, and obviously this is a huge year for the farm system. The Yankees need some prospects to take steps forward with their development and stay healthy following last summer's injury and disappointment filled nightmare.
If you're new to RAB, one of our regular features is the Prospect Watch. Every year we pick a prospect and track his progress throughout the season in the sidebar. Past Prospect Watches include Phil Hughes, Joba Chamberlain, Jesus Montero, Andrew Brackman, and Mason Williams, among others. Last season we tracked Tyler Austin, who put up a disappointing .257/.344/.373 (103 wRC+) batting line with six homers in 366 plate appearances for Double-A Trenton while batting a wrist problem. Hopefully 2014 will go better, both for Austin and the Prospect Watch.
As we've done the last two years, we're going to open up the Prospect Watch decision to the readers. I used to just pick a top prospect — it was pretty easy in the cases of Hughes, Joba, and Montero back in the day — but this is better. I don't think there's an obvious choice this year. In fact, I think there are too many good candidates. That's not a bad thing, mind you. Here are my eight hand-picked nominees (listed alphabetically) with their rank in my Preseason Top 30 List in parentheses. Vote at the bottom of the post.
OF Tyler Austin (4)
We've had the same player be the Prospect Watch in back-to-back years before (Montero) and I'm certainly not opposed to doing it again. Austin, 22, is only a year removed from his monster .322/.400/.559 (~163 wRC+) campaign, during which he hit 17 homers and stole 23 bases. It's important to keep in mind that his wrist gave him a problem early in camp, so he will be held back in Extended Spring Training as he prepares for the season. He won't be ready to go on Thursday.
LHP Manny Banuelos (10)
Banuelos, 23, was our Prospect Watch back in 2011, a year before his elbow starting barking. He eventually had Tommy John surgery and he has not pitched in a regular season game since May 2012. Banuelos is healthy now and will start the season on time. The injury makes it easy to forget how good he was back in the day, like when he had a 2.51 ERA (~2.18 FIP) back in 2010. Banuelos is the only pitcher nominee for the Prospect Watch, not surprising given the state of the system.
1B Greg Bird (11)
No one in the farm system had a better statistical season in 2013. The 21-year-old Bird hit .288/.428/.511 (170 wRC+) with 20 homers and 107 walks for Low-A Charleston last season, a year that bests Austin's 2012 effort. Bird, however, dealt with a back issue in camp and he will not start the season on time. Like Austin, he will open the year in Extended Spring Training making up for all the time he lost this spring.
OF Slade Heathcott (3)
Armed with a brand new 40-man roster spot, Heathcott is coming off a .261/.327/.411 (104 wRC+) season with Double-A Trenton, hitting 22 doubles, seven triples, and eight homers while stealing 15 bases. The 23-year-old has the loudest tools in the organization and could put it all together at a moment's notice. Unfortunately, like Austin and Bird, Heathcott will start the season in Extended Spring Training. He's working his way back from offseason knee surgery.
3B Eric Jagielo (5)
Jagielo, 21, was the first of last summer's three first round picks. His pro debut was a smashing success: .264/.376/.451 (152 wRC+) with six homeruns in 229 plate appearances. Jagielo is slated to open the season with High-A Tampa and as a polished college bat, he should have a field day with Single-A pitching.
OF Aaron Judge (7)
The 21-year-old Judge was the second of the team's three first rounders last year. He did not play at all after signing due to a minor quad injury, but he is healthy now and will open 2014 with Low-A Charleston. Judge is physically huge (listed at 6-foot-7 and 255 lbs.) and he has huge raw power, enough that he could become the organization's first true prospect to hit 25+ homers since Brandon Laird in 2010.
C Gary Sanchez (1)
The system's top prospect for two years running has not yet been featured in our Prospect Watch. Sanchez, 21, hit .253/.324/.412 (~109 wRC+) with 27 doubles and 15 homers split between High-A Tampa and Double-A Trenton last year, and he will return to the Thunder to start 2014. Sanchez has the best combination of power, hitting skills, and overall approach in the organization, hence his status as the top prospect.
OF Mason Williams (6)
Two years ago we following the 22-year-old Williams and he had a marvelous season, hitting .298/.346/.474 (~125 wRC+) with 11 homers and 20 steals in only 397 plate appearances. His follow-up performance wasn't nearly as good, just a .245/.304/.337 (83 wRC+) batting line with four homeruns and 15 steals in 537 plate appearances. The raw talent is there though, Williams' tools are right up there with Heathcott. Remember, he'll be Rule 5 Draft eligible this winter and a 40-man roster spot is a great motivator.
* * *
I opted not to include C John Ryan Murphy, my number two prospect, because there's a decent chance he'll wind up in the big leagues as a backup, sitting around for days on end. Don't want the Prospect Watch to go unused. I was planning to include RHP Ty Hensley in this post, but his recent hernia injury will keep him out for a few weeks. Others like 2B Gosuke Katoh and RHP Luis Severino fell victim to the numbers crunch. They'll have more chances in the future.
The poll will remain open until 10am-ish ET on Wednesday, so you have plenty of time to vote if you're unable to make up your mind right now. I know I can't, so you're not alone. Here's the poll:
Update: Poll's closed! Thanks for voting!
The Yankees finalized their Opening Day roster over the weekend and made somewhat surprising choices to round out the bullpen and bench. Vidal Nuno won the final bullpen spot while Yangervis Solarte beat out Eduardo Nunez for the final bench spot. I say somewhat surprising because neither of those moves felt impossible, just unlikely. At least they did to me.
The rationale behind the moves is simple. Joe Girardi insisted they would take the best pitchers for the bullpen and that's what they did by choosing Nuno over guys like Matt Daley and Cesar Cabral. Having three stretched out relievers (Nuno, David Phelps, Adam Warren) allows them to take it easy on Masahiro Tanaka and Michael Pineda early in the season. Solarte flat out outplayed Nunez in camp, plus he's a switch-hitter, more versatile (can play left field), and more reliable defensively. See? Simple.
So now rather than opening the season on the big league bench, Nunez will start with Triple-A Scranton, presumably playing shortstop everyday. Maybe he'll move around the infield a bit. With Nuno in the show, the Yankees brought back Al Aceves to fill out the Triple-A pitching staff. He'll join prospect Shane Greene and veterans Brian Gordon, Chris Leroux, and Bruce Billings in the rotation, though it's been reported Chase Whitley will also get a rotation spot. We'll see.
With the rosters set at both the big league and Triple-A level, we finally have a clear picture of the team's depth. It takes a lot more than 25 players to get through a 162-game season, so the extra 15 guys on the 40-man roster are really important. You know that. Nunez may be gone now, but there's a pretty good chance he will resurface at some point in 2014. Here is the position player depth chart:
| | MLB Starter | MLB Backup | AAA Depth |
| --- | --- | --- | --- |
| Catcher | McCann | Cervelli | Murphy/Romine |
| First Base | Teixeira | Johnson | Canzler |
| Second Base | Roberts | Johnson/Solarte/Anna | Nunez/Sizemore |
| Shortstop | Jeter | Anna/Solarte | Nunez |
| Third Base | Johnson | Solarte/Anna | Nunez/Sizemore/Wheeler |
| Left Field | Gardner | Soriano/Solarte | Almonte |
| Center Field | Ellsbury | Gardner/Ichiro | Richardson |
| Right Field | Beltran | Soriano/Ichiro | Almonte |
Eventually Brendan Ryan will join the infield mix. He'll start the season on the DL with a back problem, and Brian Cashman recently said he will miss more than the minimum 15 days. How much longer? Who knows. Backs have a way of staying hurt. Whenever he does get healthy, Ryan figures to replace either Dean Anna or Solarte on the bench. Those two won jobs in spring, but they have to continue playing well to keep them.
Anyway, compared to last season, the Yankees have much more position player depth. Obviously that has to do with all the injuries they dealt with in 2013. Guys like Nunez and Ichiro Suzuki were playing everyday last year. This season they are, at best, the third option at their positions. Austin Romine went from MLB backup to Triple-A backup. Scott Sizemore is an almost identical player to Jayson Nix, who played damn near everyday last season. Those types of players are Plan C now, not Plan A.
The pitching staff is a little more straight forward, especially the bullpen. Daley and Leroux pitched well enough in camp to put themselves near the front of the call-up line while Aceves has a track record with the organization. Given his, um, unpredictable personality, that is not necessarily a good thing for him. Greene and when healthy Jose Ramirez are younger options. Cabral is the obvious choice whenever a left-hander is needed. The Yankees didn't have many bullpen problems last year, though with Mariano Rivera, Boone Logan, and Joba Chamberlain gone, they'll need their depth a bit more this season.
The rotation depth is a little more unclear. Nuno seemed likely to go to Triple-A to be the sixth starter, but instead he'll be with the big league squad. In a perfect world, the Yankees would keep him, Phelps, and Warren all stretched out, but that's not practical. If all of those guys manage to stay stretched out to 80+ pitches, that means the rotation has been a mess and the bullpen is being called on often. Keeping one stretched out is doable, they did it with Warren last year. But two or three guys? That's not going to happen.
Aceves might be the sixth starter now, but I think the Yankees are taking a simple "we'll cross that bridge when we come to it" approach to their rotation depth. They'll worry about it when the time comes and see what the available options are. Maybe they can pull Nuno or Phelps out of the bullpen, maybe Greene forces the issue, maybe they grab someone off the scrap heap like they did with Gordon three years ago. They might not need a sixth starter until May or June. No sense in worrying about it now.
Don't get me wrong, we all wish the starting infield was better, but the combination of good health and offseason additions have given the Yankees much more depth for the start of 2014, especially on the positive player side. They're going to need it too, it's inevitable. The rotation picture is a little unclear beyond the top five but that's okay. It's not like the team doesn't have options, it's just that those options are being used in bullpen roles right now so the best possible combination of 25 players are on the Opening Day roster.
Spring Training Record: 17-12-2 (128 RS, 106 RA)
Regular Season Games This Week: Mon. OFF, @ Astros (three games, Tues. to Thurs.), @ Blue Jays (three games, Fri. to Sun.)
Top stories from last week:
Please take a second to answer the poll below and give us an idea of how confident you are in the team. You can view the interactive Fan Confidence Graph anytime via the nav bar above, or by clicking here. Thanks in advance for voting.
Given the team's current roster construction, farm system, management, etc., how confident are you in the Yankees' overall future?
Spring Training is technically over, but Michael Pineda did not join the rest of the Yankees on their trip to Houston last night, instead staying behind in Tampa so he could throw in a minor league game this morning. According to Erik Boland, Pineda struck out eight and allowed one run on three hits and three walks in six innings. It was his final tune-up before his first start of the regular season next Saturday, his first MLB start in more than two years.
Here is your open thread for the night. The regular season (re)starts tonight with the Dodgers and Padres on ESPN's Sunday Night Baseball at 8pm ET. Hyun-Jin Ryu and Brandon McCarthy is your pitching matchup. The (hockey) Rangers, Knicks, and Nets are also playing. Talk about anything you like right here. Enjoy.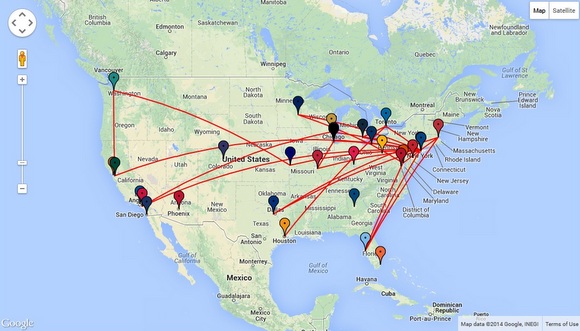 Daren Willman at Baseball Savant put together a neat collection of maps looking at how far each team will travel in 2014. The Yankees, who only have two straight shot coast-to-coast flights this season (one is followed by an off-day), will travel 28,001 miles this year, the tenth fewest in baseball. The Orioles (24,177) and Blue Jays (27,739) have easier travel, the Red Sox (32,919) and Rays (33,856) slightly tougher travel.
Which team will travel the most this season? Robinson Cano's isolated Mariners, of course. They're 700+ miles from the closest MLB club. Cano and his teammates will travel 51,540 (!) miles this year, almost double the Yankees. The conveniently located Cubs will only travel 22,969 miles this summer, the fewest in baseball. The average distance traveled will be 33,141 miles. Good to be on the East Coast, eh?
It's easy to overlook, but Opening Day for the minor leagues is this coming Thursday, just two days after the Yankees open their season. Here are some minor league notes leading up to the start of the year, including some unofficial but well-sourced roster assignments from Josh Norris and Nicholas Flammia:
Based on these Opening Day assignments — reminder: these are not yet official — it looks like Low-A Charleston will be the affiliate to watch this summer. That's an awful lot of young talent. High-A Tampa is really promising as well, but man that's a ton of high-end prospects heading for Chucktown. The River Dogs will be fun this year.
Update: Katoh is also heading to Low-A Charleston, according to Norris. Seems like he will split second base, shortstop, and DH duties with Avelino and Wade.
Update Part Two: OF Michael O'Neill will also be at Low-A Charleston to start the season based on his Twitter feed.