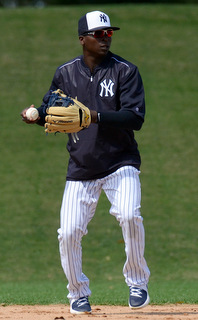 All things considered, the 2015 season was pretty successful for Didi Gregorius. He had the unenviable task of replacing a legend, and after some early season jitters, he settled in nicely and was rock solid on both sides of the ball. Gregorius hit .265/.318/.370 (89 wRC+) at a time when the league average shortstop hit .256/.307/.375 (85 wRC+). Couple that with his defense and you've got an above-average young player.
The Yankees had reportedly been after Gregorius for a long time — the first mention of him in our archives was back during the 2013 Winter Meetings — so they clearly liked him very much, but until he got out onto the field, it was impossible to know what he would bring to the table. The Yankees couldn't put all their eggs in the Gregorius basket. They had to be prepared to fill the shortstop position in other ways in case he didn't work out long-term.
"We went for a long time with one shortstop at the Major League level. Now we have good depth, and the good thing about shortstops is that they're athletes, so they can play all over the field if the position doesn't open up for them at the next level," said farm system head Gary Denbo to George King (subs. req'd) recently. Seven of my top 30 prospects were shortstops and only two ranked lower than 18th. The Yankees are deep at the position.
The best of those shortstop prospects in 20-year-old Jorge Mateo, who is attending his first big league camp this year. He's not there because he has a chance to make the team. There's close to zero chance that happens. He's there because he is arguably the Yankees' top prospect and because the brain trust wants to get a look at him up close. They're dangling a carrot. If Mateo keeps it up and puts in the work soon he'll be rubbing elbows will big leaguers all the time.
Mateo led the minors with 82 steals a year ago and chances are he will begin the 2016 season at High-A Tampa, where he played 21 games a year ago. A quick-ish promotion to Double-A seems likely, and if everything goes right, it's not impossible for Mateo to make his MLB debut at some point this year, likely as the designated September pinch-runner. "My goal is to play in the big leagues this year," he said to King.
With a player like Didi and a prospect like Mateo, it's not difficult to find yourself looking ahead and trying to figure out how all the pieces will fit. Gregorius showed last season he's a capable big league shortstop and the Yankees should be very excited about having him at the position. They should also be excited about Mateo — and Wilkerman Garcia, Tyler Wade, Hoy Jun Park, Kyle Holder, and a bunch others — because he has the potential to be a dynamic player.
"As far as the publications and all that stuff, it's great, but I'm really just — my focus is to work hard. I'm here to work hard. I don't pay attention to that stuff," said Mateo to Brendan Kuty. "I've been working really hard to be consistent and to make the routine plays come out as easily as possible … I feel very happy to be here. I thank God for the opportunity to be here. I'm having a really great time with my teammates."
There is only room at the inn for one shortstop, and right now this is a classic "we'll deal with it when the time comes" situation. Mateo still needs to spend time in the minors and realistically, it's going to be at least 18 months until he's ready to hold down a big league job. It might even be more like 24 months. A lot can happen in that time, including trades. Don't forget the Yankees were willing to deal Mateo for Craig Kimbrel at the trade deadline last year.
Point is, the future at shortstop looks very bright right now. The Yankees have a ton of promising young shortstops coming up through the system — again, it's not just Mateo, it's also Wilkerman and Wade and everyone else — plus Gregorius at the MLB level. We can even lump Starlin Castro into this mix. The Yankees have all of these guys and one day they may be in position to pick the best one, then use the others to fill needs elsewhere, either through trades or by having them change positions.