By

Via Matt Eddy: The Yankees have signed right-hander Cole Kimball to a minor league contract. I assume he received an invitation to Spring Training as well, meaning there will now be 27 non-roster players in camp this year.

Kimball, 28, is a local guy who was born in Brooklyn and raised in Hackettstown. He picked up eleven innings of big league experience with the Nationals in early 2011, but he had rotator cuff surgery that July and has only thrown 49 innings since. Last season he had an 8.06 ERA and 4.91 FIP in 25.2 relief innings for Washington's Triple-A affiliate, striking out 25 and walking 14.

"Before he got hurt, Kimball attacked hitters with a heavy 93-97 mph fastball, a swing-and-miss splitter in the mid-80s and a power curveball in the low 80s. He can throw the curve for strikes or bury it as a chase pitch," wrote Baseball America (subs. req'd) in their 2012 Prospect Handbook. The Yankees are clearly hoping Kimball gets back to his pre-surgery form as he gets further away from the procedure. · (20) ·
By

Right-hander Masahiro Tanaka will be introduced at a 1pm ET press conference at Yankee Stadium next Tuesday, the Yankees announced. It will be broadcast live on YES. Tanaka recently secured his visa (thanks to Senator Schumer) and the team wanted to hold a press conference in New York before everyone went down to Tampa for the start of Spring Training late next week.

In other news, Joel Sherman reports that Tanaka's contract stipulates that he can not be sent to the minors without his permission. It's not really a big deal but obviously we should all hope the Yankees don't even have to think about sending Tanaka to the minors at some point. They've basically given him all the rights of a player with 6+ years of service time, which is the norm these days. Japanese veterans are treated as Major League veterans as a courtesy even though they are technically rookies. · (47) ·
Got five questions this week, basically half of the last few mailbags. Remember to use the Submit A Tip box in the sidebar to send us anything and everything.
Jamie asks: Rather than the six-man rotation idea that always gets floated but never implemented, would the Yankees be best served limiting CC Sabathia and Hiroki Kuroda's workloads to 6-7 IP per start max and giving them a middle relief caddy like David Phelps?
Yes, I think so. Sabathia and Kuroda have averaged 6.93 and 6.48 innings per start with the Yankees, respectively, which is rather high. The Yankees have talked about reducing the workload on both guys recently and the easiest way to do that might be to treat them as six inning starters rather than seven inning starters. Phelps and Adam Warren would be obvious caddy candidates since they could throw two or three innings at a time out of the bullpen as middle/setup relievers rather than true long men. Sorta like mini-1996 Mariano Riveras. They could be kept on a somewhat regular schedule to make life a little easier as well.
The caddy system sounds great in theory but it would be tough to pull off if the other five relievers are regular one-inning guys. The Yankees would also need another veteran starter so they could stash Phelps and Warren in the bullpen full-time, and it doesn't seem like they're eager to add one. I really like the idea of having middle relievers who are used for multiple innings at a time, but no one ever does it though. The 2009 version of Al Aceves is a rarity these days.
Bill asks: Why has there been so little speculation about moving Derek Jeter to third base? It seems like the perfect answer to the third base problem and gets Ryan to short stop where his defensive skills would shine.
The snarky answer is that Jeter is Jeter and he'll play shortstop for the Yankees until he says he doesn't want to do it anymore, but I do think there are legitimate reasons for not making the move right now. He is coming back from some rather serious leg injuries and just starting taking ground balls on the dirt this week, so he is not particularly close to being in game shape right now. Jeter has never played a position other than shortstop in 22 professional seasons and third base would be an entirely new experience because the ball gets on you so quick at the hot corner. There would be a learning curve, perhaps a steep one, and asking him to change positions as he works his way back from major leg injuries might be too much for a 39-year-old. If he was perfectly healthy and able to start working out at third early in the offseason, it would make sense. Asking Jeter to go through a crash course at a different position following those injuries probably isn't realistic.
Pedro asks: What do you think about Oliver Perez?
Time for the Pitcher A vs. Pitcher B game. Everyone loves this, right? Good. Here we go:
| | IP | ERA | FIP | K% | BB% | GB% | HR/FB | RHB wOBA | LHB wOBA |
| --- | --- | --- | --- | --- | --- | --- | --- | --- | --- |
| Pitcher A | 53.0 | 3.74 | 3.26 | 32.3% | 11.4% | 30.6% | 9.8% | 0.335 | 0.304 |
| Pitcher B | 53.1 | 4.39 | 3.63 | 31.3% | 10.1% | 33.1% | 13.1% | 0.308 | 0.329 |
You're smart, you know one of those guys is Perez. He's Pitcher A. But what about Pitcher B? He is Perez's former Mariners teammate and current Yankees setup man Shawn Kelley. Perez and Kelley had almost identical seasons in 2013 — kinda freaky, no? — with the only differences being handedness and ballpark-effected homerun rates (which is why Kelley had a higher ERA and FIP). Could the Yankees use a left-handed version of Kelley? Sure. It wouldn't hurt given the current state of the bullpen. I don't know what an appropriate contract would be though. Scott Downs got a one-year deal worth $4M and I'm not sure I'd go any higher than that for Perez.
Mark asks: Do you have an overlay of the new Stadium on top of the old Stadium to see the subtle differences? Also, I know the minor league stadium in Tampa has the same dimensions as Yankee Stadium, but do the AA and AAA ballparks have them too? Wouldn't it just make sense?
I thought I would be able to create the overlay at Hit Tracker, but they only have the new Yankee Stadium. Here's an overlay I found on something called The Illuminatus Observor via Google Images: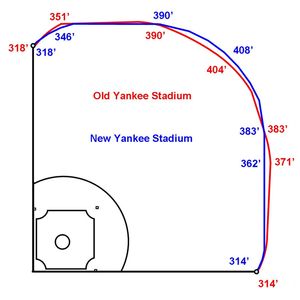 As you know, the biggest difference is in straight-away right field, where the new wall is as much as nine feet closer than the old one at some points. George M. Steinbrenner Field in Tampa has the same dimensions as the old Stadium, not the new one. It hasn't been modified since the new park went up. The various minor league affiliate ballparks all have their own unique dimensions:
| Level | Ballpark | LF | L-CF | CF | R-CF | RF |
| --- | --- | --- | --- | --- | --- | --- |
| Triple-A | PNC Field | 330 | 371 | 408 | 371 | 330 |
| Double-A | Arm & Hammer Park | 330 | ? | 407 | ? | 330 |
| High-A | George M. Steinbrenner Field | 318 | 399 | 408 | 385 | 314 |
| Low-A | Joseph P. Riley Jr. Park | 305 | 356 | 398 | 366 | 337 |
| Short Season | Richmond County Bank Ballpark | 320 | ? | 390 | ? | 318 |
I wrote about the four full season ballparks back in June 2011. They're all slight pitcher's parks overall except for GMS Field in Tampa, which is neutral compared to the rest of the Florida State League. All of those parks suppress homeruns though, extremely so in some cases. Arm & Hammer Park is right on the Delaware River and the wind makes it very tough to hit the ball out of the park to right field.
The Yankees don't actually own any of the minor league parks — they operate GMS Field but it is owned by the Tampa Sports Authority — so modifying the dimensions to match the new Yankee Stadium isn't a simple *snaps fingers* "okay let's do this" thing. The Triple-A, Double-A, and Low-A ballparks were all built long before those franchises became affiliated with the Yankees. It would be neat if every minor league park matched the big league park's dimensions, but it's not realistic or even essential as far as I'm concerned.
David asks: Which Yankees have no-trade clauses in their deal? Am I right that it's more than any other team? How big a problem do you think this obviously less than ideal practice is?
Here's the full list of Yankees with some kind of no-trade clause:
I haven't seen anything about Kuroda having a no-trade clause in his current contract, but he had one in his last two deals and I assume he has one again. That's ten 40-man roster players and nine who are expected to be on the Opening Day roster who can't be traded without their permissions. That's a lot. The Yankees are pretty liberal with no-trade clauses and I wonder how often that has given them an advantage in free agent talks when the offers are similar financially. Some other teams completely refuse to give out no-trade clauses.
Obviously no-trade clauses hinder flexibility and it would be awesome if no player had one, but the Yankees are in a different situation than most teams. They always try to contend and add big name players, not trade them away. How bad would things have to get for them to even consider dealing Ellsbury or Tanaka, for example? It's not like some team is going to offer a cheap, young superstar for either of those guys, so the no-trade clause rarely comes into play anyway.
Eleven years ago today, the Evil Empire was born. The Yankees officially signed Jose Contreras on this date in 2003, prompting Red Sox president Larry Lucchino to say "the Evil Empire extends its tentacles even into Latin America." Contreras didn't work out for the Yankees and, frankly, the Red Sox have had quite a bit more success than their division rivals since his signing, but I've always enjoyed the Evil Empire moniker. The Yankees are baseball's villains and it's all in good fun at this point. Someone has to do it, might as well be my favorite team.
Here is your nightly open thread. The Rangers, Islanders, and Nets are all playing, plus the Olympics started today, so talk about those games or anything else. You know how this works by now, so have at it.
There are very few quality Contreras highlight videos out there, even fewer of him with the Yankees. I think that video is from one of the MLB All-Stars vs. Japan All-Stars exhibitions they used to play after each season. Yeah, "All-Stars" was loosely defined.
Of the $483 million the Yankees spent this winter, just $22 million went to the infield – just 4.5 percent of the total. More than half of that $22 million went to a player who might not physically be able to hold down a position all year. The situation looks bleak indeed.
How bleak? Last year the Yankees ranked 26th in the league in infield OPS+ — and that was with Robinson Cano, who ranked 10th in the majors in OPS+. Even adding Mark Teixeira and Derek Jeter won't offset the loss of Cano. The downgrade at second base is just too severe. If Brian Roberts gets hurt, the downgrade tumbles further.
From there the Yankees turn to Dean Anna, Eduardo Nunez, Corban Joseph, and Jose Pirela. Maybe one of them steps in and performs like an average 2B or 3B. But of them only Nunez is battle tested, and he hasn't shined much when given opportunities. It has become pretty clear that the Yankees have moved on from Nunez as a primary option.
What the Yankees have in the infield is a pile of potentially decent players. Maybe Jeter comes back and hits enough to compensate for his defense. Maybe a finally healthy Teixeira can bolster the crew. Would you take either of those bets, let alone both of them?
At this point there is little the Yankees can do. Maybe they've talked trades and think they have a potential match that will materialize later. It's not as though they'll find any solutions on the free agent market. They could sure use Stephen Drew, but have said that they will not sign him.
Will the Yankees really go into the season, having spent a half billion in the off-season, with an infield as uncertain as the current one? Right now it seems that way. With not much time left, and few players who can actually help, it appears they'll try the smorgasbord method.
Unless they know something we don't…
The Yankees have a policy of not negotiating a new contract until the old one expires, except when they don't. We first heard about this "policy" in the spring of 2007, when Mariano Rivera and Jorge Posada entered the final years of their contracts. Not wanting to sign two older players while they each still had a year left on their current deals, Brian Cashman spoke of this policy.
It was probably a line that he regrets.
Cashman had to tap dance around the line that following winter, when he signed Robinson Cano to an extension. True, Cano's contract was technically up, since he was still in his pre-free-agency years. But it was still an extension before it became necessary.
It was also one of the smartest moves Cashman has made. With the two team options the Yankees moved Cano's free agency date from 2012 to 2014. They also paid him a reasonable $15 million per year. So why don't the Yankees do this with other players?
(You can think about this another way: if Cano had become a free agent after 2011, he might not have gotten a 10-year deal at $24 million per year. Perhaps the Yankees could have signed him, as a 29-year-old, to a Teixeira-like eight years and $180 million.)
One answer to that question: the Yankees haven't really had any players worth signing to an extension since Cano. David Robertson and Brett Gardner are the only ones who come to mind, but they've done fine with those two going year-to-year. Really, no superstars have come up through the Yankees system in quite some time.
This week at ESPN NY, Wallace Matthews and Andrew Marchand have covered the Yankees' thin system. What they cover is mostly the first whammy: the lack of cost-controlled talent. Developing even three starters during a five-year period can greatly reduce a team's needs in free agency. The Yankees failures in development have cost them dearly, almost a half billion this winter alone.
There is another aspect, less considered, that hurts the Yankees in the long-term. This week the Braves signed Freddie Freeman to an eight-year, $135 million contract. A $16.875 million AAV might seem lean for a superstar, and it's true that Freeman hasn't totally proven himself one. But the Braves like enough of what they've seen to lock him down long term.
Freeman doesn't turn 25 until September.
Because they've drafted and developed well, the Braves opened themselves to this opportunity. They can sign a 24-year-old to an eight-year deal at a $17 million AAV, while other teams scramble to sign free agents for prices much higher than that. We can look right to the Yankees and Mark Teixeira as a counter example.
In 2008 the Yankees signed Teixeira, entering his age-29 season, to an eight-year, $180 million contract. The Yankees faced competition when bidding on Teixeira, notably from the Angels and the Red Sox. The winning prize was paying a guy $180 million for his age-29 through age-36 seasons.
The Braves, on the other hand, competed with no one and will pay $135 million for Freeman's age-24 through age-31 seasons. Yes, they're paying a $17 million AAV for a guy who would probably make $5.75 million in 2014. But they bet on Freeman, buying out not only his three arbitration, but five of his free-agent years.
Because the Yankees haven't developed any of their own talent, they have no opportunities for deals of this ilk. Yes, those deals might cost a team more in the short term. But long term who is better off: the Braves, who will pay Freeman during his prime years, or the Yankees, who will pay Brian McCann for his declining years?
With so much money circulating around the game, deals like Freeman's could become much more common. If you're the Angels, wouldn't you offer Mike Trout 10/300 once he becomes arbitration eligible? Yes, it will cost you in the short-term, but you'd get him for his age-23 through age-32 seasons, rather than waiting for him to hit free agency at age 26 and bidding against other teams.
Yes, the farm system can help by producing quality players who will cost little for up to six years. But if it can produce superstars, it can provide long-term savings. That's what the Yankees are missing now, and this winter we've seen the consequences.
When it comes to building the roster and making moves, the Yankees tend to be very reactionary. That is out of necessity more than anything; it's tough to implement a plan when your farm system has been as unproductive as the team's has been these last few years. The Yankees rely on free agency to fill holes and they pay premium prices not because they can, but because they have to.
A few weeks ago I wrote about a potential contract extension for David Robertson, which might have given the team a closer at a setup man price, but that ship seems to have sailed. Robertson avoided arbitration with a one-year contract a few weeks ago and he'll become a free agent next winter looking for that closer contract. Another The only other player on the roster who would be worth considering an extension for is Ivan Nova, the just turned 27-year-old right-hander who figures to slot in as the number four starter come Opening Day.
There is no real reason for the Yankees to have any urgency when it comes to locking Nova up right now. The two sides avoided arbitration with a one-year contract worth $3.3M a few weeks ago, so he's signed for this coming season and remains under team control as an arbitration-eligible player for another two years after that. Nova won't be eligible for free agency until after the 2016 season, and, as everyone learned the hard way with Chien-Ming Wang, a pitcher's career could go south in an instant no matter how promising he seems. There is risk anytime you sign a player long-term and that is especially true with pitchers.
As MLBTR's Extensions Tracker shows, most starting pitchers at Nova's service time level who signed extensions only signed for two years. All those contracts did was give the player a small amount of security and the team cost certainty. Those pitchers were still arbitration-eligible one last time after the extension expired and their free agency was not pushed back. That type of contract would make no sense for the Yankees since Nova is already signed for 2014 and they can afford whatever raise he'll get for 2015. Signing Nova would be about keeping him beyond his arbitration years and (hopefully) saving some money in the process.
The only four pitchers at Nova's service time level to sign extensions of at least three guaranteed years in the not too distant past are:
| | Nova | Johnny Cueto | Ervin Santana | Paul Maholm | Scott Kazmir |
| --- | --- | --- | --- | --- | --- |
| Platform Year bWAR | 3.6 | 2.2 | 5.0 | 4.0 | 5.8 |
| Platform Year fWAR | 2.5 | 2.6 | 6.0 | 2.4 | 5.1 |
| Career bWAR | 7.9 | 4.5 | 8.3 | 8.2 | 13.5 |
| Career fWAR | 6.7 | 5.1 | 12.1 | 5.7 | 13.2 |
| Years | ? | 4 | 4 | 3 | 3 |
| Dollars | ? | $27M | $30M | $14.5M | $28.5M |
| Options Years? | ? | 1 | 1 | 1 | 1 |
Maholm is the best comparable to Nova, at least in terms of bWAR and fWAR, but the Yankees can forget all about paying him only $14.5M for his three arbitration years. They're already paying him $3.3M for his first year, meaning Ivan would have to agree to a $5.6M average annual salary for his second and third years. That would be a huge discount. Maholm signed that extension prior to the 2009 season, so it's pretty outdated. Same goes for the Kazmir deal too.
Santana and Cueto signed away their three arbitration years for $17.8M and $16.2M, respectively, which averages out to $17M even. Nova's salary would have to jump to roughly $5.7M in 2015 and $8.1M in 2016 ($2.4M raise each year) to match that, which is pretty reasonable. John Danks went from $3.45M to $6M to $8M during his three arbitration years while Matt Garza went from $3.35M to $5.95M to $9.5M during his three arb years, just for comparison. The Santana/Cueto extension framework seems to work for Nova.
Now, would Nova take a four year deal in the $27-30M range (plus an option!)? Who knows. His bonus was only $80k when he signed out of the Dominican Republic, so he doesn't have that huge seven-figure bonus tucked away somewhere. He might jump at the security. Nova has been pretty erratic these last few years and the Yankees might not like the idea of risking that much money on a pitcher who is still something of an unknown. That said, look at some recent extensions signed by pitchers who were two years away from free agency:
| | Matt Harrison | Brandon Morrow | Josh Johnson |
| --- | --- | --- | --- |
| Platform Year bWAR | 6.1 | 1.2 | 6.6 |
| Platform Year fWAR | 3.6 | 3.4 | 5.5 |
| Career bWAR | 9.5 | 5.0 | 12.0 |
| Career fWAR | 8.8 | 8.1 | 10.0 |
| Years | 5.0 | 3.0 | 4.0 |
| Dollars | $55M | $21M | $39M |
| Option Years? | 1 | 1 | Nope |
Morrow isn't a good reference point because he started his career in the bullpen and had only two years as a starter by time he accrued four full years of service time. Harrison's deal and Johnson's deal average $10.4M annually while Santana's and Cueto's deals average $7.1M annually. If the Yankees wait a year to extend Nova and he goes on to have a pretty good (not even great) 2014 season, locking him up will be substantially more expensive, about $3M per year more expensive. The sooner they get it done, the more they save, and that's just smart business regardless of whether the team has a $50M payroll or a $200M payroll.
The Yankees have softened on their archaic no extensions policy in recent years, most notably by trying to lock up Russell Martin, Robinson Cano, and Hiroki Kuroda. The problem with those three was that the team waited until they were only one year away from free agency, and when a guy can see the light at the end of the free agent tunnel, it's tough to talk him out of exploring the open market. I understand why the Yankees would be hesitant to sign Nova long-term, but doing it now could potentially save a ton of money and allow them to get out ahead of the market for once.
Gary Sheffield was such a jerk but man did I love him. How could you not love Gary Sheffield the player? He didn't just mash, he mashed and looked like a total badass doing it. Sheff certainly had a way of wearing out his welcome though — with his teammates, reportedly, not so much the fans — and that had definitely happened by the time his tenure with the Yankees came to an end.
Anyway, here is tonight's open thread. The Knicks are the only local sports team in action, so you're on your own for entertainment if you don't like basketball. Talk about anything and everything right here. Have at it.
David Palladino | RHP
Background
Palladino is a local kid from Emerson, New Jersey. He spent his freshman and sophomore years of high school at Paramus Catholic High School before transferring to Emerson High School for his junior and senior years. Palladino earned First Team All-League and First Team All-Bergen County honors in both baseball and basketball in high school, and he was named North Jersey Baseball Player of the Year after pitching to a 1.08 ERA with 19 hits allowed and 131 strikeouts in 72.1 innings as a senior. He also hit .494/.573/.872 with eight homers that year.
Despite the decorated prep career, Baseball America (subs. req'd) did not rank Palladino as one of the 13 best prospects in New Jersey prior to the 2011 draft. The Dodgers selected him in the 13th round (404th overall) but he did not sign and instead followed through on his commitment to the University of South Carolina Upstate. He threw only 38 innings as a freshman with the Spartans (5.21 ERA and 40/23 K/BB) because he hurt his knee and needed surgery to repair tendon damage.
Last summer, Joe Girardi was forced to fill out his lineup card by putting the hottest hitters around Robinson Cano on a daily basis. That's how guys like Thomas Neal, Ben Francisco, David Adams, Brennan Boesch, and Zoilo Almonte wound up starting games as high as fifth in the order. Alfonso Soriano settled things down late in the season, but for the most part the lineup was subject to change drastically each and every day.
This coming season figures to be different. Cano is gone, but the Yankees added two middle of the order bats to Soriano in Carlos Beltran and Brian McCann. I expect those three to hit 3-4-5 in whatever order most days, or maybe we should add Mark Teixeira and make it 3-4-5-6. That seems very likely. The team didn't give Jaocby Ellsbury over $20M a year not to leadoff, so he'll displace Brett Gardner atop the lineup. Girardi's biggest lineup question this year might be who the number two hitter behind Ellsbury and ahead of that 3-4-5(-6) group will be.
Traditionally, the number two hitter is someone who can handle the bat and bunt all do all that nonsense. For the Yankees, a team built around power hitters who play in a tiny home ballpark in a division full of tiny ballparks, the number two hitter should function as a second leadoff guy trying to get on base for the middle of the order. Furthermore, given Ellsbury's speed, the two-hole hitter should also be someone who is patient and gives him a chance to run. If you're not going to do that, it defeats the point of paying a premium to add an elite base-stealer. Ellsbury has to steal to really have an impact.
The Yankees have two obvious number two hitter candidates in Gardner and Derek Jeter. Jeter has been batting second almost his entire career and I suspect that as long as he's healthy, he'll open the season behind Ellsbury in the lineup. That's fine. Jeter was very good in his last full season and he's earned the opportunity to show whether he can do that again despite his age and the lost 2013 season. The Cap'n isn't especially patient (3.78 pitches per plate appearance from 2011-13) and is very double play prone (GIDP'd in 19% of opportunities from 2011-13), two traits that aren't ideal for the second spot in the lineup. That's never stopped him from hitting there before though.
Gardner, on the other hand, is very patient (4.21 P/PA from 2011-13) and he rarely grounds into double plays (7 GIDP% from 2011-13) thanks to his speed. He's a much better fit for the two-hole in that sense, at least against right-handers. Jeter has destroyed lefties his entire career and if he continues to do that in 2014, he'll deserve a prominent lineup spot against southpaws. A Gardner vs. righties/Jeter vs. lefties platoon in the second spot behind Ellsbury seems ideal if Jeter struggles against same-side hitters.
The question is how long should the Yankees give Derek to prove he can still be a productive hitter given his age and recent injuries? A month? Six weeks? Half a season? I don't know the answer and it probably depends on how Jeter looks during games. If he's completely overmatched and unable to lift the ball — sorta like how he looked during his limited time last year — the team will have to pull the plug on him as a number two hitter sooner rather than later. At least against righties. It won't be a pleasant move to make but it may be necessary at some point rather soon.
There has been a ton of research showing the two-hole is the most important lineup spot and thus your best hitter should bat second, but that only applies over a full season, and even then the impact is relatively small. Optimizing your lineup in such a way that it makes a meaningful difference across 162 games isn't all that practical. Guys get hurt, need days off, get hot and cold, etc. The lineup can make a big difference in an individual game though; I remember at least two instances in which Cano was left on deck while the final out of a close game was recorded last summer (one, two). The Yankees have many reasons to emphasize pure patience and on-base ability from the two-hole this year and if that means Gardner, not Jeter is the best man of the job, so be it. The race for a postseason spot will be too tight to stick with an unproductive hitter near the top of the lineup for so long.