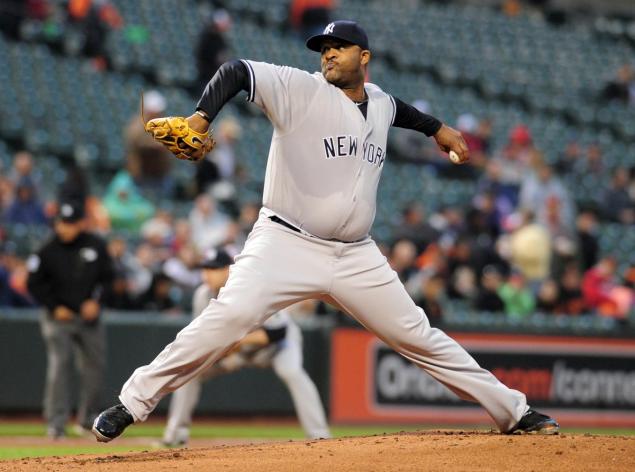 Leads are overrated
The Yankee bats went back into a deep freeze in the series opener, losing 4-1, as they dropped to 8-16 on the season with a whopping negative-34 run differential. That's their third-worst run differential through 24 games in franchise history; the only worse marks came in 1984 (-40) and 1911 (-36).
The Yankees used to own Camden Yards, compiling the best win percentage (.646) among American League teams at the ballpark during its first 21 years of existence, from 1992-2012. Since then, the script was flipped and the Yankees had the worst record there among AL squads, falling to 8-21 (.276) following the series-opening loss.
The frustration level with this team grows even deeper when you consider that the Yankees – who took a 1-0 lead in the second inning – had actually scored first in more games (14) than their opponents (10). Once again on Tuesday they failed to pad that early lead and left little margin for error in the middle-to-late innings. After the game, the Yankees ranked a respectable fifth in the league in scoring in the first three innings, but were dead last – by a good margin – in runs scored from innings four through nine.
Another telling stat that pretty much sums up the team's feeble offense in this first month? At the conclusion of Tuesday's slate, the three players with the fewest runs scored among batting title qualifiers were all Yankees: Chase Headley (two), Didi Gregorius (four) and Starlin Castro (five). The trio had come to the plate a combined 251 times, and scored a mere 11 runs.
Luis Severino looked nothing like a future ace, giving up four runs in six innings as he fell to 0-4 with an unsightly 6.31 ERA. The only other Yankee pitcher in the last 35 years to be 0-4 or worse in their first five starts of the season and have an ERA above 6.00 was Chien-Ming Wang in 2009.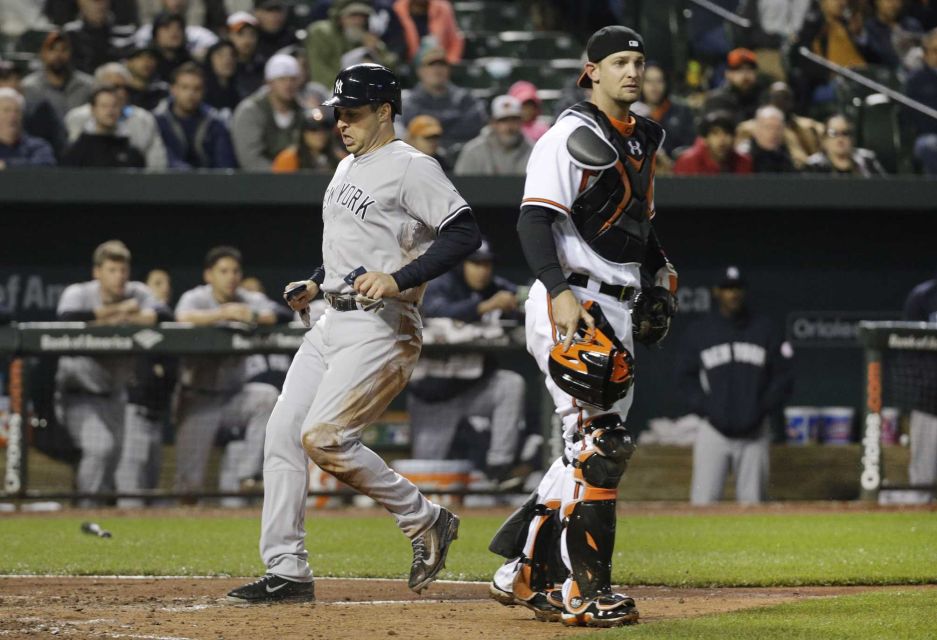 #ClutchCC
It was finally time to celebrate on Wednesday night after the Yankees put an end to a bevy of miserable streaks in beating the Orioles, 7-0. Entering the game, they had:
lost six straight and 14 of their last 18 games overall, their worst 18-game stretch since the end of the 2000 campaign
lost six straight road games, their longest road losing streak within a single season since 2007
lost six straight games against the Orioles, their longest losing streak versus the team since an eight-gamer spanning the 1996-97 seasons
CC Sabathia, who pitched his best game in more than three years, also joined the streak-busting party by throwing seven scoreless innings to get his first win in Baltimore since May 19, 2011. He was 0-5 with a 5.65 ERA in his past eight starts at Camden Yards before Wednesday's gem. His streak of eight straight winless starts there was the second-longest by any visiting pitcher, and his five consecutive losses was the longest losing streak by a visiting pitcher in the history of the ballpark.
Sabathia delivered a vintage, turn-back-the-clock performance, reminding folks of the days when he was the team's bona fide ace and the guy you wanted on the mound to stop a lengthy losing streak. This was the fourth time in his nine seasons in pinstripes that Sabathia had pitched in a game with the Yankees on a losing streak of four games or more; he's snapped that streak in each of those four starts, going 4-0 with a 0.86 ERA – that's three earned runs allowed in 31 1/3 innings.
His relied heavily on his changeup to combat the Orioles' right-heavy lineup and it was a true difference-maker for him. He threw 21 changeups, nearly double the amount he'd thrown in any of his previous four starts this season. The Orioles were 0-for-8 in at-bats ending in a changeup, including four strikeouts, and whiffed on eight of their 13 swings.
Those numbers are even more staggering considering how ineffective his changeup was this season prior to Wednesday. In his first four starts, he had just five total whiffs on the 36 changeups he threw, and opposing batters hit a whopping .556 and slugged .667 against the pitch.
When you come to a fork in the road …
A win streak was too much to ask for from the baseball gods as the Yankees dropped the final game of their nine-game road trip in heart-breaking — and historic — fashion, losing 1-0 on a sac fly in the 10th inning. This was about as rare (and depressing) a loss you can find:
It was the first time in franchise history the Yankees lost a 1-0 walk-off game against the Orioles in Baltimore.
The Yankees hadn't been shut out in an extra-inning loss to this franchise since July 21, 1943, when they were the St. Louis Browns.
With just four hits and a walk, it was the Yankees fewest baserunners in an extra-inning shutout loss since August 20, 1941 vs. the Tigers.
The last time the Yankees lost on a walk-off sac fly in extra innings versus any team was May 24, 2002 in Boston.
And before Thursday night, the Yankees had never lost 1-0 via a walk-off sac fly (since the stat became official in 1954).
On a more positive note … Masahiro Tanaka dominated the Orioles lineup, scattering five singles over eight scoreless innings while striking out seven. He now has at least four strikeouts and allowed no more than two earned runs in each of his six starts this season. That matches the longest such streak to start a season in Yankees history, a mark set by Whitey Ford in 1956.
Tanaka also reached a nice and round milestone in this game, making his 50th career start as a major-leaguer. Three other pitchers who made their debuts in the last 100 years compiled as many strikeouts (315) and wins (26) in their first 50 career games as Tanaka: Roger Clemens, Dwight Gooden and Yu Darvish.