I guess the Yankees just don't like being eight games over .500, huh? The team's latest attempt to reach that point fell short on Tuesday night. They lost 5-2 to the Tigers after a one hour and eight minute rain delay.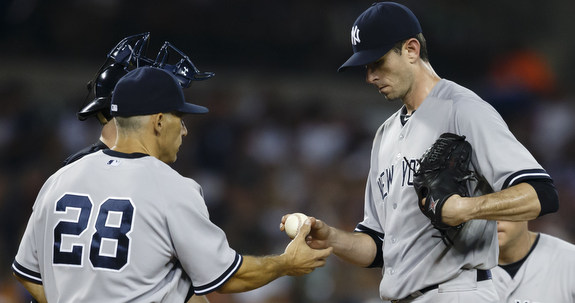 Bad Brandon
For the first time as a Yankee, Brandon McCarthy got hit pretty hard on Tuesday night. He was in trouble all night, allowing five runs and 13 base-runners in 6.1 innings. I'm not quite sure why he was sent back out to start the seventh — McCarthy surrendered the fifth run that inning — but it really didn't matter in the end. It saved the bullpen an out, I guess. McCarthy threw 85 pitches and, by my unofficial count, 44 were from the stretch. So yeah, he was in trouble all night.
The Tigers scored their first run on a bases loaded walk of all things. McCarthy had walked two batters in only two of his first eight starts with New York, but he walked two and hit a batter in the second inning of this game. It was obvious he was off from the get-go. Just one of those nights, I guess. Detroit scored another run on a Miguel Cabrera double and a J.D. Martinez single in the third, then they did some real damage in the sixth with a single (Victor Martinez), a double (J.D. Martinez), a run-scoring single (Nick Castellanos), and a run-scoring double play (Alex Avila). A double (Rajai Davis) and a single (Torii Hunter) created the fifth run in the seventh. Ugly outing. What can you do.
All Ellsbury
Rick Porcello was really sharp just about all night. The Yankees scored their two runs on Jacoby Ellsbury solo homers, believe it or not. Otherwise the team only had one other base-runner make it as far as third base, and that was when they had runners on the corners with two outs in the fourth. Stephen Drew popped out to end the threat. Porcello faced 31 batters, threw 18 first pitch strikes, and allowed ten balls to be hit out of the infield.
Joe Nathan retired the side in order in the ninth, so 15 of the final 19 batters the Yankees sent to the plate made outs. The four exceptions were Ellsbury's two homers, Derek Jeter's infield single, and Carlos Beltran's traditional single to center. The bottom four hitters in the order went 1-for-14 with an infield single (Ichiro Suzuki) and overall the Yankees went hitless in all of three at-bats with runners in scoring position. They saw nine total pitches in those at-bats. Just a blah night for the offense. Porcello was good and they couldn't put anything together. Baseball.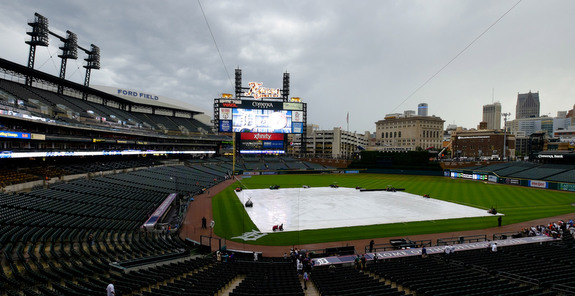 Leftovers
Esmil Rogers retired five of six men he faced with three strikeouts and a hit batsman. He was the only reliever used. The Yankees have been able to get their key late-inning relievers some nice rest these last two or three days. Those guys have been worked really hard these last few weeks.
The Yankees actually had nine hits on the night, including three by Ellsbury and two each by Jeter and Beltran. They didn't draw any walks because the Yankees don't do that anymore. This was the offense's tenth walk-less game of the year. They had 13 total from 2009-11. I miss offense.
Mark Teixeira saved Chase Headley two errors in the first two innings with scoops at first base. The second one saved some runs, which really wouldn't have mattered in the end, but Tex flashed some leather in this game and that's cool.
Box Score, WPA Graph & Standings
MLB.com is the place to go for the box score and video highlights. FanGraphs has some other stats and ESPN has to updated standings. The Orioles beat the Rays, so the Yankees are seven back in the AL East. Depending on the outcome of the late game, the Yankees will be either three (Mariners lose, Tigers take over second wildcard spot) or 3.5 (Mariners win) games back of the second wildcard spot. FanGraphs has their postseason odds at a robust 14.8%. I have absolutely no idea how they picked up 2.0% since last night despite losing. Weird.

Source: FanGraphs
Up Next
Same two teams on Wednesday night, in the middle game of this three-game series. Shane Greene and David Price will be the pitching matchup. Pretty sick of seeing Price at this point. This will be their fifth meeting of the year even though the guy got traded out of the division at the deadline.