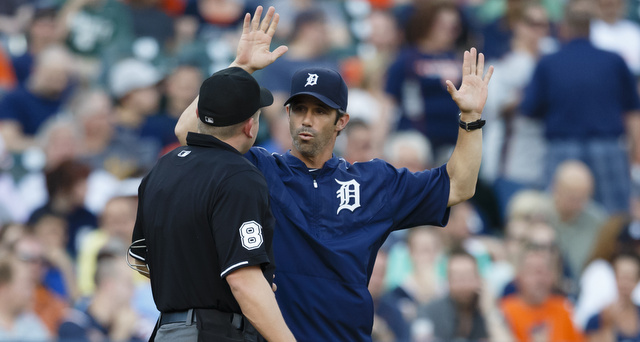 The homestand continues this weekend with a three-game series against the Tigers. The Yankees played a four-game set in Detroit earlier this year, winning three of four and coming very close to sweeping the four games. Too bad whatever happened in April won't help them this weekend.
What Have The Tigers Done Lately?
The Tigers dropped two of three to the Reds earlier this week before yesterday's series finale was rained out. Todd Frazier hit an extra-innings walk-off grand slam on Wednesday and the Tigers had to deal with that bad taste in their mouth for one extra day thanks to the rain. Yuck. Detroit is 34-32 with a +3 run differential overall. They're in third place in the AL Central.
Offense & Defense
Depending on which measure you prefer, the Tigers are either an average offense (4.18 runs per game) or a comfortably above-average offense (106 wRC+). They've done well with runners in scoring position (117 wRC+), so I guess the problem is not enough solo homers. Too few homers!? Anyway, the Tigers are without C Alex Avila (knee) but will get DH Victor Martinez (51 wRC+) back off the DL today. V-Mart has been out the last few weeks with a knee problem.
As always, manager Brad Ausmus' lineup is anchored by 1B Miguel Cabrera (186 wRC+), who is firmly in "historically great" territory now. He's going to go down as one of the best right-handed hitters ever. OF Yoenis Cespedes (127 wRC+) and OF J.D. Martinez (122 wRC+) are provided some nice complementary corner outfield thump, and SS Jose Iglesias (122 wRC+) just keeps piling up hits. The OF Anthony Gose (97 wRC+) and OF Rajai Davis (116 wRC+) platoon in center field has been productive.
2B Ian Kinsler (98 wRC+) is having a down year and 3B Nick Castellanos (63 wRC+) has been dreadful, which I'm sure has the Tigers disappointed. The kid was billed as a big time hitter coming up through the minors yet it hasn't worked out. He's still only 23 though. C James McCann (82 wRC+) and C Bryan Holaday (101 wRC+) are the catching tandem with Avila out. No, James is not related to Brian. IF Josh Wilson (164 wRC+ in very limited time) and UTIL Andrew Romine (79 wRC+) fill out the bench.
The Tigers have really improved their defense the last two years and they're very strong up the middle with McCann/Holaday, Kinsler, Iglesias, and Gose/Davis. Cespedes is good in left — more for his arm than his range — but Martinez and Castellanos are defensive disasters. Miggy's fine at first. He's good around the bag scooping throws in the dirt but won't win any games with his range or arm.
Pitching Matchups
Friday (7pm ET): RHP Adam Warren (vs. DET) vs. RHP Justin Verlander (vs. NYY)
The Yankees were supposed to miss both Verlander and David Price this series — is missing Price a good thing at this point? the Yankees always seem to crush him — but yesterday's rainout pushes Verlander back to tonight. He has made just one start this year after spending the first few weeks on the DL with a triceps injury. Verlander held the Indians to two runs on three hits and two walks in five innings last weekend. He struck out two and will probably be allowed to throw 100 or so pitches tonight after throwing 87 against Cleveland. Verlander's trademark fastball is more low-to-mid-90s than high-90s these days, and he uses the heater to set up his mid-80s changeup and low-80s curveball. Like CC Sabathia, Verlander is no longer the pitcher he was a few years ago, but he's still capable of tossing a gem every now and then.
Saturday (7pm ET): RHP Nathan Eovaldi (vs. DET) vs. RHP Alfredo Simon (vs. NYY)
The Simon trade was a bit of a head-scratcher in the offseason but it's worked out well — Big Pasta has a 2.58 ERA (3.47 FIP) in 12 starts and 76.2 innings. Neither his strikeout (18.0%) nor his walk (7.7%) rate are anything special, and his ground ball (42.2%) and homer (0.59 HR/9) rates don't really match up, so who knows how long his current effectiveness will last. He's been better against righties (.244 wOBA) than lefties (.310 wOBA). Simon, 34, is a four-pitch pitcher but it's not the usual fastball/slider/changeup/curveball mix. He throws a low-90s two-seamer, a mid-80s cutter, a low-80s splitter, and a mid-70s curve. Simon held the Yankees to one run in 7.1 innings back in April.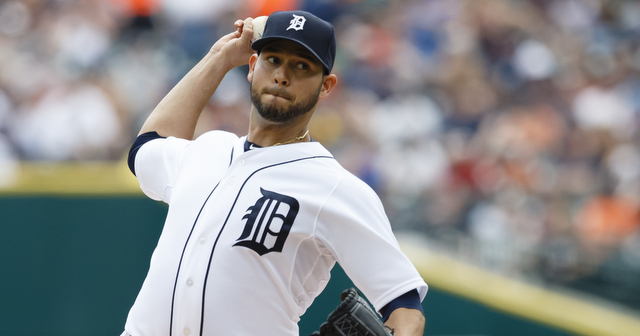 Sunday (1pm ET): RHP Masahiro Tanaka (vs. DET) vs. RHP Anibal Sanchez (vs. NYY)
The 31-year-old Sanchez has had a bad year by his standards, pitching to a 4.65 ERA (3.99 FIP) in 14 starts and 91 innings. Home runs (1.29 HR/9) and a lack of ground balls (39.3%) have been the main culprits, ditto his ineffectiveness against righties (.339 wOBA). Sanchez has done well against lefties (.279 wOBA) — he's had a reverse split for a few years now, so this isn't uncommon — and both his strikeout (22.3%) and walk (6.7%) numbers are in line with recent years. Sanchez is a kitchen sink guy with six pitches and I don't mean that in a bad way. He just has a lot of weapons. Four-seamers, cutters, and sinkers in the low-90s set up his mid-80s splitter, mid-80s slider, and upper-70s curveball. Sanchez will throw just about anything in any count too. He's really tough when he's on, but that hasn't been the case all that often this season. The Yankees didn't face Sanchez when they played the Tigers in April. scored one run in 6.1 innings when they faced Sanchez in April.
Bullpen Status
You're not going to believe this, but the Tigers have some bullpen problems this year. Crazy, I know. They come into the weekend with a 3.36 ERA (3.90 FIP) overall, ranking in the middle of the pack. It's a top heavy bullpen though — RHP Alex Wilson (2.81 FIP), LHP Blaine Hardy (2.49 FIP), and RHP Joba Chamberlain (3.10 FIP) have been good. The rest of the 'pen? Not so much.
Closer RHP Joakim Soria (4.55 FIP) is having major home run problems (1.75 HR/9) while RHP Al Aburquerque (4.46 FIP), LHP Tom Gorzelanny (4.66 FIP), and LHP Ian Krol (6.98 FIP) have been mediocre to bad. The Tigers were rained out yesterday, so their bullpen is mostly fresh. Head over to our Bullpen Workload page to check out the status of Joe Girardi's bullpen, then head over to Bless You Boys for the latest and very greatest on the Tigers.