News of the Yankees lineup usually drops sometime around 3, 3:30ish for a 7:00 game. Usually there are no surprises. Yeah, sometimes we get a curveball with Angel Berroa in the lineup, but those are few and far between. Girardi has apparently settled on a certain lineup scheme this year, and he's sticking with it for the most part. However, upon seeing today's lineup I had to scratch my head a little, for Nick Swisher was sitting.
Now, I've long advocated giving Swish a few days off during his skid. With Melky Cabrera claiming the everyday CF role and with Brett Gardner hitting decently of late, the Yanks could afford to rest the slumping Swish a few times, hopefully helping him get out of his funk. Yet last night Swisher showed signs of a breakout, smacking two doubles including the go-ahead one with the bases loaded in the seventh. One would think that would earn him a start today — wait, scratch that. He's already the regular starter, so one would think that his performance wouldn't be cause for a day off.
Yet that's just what happened. The lineup came out, and Swisher was nowhere to be found. This struck me as odd, and I said so on the Twitter feed. I got a bunch of responses talking about Swisher's track record against Padilla: 1 for 15 with five strikeouts. So what? Fifteen freaking at bats? That's a nothing sample. Just read what PeteAbe said about it:
Swisher finally seems to have his swing intact. Why screw him up against a pitcher he obviously can't hit? Let Gardner start and when the Rangers go to the bullpen, you have Swisher ready and waiting for an at-bat or two.
A pitcher he obviously can't hit? Nothing is obvious in 15 at bats. If Girardi wants to sit Swish, fine. As Pete also says (and with which I totally, 100%, no doubt agree), "The Yankees have won 15 of 19, let's give the manager the benefit of the doubt, shall we?" I do like Joe Girardi as manager of this team, and I like him a lot. I sincerely hope he didn't base this decision on 15 measly at bats.
That said, Brett Gardner has been fine recently and there's nothing wrong with starting him. Starting Damon is a given because he had last night off, as is Melky because of his absence over the weekend. So please don't mistake. I'm not complaining about Swisher on the bench, per se. I just don't want to see him sitting because of a tiny, minuscule, insignificant sample against Padilla. Not to mention, Of those 19 plate appearances, 18 came in 2006 and one came in 2007. So Nick Swisher's sitting because of something that happened three years ago? Give me a break.
Anyway, enough of the complaining/debunking. Onto the lineups:
1. Derek Jeter, SS
2. Johnny Damon, LF
3. Mark Teixeira, 1B
4. Alex Rodriguez, 3B
5. Robinson Cano, 2B
6. Jorge Posada, C
7. Hideki Matsui, DH
8. Melky Cabrera, RF
9. Brett Gardner, CF
And on the mound, number thirty-four, A.J. Burnett.
By

Richard Brodsky and Randy Levine, those two titans of New York and its stadium politics, are at it again. While the two have clashed over public financing for new Yankee Stadium in the arena of the New York State Assembly, yesterday, they squared off in court over a subpoena Brodsky has issued calling for internal Yankee documents about stadium financing. The Yankees, rightly so, claim that Brodsky is singling them out unfairly when other New York entities have enjoyed sweetheart tax breaks as well. For what it's worth, the Mets have complied with Brodsky's document request, took over a parking lot and not a park for their new stadium and required less in public financing to build Citi Field.

Meanwhile, the Yankees allege that Brodsky's request for document production could cost taxpayers around $5 million. At this point, I have to wonder if it's worth it. As Neil deMause wrote in September, Brodsky is garnering headlines and not much else. It's doubtful that the IRS will revoke the tax-exempt status of the bonds, and Brodsky is continuing to burn through public money and good will. The Yankees, a very rich entity, relied on more public money than they should have to build the stadium, and we can debate the true economic impact of the new park until the cows come home..

For more on the issue, check out this post at Fack Youk. Their resident law student feels that the team should comply for the sake of transparency. In principle, I agree, but it's getting to the point, though, at which Brodsky should consider just dropping it. · (7) ·
By

What happens to former major leaguers who can't catch on with a team? Many of them go to independent leagues. For instance, we've seen Shawn Chacon surface with the Newark Bears and the likes of Preston Wilson, Lew Ford, and Brad Halsey hit Gary Carter's Long Island Ducks. Some, though, head to the Mexican league. There are some great names on that list, throwbacks you might not have heard in a while. As far as former Yanks go, the following players can be found in Al Aceves's former stomping grounds: Juan Acevedo, Ruben Rivera, D'Angelo Jimenez, and Felix Heredia. I suppose you could count Victor Zambrano too, but I'd rather not. · (17) ·
By

One of our readers has a pair of tickets available for this Thursday's game against the Rangers, but can't make it because of the 1:05pm start time. Two tickets are available, located at Field Level Section 136, Row 16, Seats 7 & 8. It's the section in front of the left field bleachers and right next to the visitor's bullpen, and the seats are actually only eight or so rows up from the field. The seats run $85 each, which is the season ticket holder's price.

Remember, it's a day game with a 1:05pm start time. Email me via using the address on the far right sidebar if you're interested.

Update (4:22pm): Tickets have been claimed. · (1) ·
Yesterday, relying on an unsourced rumor from Baseball Prospectus' John Perrotto, we noted how Joba's shoulder may be preventing any move to the bullpen. While the Yankees are clearly not going to move Joba to the pen any time soon, we eventually understood Perrotto's piece to say that, while Joba's shoulder is not injured, the Yanks may not believe he can warm up efficiently to be a reliever without putting too much stress on his shoulder.
Following up on our report, Marc Carig of The Star-Ledger asked Joe Girardi and Joba Chamberlain about any possible shoulder issues concerning the Yanks' young ace. Both denied the report, sort of. Carig writes:
Is Joba Chamberlain a starter only because a shoulder problem prevents the pitcher from warming up fast enough to work out of the bullpen? Not so says the pitcher and Yankees manager Joe Girardi…"Not at all," Chamberlain said after his start on Monday night. "I don't know where that came from."

Girardi also denied the snippet, which was listed under the "AL Rumors and Rumblings" section of Perrotto's column on Sunday. "That's not the reason we haven't put him in the bullpen," Girardi said. "The reason we haven't put him in the bullpen is because we envision him as a starter."
Now, with the way Carig posed the question, the Yanks had an out. Joba isn't a starter only because of a shoulder problem; he's a starter because that's why he was drafted and that's where his talent and values lie. In fact, Girardi said as much to the Yankee reporters.
What Perrotto reported though is that Joba hasn't been warming up quickly. We witnessed that last month with his first inning troubles, and it has long been the case that starters need longer to warm up that relievers.
In the end, Joba is a starter now and in the future. The Yankees know this, and the team also recognizes that flipping him back and forth between the pen and the rotation is not the best for his long-term health. As Joba approaches his innings limit over the summer, the Yanks will have to come up with some plans for his arm. Right now, though, he's healthy and throwing as well as he has in his brief Major League career.
Once the Yankees finish off their series with the Texas Rangers, the season will be one third over. The freak-outs by many in the Yankees fanbase might make it seem like the season is further along, but there's still plenty, plenty of baseball left. Players will get hot, players will get cold, and managers will be second-guessed to death for the next four months — five if they're lucky. With so much baseball to be played, it's difficult to get a grasp of where a team will be in a few months. However, what we can do is evaluate where the team is, identify its shortcomings, and how the team can shore up those weaknesses.
In other words, welcome to trading season.
Over the next two months, we'll be inundated with trade rumors, some frivolous, some provocative. Most will never happen, but that doesn't mean the rumors aren't entertaining. It's always interesting to see what the people most familiar with a team's needs (outside the actual front office) think it can do to put itself ahead of the pack.
We know the Yankees aren't perfect. They have flaws, just like the rest of the teams in the league. Thankfully, they rode those flaws all the way to first place, so perhaps those flaws are not as egregious as we might have previously believed. On the other hand, perhaps they're just as egregious as we believed, but the team is currently doing a good job of covering them up. The Yanks will certainly explore the trade market to see what's available to fill these weaknesses.
The question at this point is of who's selling. Most teams won't admit defeat at the 1/3 mark. It might not resonate well with the fanbase, which could lead to depressed revenues for the remainder of the season. From a pure baseball standpoint, though, failing teams would do best to work the trade market right now. The sooner they trade their valuable chips, the better value they'll receive in return. It could be the difference between getting both Cliff Lee, Brandon Phillips, and Grady Sizemore in a trade and getting just two of those.
How should a team determine if it's out of contention this early? SI's Tom Verducci explores the question. He notes that since the inception of the Wild Card there have been 104 teams to make the playoffs, and only three of them have made the playoffs after entering June with a record five or more games below .500 (one of them was the 2007 Yankees). In 2009, the lucky teams are the Indians, A's, Natinals, Pirates, Astros, Diamondbacks, and Rockies. So which of these can the Yanks pillage for bench and relief help?
As we discussed last week, the Yankees could certainly look for bullpen help. Two of the more attractive names among possibly available relievers, Chad Qualls and Huston Street, play for two of the teams on Verducci's list. What it would take to acquire them, of course, is another question entirely. It's also unknown if the Yankees will seek external bullpen help. With both Damaso Marte and Brian Bruney working on rehab assignments, they might just sit back and see what their current guys can give them. There are also a number of high-upside arms in the minors they could give a try, such as Mark Melancon, George Kontos, and Mike Dunn.
If the Yankees did decide to seek help from elsewhere, it probably won't be until far closer to the deadline. Given the theory of teams getting more by trading their chips earlier, one might think that the Yanks could get a better deal closer to the deadline. In this scenario, though, that theory might not apply. The D'Backs and the Rockies don't have a pressing urgency to deal Qualls and Street, so they could ask for a sizable return no matter when the trade takes place. Other teams will surely be interested as well, which always jacks up the asking price.
Josh from Jorge Says No! presents another idea which could work to the Yanks' advantage. Why don't teams try to package their valuable players along with albatross contracts, rather than seek top-flight prospects in return? After all, no prospect is a sure thing; salary relief is. That would certainly make the goings tougher for the selling team, and they won't get a good prospect package at all. It could lead to some interesting scenarios, though.
Take the Diamondbacks for instance. Surely they want to shed Eric Byrnes and the remaining $15 million on his contract, but what team would take that albatross? Perhaps one team or another would make the deal if they could also get the year and a half remaining of Qualls's indentured servitude. Clearly, a high level prospect wouldn't be involved here. For the Yanks, it would be a Kontos-type player or less. This type of trade makes sense for them because they'd be using their biggest advantage, financial might, to improve their team.
Now, taking on a $15 million obligation for a player like Eric Byrnes isn't ideal. But is trading a Zack McAllister-type player for Chad Qualls a better one? It's easy to say, because it's not my money, but taking on an albatross in conjunction with a useful player for a B prospect seems like something the Yanks should consider. What remains to be seen, of course, is if selling teams buy into this mindset. If they do, the Yankees could have many options available to them as we approach the trade deadline.
As the Yankees return home today, attention once again turns to the home run haven that is the new Yankee Stadium. While overall offensive numbers are not showing a marked increase at the new home, the total number of balls leaving the yard has skyrocketed.
A few days ago, Yanks GM Brian Cashman danced around the issue, and today, Anthony McCarron revisits the case of the home run-happy stadium. The gist of McCarron's piece is basically that the Yankees are aware of the problem and are looking into it. They will not, however, comment publicly on any studies or solutions, and the team has told Populous, the new name for HOK Sports, to say nothing about it.
For his part, Brian Cashman again denied knowing much about the potential for change at the new stadium. While admitting that the ball is "clearly flying here more than it used to," he could not tell McCarron why. "It's not something I'm even thinking about," Cashman said of any potential renovations to the new home. "Most of the home runs are launched, so I don't know. We can't move the subway line."
Meanwhile, baseball insiders are blaming everything but the stadium. "I think we have a juiced-ball issue that can randomly happen year-to-year," Cashman said. As home runs are up by nearly 90 percent at new Yankee Stadium and not nearly as much across the league, I find the ball theory hard to believe.
"I think the ball is wound tighter," added Bowa. "I don't have documentation to verify it. But the game is cleaner now — the steroids got guys more distance. Fans love home runs and now maybe you can keep homers in the game this way."
On the flip side of the issue, meteorologists and architects have questioned the Yankees' claims that the presence of the old stadium has impacted wind patterns in unexpected ways. "Anytime you have large buildings next to each other, you create wind conditions. But these are great, great big buildings. It really takes a lot to effect changes in wind patterns," Ron Labinski, one of the architects who helped plan the new stadium, said to McCarron. Labinski suggested, albeit tongue-in-cheek, a big fan for right field.
Tom Kines at Accuweather, though, had more to say on the wind issue:
Added Tom Kines, a senior meteorologist for AccuWeather.com: "It's not like the old Stadium is 500 feet higher or anything like that. I wouldn't have thought of that as a solution."

Kines believes the angle of the new Stadium's stands — they are not as steep as the old park — causes westerly winds to push balls toward the outfield. Some have speculated that the open concourse — something the new Stadium shares with Citizens Bank Park — contributes to the wind, but Kines was unsure whether enclosing the concourses would change anything.

"Other than raising the fences or moving them back, which would both obviously affect seating, I don't know what their options are, other than finding the best pitching you can get," Kines said.
I'm currently working on a piece that will look at how many of the home runs hit at new Yankee Stadium would have been out across the street, and the numbers show a significant and meaningful change brought about by the straight wall at the new park. While the wind is a contributing factor, and while it sounds as though the Yankees will address this issue after the season, the simple fix may just be to curve the right field wall. After all, the stadium is supposed to have the same dimensions as the one across the street did. Right now, it does not.
By

Tyler Kepner at the Bats blog profiled Austin Jackson, the Yanks' top prospect coming into the year. He's got some great quotes from Triple-A Scranton hitting coach Butch Wynegar about how right now they're just working to iron out Jackson's swing mechanics and trying to develop a consistent approach at the plate. The comparison they threw out there was Hall of Famer Kirby Puckett, not for Jackson's ultimate ceiling, but for the way he went from a rookie with and a great approach zero homers in 583 plate appearances to a 30+ homeruns hitter two years later. Make sure you check it out, great stuff. · (88) ·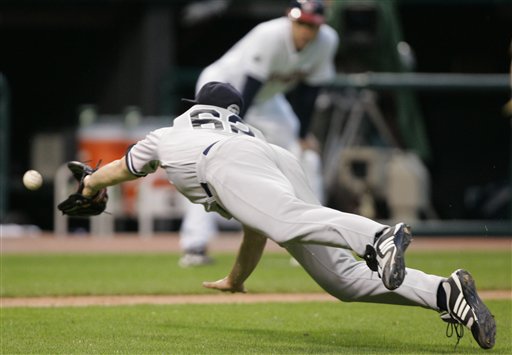 When Mariano Rivera and the Yankees sealed the deal on their 5-2 victory over the Indians last night, it marked the 18th game in a row in which the Yankees had not committed an error. Over that span of games, the Yankees have gone 14-4, and the team seems to be living proof of the adage "defense wins games."
But on its face, this errorless streak is a bit deceptive it doesn't really tell us very much about how the Yankees have been doing in the field. It does tell us that the Yankees have been sure-handed and that the team's pitchers can trust the other eight men on the field. It does tell us that the Yankees are fielding the balls they can get to cleanly, but it does not tell us if the Yankees are getting to more balls and thus are turning more potential hits into outs.
For that, we have to move beyond the limited statistic of errors and look at some of the new defensive metrics that assess range and defensive efficiency. Over the weekend, long-time RAB reader Jamal G. commented on the defense: "I think the huge defensive statistic that people should be paying attention to is the Yankees' being 5th in the AL (12th in MLB) in Team Defensive Efficiency with a .697%. I expected the defense to be better, but in the 18-20 range; this is surprisingly awesome."
I had recruited Jamal to write a longer guest column for us, but then the new Statistician Magician beat us to the punch. In his piece, he analyzes the various parts that make up the Yankee defensive whole and concludes that, while so far there are no stand-outs, the team is much improved over recent years. He concludes:
The team's overall defense is close to average. But that is much improved based on what we all saw last season. And because of this, they don't have a real flaw: above-average pitching, once it comes around completely; a very good offense when healthy; and now a decent enough defense too.

If they keep up the glove-work, which they should, it will be a great step in the right direction for Cashman and the rest of the organization. Because Cashman seeing their success coincide with an improvement on defense, will let him truly understand what he has been missing for some time now.

…Because defense matters.
With Derek Jeter's new-found range, Robinson Cano's resurgence and some excellent outfield defense after a few years of Matsui-Damon-Abreu, the Yankees are turning balls that once were hit into outs. Their starting pitchers can go deeper into games, and the team enjoys fewer opposing base runners.
Right now, it's all clicking for the Yanks, and their defense is a large part of it. The error-less streak looks good on paper and makes for some nice headlines, but it tells only part of the story. As much as they are winning with hitting and winning with pitching, the Yankees are starting to win with fielding too, and as Flying Joba Chamberlain showed last night, it looks good.
Photo by Mark Duncan for the Associated Press.
While the origins of the Joba Debate date back to 2007, Jorge Posada struck what some considered a major blow last September, during his edition of the YES Network's CenterStage:
"I think if you start him and he pitches 200 innings in one year, you're going to lose him. He's going to get hurt. I don't see him as a starter."
This got a lot of people going. After all, we're just spectators. Jorge actually catches Joba. Well, kind of. At that point Jorge had seen Joba far more frequently as a reliever than as a starter, so he might have fallen victim to the confirmation bias.
Then, six months later, after Jorge had seen Joba pitch through Spring Training, he changed his tune:
"He's our fifth starter and I'm happy with that. He was so good out of the pen (in 2007) and I hadn't seen him as a starter. He's been showing me and he's proving me wrong."
Last night went a long way in reinforcing that line of thought. Joba pitched masterfully, going eight strong innings and picking up the W in a 5-2 Yankees victory. He did it far more efficiently than in his last few starts, tossing 66 of his 106 pitches for strikes (62 percent) and just 13.25 pitches per inning.
Thanks to the wonders of the Internet, we have an instant look at Joba's pitch repertoire, courtesy of Brooks Baseball. Joba's average fastball was almost 94 mph, and he topped out at 97.6. That's the gas we've seen from Joba in the past. Perhaps after his last start, in which he averaged just 90.36 mph on the fastball and topped out at 93.3, he just decided to let it fly. In any case, it worked remarkably well. Also of note: Joba threw 21 sliders, 18 of which were strikes. He also tossed 14 curveballs, another good sign for the young starter.
One of the stronger criticisms of Joba is that he doesn't pitch deep enough into games. His eight strong innings tonight shows that he can indeed give the team length. This isn't to say that he'll do this every time; not even CC will pitch eight innings every time. The Yankees have to be pleased to know that Joba can do it. He's far from a finished product, and to demonstrate the ability to pitch through the eighth inning is a big check mark in his development.
Last night was a lot of things for Joba, but it was not a check in the starter column. Nor was the start in Texas a tick for the reliever argument. The fans may perceive it that way, but the Yankees have made it clear that the plan is to develop him as a starter. Tonight just illustrated the upside of that decision. It was marvelous, of course, but it doesn't advance the argument in either direction. It just shows that hey, this is what the Yanks are talking about.
(That's not to say it can't be used as an argument. It's just that this outing doesn't, as Nick Swisher cheerily remarked after the game, move the Jobameter towards starter. No one game does. Otherwise, we could cherry-pick all the favorable outings we wanted to make the argument.)
On the offensive side, the Yanks struggled a bit with runners in scoring position, picking up just three hits in 16 at bats. They did, however, draw 11 walks, which ended up powering their offense in the seventh. After squandering a bases-loaded, no-outs situation in the sixth, they again sat back in the eighth as the Indians walked the bases loaded with one out. This time, Nick Swisher wouldn't let the opportunity slip away. He slammed one off the top of the high left field wall, a home run in plenty of parks, for a two-run double. The Indians then decided to walk Mark Teixeira to re-load the bases for Alex Rodriguez. Fools. With nowhere to put A-Rod they had to throw him strikes, and he made them pay with a two-RBI single.
Those were the only runs the Yankees would need. With Joba rolling and Mo ready to close things out, the Indians didn't stand a chance after the seventh. The win capped a 5-2 road trip, including three of four from the Indians. The Yanks are now 6-3 in their last nine games, and in two of those games they lost in the final inning. It looks like, just as in 2005, a big win streak has reenergized the team.
While the news today was grave on Jose Molina and Xavier Nady, the Yanks got some good news from Nick Swisher, who doubled twice in the game. If Nady's going to miss additional time, Swisher's presence in right field will become important. He won't be as good as he showed in April, but to have a career-averages Swisher would be big for this already imposing lineup.
The Yanks take their winning ways back to the Stadium for what is essentially a 13-game homestand with a three-game trip to Fenway sandwiched in there. A.J. Burnett, who went home to get some rest in advance of his start, will face off against a goomba Vicente Padilla. The Yanks should get quite a warm reception for this homecoming.
Oh, and here's last night's Web Gems. You'll see Joba's belly flop in the top spot.