Lots of rumors flyin' around right now. Let's wrap 'em up.
In his Winter Meetings live-blog at 1:23 p.m., Ken Rosenthal got an unnamed rival executive saying that CC's opt-out is a bad idea. Either he's great and makes more money or he's terrible and the Yanks are on the hook, this rival executive said. Of course, if the market flattens, it's quite likely that no one would pay more than the nearly $100 million that Sabathia would be leaving on the table. We'll deal with that when the time comes along.
Rosenthal also notes that the Yanks are in talks with A.J. Burnett, Derek Lowe and Andy Pettitte. He believes that the Yanks and Lowe are not as close as had been previously reported. Burnett expects the Yanks to top a deal from Atlanta believed to be five years and $80 million. I say pass.
Tom Verducci, largely silent at the Meetings so far, reports that the Red Sox may target John Smoltz. I guess they too need to the fulfill the overpaid, old injured guy spot on the roster that Curt Schilling will vacate.
Within the same piece, Verducci says that the Rangers have asked Andy Pettitte if he would be interested in pitching for them. So far, we've heard that the Dodgers, Red Sox and Rangers now are all interested in Pettitte, but the lefty remains interested in only the Yanks so far. He may have to wait until Derek Lowe, A.J. Burnett and Ben Sheets are signed by whichever team signs them until the Yanks are ready to welcome him back.
Jon Heyman says that Mark Teixeira will get $200 million from someone, and that someone, according to Mike DiGiovanna, might just be the Nationals. While this signing would put Teixeira close to home and drastically improve Washington's club, they still have way too many holes to fill and no internal pieces really available. Teixeira would be the center piece of a bad club as he was in Texas, and I'm just not sure he wants to do that. Dollars, however, talk. I think, by the way, that Teixeira is not destined for the Yanks despite how perfect he would fit in with this team.
And finally, a hearty RAB congrats to site-favorites Keith Law and Rob Neyer. The two of them — along with Will Carroll and Christina Kahrl — are now officially members of the BBWAA. This is a long overdue move, and I can't wait to see Keith's reaction when his colleagues are the ones are awarding Jason Bartlett MVP points.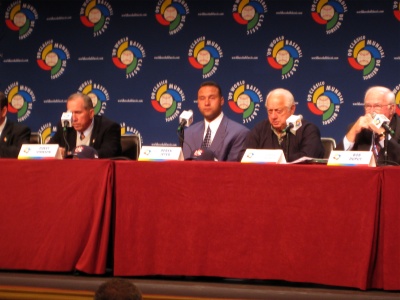 Sorry I couldn't get closer. Had I known Jeter was here I would have sat up front.
Oh, and it might look like Jeter is looking at the camera, but I was actually standing next to her:
She's approximately 18,456 times hotter in person.
Update: Davey Johnson called Jeter up to speak for a minute. Says the Captain: "I did not think I'd be speaking today."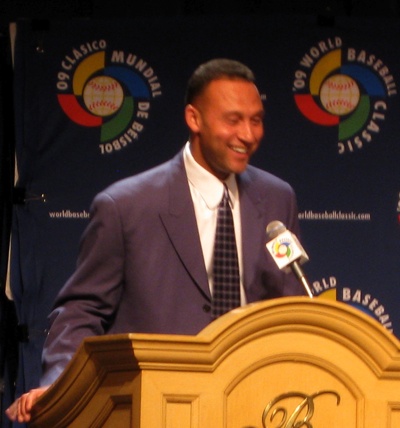 By

While the Yanks may (or may not) be out of the Mark Teixeira sweepstakes, the bloviating half of the two-headed Steinbrenner monster wants to see Manny in pinstripes. According to Jon Heyman, Hanks wants the Yanks, who are also rumored be in on Rick Ankiel trade talks, to go hard after Manny in an effort to shore up the offense. I like the idea of Manny Ramirez the hitter a lot more than I like Manny Ramirez the crazy guy. · (71) ·
Just a couple of items to whet your appetite for rumors:
As always, links courtesy of MLB Trade Rumors.
By

From Tim Brown and Gordon Edes of Yahoo! via MLBTR, we learn that Sabathia's contract will contain an opt-out clause after three years and $69 million. So if Sabathia opts out after the 2011 season, he'll be leaving $92 million on the table. · (136) ·
By

Hardly big news by any standard, but Ken Davidoff drops in a note that the Yanks and Nick Punto are working on a deal. The Yanks have to replace Wilson Betemit somehow, and I guess Punto fits the bill. The defensive whiz and former Twin just turned 31 in November and has a career line of .252/.319/.332. He had his best season last year as he managed a 99 OPS+ in limited playing. Punto would clearly be around as a defensive replacement and not for his pop off the bench.

RAB Note: As you read this, I'm taking my first law school exam. If major New York news breaks between 10 a.m. and noon eastern time, look for the Las Vegas contingent to have the early word, but be mindful of the time difference. We'll get stories up as fast as we can. · (58) ·
By

Many here at RAB, me included, aren't too excited about the prospect of signing Derek Lowe to any kind of contract, never mind a four-year deal. Yet, that appears to be close. Via MLBTR, we hear that the Yanks are/were discussing a four-year deal with the free agent righty. He was on WFAN this morning, where he said the Yanks are closing in. Clearly, the Yanks are tending to bigger matters, both figuratively and literally, right now. Lowe could clearly be next, though.

At that point, Sheets makes even more sense over Burnett. Why sign three pitchers to seven, five, and four-year contracts? Seven, four, and two sounds much easier to swallow. · (68) ·
Ed. Note: Yes, the Yanks are about to sign CC Sabathia for seven years. You can read our coverage of the contract right here. Now on with your regularly scheduled programming.
At this point, is anyone really surprised that the Yankees have asked for and are receiving more tax-free bonds? Charles V. Bagli, take it away:
With opening day for the city's two newest baseball stadiums only four months away, the price tag for taxpayers continues to rise. The Bloomberg administration has issued fresh estimates for utility work, lighting and the cost of replacing the parks and ball fields that once stood where the new stadium for the Yankees is being erected.

The city also plans to issue $341.2 million in additional tax-exempt bonds on behalf of the Yankees and Mets to complete the stadiums, whose combined cost is about $2.2 billion. The teams are responsible for paying off the bonds, but they pay tens of millions of dollars less in interest because payments to bondholders are exempt from city, state and federal taxes.

The city and the state are also investing more than $660 million in parks, garages and transportation improvements around the stadiums and are providing the teams with an estimated $500 million in tax breaks related to construction materials and other items. The city had planned to issue a public notice of the latest bond offering and a required public hearing on Monday but decided to wait at least a week until it completed a cost-benefit analysis. With public costs mounting, critics of the deals say the city will be hard pressed to demonstrate that the economic benefits of the stadium projects outweigh the cost to taxpayers.
Neil deMause questions the accuracy of the exact figures, but the fact remains the same. As services throughout the city — education, security and public transit — suffer, the taxpayers are yet again shouldering more of the burden of the stadium than we originally expected we would.
I realize by now the stadium is pretty much a moot point. The Yankees aren't going to fork over money denied to the public, and the new structure will open in a little over three months as scheduled. But one of the roles a healthy media should play is that of public watchdog. New Yorkers had little chance to understand the public ramifications of the new stadium because the newspapers didn't start reporting on these issues until it was far too late. The teams could have built new stadiums without these subsidies, and while there will be benefits the neighborhoods and communities enjoy from the stadiums, they won't justify the costs.
Update 10:40 a.m. by Joe: Baseball's resident economist, JC Bradbury, likes the deal. He values Sabathia at $26 million per year over the next seven.
Update 9:17 a.m. by Joe: ESPN reports that the deal is for 7 years and $160 million. That takes the AAV down a bit. It's a helluva long commitment, but the Yanks knew that they'd have to go above and beyond for CC.
I also want to note that this is complete bullshit. Mike and I are in Vegas. Couldn't they at least break this on Vegas time? It's six in the goddamn morning! And this thing broke what, an hour ago?
Update 8:32 a.m.: Early reports this morning featured a New York Post story saying the deal is all but done between Sabathia and the Yanks. ESPN.com has now seemingly confirmed this independently. According to the Worldwide Leader:
The New York Yankees were "very close" to a preliminary agreement with CC Sabathia on Wednesday morning, following an in-person meeting between Yankees GM Brian Cashman and Sabathia in California, a baseball source with knowledge of the deal told ESPN.com.

While a deal is not done, the source said there are "zero major road blocks" that would prevent the Yankees from reaching agreement with the Yankees.

"He's now excited about becoming a Yankee," said one source.
I'm off to somehow take a final despite this excitement. Don't burn down the place while Joe and Mike sleep in Vegas. We'll have more as soon as we know more.
Update 8:39 a.m.: Jon Heyman has word of the signing as well.