In an otherwise laughable column about the precarious state of the Yankees — does anyone really think the Dodgers would trade Matt Kemp for "the regressing Melky Cabrera and the unphenomenal phenom Ian Kennedy"? — Portfolio writer Franz Lidz drops something of a Mike Mussina bombshell on an unsuspecting fan base.
Relying an an anonymous official who works for one of the current playoff teams, Lidz reports:
Whether the New York Yankees resign Mike Mussina depends almost entirely on his wife, Jana.

The rejuvenated free agent—who, at 39, won 20 games for the first time in his 18-year career—wants to play next season in the new Yankee Stadium and possibly beyond, which would enable him to make a run at 300 career victories. (He's 30 shy).

But Jana has been adamant that he retire to life on their spread in tiny Montoursville, Pennsylvania, where the family compound is a half-dozen Ruthian clouts from the road and Mike can walk into Elery W. Nau Hardware on Broad Street without having to sign an autograph.
This nugget seems to contradict everything we've heard about Moose's talks about hanging it up. The beat writers all seem to think Moose wants to go out on his own terms and of his own volition. If his wife is involved in the decision — and that's certainly not an unreasonable or unacceptable proposition — the picture changes a bit.
The Yankees could really use Mike Mussina's presence in 2009 both on the field and in the clubhouse. If this report is true and accurate, perhaps they can work out a Roger Clemens-type agreement with Mussina that would allow him some leeway on days during which he isn't scheduled to pitch. For what it's worth, this injects a new element into an issue I had thought rested on the shoulders of Moose and only Moose.
By

Last year, in attempting to nab a press pass to see Phil Hughes pitch for the Trenton Thunder, I encountered Bill Cook, the team's director of public relations. I have to say, the man went above and beyond the call of duty by reserving me a seat in the press box. Today, Hugging Harold Reynolds sits down with Cook to discuss his experience working in sports. There are some good stories in there, including one in which the Thunder drew more fans to Waterfront Park while the team was away than the home team did. Check it out, and leave HHR some love. No, not that kind of love. · (0) ·
HWB Waikiki (11-2 in over West Oahu) you know, just typing the names of these teams makes me jealous … can you imagine being so lucky that you play baseball for a living AND get to play in paradise?
Damon Sublett: 2 for 4, 1 R, 1 2B, 4 RBI, 1 BB – like he never missed a game, eh?
Austin Romine: 2 for 3, 2 R, 1 RBI, 2 BB – gunned down a runner trying to steal second
Andrew Brackman takes the mound for his second start tonight at 7pm local time, 1am EDT. Remember that site that supposedly lets you watch/listen to these games? Turns out that was for the 2007 season. No wonder it didn't work, my bad yo.
The Arizona Fall League starts Monday. Here's the Javelinas' roster.
Update (1:05pm): Baseball America posted their top 20 International League prospects; Brett Gardner came in at number 19. Not enough innings for Melancon.
By

According to YanksBlog.com, Official RAB ESPN Writer Buster Olney thinks that the Yanks' 2009 payroll and $180 million are a good fit. The Yanks, says the ESPN scribe, plan to cut about $29 million from their lofty 2008 total. With so many holes and a few appealing free agents, I'll believe this one when I see it. · (55) ·
A theme we touched on frequently this season was the poor hitting of Robinson Cano. He started off slow in 2007, but picked it up to finish strong. This year, he had a similarly slow start, but didn't really pick it up the way he did in '07. He had a good May, followed by a mediocre June, a very good July, solid August, and a bad start to September, followed by a strong finish.
| | | | |
| --- | --- | --- | --- |
| April | .151 | .211 | .236 |
| May | .295 | .333 | .432 |
| June | .287 | .302 | .416 |
| July | .327 | .352 | .495 |
| August | .290 | .336 | .490 |
| September | .287 | .303 | .404 |
To further break down September, Cano hit .167/.167/.229 from September 1 through his benching on September 14-15. From the 16th on he went on a tear, hitting .413/.431/.587. The benching might have served as a wake up call, it might not have. We can't get in Cano's head, so we don't know for sure, but it sounds like it was part of it. The other part, of course, can be illustrated.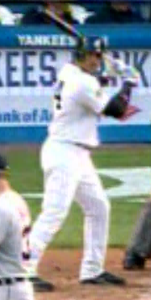 The one on the left is Cano's stance on April 29 (pardon the half-Kenny Rogers). The one on the right is at the end of September. That's quite a difference in stances. I'm figuring that had something to do with it, too. As Kevin Long said a few times this season, there were just too many moving parts in Cano's swing. Closing Cano's stance simplifies his swing, allowing him to make a more balanced strike at the ball.
So why wasn't this changed earlier in the season? It seems that's not Long's style. From Cano himself, in May of this year:
"He gives you a lot of confidence, and that's the best thing," Cano said. "He doesn't change your stance or anything. He'll tell you you're a good hitter, but he doesn't lie to you, either. If he thinks it's a bad pitch, it's a bad pitch."
This helps explain Long's reluctance to tinker with Cano. He said as much himself:
"You're reluctant to make those changes when he's had success," Long said. "He's pretty much got to (level) off before you overhaul somebody."
Long plans to join Cano in the Dominican Republic this winter to continue the refinement of this new approach.
Hopefully, he can get into the groove early in the season and silence critics before they can start up. It's clear that Cano is a top talent. He plays a premium position, and most of the time plays it well. If he can get his bat going to even 2007 levels, he'll be a staple in the lineup for years to come. If he can produce at 2006 levels, he'll be a perennial All-Star, and also win the batting crown that so many pundits have predicted.
In 2008, though, he was a disappointment. There were good times, but those were offset by horrible times. Things came to a head in September, and it looks like he turned things around. Then again, it looked like he turned things around in July, so who knows what this means for the future. At this point, though, I'm not sure the Yanks should shop Cano. His contract, his position, and his potential make him a valuable chip, but they also make him valuable to the team.
By

Over his last four postseason appearances, CC Sabathia has not impressed. He's 1-3 over that span, and in 19 innings, the lefty has surrendered 20 runs on 27 hits and 17 walks. Tonight, against the Phillies, CC had the velocity, but he had no command. Clearly, he seemed fatigued after throwing 500 pitches over two weeks and making three starts in a row on three days' rest.

While the media will spin this as a story about CC's inability to pitch in a big game, he's thrown in three straight big games before today. Rather, if the Yanks are to pursue CC, they should pay careful attention to his regular season innings and realize that, if they want an effective postseason pitcher, they'll have to manage his innings better than the Indians did last year and the Brewers did this year. · (56) ·
Pitcher A: 14-6, 3.91 ERA, 6.20 Kper9, 1.44 GB/FB, 4.23 FIP
Pitcher B: 16-10, 3.14 ERA, 9.02 Kper9, 1.70 GB/FB, 3.35 FIP
Which would you rather have; probably Pitcher B, right? Well what if I told you A made $16,000,000 this year while B made $415,000? Then it's a no-brainer.
Pitcher A takes on Pitcher B in Wrigley tonight, Zambrano vs Billingsley. Torre's boys look to take a commanding 2-0 lead. Enjoy the game.
Los Angeles
1. Rafael Furcal, SS
2. Russ Martin, C
3. Manny Ramirez, LF
4. Andre Ethier, RF
5. James Loney, 1B
6. Matt Kemp, CF
7. Blake DeWitt, 2B
8. Casey Blake, 3B
9. Chad Billingsley, P
Chicago
1. Alfonso Soriano, LF
2. Ryan Theriot, SS
3. Derrek Lee, 1B
4. Aramis Ramirez, 3B
5. Mark DeRosa, 2B
6. Jim Edmonds, CF
7. Geovany Soto, C
8. Kosuke Fukudome, RF
9. Carlos Zambrano, P
This is a game that should pique the interest of many Yankees' fans, and it's all because of that big cuddly guy to the right. Making his fifth start in the last 17 freaking days, CC's looking to give the Brewers' their first playoff win since October 17th, 1982, exactly 13 days before this blogger's first birthday.
The Phils will throw Brett Myers, who's got a 6.93 ERA in his last 4 starts. A Brewers' win ties the series up at one apiece, a loss and you might see CC taking the hill again in Game 3 on Saturday (I'm only half-joking).
The game starts right about now, and if you want some Yankees' related content, check out iYankees case for Mark Teixeira.
Lineups:
Bark twice if you're in Milwaukee
1. Mike Cameron, CF
2. Ray Durham, 2B
3. Ryan "The Hebrew Hammer" Braun, LF
4. Prince Fielder, 1B
5. JJ Hardy, SS
6. Corey Hart, RF
7. Craig Counsell, 3B
8. Jason Kendall, C
9. C(ha)C(hing) Sabathia, P
Philadelphia
1. Jimmy Rollins, SS
2. Shane Victorino, CF
3. Chase Utley, 2B
4. Ryan Howard, 1B
5. Pat the Bat Burrell, LF
6. Jayson Werth, RF
7. Pedro Feliz, 3B
8. Carlos Ruiz, C
9. Brett Myers, P
By

As the Yanks look ahead to the post-World Series free agency frenzy, one name sure to be on the team's radar is Mark Teixeira. The agile, power-hitting first baseman is due for a big raise, and the Yanks just happen to have a glaring need for a first baseman and lots of money. Teixeira has enjoyed two straight seasons of a .400+ OBP, and he would be a perfect fit for the Bronx, says iYankees. If the years are right, the dollar amount doesn't really matter. · (99) ·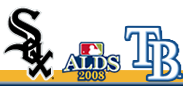 After fending off the Indians, Tigers, and Twins in three consecutive days to make the playoffs, the White Sox face off against the Rays, who are coming off a 97-win season, or the most wins in franchise history by 27. You have to admire Chicago's entrance. To beat three different teams in three straight days is quite an accomplishment. Then again, none of that would have been necessary had they not been swept by the Twins a week ago.
On the pitching end, former Yanks Javy Vazquez goes for the Sox. He didn't have a great year, posting a 4.67 ERA in 208.1 innings. He did strike out 200, though, while walking 71. His WHIP was 1.32, which is his highest mark since 2000. James Shields gets the call for the Rays. He tossed 215 innings this year to the tune of a 3.56 ERA. He's not a strikeout artist, but his 4:1 K/BB ratio (on the nose) makes him a formidable starter.
The game starts at 2:30, so right about nowish. If you're looking for a more Yankee-centered discussion, check out the last post on the Matt Holliday rumors.
Lineups:
Chicago
1. Orlando Cabrera, SS
2. Dewayne Wise, LF
3. Jermaine Dye, RF
4. Jim Thome, DH
5. Paul Konerko, 1B
6. Ken Griffey Jr., CF
7. Alexei Ramirez, 2B
8. A.J. Pierzynski, C
9. Juan Uribe, SS — yeah, I dyed me goatee, too — when I was 17
Tampa Bay
1. Akinori Iwamura, 2B
2. Bossman Junior Upton, CF
3. Carlos Pena, 1B
4. Evan Longoria, 3B
5. Carl Crawford, LF
6. Cliff Floyd, DH
7. Dioner Navarro, C
8. Gabe Gross, RF
9. Jason Bartlett, SS