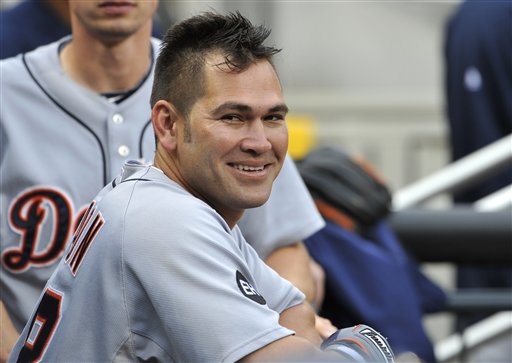 For the first time since walking off the field as a World Champion last November, Johnny Damon returns to the Bronx tonight as a member of the visiting club. His free agency and departure from New York has been well-chronicled and doesn't need to be rehashed, instead let's celebrate his time with the Yankees.
During his four seasons in pinstripes, Johnny he hit .285/.363/.458 with 77 homers, more than he hit with the Royals or  Red Sox. He racked up 12.6 WAR during those seasons, which is worth about $53.1M on the open market, so his four year, $52M deal was a slight bargain for the Bombers. As for a signature moment … it has to be the double steal in the World Series, right? Nothing even comes close in my mind. Let's not forget the nine-pitch battle with Brad Lidge that set the double steal up, that was straight up money. Johnny was a great player during his time here, and he deserves nothing less than a standing ovation during his first at-bat tonight. After respects have been paid, I consider him fair game for boos and taunts.
Here's the lineup…
Jeter, SS
Swisher, RF
Teixeira, 1B
A-Rod, 3B
Cano, 2B
Posada, DH
Granderson, CF
Cervelli, C
Gardner, LF
And on the bump, it's Javy Vazquez.
First pitch is scheduled for a little after 7pm ET, and can be seen on YES. Enjoy.