I've been thinking about this topic a lot since landing in Vegas. Most everyone in the media room is a journalist. They for the most part work for large media corporations and are paid to deliver information to fans. This is done through a veil of objectivity. I say veil because everyone has their biases, and there's no down-the-middle objective view of most topics. (For more on that, you can read this guy's archives.)
River Ave. Blues, on the other hand, is written by fans, for fans. We don't hide our biases; for the most part, they're right up front. This extends beyond our team bias into our biases regarding individual players, coaches, front office executives, analytical methods, and in-game strategies. When we say something, you know where we're coming from. Or at least that's our hope. If you're looking for neutral sports coverage, this is not the place for you.
The question I can't seem to answer is, what does a neutral POV bring to the table? My best guess is that we get more accurate information if the report comes from a dispassionate observer. Otherwise, this line of thinking goes, we're subject to a fan's biases, and therefore won't be getting the real story. We'll be getting the story as spun by someone emotionally attached to the situation. As I said above, though, even a supposedly neutral bystander has his or her own biases. They're just not as up front, as they have to feign objectivity.
As you can tell, I prefer fan coverage. Otherwise, I wouldn't be doing this. While it's nice to have someone gathering facts, I don't think that necessarily has to come from an "objective" party. I think passionate fans can make the distinction between when it's appropriate to act professionally and when it's appropriate to express your fandom. Problem is, the old guard doesn't believe that, so they tend not to hire the likes of Ben, Mike, and me. Yet I think we're perfectly capable of handling ourselves in a press environment while retaining our die-hard ties to the Yankees.
I thought of all this last night while the Sabathia situation unfolded. I lamented to Mike that there was zero chance of us walking into the press room on Wednesday morning and high fiving the New York press corps. I thought that would have been cool. Woo hoo! We got our guy. Now let's go find Cashman and see what's next.
Before I wrap up, I just want to add that this is not a slight on the crew that covers the Yankees. I enjoy reading them, and have enjoyed their company, however brief, during the Winter Meetings. I also understand that not all of them are necessarily Yankees fans.
So I'm not saying that everyone who covers a team should be a fanatic. I do think, however, that the notion of an objective reporter is outdated. We're all passionate fans. Don't you enjoy reading the commentary of and engaging in conversations with other die-hards? I don't think you'd be here if you didn't.
While I'd love to hear everyone's thoughts on this topic, this is also the open thread for the evening. So have at it.
We've harped on many themes throughout the annals of RAB, but perhaps none more consistently than patience. It's easy to get caught up in the heat of the moment and let your emotions guide you to a thought. What's easy, though, isn't always right. Just because we prefer instant gratification doesn't mean it's the best result.
Patience, in this instance, has won the day. It started last off-season with the Santana non-deal. The Yankees exercised patience in two ways there. First, they decided to hold onto Phil Hughes, knowing he would not be nearly as good as Santana in 2008, and probably wouldn't surpass him, even in the best case scenario, until Santana's entered his decline. Yet they recognized Hughes as young, cheap, controllable talent. Holding onto him not only gave them a good young pitcher, but meant they could allocate resources elsewhere.
They also exercised patience in waiting for a comparable option for a better price. WIth CC Sabathia headed for free agency, and with little to no shot of the Indians locking him, the Yanks knew that they could get him while sacrificing just a first round pick. There were no guarantees there, of course, but the Yankees apparently deemed it a worthy gamble. If you're going to disagree with their strategy, I think that's the issue.
Finally, the Yankees were patient with CC during this slow opening to the off-season. People started to panic when he didn't immediately respond to the Yanks' offer. As time dragged on, the speculation started to ramp up. CC wants to play on the West Coast. He'll take a discount to play for the Giants. Many New York media personalities screamed that the team should forget him, that he's playing them for fools. Yet the Yankees exercised patience.
Now they still have Hughes, Kennedy, and the other guys they'd have given up for Santana. They have a comparable pitcher in Sabathia. The contract might seem a bit longer, and there is that debatable opt-out clause, but I think you'll see similar outputs from the southpaws in 2009. At least, the Yankees are banking on it.
I hope this means that Yankees fans will now exercise some patience when thinking about and pontificating on baseball issues. Thinks don't happen with a snap of the fingers. They take time to develop. This applies to trades, free agency signings, and prospect development. In other words, don't write Ian Kennedy off because he pitched poorly in 2008 (as an example). He just might need a bit more time to fully bake.
In the end, this is just a really long way of saying: "WHY THE FUCK IS THIS BURRITO TAKING SO LONG TO COOK IN THIS MICROWAVE?!?!?!?!?!?!?!?!" Once it's done, it might be the greatest microwaved burrito you've ever eaten.
Lots of rumors flyin' around right now. Let's wrap 'em up.
In his Winter Meetings live-blog at 1:23 p.m., Ken Rosenthal got an unnamed rival executive saying that CC's opt-out is a bad idea. Either he's great and makes more money or he's terrible and the Yanks are on the hook, this rival executive said. Of course, if the market flattens, it's quite likely that no one would pay more than the nearly $100 million that Sabathia would be leaving on the table. We'll deal with that when the time comes along.
Rosenthal also notes that the Yanks are in talks with A.J. Burnett, Derek Lowe and Andy Pettitte. He believes that the Yanks and Lowe are not as close as had been previously reported. Burnett expects the Yanks to top a deal from Atlanta believed to be five years and $80 million. I say pass.
Tom Verducci, largely silent at the Meetings so far, reports that the Red Sox may target John Smoltz. I guess they too need to the fulfill the overpaid, old injured guy spot on the roster that Curt Schilling will vacate.
Within the same piece, Verducci says that the Rangers have asked Andy Pettitte if he would be interested in pitching for them. So far, we've heard that the Dodgers, Red Sox and Rangers now are all interested in Pettitte, but the lefty remains interested in only the Yanks so far. He may have to wait until Derek Lowe, A.J. Burnett and Ben Sheets are signed by whichever team signs them until the Yanks are ready to welcome him back.
Jon Heyman says that Mark Teixeira will get $200 million from someone, and that someone, according to Mike DiGiovanna, might just be the Nationals. While this signing would put Teixeira close to home and drastically improve Washington's club, they still have way too many holes to fill and no internal pieces really available. Teixeira would be the center piece of a bad club as he was in Texas, and I'm just not sure he wants to do that. Dollars, however, talk. I think, by the way, that Teixeira is not destined for the Yanks despite how perfect he would fit in with this team.
And finally, a hearty RAB congrats to site-favorites Keith Law and Rob Neyer. The two of them — along with Will Carroll and Christina Kahrl — are now officially members of the BBWAA. This is a long overdue move, and I can't wait to see Keith's reaction when his colleagues are the ones are awarding Jason Bartlett MVP points.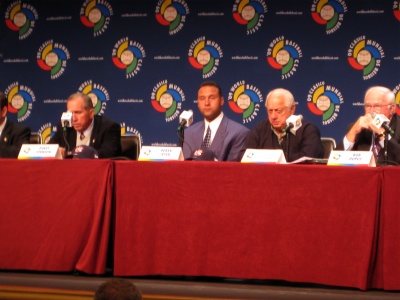 Sorry I couldn't get closer. Had I known Jeter was here I would have sat up front.
Oh, and it might look like Jeter is looking at the camera, but I was actually standing next to her:
She's approximately 18,456 times hotter in person.
Update: Davey Johnson called Jeter up to speak for a minute. Says the Captain: "I did not think I'd be speaking today."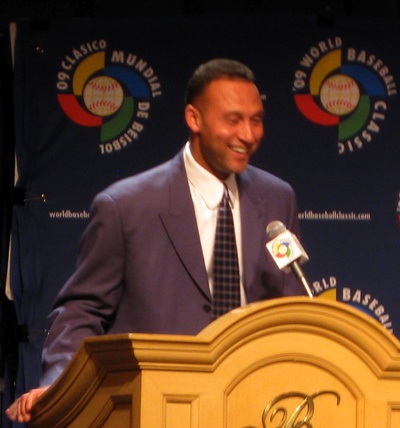 By

While the Yanks may (or may not) be out of the Mark Teixeira sweepstakes, the bloviating half of the two-headed Steinbrenner monster wants to see Manny in pinstripes. According to Jon Heyman, Hanks wants the Yanks, who are also rumored be in on Rick Ankiel trade talks, to go hard after Manny in an effort to shore up the offense. I like the idea of Manny Ramirez the hitter a lot more than I like Manny Ramirez the crazy guy. · (71) ·
Just a couple of items to whet your appetite for rumors:
As always, links courtesy of MLB Trade Rumors.
By

From Tim Brown and Gordon Edes of Yahoo! via MLBTR, we learn that Sabathia's contract will contain an opt-out clause after three years and $69 million. So if Sabathia opts out after the 2011 season, he'll be leaving $92 million on the table. · (136) ·
By

Hardly big news by any standard, but Ken Davidoff drops in a note that the Yanks and Nick Punto are working on a deal. The Yanks have to replace Wilson Betemit somehow, and I guess Punto fits the bill. The defensive whiz and former Twin just turned 31 in November and has a career line of .252/.319/.332. He had his best season last year as he managed a 99 OPS+ in limited playing. Punto would clearly be around as a defensive replacement and not for his pop off the bench.

RAB Note: As you read this, I'm taking my first law school exam. If major New York news breaks between 10 a.m. and noon eastern time, look for the Las Vegas contingent to have the early word, but be mindful of the time difference. We'll get stories up as fast as we can. · (58) ·
By

Many here at RAB, me included, aren't too excited about the prospect of signing Derek Lowe to any kind of contract, never mind a four-year deal. Yet, that appears to be close. Via MLBTR, we hear that the Yanks are/were discussing a four-year deal with the free agent righty. He was on WFAN this morning, where he said the Yanks are closing in. Clearly, the Yanks are tending to bigger matters, both figuratively and literally, right now. Lowe could clearly be next, though.

At that point, Sheets makes even more sense over Burnett. Why sign three pitchers to seven, five, and four-year contracts? Seven, four, and two sounds much easier to swallow. · (68) ·