By

Like, in a game. For reals yo. Check it out. He allowed a run on a hit batter, a walk, and a single. He reached his pitch count and came out after two-thirds of an inning. It's progress. · (29) ·
I don't know about you, but the Home Run Derby and the All-Star Game have become a complete bore for me. The players aren't really into it, the HR Derby can be like watching paint dry, and A-Rod wears those goofy white cleats. Maybe it would be different if I was actually able to attend the game, but at the current prices that seems highly unlikely. All-Star Weekend is not a total loss for me though, because for prospect junkies it gets no better than the Celebrity Softball Game Futures Game. Where else can you see Clayton Kershaw relieve Clay Buchholz, or Evan Longoria hit behind The Justin Upton, or Jose Tabata nearly decapitate Phil Hughes? Nowhere.
This year's Futures Game comes with a little twist: the 2008 Olympic trials team will form the USA squad. Now, the roster that participates in the Futures Game won't necessarily be the team that heads to Beijing in August, but rather it'll be a group of players that are being considered for the Olympic squad. Davey Johnson, the man at the helm of the Olympic team, will manage the USA squad during the Futures Game, while Tino Martinez will take charge of the World Team.
To the pro-Melky contingent on RAB, our stance on the Yanks' young center fielder tends to raise some eyebrows. We've burned plenty of pixels urging patience when it comes to Ian Kennedy and Phil Hughes, but we're more than ready to send Melky packing.
We aren't the only Yankee fans ready to wave good bye to Cabrera. In today's Sun, Steve Goldman pens a piece urging the Yankees to trade Melky sooner rather than later. He writes:
Cabrera is a bundle of contradictions: a functional defensive center fielder with a great arm but unexceptional range; a mostly inoffensive hitter whose hot streaks are outnumbered by deep slumps; a young player with a better future in front of him, but not a great future, and a switch-hitter who has almost no offensive value against left-handed pitchers. Taken together, these competing facets make Cabrera a difficult player to get a fix on.

If you saw him at midsummer last year, when he batted .325 AVG/.375 SLG/.482 OBP from June through August, or this April, when he hit .299/.370/.494 with five home runs, you could have been forgiven for thinking that he had taken a dramatic step forward and was now on his way to becoming a two-way impact player and a 10-year All-Star. If you saw him last April (.200/.238/.213) or September (.180/.236/.220), or this season over the last eight weeks (.231/.280/.308 in 47 games), making outs while attempting to slide into first base, you might be wondering why he's not been sent to Double A for a refresher course in basic baseball 101.

Unfortunately, the latter Cabrera appears for more often than the former.
That, in essence, is our case against Melky. We were patient with him, but we've seen him play now for parts of three seasons in the Bronx. While one might expect a player to get better over time, Melky has, in fact, put up worse numbers in each of his three seasons. As Joe noted early, since his aberrant April, Melky has managed to hit just .231/.280/.308 in nearly 200 plate appearances. If the young pitchers aren't showing signs of improvement after such an extended look, well, then their supporters and the Yanks will just have to move on.
However, I have a bone to pick with Goldman's piece. The Pinstripe Bible scribe believes that the Yanks should attempt to package Melky for some pitching come the trade deadline. In principle, I agree, but now does not strike me as the time to trade Melky. With this two-month slump fresh in everyone's mind, Melky's stock as at a near-low. The Yanks should have attempted to move Melky last winter when teams were still interested. Now, they're somewhat stuck with him unless they want to sell low.
So the team finds itself in something of a Catch-22. They shouldn't be playing Melky because he's not producing, but if they want to move him, they need to play him in the hopes that he can catch fire for three weeks and raise his trade value. Perhaps in three weeks, we'll be singing a different tune, but if the Yanks want to get a return on Melky — or see if he actually improves — they'll have to hold him for now.
Jorge Posada was activated from the disabled list 21 days ago. For each of those days, the Yankees have carried three catchers, in case they needed an emergency appearance. Three weeks is enough, though, to determine that Jorge is OK, and that the team need not continue wasting a roster spot on a third catcher.
We probably won't see Moeller off the roster until the doubleheader on Friday — when, incidentally, he'd actually be of some use. A spot needs to be cleared for Sir Sidney, so I can't imagine the Yankees making a move now just to make another one on Friday.
What about Saturday, though? Do the Yankees continue to carry Ponson? Do they demote one of the relievers and move him to the pen? Do they DFA him and tell him thanks for the effort? Whatever the case may be, there will be, or at least should be, a roster move on Saturday, Sunday, or Monday. There is no need to carry 13 pitchers with no doubleheader in sight — though that didn't stop the Yanks from doing just that earlier this year.
I think you know what I'm getting at here. Could Brett Gardner get the nod once the pitching/catching situation is sorted out? I'd like to think so. Like Melky or hate him, the dude has been ice cold for nearly two months now. Since May 1, he's hitting .231/.280/.308. I know he doesn't have to be a superstar, but come on. He hasn't helped his stock much in June, either, hitting .227/.293/.293 in the first 23 days of the month. We could use another option in center field.
Then again, Jason Lane still has that out in his contract, and he hits right handed, so he's likely to get the nod first. Which is a shame, because Gardner seems to be pulling out all the stops in order to get his shot in the Bronx.
By

Should the Babe's number be retired throughout baseball? That's the cause Ruth's granddaughter, Linda Ruth Tosetti, has been pushing for a while. This weekend, Rick Maese sat down and grilled Tosetti on the issue. In short, she feels that the Babe's feel-good popularity saved baseball after the 1919 Black Sox scandal, and for that, his number should be retired throughout the game. While MLB is not on board with the issue, Tosetti continues to maintain an active website dedicated to the cause, and she plans to push her ideas hard during 2008, the 60th anniversary of Ruth's death. · (17) ·
It's pretty hard to believe that, with their abundant Minor League talent, the Yankees are going to turn to Sidney Ponson to start a game this weekend against their crosstown rivals. But as numerous reports have noted, the Yankees have Ponson lined up to start against the Mets, and all signs — including a recent demotion to AA to clear an AAA for J.B. Cox — are pointing toward a Ponson sighting this Friday.
Now, before we get into the clear-cut alternative, let's look at Ponson's 2008 campaign. Before landing with the Yanks, Ponson had been pitching in Texas. He was DFA'd after serious questions arose about his attitude. On the season, Ponson's numbers look good, right? He's 4-1 with a 3.88 ERA. He has more wins than Joba!
But — and, as this is Ponson, we've got ourselves a big but — every important number of his is terrible. In 55.2 innings, he's allowed 71 hits and 16 walks while striking out a whopping 25 batters. For those of you keeping score at home, that's 11.5 hits per 9 innings, 4.04 K/9 IP and a 1.56 K/BB ratio. Opponents are hitting .307/.353/.429 off of Sir Sidney. That's the equivalent of facing Placido Polanco nine times.
In other words, Ponson has been extremely lucky this year. He's allowed 1.56 runners per inning, and opponents are teeing off of Ponson. The fact that his ERA is only 3.88 is a testament to luck. He won't be this good at all for the rest of the season.
So what's our alternative? Why, Jeff Karstens, of course. As Mike noted, Karstens just pulled down IL Pitcher of the Week honors, and his Sunday outing lines him up to pitch the Friday game against the Mets. Mike Ashmore encourages the Yanks to catch lightening in a bottle by tossing a hot Karstens out there on Friday instead of Ponson.
I have to agree. Karstens can't do any worse than Ponson, and the potential for him to do better is there. The only thing the Yanks have to lose is a Ponson start, and that is something I would gladly give up.
All six affiliates in action with two doubleheaders AND an IPK rehab appearance AND a College World Series update? Are you kidding me?!?
Anywho, Jeff Karstens was named the International League Pitcher of the Week, The Mexican Gangster was promoted to Scranton, and 15th rounder Matt Richardson signed. He was an all-glove, no-hit shortstop coming into the draft, but the Yanks are going to groom him as a pitcher. On to the updates!
Triple-A Scranton (6-0 win over Columbus)
Brett Gardner: 2 for 4, 1 R, 1 3B, 1 BB, 1 K – Chad Jennings said he scored from second on a groundout & threw a runner out at home from CF … 7 hits, 7 walks, 6 runs scored, 4 stolen bases, 2 strikeouts in his last 4 games
Cody Ransom: 0 for 1 – left the game after flying out in the first
Chris Basak: 1 for 2, 1 R, 2 RBI, 1 K
Shelley Duncan: 0 for 4, 1 RBI
Juan Miranda: 2 for 4, 1 R, 1 2B, 1 RBI – 14 hits (4 doubles) in his last 5 games
Jason Lane: 0 for 3, 1 BB
Eric Duncan: 1 for 4, 1 R, 1 2B, 1 RBI, 1 K
Matt Carson: 0 for 4 – had been 13 of his 36
JD Closser: 3 for 3, 2 R, 2 2B, 1 BB
The Ghost of Kei Igawa: 6.2 IP, 7 H, 0 R, 0 ER, 2 BB, 5 K, 6-7 GB/FB – 61 of 105 pitches were strikes (58.1%)
David Robertson: 1.1 IP, 1 H, 0 R, 0 ER, 0 BB, 2 K, 2-0 GB/FB – 12 of 17 pitches were strikes (70.6%)
Scott Patterson: 1 IP, zeroes, 0-3 GB/FB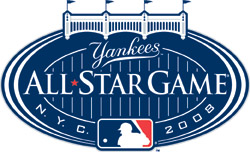 When the All Stars take the field at Yankee Stadium three weeks from tomorrow night, we'll be able to count more than a few Yankees among them. Deservedly or not, Derek Jeter finds himself the top AL vote-getter; A-Rod has a lock on his position; David Ortiz's injury should push Hideki Matsui into the lineup.
While a few Yankees — Johnny Damon and Jason Giambi come to mind — are so far getting the shaft on the popular vote front, those two should find themselves selected by the players and coaches. Meanwhile, the Yanks will see some All Star representation on the mound as well. I can't say enough about Mariano Rivera's incredible season. His numbers are just off the charts this year, and Mo deserves what will be the ninth All Star game appearance of his career. I believe Mike Mussina, 10-5 with a 3.93 ERA, will find himself aboard the All Star squad as well.
There's one more Yankee pitcher who could get All Star consideration too. A loyal reader Nick tipped me off to this idea: Joba Chamberlain, All Star. Joba right now suffers because he doesn't have the wins; his lone victory came in relief. But it's hard to argue with his numbers otherwise.
As a reliever, he threw 23.2 innings to the tune of a 2.28 ERA. He struck out 30 while walking 11 and opponents hit .190/.284/.274 off Joba the reliever. As a starter, he's thrown 18.1 innings while making his transition, and his ERA stands at 2.45. He's struck out 19, and while the 12 walks are too many, opponents are batting just .239/.354/.328 off Joba the starter. Not too shabby, eh?
So here's my question for us to debate while the Yankees enjoy their off day tonight: It's hard to believe that there are too many hurlers in the AL who would be better choices than Joba considering the nature of the game, and it's pretty easy to argue that he deserves to make it on his merits. The only knock — and it's a weak one — is his win total, but if he has a few more stellar starts as he has the last few weeks, the case for Joba becomes even more compelling. So if you were in charge of the All Star Game, would pick Joba Chamberlain as one of your pitchers?
By

Derek Jeter is the American League's leading All Star vote-getter right now. In the latest voting results, Jeter's tally comes in at 1,988,251 votes, a few thousand more than David Ortiz. Imagine how Jeter would be doing if he weren't hitting .279/.336/.379 with 9 double plays.

In other All Star news, Joe Mauer has rightfully moved past Jason Varitek, and Ian Kinsler now finds himself just 160,000 votes behind Dustin Pedroia. I really think Yankee fans should stop voting for Robinson Cano and start supporting Kinsler. It's the only way to unseat Pedroia. Youkilis leads at first with Giambi in third, 600,000 votes behind. · (14) ·