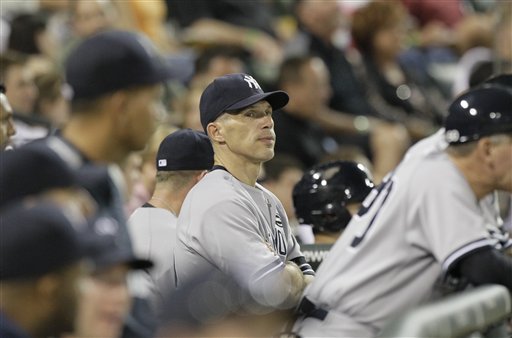 Last night's game provided more blogging topics than we know what to do with, from the bullpen machinations to the stellar starting pitching to yes, Curtis Granderson's bunt. Sacrifice bunting (hey, bunting for a hit is cool in my book) is a topic I've beat to death on Twitter and for the most part on the site as well, yet my pleas fall on deaf ears. Joe Girardi continues to employ the move ad nauseum with almost complete disregard of the game situation, and with the team struggling so much it's just another thing to second guess.
It's not so much about the actual bunt, the idea of sacrificing one of three outs in the inning to advance the baserunner an extra 90 feet, but what appears to be a lack of understand of what the hell is going on at the moment. Girardi appears to have a blind faith in the strategy despite watching it backfire numerous times in the last few weeks, and last night's situation really looked like the tipping point.
Balfour's first two pitches to Granderson were fastballs out of the zone both up and away, putting the count at two balls and no strikes. So let's think about the situation for a sec. Grandy is a dead fastball hitter, and has been worth three runs above average against the pitch this season. For his career, he's 58.1 runs above average or 0.75 runs per 100 fastballs seen. Balfour is fastball heavy pitcher, throwing it 77.1% of the time this year. Furthermore, he's hasn't thrown a non-fastball on 2-0 since 2007 according to FanGraphs' splits. Three freaking seasons of nothing but 2-0 fastballs.
It's a fastball hitter in a fastball count with a fastball pitcher in the mound. It's a match made in baseball heaven. The player who executes the best in that situation (most likely) wins, but certainly you couldn't ask for Granderson to be up in a better spot. Sure enough, Balfour threw a 2-0 fastball at 91 mph, and you know what happened. Granderson laid down a rather gorgeous sac bunt, getting Kearns into scoring position exactly as Girardi planned. In terms of WPA, the bunt actually increased the Yanks' chances of winning by 2.6%, but the WPA swing lacks come context. Bunting was the wrong move not only because it took the bat out of Granderson's hands in a situation where could have done some real damage, but it passed the baton to Colin Curtis, one of the very last guys on the roster you'd want up in that spot.
Again, I'm not so upset about the actual bunt, I've accepted it as part of the game, but rather the complete lack of understanding the situation and blindly following "the book." This also goes back to Frankie Cervelli's bunt on a 3-0 count (!!!) in the Texas series. I mean, come on, taking a pitch and potentially get an extra baserunner (with one fewer out) for Marcus Thames and Nick Swisher would increase the Yanks' chances of winning exponentially over moving the speedy Eduardo Nunez – who was already in scoring position – to third. Again, we have what appears to be a complete lack of understand the situation, or perhaps it's just an unwillingness to adjust.
The Yankees, as presently constructed, are not some smallball team. Are they struggling to score some runs right now? Sure, but that doesn't mean you overhaul the system. They have a .350 OBP and a .347 wOBA as a team, both the best in baseball. Their .170 ISO is third best in the game, and their raw homerun total of 174 is also third best. This is a team built around getting players on base and hitting for power, and it has been for at least a decade-and-a-half now. All of a sudden, now with a slumping offense (.218/.313/.287 over the last eight games) the plan is change up the strategy? I don't get it. Stick with what got you there and what your players know. Don't take them out of their element and try to force things. That only leads to more struggles.
This eight game stretch has made the Yankees look about as bad as they have at any point in the last two or three years, and naturally Joe Girardi's decision making is going to be at the forefront of the blame. Bullpen moves are in their own little world of second guessing, but offensive strategies like bunting and giving away outs are easy to break down and criticize. There seems to be a disconnect between what the Yankees actually are and what Girardi either a) thinks they are, or b) wants them to be. He has to know the situation and his personnel way better than he's shown over the last few weeks, and really the last three seasons. Remember, this bunting nonsense is not unique to September 2010.