By

Remember when Dwight D. Eisenhower ran for president, and "I like Ike" was the campaign slogan du jour? Well, me neither, but the Yanks seem to like Mike. According to the ever-popular Dan Graziano, the Yanks will attempt to reel in Mike Cameron from the Brewers to fill a perceived center field void. The Brewers recently picked up Cameron's $10 million option, and the center fielder — much like Nick Swisher — is one of CC Sabathia's close friends. Still, an outfield of Xavier Nady, Mike Cameron and Johnny Damon doesn't scream success to me. · (80) ·
By

Mike and I (and Ben, once he's done with finals) are trying to make this podcast/radio thing a regular occurrence. To spice things up, we're asking you guys to submit questions that we can discuss during the show. So shoot them in an email to Mike or me, or both. Our addresses are in the left sidebar. This thing should go live a little after two. · (11) ·
Eh … eh … you see what I did there? I had to get one last jab in.
Phils' prospect Jason Donald won the 2008 Stenson Award, Kevin Russo was one of the six finalists.
AzFL Peoria (5-0 win over Scottsdale) Peoria has one more game left in the season and they're 4.0 GB of a playoff spot, so they're basically done
Kevin Russo: 1 for 4, 1 R, 1 HR, 2 RBI, 1 BB, 2 K
Phil Hughes: 5 IP, 2 H, 0 R, 0 ER, 0 BB, 10 K, 1 WP, 1 HB, 3-2 GB/FB – 53 of 76 pitches were strikes (69.7%) … wraps up his fall league season with 21 H, 13 BB, 38 K in 30 IP with a 3.00 ERA & .198 avg against … finishes up his year at 112.2 IP … time to just go home, chill out and get ready for next year
The Hawaii Winter Baseball season is over, Waikiki took home the league title.
Tuesday's Games
AzFL Peoria (10-4 loss to Mesa)
Austin Jackson: 1 for 5, 1 RBI, 1 K
Juan Miranda: 1 for 4, 1 K
Kevin Russo: 2 for 4, 1 2B, 1 RBI
PRWL Mayaguez (4-3 loss to Caguas in 10 innings)
Ian Kennedy: 5 IP, 2 H, 2 R, 2 ER, 5 BB, 2 K, 1 WP, 5-7 GB/FB – too bad these box scores don't have strike & pitch counts
Monday's Games
AzFL Peoria (13-6 loss to Mesa)
Kevin Russo: 1 for 5, 1 R, 1 K
Austin Jackson: 0 for 3, 1 R, 1 BB, 1 K - just his 6th walk with the Javelinas … his walk rate is down from 9.72% in the regular season to 5.36% in the fall league
Juan Miranda: 2 for 5, 2 R, 2 HR, 5 RBI, 1 K – he's got a 1.174 OPS vs RHP & .679 vs LHP
Humberto Sanchez: 2 IP, 1 H, 0 R, 0 ER, 1 BB, 1 K, 1-4 GB/FB – 15 of 21 pitches were strikes (71.4%) … I'd love to see some of these kind of outings from him in the Bronx this year
With the Arizona Fall League season ready to wrap up, DotF is just about ready to shut down for the winter. Every Sunday I'll post an update for the Caribbean leagues, and I'll throw something up midweek if IPK throws a no-hitter or something, but that's it. Thanks for the all the comments, see y'all in April.
Who isn't involved in the CC Sabathia trade talks? Based upon numerous reports, we know the Yankees and the Brewers have outstanding offers, and we know Yankee fans are getting restless. But that's just silly. Anyway, we'll get there in a second.
As Wednesday progressed, two new teams supposedly entered the mix. In the early afternoon, Dan Graziano noted an impending offer out of San Francisco.
(An aside: Would the Giants really commit nearly over $40 million a season — or more than half of their 2008 payroll — to two pitchers? I realize the team has few contractual commitments past next year, but if they land CC for $23 million a season, they'd be paying Sabathia, Zito and Aaron Rowand a combined $55-$60 million a year. For a team of limited financial means, that combination won't bring in pennants.)
But the real news came just a few minutes ago when two Newsday reporters unveiled a not-so-shocking report: CC Sabathia will not be deciding upon anything until after Thanksgiving. While Sabathia is content to wait, these offers on which Graziano speculated aren't quite as sure a bet, according to Ken Davidoff and Anthony Rieber:
The Yankees are content to let CC Sabathia take his time on his big decision, and Sabathia will do just that. As first reported by ESPN's Peter Gammons, Sabathia doesn't intend to decide on his next team until after the Thanksgiving weekend.

But for Sabathia, who is well known to prefer both the West Coast and the National League, alternatives to the Yankees' six-year offer (for about $140 million) don't appear to be materializing.

Although the Dodgers have some interest in Sabathia, they are not optimistic they can put together a package large enough to land the lefthander, a person familiar with their thinking said. The Dodgers "can't afford him," the person said.
It's the same old story with the non-New York potentials. The Brewers can't afford him; the Giants shouldn't afford him; the Dodgers want Manny and can't afford both. Why then is Sabathia sitting on a six-year, $140-million offer? Simple; he's just being a good businessman.
Why would a player with the potential to become the richest pitcher in baseball make a decision with no leverage? Why shouldn't Sabathia wait to see if a West Coast team plays its cards just right to make the Yankees up their offer to $150 million or tack on a seventh season? It doesn't make sense to sign right away, and both the Yankees and Carsten Charles know that. New York's offer isn't going anywhere and neither is CC quite yet.
Doug Melvin, the Brewers' GM, who probably wants Sabathia, knows that patience right now is the name of the game. In a Milwaukee Journal Sentinel article focusing around the Giants, Melvin waxes philosophical on the CC situation. Sabathia and his agent will solicit counter-offers once all of the primary offers are in. That's just the way business works.
So we wait. Some of us wait more impatiently than others, but it's all just part of one big negotiation. In fact, we're not the only ones waiting. Every other big-name free agent pitcher is waiting for CC to sign too. He and the team that signs him set the market, and everyone knows it.
The Yanks have done their part, and now the rest of the league will do its part as well. Be it ten days, two weeks or a month, we'll find out before Spring Training which team lands Sabathia. Everything in between is just the Hot Stove League turned up high.
By

According to Sports Illustrated's Jon Heyman, the Yankees will offer arbitration to Bobby Abreu, which is basically the team's way of saying good bye to the right fielder. Abreu, as Heyman notes, stands to make about $16 million through arbitration but should see three-year offers from at least the Cubs and the Mets. The Yanks don't seem keen on bringing back Bobby for more than a year or two.

If Abreu leaves, the Yanks will get some draft picks, but the team will also sport an outfield of Xavier Nady, Johnny Damon and some combination of Brett Gardner and Melky Cabrera as things stand now. While Opening Day is still a few months out and there are many moves to be made, that outfield doesn't fill me with much offensive confidence. · (54) ·
He's been in the game since 1991. He's pitched to Bo Jackson and Dave Winfield, Ken Griffey Jr. and Barry Bonds, Alex Rodriguez and Albert Pujols, and everyone in between. His first start came on Game 1,674 of Cal Ripken's streak, less than two-thirds of the way through the Iron Man's record.
And now, 3,562.2 innings and 270 wins later, he's calling it a career. He spent his entire baseball lifetime pitching in the hell of the American League East, and at one point threw at least 200 innings in nine straight seasons. His streak of 10 or more wins in 17 straight seasons is an American League record.
He never won a Cy Young Award, never won a World Series, never led the league in ERA, and never led the league in strikeouts. The closest he's been is second in each instance, seemingly defining Moose's career as "almost."
Mussina finishes his career with a record 100 games over .500 (117 games to be exact), something only 20 other men have accomplished. Of those twenty, 16 are in the Hall of Fame. The other four (Clemens, Maddux, Glavine, Pedro) will be some day. Moose should one day make it 21 for 21.
We've watched him thrive and we've watched him struggle, but most of all we've watched him be nothing but a class act. Talk about the Mooseman here, or whatever else is on your mind. Keep it classy, like Mike.
Via Ken Rosenthal, Mike Mussina has decided to call it quits and retire. The soon-to-be 40 year old leaves the game after his first 20 win season, having grossed over $144M in his 18 year career. Only 32 men have won more games in the big leagues than Moose, a rather remarkable number. The decision will be officially announced later in the week.
Congrats on the wonderful career Mike, few have done it better.
Update by Ben: From a personnel perspective, this leaves Yanks now with just Chien-Ming Wang and Joba Chamberlain as their starters under contract. The Yanks will probably now try to wrap up a deal with Andy Pettitte in short order and may increase the team's push to sign CC Sabathia and either A.J. Burnett or Derek Lowe. Of the two Yankee starters from 2008, I was hoping Moose would be back instead of Andy, but you have to respect Mussina's decision. He's definitely going out on top.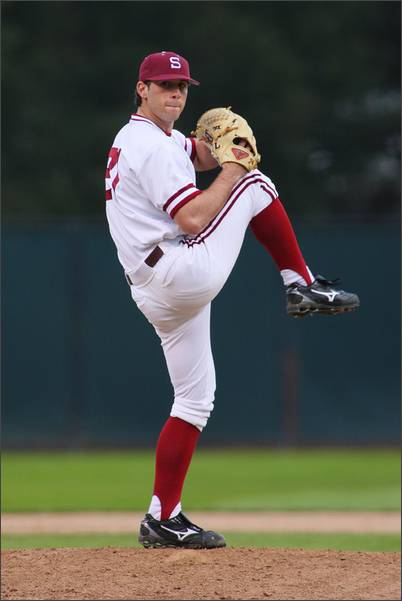 Jeremy Bleich | LHP
Background
Born and raised in the New Orleans suburb of Metairie, Bleich is the son of Stan the Cardiologist, a die-hard Yankees' fan from Brooklyn. Jeremy attended the prestigious Isidore Newman High School, which also produced The Mannings and Moneyball author Michael Lewis. During his final three years with the Greenies, Bleich went 23-7 with 348 strikeouts and a sub-2.00 ERA in 206.2 IP while also hitting north of .360. He helped the school to the 2003 state championship and 2005 district championship as a sophomore and senior, respectively.
By

Newsday beat writer Kat O'Brien is headed out on vacay, from now through the Winter Meetings. We were honored when the crew at Newsday invited us to take over her blog for the next two weeks. You can find the first edition there today, where I talk about the Yankees playing third wheel in the Peavy negotiations. Be sure to drop by and say hi. · (22) ·