We've seen this movie before, the one where the Yankees are unable to solve a pitcher they've never seen before. Righthander Bryan Bullington did the honors today, treating the Yankees like he did the opposition during his career at Ball State, the one that landed him a $4,000,000 signing bonus as the first overall pick in the 2002 draft.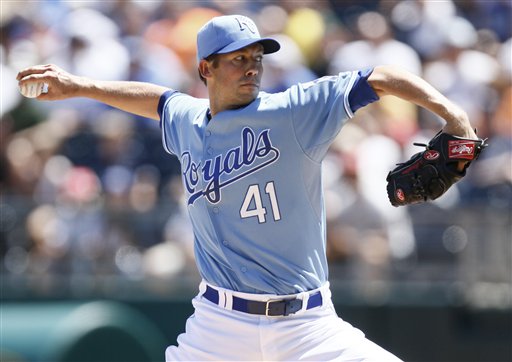 Shut Down
It's one thing to struggle offensively when you strand baserunners and hit a few balls hard but right at people, but it's another thing all together when your struggle offensively because you can't get anyone on base or hit a ball with any authority. Those are the frustrating games, the ones that have fans questioning the team's effort (which, of course, is nonsense, every team has games like this), and naturally that's what happened to the Yanks on Sunday.
Bullington, about two weeks shy of his 30th birthday, had a fairly simple game plan in this one, but it worked to perfection. Using a steady diet of sinkers early in the count and a sweepy slider as his put away pitch, he carved right through the Yanks A- lineup with relative ease. He threw nine pitches in the 1st inning, seven in the 2nd, 15 in the 3rd, and another 11 in the 4th without allowing a runner to reach base.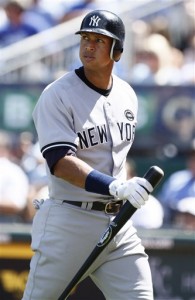 The Yanks didn't put a man on until Robbie Cano singled on a ground ball through the right side with one out in the fourth, but he was quickly erased when Lance Berkman grounded into an inning ending double ball. As if that wasn't bad enough, Berkman got hurt on the play. That was a 17 pitch inning for Bullington, his high water mark on the day. Brett Gardner singled on a ground ball through the left side with one out the next inning but got thrown out trying to steal, so that was another quick and painless inning on 16 pitches. A seven pitch 7th and a 15 pitch 8th inning later, Bullington was out of the game having limited the Yanks to those two ground ball singles and a walk, never allowing a runner to go so far as second base.
Even though Bullington finished the game with a modest 9-9 GB/FB ratio, the only time the Yanks even seemed to put a charge in the ball came early on, when Nick Swisher and Alex Rodriguez sent balls to the warning track for outs, eerily similar to first few innings of last night's game. Of the 25 batters Kansas City's starter faced, 12 were dispatched on three pitches or less. Twelve! Bullington earned his first career win, showing everyone what the Pirates thought they were getting eight years ago.
One Was Enough
You never expect a first inning run to stand up against the vaunted Yankee offense, but that's exactly what happened in this one. A.J. Burnett, very wild with his fastball in the early going, allowed a single to Willie Bloomquist with one out in the 1st inning, but a poor throw by Frankie Cervelli on a stolen base attempt allowed Bloomquist to move all the way to third. I'm telling you, if a team ever tries to steal centerfield, the Yanks got that covered with Cervelli and Jorge Posada.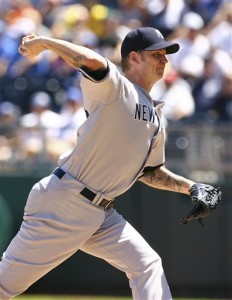 Billy Butler followed that up with a single to plate the lone run of the game, and even though Kansas City threatened on a hit by pitch and a walk to open up the 2nd, Burnett quickly settled down and not only escaped the inning unscathed, he went on to retire ten of the next 11 batters he faced, and 18 of the final 22 overall. He found his curve, was able to locate his fastball, and even dropped in a few changeups for good measure. It's the phenomenon that is A.J. Burnett, it just comes and goes without warning.
Burnett spared the bullpen with the eight inning complete game, limiting the Royals to just four singles and that one run. It's as tough of tough losses come, because he was absolutely in command for the final six-plus innings. This was the Yanks' third complete game of the season (naturally, CC Sabathia has the other two), but none of them have lasted nine innings and the Yanks have lost two of them. Go figure.
Leftovers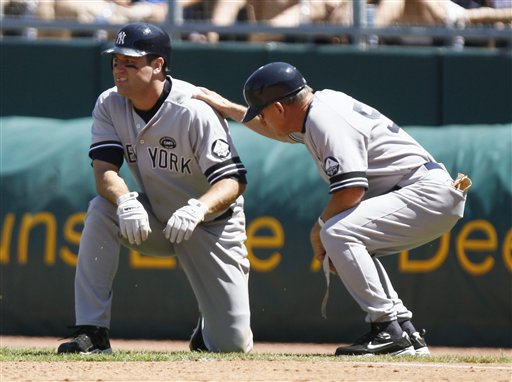 Derek Jeter and Nick Swisher, a.k.a. the one-two hitters that are supposed to set the table for everyone else, saw a total of 17 pitches in their seven plate appearances. Throw in Mark Teixeira and the top three hitters saw a grand total of 28 pitches in ten plate appearances. I'm all for jumping on a pitch that you think you can do something with, but damn, that sucks.
Not only did Cervelli throw the ball into center on that first inning stolen base attempt, he also hesitated to go after the ball as he backed up first base in the 6th inning, then made a poor throw to second to try to get Gregor Blanco. Blanco ended up on third. Not exactly a banner day for a guy that's here for his defensive reputation.
A-Rod hit another ball hard and to the track, a good sign. He's been working with hitting coach Kevin Long on clearing his hips that last few days, and so far the result has been some balls driven into left-center. Love it.
Marcus Thames took over for Berkman after he left with his injury, and worked an eight pitch walk off Bullington. It was easily the Yanks' best at-bat of the day. I assume he'll get the majority of the playing time at designated hitter while Berkman's on the mend.
Brett Gardner was caught stealing just once in his first 18 attempts. He's now been caught five times in his last 21 attempts. Still a 76.2% success rate, but seriously, he's got to do a little better than that. In his defense, Gardner got a bad jump on his attempt in this game, and it still took a perfect throw to get him.
Three errors today (two by Cervelli on the throws, one by Cano), just two hits. I can't imagine many teams have won games when they had more errors than hits throughout history.
The Rays beat the Orioles but the Rangers dropped the Red Sox, so the Yanks lead in the division shrinks to one while their lead in the Wild Card standings remains at six.
WPA Graph & Box Score
This game never felt as close at the graph says it was. MLB.com has your traditional box score, FanGraphs the non-traditional box score.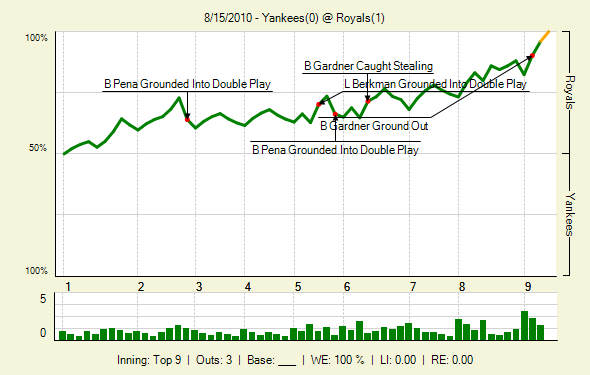 Up Next
Following six games in the sweltering heat of Texas and Kansas City, the Yankees will return home tomorrow for a seven game homestand against a pair of teams that are a combined 29 games under .500. Javy Vazquez and his dead arm will take on the flamethrowing Max Scherzer Monday evening.