By

Yanks pitch. Yanks hit. Yanks win. Before we could blink, the Bombers are right back in the thick of things. 8.5 games never seemed so small. · (1) ·
Triple-A Scranton had a scheduled off day.
Double-A Trenton (7-4 win over Connecticut)
Brett Gardner: 2 for 4, 2 R, 1 RBI, 1 CSÂ - 4 multi-hit games in his 6 contests back from the DL
Cody Ehlers: 1 for 3, 3 RBI
Noah Hall & PJ Pilittere: both 2 for 4, 1 R, 1 K – Hall doubled and had a steak
Matt Carson: 1 for 4, 1 2B, 2 RBI, 2 K – picked off second
Justin Christian: 2 for 4, 1 K – only 15 SB this year after 68 last year
Alan Horne: 7 IP, 8 H, 2 R, 1 ER, 2 BB, 6 K, 4-8 GB/FB – have to love that he's gone at least 6 innings in 8 of his 13 starts
I saw that Grant Plumley was released in BA's latest transactions update, and that got me wondering how many players are still with the Yankees'Â organization that were drafted by the team this century. Here's the list:
2000 (50 drafted, 2 left): Sean Henn, Jeff Kennard
Yesterday, Wallace Matthews, who somehow has a job as a sports columnist with Newsday, wrote a piece about Alex Rodriguez and the now-infamous opt-out clause. His conclusion: The Yankees should wave good bye to A-Rod and instead invest in middle relievers because the Yankee Dynasty teams of the late 1990s won with good relief pitching. Yes, you read that correctly; a newspaper columnist is calling for relief pitchers instead of the best power-hitting third baseman in the game. Matthews' column is so stupid that I won't even link to it here. Instead, let me direct your attention to Ken Tremendous' latest post on Fire Joe Morgan in which he absolutely eviscerates Matthews. Tremendous did what I wanted to do, only better.
On Sunday, June 3, the Yankees defeated the Red Sox 6-5. The game took over four hours to play. That Friday night, June 3, they won 9-5 in a 3-hour, 53-minute bout. Even against the lowly-hitting White Sox and Pirates, the Yanks weren't able to get the games under three hours.
Last night's billing of Webb vs. Wang, however, was sure to be different. They're economical pitchers, both throwing just 3.5 pitches per batter faced. They also both throw a good percentage of strikes: 65% for Webb, 63% for Wang. And guess what? The game clocked in at a hair over two and a half hours (2:34). That was especially nice, considering the near-hour rain delay.
The weird thing was, though, that Wang recorded more flyball outs than groundballs: 10 to 9. It was billed as a night many worms would die, but Wang seemingly had different plans. It didn't hurt his overall effectiveness, though, as he allowed six hits in seven innings, striking out two and walking none. He threw 64% strikes, which is always a blessing.
Elijah Dukes knocked another chick up. This'll be his 6th kid with 5 different baby mommas. Hey Elijah, did you ever hear of abstinence? I'm pretty sure it's something new that you wear…
Triple-A Scranton (2-1 win over Durham)
Kevin Thompson: 0 for 1, 1 R, 3 BBÂ - 9 walks a 1 K in his last 17 plate appearances
Andy Phillips: 1 for 4, 1 R, 1 HR, 1 RBI, 1 K
Shelley Duncan: 2 for 3, 1 2B, 1 RBI
rest of lineup: combined 1 for 13, 1 K – Raul Chavez singled, Bronson Sardinha K'ed
Run-Elvis: 6 IP, 6 H, 1 R, 1 ER, 0 BB, 6 K
Steven Jackson: 1.2 IP, 1 H, 0 R, 0 ER, 0 BB, 0 K – probably woulda gone longer if it wasn't for a 2 hour rain delay
Edwar Ramirez: 1.1 IP, 0 H, 0 R, 0 ER, 0 BB, 3 K – you heard it here first, they'll bring him up in late August, and he'll pull a K-Rod for the Yanks…
John posted his comparison of the Yanks real draft with our Mock Draft, the results:
Same first round pick, which is intriguing. The Mock draft has a higher upside with the third and fourth round guys who dropped due to signability in real life. Suttle was more popular in the mock draft than in the real draft apparently. Which class would you rather have? If the Mock guys are signable (and the Yankees have the money to do it) that's quite attractive, but on the other hand I like both Pope and Suttle, too.
I like my draft better, and that's almost entirely because I made the picks. And dammit, Barry Enright will be a solid Major League starter some day!
But hey, I took Brackman and Venditte, the Yanks took Brackman and Venditte … great minds think alike.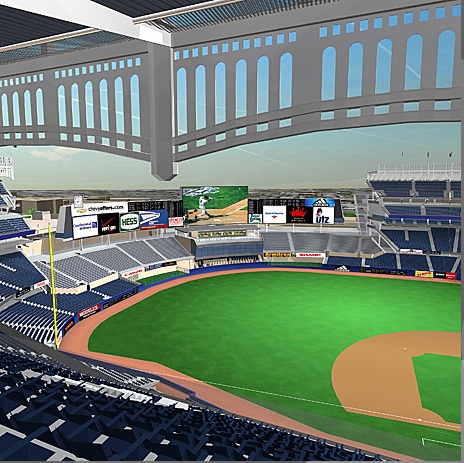 I'm no fan of the New Yankee Stadium. While I understand the economics behind the Yanks' desire for a new stadium, I don't see the problem with Yankee Stadium.
I know I'm not alone, but Yankee fans have been underwhelmingly quiet about the new stadium. There were no protests to speak of, and the most vocal advocacy groups fighting the stadium were those rightly concerned with the loss of valuable park land in the South Bronx. The Yankees wanted their new stadium, and they will get one that will look just the one in Philadelphia which looks just like the one in San Diego which looks just like the one in Milwaukee and so on.
So the team will get its new playground, but we fans will get a giant surprise: The best seats in the house won't be there anymore.
George Kontos is expected to return to action sometime this week, supposedly a "minor" shoulder injury is the culprit. I believe it's no coincidence that Joba was promoted to Trenton just as Kontos is returning from the DL.
Timmy Norton, on the other hand, isn't so lucky; dude had surgery on his shoulder and is out until 2008. Nuts.
Triple-A Scranton (6-4 win over Durham)
Kevin Thompson: 1 for 3, 1 R, 2 BB – picked off first
Kevin Reese: 2 for 4, 2 R, 2 RBI, 1 BB, 1 K
Andy Phillips: 1 for 3, 1 R, 2 BB, 1 K, 1 SB
Shelley Duncan: 1 for 5, 1 RBI, 1 K – only 1 XBH in last 9 games…
Angel Chavez: 0 for 3, 1 BB, 1 SB
Bronson Sardinha & Alberto Gonzalez: both 1 for 4, 1 R, 1 2B – Sardinha struck out once
Chase Wright: 6.1 IP, 4 H, 3 R, 3 ER, 4 BB, 6 K, 1 WP, 1 HB, 9-4 GB/FB
Chris "I'm better than Luis Vizcaino" Britton: 1.2 IP, 3 H, 1 R, 1 ER, 0 BB, 4 K
Jim Brower: 1 IP, 1 H, 0 R, 0 ER, 1 BB, 1 K
The second time around proved to be twice as nice for Ian Kennedy, the latest ad dition to a powerhouse Thunder pitching staff that will roll out the welcome mat for yet another top Yankees prospect, right-hander Joba Chamberlain, this week.
…
The 21-year-old Chamberlain, chosen 20 spots (41st overall) after Kennedy in the supplemental phase of last year's draft, is 4-0 with a 2.03 ERA in seven starts at Class-A Tampa. He is scheduled to arrive in Trenton today.
Okay, so this is how I see it playing out: Alan Horne, Brett Smith, Jeff Marquez, Ian Kennedy and Joba man the Double-A rotation. Jason Jones gets promoted to Scranton (he spent all of last year with Trenton), where he joins Mighty Matt, Run-Elvis, Chase Wright and The Ghost of Kei Igawa in the rotation, with Steven Jackson working out of the bullpen.
It's frickin' amazing that the Yanks could have so many injuries and call-up so many guys, yet still have this kind of pitching depth in the UPPER minors.