In case you missed it, Ian Kennedy was rock solid in his last start this past Tuesday. He lines up to start Tuesday for Mayaguez (off-day tomorrow). The AzFL and HWB seasons are over as you already know; here's the highlights from the guys still playing down in the Caribbean:
Melky Cabrera: 12 for 35 (.343), 6 R, 22B, 5 RBI, 2 BB, 4 K, 1 SB in 9 games
Robbie Cano: 8 for 26 (.308), 6 R, 4 2B, 7 RBI, 3 BB, 2 K, 1 SB in 6 games (remember, he's strictly DH'ing)
Frankie Cervelli: 9 for 35 (.257), 8 R, 1 2B, 1 HR, 1 RBI, 7 BB, 8 K in 16 games
Justin Christian: 41 for 141 (.291), 22 R, 7 2B, 3 HR, 17 RBI, 12 BB, 21 K, 10 SB, 1 CS in 34 games
Reegie Corona: 15 for 55 (.273), 10 R, 5 2B, 1 HR, 9 RBI, 3 BB, 6 K, 1 SB in 25 games
Walt Ibarra: 14 for 66 (.212), 3 R, 2 RBI, 6 BB, 13 K, 3 SB 1 K in 28 games
Ramiro Pena: 13 for 51 (.255), 4 R, 2 2B, 1 HR, 6 RBI, 0 BB, 1 K, 1 CS in 15 games
Jon Albaladejo: 7.2 IP, 4 H, 0 R, 0 ER, 1 BB, 4 K, 1 WP in 7 appearances
Wilkins Arias: 7 IP, 11 H, 12 R, 12 ER, 6 BB, 10 K, 2 WP, 1 HB in 12 appearances
Edgar Soto: 1 IP, 4 H, 5 R, 5 ER, 0 BB, 2 K, 1 HB in 1 appearance
Feel free to use this as your open thread for the evening. Lots of interesting NFL action today, so talk it up here. Just be nice.
Update (6:10pm): IPK was flat out awesome today: 9 IP, 3 H, 0 R, 0 ER, 1 BB, 7 K, 7-13 GB/FB. His last two starts: 16 IP, 6 H, 0 R, 0 ER, 1 BB, 10 K. What a bust.
By

No, it's not a VH1 special about the Yankees' favorite Irish singer. It is instead a profile of Ronan Tynan in the Asbury Park Press. Tynan, performing today in Red Bank, is getting ready to release an album of his version of songs by U2, Eric Clapton and the Boss. It's clearly just what the world needs. (Hat tip to BBTF.) · (8) ·
According to e-mail uncovered via a Freedom of Information Act request, New York City officials applied a full-court press on the Yanks to earn the free use of a luxury suite at the new Yankee Stadium.
In the grand scheme of New York City politics, this news is hardly shocking, but it is just one more example of the close and, at times, inappropriate relationship between the city and a team that had once promised to build the stadium with little help from the public. The Times' David W. Chen has more:
The Bloomberg administration was so intent on obtaining a free luxury suite for its own use at the new Yankee Stadium, newly released e-mail messages show, that the mayor's aides pushed for a larger suite and free food, and eventually gave the Yankees 250 additional parking spaces in exchange.

The parking spaces were given to the team for the private use of Yankees officials, players and others; the spaces were originally planned for public parking. The city also turned over the rights to three new billboards along the Major Deegan Expressway, and whatever revenue they generate, as part of the deal.

The e-mail messages between the aides to Mayor Michael R. Bloomberg and Yankees executives were obtained and released by Assemblyman Richard L. Brodsky, Democrat of Westchester, who questions whether taxpayers were adequately protected in the city's deal with the team.

Mr. Brodsky said what emerges from the e-mail correspondence is a sense of entitlement ingrained in Bloomberg officials. He said that the city appeared to be pushing for use of the suite for not just regular-season games, but for the playoffs and the World Series, and for special events like concerts, too.

"There's this 'Alice in Wonderland' quality to the question of, what is the public interest here and who's protecting it?" said Mr. Brodsky, who conducted a hearing on the issue of public financing of sports stadiums this summer. "We can't find the money for the M.T.A., or schools, or hospitals, and these folks are used to the perks and good things of life, and expect them."
The e-mails themselves — available as PDFs in the Daily News article — are fairly benign. In typical back-room politics fashion, the Yanks balked at offering the suites while the government officials threatened to withhold whatever the Yanks may have needed from City Hall. In the end, everyone got what they wanted except the taxpayers.
By

On Friday, I posited that the Yanks should offer arbitration to Andy Pettitte. While they run the risk that Pettitte will take them to a hearing and get paid more than he deserves or the Yanks want, the odds of that happening are low. Meanwhile, if he signs with the Dodgers or elsewhere, the Yanks would net themselves two draft picks. They've got nothing to lose.

Ken Rosenthal, however, disagrees. He writes: "The Yankees, on the other hand, do not figure to extend such an offer to lefty Andy Pettitte. If they wanted to give Pettitte a one-year contract with an increase from his $16 million salary, they would have done it by now." Now, I don't agree that this is as clear-cut as he thinks, and it doesn't seem to me that he is basing this guess on anything other than intuition. In other words, there is no insider information at work here. We'll see how this plays out. The arbitration deadline is coming up tomorrow. · (58) ·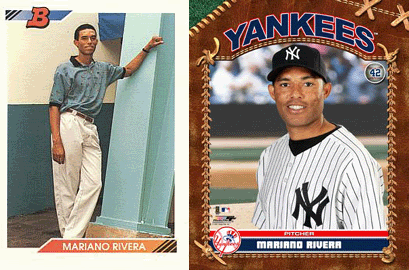 All is quiet on the Yankee front. No one on the team has accidentally shot themselves. And while the Red Sox seem to be closing in on Junichi Tazawa, no one seems to be too impressed with him.
But as we open up this thread on Saturday night, we do have one thing to mention: Today is the 39th birthday of Mariano Rivera. I hope His Mo-ness is having a good one wherever he may be celebrating.
You know the drill. Open thread, anything goes. Just play nice.
By

For sportswriters of all stripes, Cot's Baseball Contracts is an invaluable resources. It provides an accurate, one-stop shop of contract information for all Major League contracts. On a slow Hot Stove weekend, John Donovan interviewed Jeff Euston the man behind the site. As with so many of these non-beat writer sites, Jeff administers his site in his spare time, and he does one helluva good job with it. · (3) ·
For all the talk about the current face of the Yankees, whether it be A-Rod, Derek Jeter or someone else, Don Mattingly was the clear symbol of the team during the 1980s and early 1990s. Many of us grew up watching and idolizing Donnie Baseball, and no topic generates more discussion than whether or not Don Mattingly belongs in the Hall of Fame.
For the most part, Yankee fans agree that Don Mattingly was very good. He was a bright spot on a franchise that made the playoffs once during his tenure and generally wasn't good. In fact, the team finished first just once during his career, and that just happened to be in a year with no postseason. But Mattingly, these fans, argue just wasn't a Hall of Famer. He never reached those benchmark Hall of Fame levels, and while he certainly deserves to see his 23 hung up, a spot in Cooperstown would not be warranted.
Sometimes, though, we lose sight of just how good Don Mattingly was. For those of us who grew up watching him, we didn't really start to appreciate baseball until Mattingly's quick and rapid collapse. For five years, Don Mattingly was one of the best players in baseball.
Between 1984-1989, Mattingly's peak and among players with at least 1000 plate appearances, he was one of the top offensive players around. His OPS+ of 147 was seventh best in the Majors, and his 160 home runs were sixth best. His overall line was .327/.372/.530. As 1989 was his age 28 season and he was just entering his peak, anyone watching would be right in expecting a future plaque on the wall in the Hall of Fame.
But Mattingly's career didn't follow that typical path. From 1990 until he retired following the 1995 season, Mattingly's numbers weren't as impressive. His OPS+ over that period ranked him just 147th out of those with 1000 plate appearances, and he hit just 58 home runs. He hit a pedestrian .286/.345/.405. Injuries derailed his career and sapped his power. He was out of baseball before his 35th birthday.
So Mattingly was very good, but he wasn't the best. He had a five-year peak that ranks up their in the 1980s, but at a time when he should have gotten better, at a time when most sluggers enter their peak, he declined. It was a fast and painful decline.
Had Mattingly sustained his early production over a long career, he would have been a shoe-in for the Hall of Fame, but he didn't. He'll always be remembered as a very good player, an icon of the Yankees and one who declined quickly and painfully. Cooperstown will forever miss him, but that's just the way it should be.
By

In a moment of Frigid Stove downtime over Thanksgiving, Peter Abraham offered up his thought-provoking list of the top 20 most important Yankees. He starts with Joba, ends with Dave Eiland and touches everyone in between. In a few days, we're going to have a RAB round table about these picks and offer up our own. In the meantime, what's your take? Is PeteAbe's list accurate? Do you disagree? I do, but I'll save that for another day. · (111) ·
Why has the Hot Stove been so lame this year? Free agents have been able to negotiate with teams for two full weeks now, yet the only player to sign with a new team has been Jeremy Affeldt. Jon Heyman says a number of things could be affecting free agency, including the economy, Scott Boras, and CC Sabathia. It's understandable that other free agent pitchers would wait for CC to sign so he could set the market, and of course Boras is Mr. My Client Will Sign When He's Damn Well Ready, but come on man, throw a blogger a bone. We're running out of things to write about.
Hopefully we get some actual news soon, because I'm going through withdrawals here. Until then, check out this wicked awesome video of the Macy's Thanksgiving Day Parade getting Rick Roll'd (h/t Jamal G.):
How great is that?
Here's your open thread for the evening. The only local team in action tonight are the Rangers, who are down in Ft. Lauderdale to take on the Panthers. Otherwise you've got … uh … Dwayne Wade taking on old friend Shaq out in the desert. I guess that's interesting.
You know the deal, anything goes, just be cool to each other.
By

Joe Posnanski chimes in with his view of the outgoing Yankee owner. He offers up a though-provoking take on George Steinbrenner's quest for celebrity and the successes, failures and dominant storylines of his three-and-a-half decade run in New York. · (7) ·