By

Pitching for Mayaguez in the Puerto Rican Winter League, Ian Kennedy posted his strongest outing since early July last night. He struck out four in 7 innings, allowing just three hits and zero walks against the team with the second highest OPS in the league. Jon Albaladejo picked up the save by getting four outs without incident.

Winter ball stats don't mean much, but it's good to see Kennedy put together a strong outing and continue to build upon a solid minor league effort in 2008. I don't think I've ever seen fans be as down on a prospect as they are on IPK, but forty bad innings does not a career make. · (118) ·
In the comments to my post yesterday afternoon about the new stadium, Bill R. noted that the new stadium comes with some trash. It seems that folks have already been sitting in the seats and eating. In the grand tradition of baseball stadiums, they left their lunch trash under the seats. Hopefully, someone will clean that up before the Cubs come to town for a few exhibition games in April.
Take a look: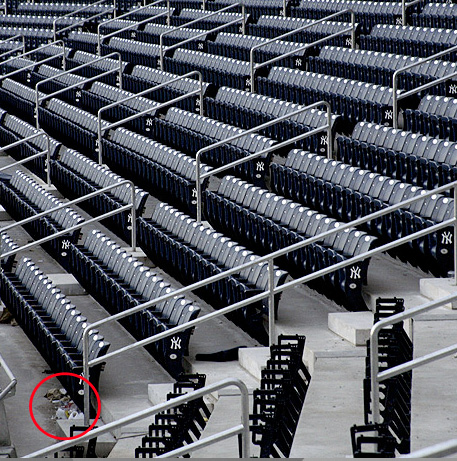 By

Over the years, Scott Boras has done a stellar job getting more money for his clients by alleging that some other, unnamed team has already offered a lofty deal to the said client. In 2000, by most accounts, this tactic earned A-Rod an additional $25-$50 million from the Rangers. Well, he's at it again with Mark Teixeira. As Bill Shaikin reported in the L.A. Times, Scott Boras is going around saying that "we've received a number of offers" for Teixeira. He doesn't name the teams, and while teams have expressed interest, no rumored offers have emerged. Maybe Boras has these offers, but it's more likely just a negotiating tactic. He has to get the Sabathia-less (for now) Yankees to the table somehow. · (43) ·
Looking at the current projection of the Yanks 2009 starting lineup, things are looking a bit iffy. In order for the team to succeed, they're going to need bounceback performances from a number of guys whose production dropped off in 2008. This means Jorge Posada, Hideki Matsui, Robinson Cano, and Nick Swisher. Because I'm sick of talking about free agents, we'll do this poll-style, with the normal after-party to come in the comments. Who do you think has the best chance of bouncing back?
Who has the best chance of bouncing back in 2009?
By

The Yankees unveiled their Spring Training schedule today, and the party gets started early this year. The Yanks' first Grapefruit League game is Feb. 25, 2009, and the Bombers are set to take on the Blue Jays in Dunedin, Florida. They play their first game in Tampa the next day. Individual game tickets will go on sale in January. For more, check out the official press release. · (2) ·
Via MLBTR, free agent southpaw Andy Pettitte has had numerous conversations with ex-manager Joe Torre recently, reportedly about the possibility of joining the Dodgers' rotation. Pettitte's already said that he wants to return to the Yanks in 2009, but speculation is that he may be feeling slighted by the way the Yanks are slowly approaching a potential return.
I remember the feeling back in 2004, that "dude, Andy's not going anywhere, chill out" attitude. It was a bit surprising to see Pettitte head home to Houston, and it wasn't until he was gone that you realized just how important he was. Sure, he put up a 6.23 ERA in the second half and turned opposing hitters into Raul Ibanez thanks to a .835 OPS against, but he's still valuable as a rotation stalwart because of his supreme durability and fearlessness.
Regardless of who the Yanks sign this offseason, Pettitte's return is important for more reasons than we may understand. He brings a veteran presence to the back of the rotation, he's a lock for 200+ league average or better innings, and there's no adjustment period. Work it out, I'm sure he'd be cool taking a little pay cut from the $16M he's earned the past two years, say $12M or so. Don't let him leave again; as we learned back in '04 the only guy that can replace Andy is … Andy.
Here's your open thread for the evening. Talk Pettitte, LeBron at the Garden, whatever. Just play nice.
Update (7:15pm): Before anyone asks, Pettitte is a Type-A free agent, so if he did head to SoCal the Yanks would get the Dodgers first round pick (#17 overall, the second best pick they could possibly get) and a sandwich rounder.
Larry Dobrow, writer and Yankee fan, earned himself the rare privilege of a sneak peak into the new stadium and wrote about the trip for CBSSports.com.
At first, he was struck by grandeur of it all. Big halls and big screens will dot the big promenades. While he is appreciate of the Yanks' efforts at modernization, he was most impressed with the field. Dobrow writes:
Then we walked through the tunnel into the cruise ship of a dugout, and exploded out onto the field.

This, not the steakhouses or the Hard Rock Cafes or the post offices or the arboretums, is why the new Yankee Stadium will make hard-core, old-time, middle-tax-bracket fans very, very happy. Yes, there are modern flourishes, like the monstrous video screen and the obligatory center-field outdoor café dealie. But mostly the new field is the old field.

The dimensions remain the same, save for the elimination of chunks of foul territory around home plate and the first- and third-base lines (this won't thrill the pitchers, I imagine). Most important, the upper decks still hang tightly and imposingly over the field. If I felt somewhat claustrophobic beneath their shadows on a quiet November morning, I can only imagine how intimidated opposing players might feel on a boisterous October night.
I hope Dobrow's words ring true in April. We've heard that the upper decks are a bit more recessed than they were at the intimate Yankee Stadium and the latest set of pictures on Yankees.com don't dispel that story. But the early words are comforting. This new stadium just might be a nice one yet.
So the news that the Angels are interested in CC Sabathia isn't exactly the way I envisioned the Yanks' starting Thanksgiving weekend. As Joe detailed earlier today, it seems that the Angels are looking to give up the Mark Teixeira chase and go hard after Sabathia. Outside of the fact that the Angels would emerge as clear favorites in the AL West for years to come, this has clear and lasting ramifications for the Yanks.
First, let's dismiss the desire argument. As Wallace Matthews wrote today, some fans seem to believe that Sabathia's silence indicates that he doesn't want to come to New York. As far as anyone knows, that just isn't true. Sabathia is waiting for other offers for two reasons. The first is that he knows the Yanks will up their offer significantly if the Angels do deliver a similar contract. It's a smart business tactic.
Second, while Sabathia hasn't jumped yet at any offer, we know he seems to prefer California to the East Coast. His preference is just that. It doesn't mean he doesn't want to play here; It just means he prefers over there.
As CC stews, though, the Yanks' back-up plans are coming into view. Two Tyler Kepner articles kicked things off last night. First, he asked on the Bats blog if the Yanks have enough offense. Next, he looked at the Yanks' lofty expectations for A-Rod and Robinson Cano next year. With a healthy Hideki and Jorge and a better season from Cano, the Yanks feel they can score a lot of runs next year.
To that end, as Ken Davidoff wrote today, the Yanks' Plan B seems to be just that: score a lot of runs. If the Yanks actually do lose out on CC Sabathia, they will go hard after either Mark Teixeira or Manny Ramirez in an effort to shore up what should be a very good lineup. For obvious reasons, Teixeira is a better long-term fit, but having Manny and A-Rod at the heart of the order would lead to many a slugfest next season.
On the pitching front, the Yanks would entice Andy Pettitte to return and would look at a few other free agents. They don't seem willing to go to five years for A.J. Burnett, but Bryan Hoch feels that Ben Sheets is a real possibility. Considering that Sheets would sign for fewer years and less money than any other big-name free agent, he would probably be the best fit of pitchers not named Carsten Charles.
So that's Plan B. Score a lot of runs. Use the established pitchers, sign a free agent and ask either Alfredo Aceves or Phil Hughes to stop the revolving door in the fifth starter spot. Of course, the Yanks haven't yet lost out on Sabathia yet, but if they do and can implement this plan, it certainly wouldn't be the end of the world.
By

On Sunday afternoon, Tony Morante, a 50-year employee of the Yankees, led 40 fans on the last ever tour of Yankee Stadium. It was a bittersweet tour, and Oren Yaniv of the Daily News was on hand for the historic event. After the final set of fans left the field, the Stadium now sits empty awaiting demolition that the Daily News says will start on March 15. Nearly 85 years and 11 months after opening, Yankee Stadium will begin its sad swan song. · (17) ·
Via MLB Trade Rumors we learn that the Angels are having discussions with CC Sabathia. While the timing comes somewhat of a surprise — the Angels still haven't made an offer to Mark Teixeira — it was assumed from the start that the Halos would get involved. LA Times scribe Bill Shaikin notes that the Angels are reluctant to offer Tex the 10 years he seeks. Of course, Scott Boras will neither confirm nor deny the first baseman's intentions.
No offer has been officially extended, however it is believed that the Angels could offer something "in the range of Johan Santana's six-year, $137.5-million contract." Clearly, the term "in the range" could mean a number of things. Will they offer a little less? A little more? Will they match the Yankees reported six-year, $140 million offer? Or did they just leak this story to show Teixeira that they're serious?
(You have 24 hours to sign our contract. And to show you we're serious…you have 12 hours.)
We know that Sabathia could opt for the West Coast, even if the Yankees offer the largest contract. That scenario becomes more likely if the Angels offer him a deal better than Santana's, even if it's not by much. The Yanks would surely up their bid under that scenario, but how much, if anything, would be enough?
Missing out on CC could mean a number of changes to the off-season plan. The focus could shift to Teixeira. If signed, Nick Swisher would move to the outfield. Do you dish Damon or Nady at that point? Do you go into the season with an OF of Nady-Damon-Swisher and hope for the best defensively?
There aren't any easy answers to these questions. Yet the Yankees may be faced with them in the coming weeks. I do not envy Brian Cashman right now.