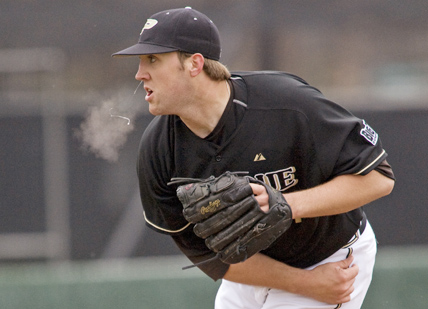 Purdue RHP Josh Lindblom and his snot. Photo taken from Baseball America's front page sometime last week.
It's been a while since we talked draft, so here's some bullet point style draft goodness:
MLB tweaked some of the draft rules a bit, so now failure to sign a second-round pick results in a compensation pick after the second round the following year. Previously the comp picks were awarded one spot after the original selection was made. The Braves and Red Sox saw their comp picks for the unsigned Josh Fields and Hunter Morris, respectively, drop 18 spots thanks to the rule change (haha). Fifth year seniors can no longer sign as free agents before the draft as part of the rule changes.
By

While the Yanks slogged their way through April, RAB had a stellar month. We finished the month with over 300,000 page views for the first time in our 14-month history. We had a few record-setting game threads and some great discussions from all of our readers. So as the Yankees embark on their second month of the season, we just wanted to say thanks for stopping by and adding in your two cents. It's been a great run so far, and we hope you all will keep coming back. · (15) ·
A composite shot of the new stadium taken on Wednesday evening from the left field entrance to the tier level in Yankee Stadium. Click the image for a bigger version. (Photo by Ben K.)
In all of my years going to games at Yankee Stadium and watching the Yanks play, through thick and thin, from Jack Clark to Alvaro Espinoza and Bob Geren to Derek Jeter and A-Rod, I have rarely seen the Yankees play as flat as they did tonight. The offensive was downright terrible.
After loading the bases with no outs in the first, it looked like the Yankee bats may finally be ready to wake up. The middle of the order — sans A-Rod — was up, and it was time to knock the struggling Jeremy Bonderman out of the game. The Yanks emerged from the inning up 2-0, but it certainly seemed like they should have gotten more.
After two innings, the Yanks had Bonderman at 42 pitches, and it seemed like a matter of time before the offense would put together a few more hits. Little did we know those two runs would be it for the Yankees as their offense eked out just two more hits the whole rest of the way. Bonderman threw just 58 pitches over his last 5.2 innings of work, and the Yanks managed just two more singles. They took weak hacks and did nothing. Sad, sad, sad.
On the other side of the ball, Andy Pettitte was rolling until the fifth. A Marcus Thames home run just out of the reach of Johnny Damon and, an inning later, a Placido Polanco solo shot gave Andy an ugly five earned runs in six innings. He fell to 3-3 with a 3.93 and 0-2 over his last two outings. He's given up four home runs and nine earned runs over his last 11 innings pitched against the Indians and Tigers. Ouch.
Meanwhile, despite a few raised eyebrows, Phil Hughes' injury is a real one, according to Kat O'Brien. That explains his poor performance on Tuesday, and this oblique injury could shelve him for six weeks.
Anyway, instead of dwelling on an ugly loss that caps off a losing April and the current spate of injuries, let's look at photos of the new stadium that I've taken over the first month of the season. The full set of 32 shots is here on flickr. Select highlights are bulleted below:
By

I'm not sure if Mike or Ben has anything planned for an overnight. But Rasner will jump in the rotation for the disabled Phil Hughes on Sunday. As I said in the game thread, this is the second time in a year — almost to the day — that I've been set to see Hughes pitch on a Sunday, only to have him get injured. And yes, Rasner was his replacement last time, too.

So I guess that solves the whole "does he get sent down" question. You have to figure he'll make at least two rehab starts before returning. · (33) ·
So tonight we find out if the Yankees finish April above or below .500. Not that it matters a ton in the grand scheme of things. While every game counts as 1/162 of the season, we know that ground can be made up later. This is especially true this year, as no dominant team has emerged in the division yet, as the Red Sox were last year. Baltimore currently sits atop the standings, and that doesn't figure to last much longer.
The Yankees once again turn to Andy Pettitte to go deep into the game. Though despite Hughes's short start last night, the bullpen should be relatively fresh. Only three relievers were used last night — Ohlendorf, Hawkins, and Edwar — and the Yankees are stocking 13 pitchers for the time being.
I guess that could use some explanation. So Chris Britton is staying, as he replaces A-Rod on the roster. Chad Moeller is back as well, as he cleared waivers. Dan Graziano of the Star Ledger thinks that the other AL East teams did a poor job by "not claiming him just to mess with the Yankees." Sorry, Dan, but I'm fairly certain that those teams don't want to spend a 40-man roster spot just to keep a 33-year-old journeyman catcher out of the Yankees hands.
Chris Stewart was mercifully sent down to AAA. To make room for Moeller on the 40-man, Sean Henn was activated from the DL and then designated for assignment. You'd think they could have just activated Henn, thrown him on the 25-man in A-Rod's spot, and designated Stewart. But I suppose the Yanks want to keep Stewart around in case of emergency. A team like the Giants has no reason not to claim Henn — other than the fact that he sucks, I suppose.
Your lineup:
1. Johnny Damon, LF
2. Derek Jeter, SS
3. Bobby Abreu, RF
4. Hideki Matsui, DH
5. Jason Giambi, 1B
6. Melky Cabrera, CF
7. Robinson Cano, 2B
8. Jose Molina, C
9. Alberto Gonzalez, 3B
And on the mound, number forty-six, Andy Pettitte
By

Amidst a flurry of roster moves, Sean Hell has blissfully been designated for assignment. Never again will I have to watch him blow a game. Kat O'Brien has all the moves and a mea culpa from A-Rod. · (12) ·
Despite the struggles of Phil Hughes last night, the Yankees were able to bring the tying and go-ahead runs to the plate on more than one occasion during the game's late innings. Why? Because the bullpen was utterly lights out.
Three pitchers combined to pitch 5.1 three-hit innings. They combined for one walk and six strikes outs while doing everything they could to keep the Yankees' dormant offense within spitting distance of the Tigers.
For the Yanks, this newfound bullpen success is a welcome surprise. Over the last five games, the Yanks' pen has been stellar. The pen has thrown 18 innings, and the pitchers have given up two earned runs on nine hits while walking 10 and striking out 18. While the walk totals area bit high, the strike out totals are excellent.
On the season, the pen's numbers are pretty good. Yankee relievers have an ERA of 3.72, good for seventh in the AL. They've given up 42 runs on 89 hits while walking 39 and striking out 92. Opponents are hitting .237/.314/.349, and the team has blown just one save this season.
But there is a problem: The Yankee bullpen has thrown an AL-leading 101.2 innings this year. They've thrown 0.1 innings less than the Major League leaders, and at this rate, the Yanks are going to burn out their bullpen. While they have the fresh arms in the minors and the pen promises to be something of a revolving door this season, the Yanks need more length for their starters. But we knew that already.
By

Rob Neyer today called Dan Levitt's biography of Ed Barrow the "most important baseball book of the year," and I'm going to read and review it as soon as I'm done with this one on Ebbets Field. But in the meantime, check out this extensive Q and A Rich Lederer of The Baseball Analysts conducted with Levitt. It is a thorough and fascinating look back at the way the Yankees assembled their first great dynasty. · (0) ·
It's the All Star Game ticketing information we've all been waiting for. Too bad few — if any of us — will get or even afford the tickets for the game.
Anthony Rieber has all the details:
A ticket to the 79th Midsummer Classic on July 15 will set you back at least $150 and as much as $725 – up from the $75-$285 charged for last season's game in San Francisco. And you have to buy two. Tickets were $10-$15 for box and reserved seats the last time the All-Star Game was at Yankee Stadium, in 1977…

Tickets for the general public will be on sale only through an online drawing. Fans can register now for the chance to buy two tickets at MLB.com or Yankees.com until 10 p.m. on June 15. The online drawing will take place the next day. Tickets will be sold on June 23.

Yankees' full and partial season-ticket holders will be given an opportunity to buy tickets, subject to availability, on Yankees.com.

MLB president Bob DuPuy said "70 percent" of tickets would be available to "existing Yankees fans."…

The game itself is not the only event that will cost fans big money. Tickets for the Home Run Derby, always a fan favorite, and workout day on July 14 are $100-$650, an increase from $50-$225 last year. Tickets for the Futures game on July 13 are $50-$225, up from $22.50-$125 last year.
Fifty bucks for the bleachers for the Futures Game?! Yikes.
I really want to go to the All Star Game. I'm practically willing to give up an extraneous appendage for it, and it seems like that's going to be the going rate.
While DuPuy can promise the world to 70 percent of Yankee tickets, you can bet that scalpers will drive up the prices of these tickets to astronomical levels. The All Star Game should really be about the fans enjoying that spectacle. Instead, it's going to be all about the money and ticket prices as Yankee Stadium goes out with a bang. What a shame. What a shame.