Disclaimer: I do not actually believe the Yankees should do this. But I'm in a good mood after a solid win, and I feel like pulling out a hypothetical.
So Jose Molina's been hitting the ball pretty well in his six games this season. It's easy to get excited about that, especially at a time when the rest of the team has been struggling to produce runs. Plus, he's a superb defensive catcher.
What I'm about to suggest is kind of crazy…okay, really crazy. Please, don't take me seriously. I cannot stress this enough. But imagine if Molina is on the verge of one of those fluke years, where he hits like .320. Hey, it's happened before.
Bear with me…imagine Molina is our starter. Jorge can then become the full-time first baseman. Would he be any good there? I can't imagine him being worse than Shelley Duncan on defense. He looked fine last year when he started the game there in Colorado. At the least, it would give us offensive stability at the position.
Plus, he could be the backup catcher. So he catches twice a week and plays first base or DH for the rest, with a day off here and there. Giambi can slot in a couple of days a week, when Jorge catches, sits, or DHs.
This has the added bonus of curbing some wear and tear on Jorge. He's signed through 2011, so we might as well keep him fresh as possible. With no viable starting catcher likely to emerge by next year, we're going to need Jorge there (can't count on another fluke year from Molina; what do you think I am, nuts?).
That also makes either Shelley or Ensberg obsolete. Not sure what to do on that front. But it's nice to have a little flexibility.
Of course, that's all completely predicated on the prayer that Molina somehow manages to hit .320. A man can dream, though. A man can dream.
We now return to your regularly scheduled, not-quite-batshit-insane programming.
By

Andy-Joba-Mo supported by six runs, three of them via the long ball. You couldn't script a better game before Fenway. The Yanks knocked out 12 hits and held the Royals to one run en route to a 6-1 victory. The Yanks now head into Boston at an even .500, tied with the Red Sox, and we are all spared the agony a three-game sweep at the heads of the Royals would have brought upon Yankeeland. And how about that Melky Cabrera kid? He sure can hit, no? · (4) ·
Triple-A Scranton (11-5 win over Louisville)
Brett Gardner: 1 for 5, 1 R, 1 K, 1 CS
Justin Christian: 1 for 4, 2 R, 2 RBI, 1 BB, 1 CS – threw Jay Bruce out at the plate
Jason Lane: 2 for 4, 3 R, 1 2B, 1 HR, 2 RBI
Shelley: 4 for 5, 3 R, 3 2B, 1 HR, 3 RBI – uh, think he was happy about being sent down?
Juan Miranda: 1 for 4, 1 R, 1 RBI, 1 BB, 1 K – Eric Duncan rides the bench for now
Nick Green: 3 for 4, 1 2B, 1 RBI, 1 K
Alan Horne: 2 IP, 4 H, 4 R, 1 ER, 0 BB, 2 K, 1 E (throwing) – it's some form of biceps injury, could be a strain, could be a tear, could be something else
Dan Giese: 2 IP, 3 H, 0 R, 0 ER, 0 BB, 2 K, 1 HB
Chris Britton: 2 IP, 2 H, 0 R, 0 ER, 0 BB, 2 K
Edwar Ramirez: 1 IP, 2 H, 0 R, 0 ER, 0 BB, 2 K, 1 HB, 1 WP – 8 K in 4 IP
Jon Albaladejo: 2 IP, 2 H, 1 R, 0 ER, 0 BB, 1 K – 18 of 20 pitches were strikes (90%) … now that's what I like to see
Update: Chad Jennings sent this nugget along:
Horne MRI tomorrow morning. Not making the trip to Durham. Has no idea what's wrong but he's relieved it's not his shoulder or elbow. He said he expects to miss his next start, but he doesn't know for sure.
So Joe Girardi decided to mix things up tonight. That's good. It's not a surefire remedy to a slumping lineup, but at least it's an attempt to get things started. However, I'm not so sure I'm on board with the changes.
First, Giambi and Abreu sit against the lefty. That's fine and good. As I've noted, I wouldn't mind seeing him sit against lefties a bit more. Giambi hasn't been doing much of anything, so keeping him on the bench is of little concern.
But Matsui in right field? We better hope no balls are hit to right field with a runner on first. And you can be damn sure a runner on second will take third on even a shallow fly to right. You don't want to lose Melky's range in center, but you have to think that a Matsui-Damon-Melky outfield would at least keep baserunners a bit more honest.
Onto the batting order…Jorge hitting cleanup? Normally, this wouldn't be an issue. But he hasn't hit a lick this season. At least Cano — batting 7th and behind Jose Molina — has registered a some hits in the past couple of games.
I guess the hope is that this will mix things up enough to get some people, like Jorge, going. To that end I cannot complain. And there are worse things than taking some defensive risks for a single game. So despite my qualms, there's certainly some virtue to what Girardi's trying to do here.
Anyway, here's the alchemic lineup:
1. Johnny Damon, LF
2. Melky Cabrera CF
3. Alex Rodriguez, 3B
4. Jorge Posada, DH
5. Hideki Matsui, RF
6. Jose Molina, C
7. Robinson Cano, 2B
8. Morgan Ensberg, 1B
9. Alberto Gonzalez, SS
And on the mound, number forty-six, Andy Pettitte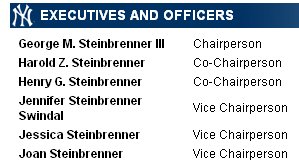 Until today, the Steinbrenner family had varying degrees of power within the Yankee Front Office. Hal was the General Partner, Hank a Senior Vice President and Jennifer Swindal the Senior Vice President for New Stadium Public Affairs.
This afternoon, the Yanks announced a little organizational reorganization, and now, all of the Steinbrenners — including two not previously on the Front Office masthead — all carry some form of chairperson in their official titles. Said George via his press guru Howard Rubenstein:
"I am excited to announce these titles. I am pleased to work with my two sons, Hal and Hank. With me, they will jointly oversee the club on a day to day basis. I am also gratified to recognize the leadership of my daughter Jenny in the club's charitable endeavors and her involvement with new stadium matters; as well as the contributions of my wife Joan and daughter Jessica in assisting me.

"Together with my executive team, the New York Yankees are prepared for the future and the exciting challenges the next several years will bring."
While this move is mostly semantics, it helps solidify family control over the team. George Steinbrenner has looked frail recently, and with the stadium's dedication in Tampa, the Yankees are in full honorific mode. Perhaps the family knows what the rumors have long said about George's health.
By

After consulting with famed surgeon Dr. James Andrews and team doctors, Jorge Posada learned that his shoulder is only strained. According to Yanks' manager Joe Girardi, Posada will probably be out somewhere around a week before he's ready to catch again. Right now, the Yankees should proceed cautiously with Jorge; they need him healthy this year. · (7) ·
By

Yes, David Cone did say last night that Ian Kennedy got jerked off in the bullpen. NYY Stadium Insider has the video. I don't think Cone meant what he said though unless the folks in the pen were really bored by the 6th inning. · (14) ·
When Joe Girardi was in Florida, his handling of his young pitching staff during a rain delay earned him quite a bit of criticism and potentially a one-way ticket out of his job.
The day was September 12, 2006, and Josh Johnson was on the mound when an 82-minute rain delay hit. Girardi put Johnson back on the mound, but the youngster came down with a case of forearm tightness that night. He would throw just 15 innings in 2007 before losing last year and this to elbow surgery. While Johnson has publicly stated that the rain delay was not the cause of his elbow woes, this incident lingers on Joe Girardi's record.
Nearly 19 months later, Girardi found himself faced with another young pitcher and another case of rain. The forecast in Kansas City tonight called for rain, lots and lots of rain, and so Joe Girardi opted to keep Kennedy out of the game so as not to burn a Kennedy start and so as to avoid managing through a rain delay.
During the early innings, it seemed like a wise strategy. For once, the weather forecast was right, and rain came down in sheets, blanketing the field in rivulets of water. But onward marched the game. Brian Bruney shut down the Royals; Billy Traber shut down the Royals; and for one inning, Kyle Farnsworth shut down the Royals.
But then disaster struck, and it is here that we have to wonder whether or not to nitpick tonight's game. With no score in the fifth and the rain visually lightening up, Girardi left Kyle Farnsworth in to pitch a second inning. Kyle Farnsworth is the master of the one-inning appearance. He made a grand total of zero appearances last year of more than an inning, and while he has complained about that, the results tonight bore out Joe Torre's one-inning handling of Farnsworth.
In this second inning, Farnsworth gave up a home run to John Buck, hitting just over .100 on the season, and then another run on an 0-2 slider to Jose Guillen, hitting .128 at the time. He lost his effectiveness, and he lost his pitching smarts at the same time.
In the sixth inning, Girardi brought in the starter Ian Kennedy for a brief three-inning appearance. Kennedy got into some wind-aided trouble in his first inning of work and gave up two runs. But he settled down after that to restore some faith in his pitching among Yankee fans.
The nitpicking is, of course, moot. The game should have been stopped for rain at some point; the field was a mess, and both teams were struggling through the weather. But had Girardi's strategy been put to the test, the Yankees pitchers needed to pitch 9 scoreless innings to keep pace with this team's anemic offense.
I can't help but question Girardi's decision tonight. Call it Monday-morning quarterbacking; call it the nature of a baseball blog. For four innings, Girardi's choice looked like a solid one, but in the fifth, it fell apart. Why leave Farnsworth, a one inning at his best, in for a second inning? Why not go with Ian Kennedy when the game was clearly going on? Missing offense or not, the ghost of Josh Johnson's elbow loomed large over this game.
Triple-A Scranton (11-0 beatdown courtesy of Louisville)
Juan Miranda: 2 for 4, 1 K
Eric Duncan & Nick Green: both 1 for 3, 1 2B – Green committed a throwing error
rest of lineup: combined 1 for 21, 1 BB, 2 K – Bernie Castro picked up a single … Jason Lane drew a walk
Steven "don't call me" White: 4 IP, 11 H, 9 R, 6 ER, 1 BB, 3 K, 1 HB, 0-9 GB/FB – as ugly as it gets
Heath Phillips: 2 IP, zeroes, 2 K – this year's Ben Kozlowski
Scott Patterson: 2 IP, 3 H, 2 R, 2 ER, 2 BB, 0 K, 2-4 GB/FB – okay, who kidnapped the real Scott Patterson?
Jose Veras: 1 IP, 2 H, 0 R, 0 ER, 2 K, 1 HB
By

I just want to throw out some feelers to see who would be interested in doing an RAB day at the park. It would be Sunday, June 8th, and we'd be sitting in the tiers. Figure on $20 a ticket, though they might be less. That's the quote I'm getting now. We'd start by hanging out somewhere before the game — Lot 3 might be out, since we were busted for grilling there last Sunday. If you're interested, leave a reply. · (25) ·