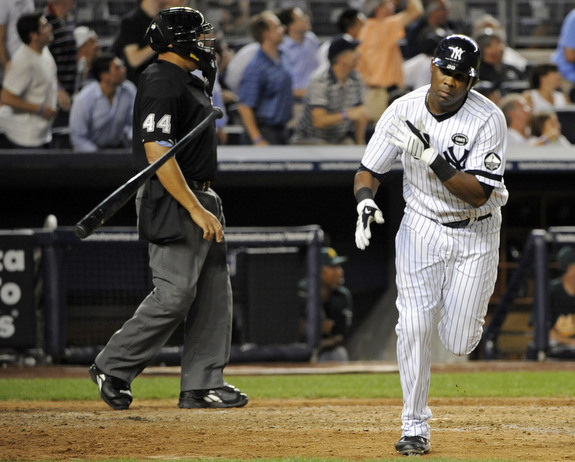 Marcus Thames found himself a new job within the last few days, signing to a one-year contract that will pay him no less than $1M in 2011 to play for the Dodgers. It's a great opportunity for him since his competition for playing time in leftfield is Jay Gibbons, Gabe Kapler, and Tony Gwynn Jr. If it was 2004, I might be worried for him.
Thames had a damn fine season with the Yankees in 2010 and become something of a fan favorite, so this thread is a tribute to his service to the pinstripes. He seemed to get big hit after big hit, whether it was a walk-off single against the Blue Jays or driving in the go-ahead run in Game One of the ALCS or, of course, walking-off against Jonathan Papelbon. Of course he was brutal in the field and hurt himself stepping on his own bat, but no one's perfect. Big ups to Marcus, I wish him the best of luck in Los Angeles and hope to see him in the World Series.
Now that that's taken care of, here is your open thread for the night. The Rangers, Knicks, and Nets are all playing, but talk about whatever your heart desires. Have at it.