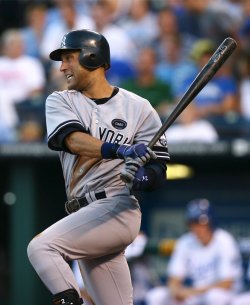 Every player experiences streaks and slumps during a season. Even players heralded for their consistency, such as Albert Pujols, experience slumps here and there. It feels like the Yankees 2010 season has not only contained streaks and slumps, but has been defined by them. Perhaps no player on the team has embodied this feeling quite like Derek Jeter.
Jeter started off the season hot, hitting .330/.354/.521 in April, which staved off questions regarding his approach. He walked just three times that first month, often swinging at the first pitch and making a quick out. The majority of his balls in play were put on the ground, and it seemed like everything he hit was a grounder towards short. But with largely positive results it was difficult to question the approach. We know that it doesn't work for most players, but maybe Jeter had figured something out after spending the 2009 season in the leadoff spot.
Then came the slump. After a 6 for 12 series against Chicago Jeter's production crashed. In his next 106 PA he went 22 for 99 (.222) with five walks and seven extra base hits. It dropped his line all the way to .279/.321/.413. In many ways it felt like his luck evening out, rather than him getting especially unlucky. He maintained the same approach, attacking pitches early in at-bats, but instead of grounding to short he was chopping more balls towards second. That can create the perception that his bat was slower, never a good sign for a 36-year-old shortstop.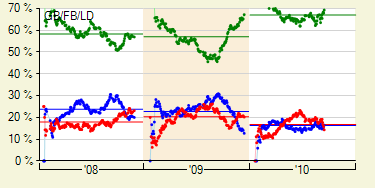 During that stretch Jeter hit rock bottom. On May 22 he went 0 for 4 against the Mets, lowing his season line to .267/.313/.385. It was hard to imagine his season getting any worse, but at the same time he made it difficult to imagine wholesale improvement. He was and still is Derek Jeter, of course, and his track record speaks for itself. But his approach was so different than in years past that he put his recovery somewhat in doubt. Of course, as often happens after a player hits rock bottom, he made a swift recovery, going 19 for his next 38 with five extra base hits.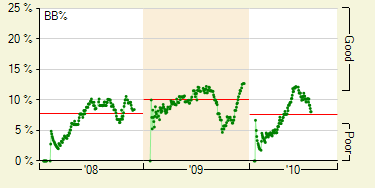 This article would be far less interesting had Jeter sustained his recovery. It would have been the typical instance of a fanbase freaking out over a veteran player slumping early in the season, which makes his season numbers look all the worse. But again Jeter slumped. His numbers dropped all the way through the All-Star break, after which he hit some sort of bottom — not quite rock bottom, but close. After an 0 for 4 night in an ugly loss to the Angels on July 20 Jeter had a line of .268/.332/.380. While he kept his on-base higher than his previous low-point, his power had fallen off precipitously. That's not too important for a leadoff hitter, but the complete power outage has to be somewhat concerning.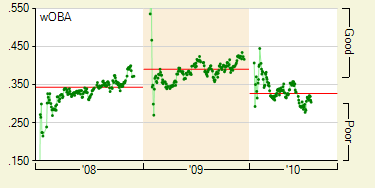 Thankfully, we're again seeing recovery, though this one has lasted a bit longer than the previous one. Since that 0 for 4 night against Anaheim Jeter has gone 35 for 107 with eight extra base hits and eight walks, which amounts to a .318/.371/.421 line. That's more in line with reasonable expectations for Jeter's season. It's not yet safe to say that he can maintain this for the rest of the season. As we've seen, he can hit a slump at any time. But for the past month or so his approach has seemed more Jeter-like than during the first few months. If he keeps it up I think we'll have little to say about him the rest of the way.