The Giants and the New York Yankees have discussed left fielder Hideki Matsui for a starter. Matsui does have a complete no-trade clause.
The article doesn't say much more than that. Obviously the first two names that pop into your head when you hear "Giants' starters" are Matt Cain and Timmy, but I'd be floored if the Yanks could get one of those two for Godzilla. Maybe they could land Jon Sanchez and some salary relief instead? The main obstacle would be getting around Godzilla's no-trade clause, but I do think he'd waive it to reunite with Torre in Chavez Revine. Pac Bell…not so much.
(hat tip to MLBTR)
From George "I make up funny nicknames for players, like Kyle 'The Mop' Farnsworth, haha" King:
With a need for space on the 40-man roster, the Yankees are about to approach "American Idle" Carl Pavano. Their plan is to release him then invite him to spring training on a minor-league deal. Pavano had Tommy John surgery last summer. The minor-league offer may have something to do with collecting insurance money on Pavano's four-year, $40 million contract that expires after the 2008 season.
Let's just end this experiment already and let him walk. Maybe Dave Duncan can work his magic and revitalize Pavano's career, but his days in pinstripes should be over.
(Hat tip to Patrick)
The Major League portion of the Rule V draft is over. The Yanks didn't select anyone, but they did lose reliever Mike Gardner to the Padres. Here's BA's Rule V draft blog, I'll update this post later on.
Update: The Yanks took RHP Bo Hall from Milwaukee in the Triple-A Phase. Don't know anything about him, but he just turned 27 and has a 502-196 K/BB ratio in 498.2 career IP. Maybe he throws hard.
Update II: Not Yankee related, but the Jays took OF Brant Colamarino from the A's in the Triple-A Phase. You may remember the A's FO declaring that "Colamarino may be the best hitter in the country, but no one will admit it" in Moneyball. Five years and a .270 career average later, he's Rule V fodder. Figures that Ricciardi was the one to take'em.
Update III: The Rule V draft is over; the Yanks didn't lose or gain anyone beyond what is mentioned above. Brian Barton was the best player taken, going to the Cardinals in the ML portion. The Mets got an intriguing arm in Steven Register - he should have no trouble beating out the Jorge Sosa's and Joe freakin' Smith's of the world for the 6th-7th inning role. 
By

From the Times:

"People keep saying, 'Do we really have a No. 1?'" Steinbrenner said. "I'm telling you, we're going to have three No. 1's three years from now, and we may have two or three great closer prospects, too."

Amen brother. · (12) ·
For all the talk that the Red Sox are so much better than the Yankees that we've seen around other parts of the Internet lately, a few writers are admitting what we know: The Yankees, who finished 2 games back of the Red Sox, are still very good. John Beamer, a Braves fan writing at The Hardball Times, takes an unbiased, statistical look at the Yankees (with Johan Santana) and sees a team that is very, very capable of winning 95 games. Without Santana the Yanks are probably hovering right around 90 wins.
The Yanks finished just two games back of Boston after a very poor start last year and were, by most accounts, the better team except for four days in October. I like the sound of what Beamer's selling.
From ESPN.com's MLB homepage at approximately 12:30 a.m. on Thursday morning: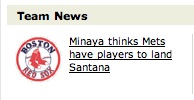 What does Omar Minaya's discussion about the Mets prospects have to do with the Red Sox? I know the Sox are interested in Santana, but please, ESPN, make a show of talking about some other team now and then.
By

Chad Jennings at the excellent SWB Yankees blog has a great piece on Gary Ruby. Ruby is the former pitching coordinator for the Pirates and went through the system with new Yankees reliever Jonathan Albaladejo. Ruby, Yankee fans will be relieved to find out, speaks highly of his former charge. · (3) ·
By

Jon Heyman reports that more teams are in the Santana mix. Considering that Johan is not yet a member of the Red Sox and the Twins don't have to pull the trigger now, this whole saga is far from over. I wonder if the Yanks are actually out of this whole thing. · (30) ·
By

ESPN The Magazine's Future of Sports issue features our very own Joba Chamberlain as the NEXT athlete, but we already knew that. RAB favorite Buster Olney wrote the profile. Not only is Joba a good fit for the Yanks, but he likes to send a lot of text messages. · (20) ·