Freddy Garcia set the tone with the very first pitch, which Yunel Escobar promptly drove into the left-center field gap for a leadoff triple. I think we all accepted that that run was going to score, but Garcia used the Blue Jays' aggressiveness against them to strand Yunel at third and escape the inning unscathed. The game was all Yankees from that point on.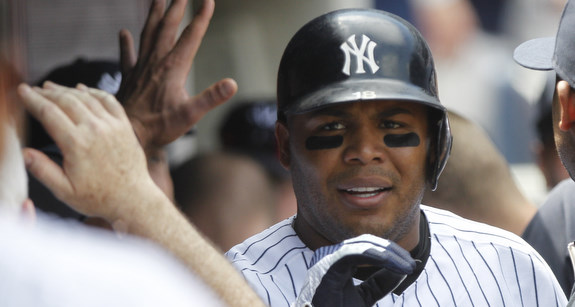 Mr. Jones
It's funny how much things can change in the span of 24 hours. Andruw Jones came into this game hitting just .191/.240/.340 in 50 plate appearances, and he had been resigned to platoon DH duty with Jorge Posada since both Curtis Granderson and Brett Gardner haven proven adept at handling southpaws early on. Jones was in an awkward spot, and more than a few people wondered if his roster spot could be better used on someone else.
Fast forward to Wednesday, when the Yankees' fourth outfielder contributed four runs with a pair of two-run homers against the Jays, tacking on a single for good measure. The first homer, which pushed New York's lead to 3-0, came off a hanging changeup from Jo-Jo Reyes and was hit deep into the visitor's bullpen. The second homer made it 7-1 in the sixth, and this one was a first pitch fastball from lefty Luis Perez. That one landed in Monument Park. Andruw raised his season batting line to .240/.283/.500 in the span of four pitches today, a helpful reminder that it's still too soon to judge him.
This was Jones' first two-homer game since May 1st of last season and his first three-hit game since last August 28th. The Yankees were the victims each time, so it's nice to see him doing it for the good guys for once.
The Chief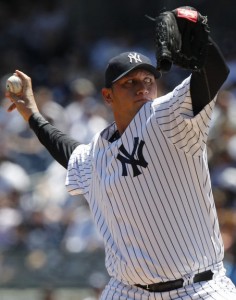 The box score line isn't anything special (6.1 IP, 8 H, 3 R, 3 ER, 0 BB, 4 K), but Garcia was pretty awesome in this game before seemingly tiring a bit in the seventh. He followed that Escobar triple by retiring nine of the next ten batters and 13 of the next 15.  Only three of the 27 batters he faced saw a three-ball count, and two of those came within the first six batters of the game. The Jays are a hacky team, swinging at the second most pitches out of the strike zone (31.0%) among AL teams, and Garcia used that to his advantage by keeping his junk just off the plate and generating plenty of weak grounders and pop-ups. Only twice did he throw more than 13 pitches in an inning.
The Sweaty Freddy experiment is now eight starts old, and he actually has the second best ERA (3.26) on the starting staff. His starts have followed a pattern though, patient teams give him a tough time while undisciplined offenses play right to his strengths. There's nothing wrong with that, Garcia is giving the Yankees valuable innings right now, but at the end of the day he's still just a placeholder until someone better comes along.
My Man C-Grand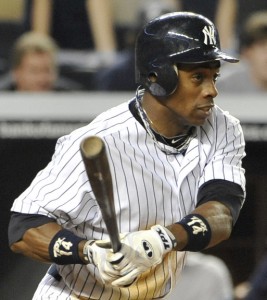 Remember Sunday's recap, when I said that I wish Granderson would beef up his then .328 OBP? Well Grandy followed that up by reaching base ten times (six hits, three walks, one hit-by-pitch) in 14 plate appearances during the three games with Toronto. His OBP now sits at .353. I didn't realize the Yankees actually listened to me, so in that case: Derek Jeter (.255/.310/.321) and Nick Swisher (.204/.321/.289) need to step it up.
Grandy had two hits in four at-bats on Wednesday, the first of which was a double into right that scored Jeter and gave the Yankees a one-zip lead two batters into the game. The second hit was another double that led off the third, and was followed by a Mark Teixeira homer to make it a 5-0 game. The Grandyman is at the center of everything these days, and he's clearly been the Yankees' best player this season. Just can't say enough about how awesome he's been.

Leftovers
Speaking of Swisher, how awful does he look? Man, the guy is lucky the Yankees don't have to make a decision on his option until after the season, because right now he looks like a guy that would have trouble finding a minor league deal somewhere. There's still 118 games left to go, so there's plenty of time for him to turn things around. But damn, sooner would be preferable to later, Nick.
Under-rated moment of the game: Eduardo Nunez catching Rajai Davis in a run down between third and home in the seventh inning. He could have simply gotten the out at first on Escobar's routine ground ball and no one would complain, but he made a very heads up play that cut down what would have been Toronto's fourth run. He played it perfectly too, running into the baseline to cut Davis off from third, then forcing him down the line before throwing to Russell Martin for the out. Textbook run down, only one throw involved and no other runners advanced. Just a smart and well-executed play by the Yankees' utility infielder.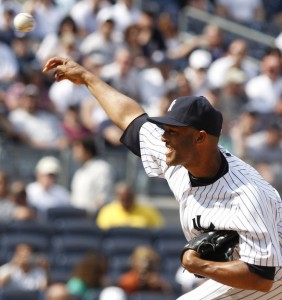 Martin drew a pair of walks in four trips to the plate and get this: Russ has walked 11 times against just eight strikeouts in his last 15 games (64 plate appearances). That's pretty awesome. Nunez was the only starter that failed to reach base today, but he made up for it with the run down. Wasn't it kind of odd when Chris Dickerson replaced Jones in the outfield in the seventh? It's not like Andruw needs a defensive replacement, so maybe he felt dehydrated or something. He spoke to reporters after the game and nothing was (obviously) wrong, so that's good. Just struck me as a weird move though.
Last, but certainly not least, give it up to Mariano Rivera for throwing a scoreless ninth, which just so happened to be his 1,000th career appearance. He's just the 15th man in big league history to do that, but the first to do it all with one team. Mo could easily jump into the top eight by the end of the season (he's 35 appearances away from that), but breaking Jesse Orosco's record (1,252) at some point might be tough. Regardless, congrats to him for a long and marvelous career.
WPA Graph & Box Score
MLB.com has your box score and video highlights, FanGraphs everything else.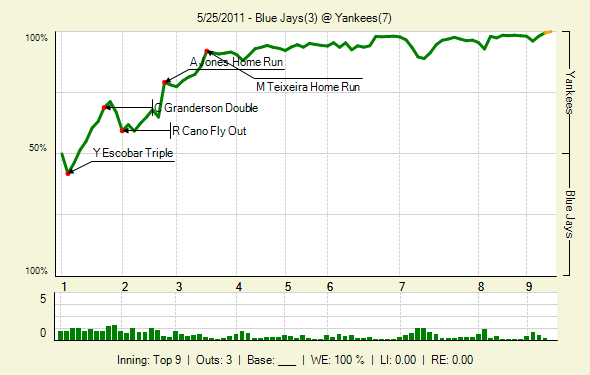 Up Next
The Yankees are off on Thursday and are already in/on their way to Seattle for their first of two west coast trips this season. A.J. Burnett will kick the nine game trip off against rookie right-hander Michael Pineda on Friday. The team flew out after Wednesday's game, so they'll spend the off day in the great northwest fighting off the jet lag.