Before we start, the Yanks have announced that IPK will be scratched from his Saturday start due to an upper back strain. Everyone slides back. You can never have enough pitching. Hat tip to anaconda.
The Yanks are rollin', but things aren't going to get any easier over the next four days. The Blue Jays are throwing four guys at us that we haven't exactly hit well this season.
Tonight's starter, Roy Halladay, in 14 innings has allowed 5 runs (3 home runs), walked 4 and struck out 14.
Tomorrow's starter, Shaun Marcum, in 16.1 innings has allowed 11 runs (2 homers), walked nine and struck out 12. Okay, so maybe we've hit him well on the whole. I just can't forget that May 29th start where he held us to two hits and no runs over six innings. Then again, he walked three that night, and we were playing remarkably shitty ball, so hopefully that doesn't carry over.
Sunday's starter, Dustin McGowan, in 19.2 innings has allowed 8 runs (1 homer), walked 7 and struck out 16. However, he did allow four runs over five innings back on September 12, so he's not invincible.
Finally, Monday's starter, A.J. Burnett, has been a royal pain in the ass. In 15 innings, he's allowed just one run (on a solo shot to Johnny Damon), walked 6 and struck out 13.
However, the Blue Jays' offense isn't in good shape. Vernon Wells and Troy Glaus, in theory their two best hitters, are done for the year. Lyle Overbay hasn't started since September 14, after getting screws removed from his wrists. However, he has played in the 8th or 9th for defensive purposes pretty much every game since. Basically, Frank Thomas, Matt Stairs, and Alex Rios are the only players left with remotely respectable numbers. Aaron Hill is okay, but he's still below league average. Russ Adams has fared well lately, but we know how streaks tend to even themselves out.
Remember, you can still vote in the caption contest. It seems voting has slowed in the past few days. Thankfully, Dane Cook is still in the lead.
1. Johnny Damon, LF
2. Derek Jeter, SS
3. Bobby Abreu, RF
4. Alex Rodriguez, 3B
5. Hideki Matsui, DH
6. Jorge Posada, C
7. Robinson Cano, 2B
8. Doug Mientkiewicz, 1B
9. Melky Cabrera, CF
And on the mound, No. 40, Chien Ming Wang.
By

In his blog today, Buster Olney lays out a case for A-Rod and the Dodgers. Olney, who has spent the season imaging A-Rod everywhere else but New York, claims that the future Hall of Famer would be "a perfect fit for the Dodgers." This begs the question: Isn't A-Rod – one of the best baseball players ever – a perfect fit for any team? · (17) ·

Major League Baseball teams love their commemorative patches. By pretending to honor something meaningful, teams create marketing campaigns during which obsessed suckers collectors will buy every new hat or t-shirt with a patch.
Trust me; I'm one of those collectors. I have eight different Yankee hats all with different patches (World Series: 1996, 1998, 1999, 2000, 2001, 2003; 100th Anniversary Season, Post-9/11 U.S. Flag).
Well, with history inevitably heading our way in 2008, the Yankees' uniforms – but not their hats – will be adorned with patches. The patch shown on the left in the image above will commemorate the rich history and final season of Yankee Stadium. The team will wear that patch on their left sleeves.
The patch on the right will adorn the right arm of the Yankee uniforms from the start of All Star balloting in late April through the All Star Game in July. You can bet that the All Star Game will bring with it a whole slew of merchandising opportunities as well. In fact, you can already buy some All Star Game merchandise, and it's still just 2007.
So keep those wallets ready. It's marketing time around the Bombers.
Patches and uniform information courtesy of the Something Awful forums. For a larger view, click here or anywhere on the image above.
By

I feel bad for even directing you to this article, but give it a read and lemme know what you think. Personally, it makes me think two things. 1) Being a Blue Jays fan must really suck, and 2) Dave Perkins must hate his life. Nihilists should not be sports writers. · (4) ·
Nothing brightens up a Friday morning better than a hot cup of coffee, the morning paper, and a story on ESPN about a company fined over HGH distribution. Sweet. George Mitchell again has reason to live. And there I thought he'd string himself up in his closet, what with the lack of steroid news for, oh, a week and a half.
So why do I write about this if I have such contempt for the issue? Well, it appears that someone we know may be implicated:
The U.S. Attorney's office disagrees, saying that Specialty supplied HGH for a "well-known" athlete in Massachusetts and an "entertainer/athlete" who received a shipment was 6-foot-5, 276 pounds, according to the New York Daily News.
Unfortunately, there appears to be a separation between the "well-known" athlete in Massachusetts and the "entertainer/athlete" whose dimensions are given. Because you know who kind of fits those dimensions? Yeah. Ortiz. And no, I'm not at all implying that he's the one in question. He's listed as 6-foot-4, 230, though it's clear he's just a wee bit heavier than that. It's just funny to poke fun at Red Sox fans. Plus, I interpret "entertainer/athlete" as "professional wrestler."
That said, the "well-known" athlete in Massachusetts is likely Rodney Harrison, who has already been busted by the NFL. So yeah, we can poke fun, but we can't make any serious allegations.
Steroid stories are George Mitchell's Viagra. Go bang a hooker tonight, George.
Tip o' the hat to Tony
By

Just a reminder: Voting is open in the Fan-on-the-Field Photo Caption contest until Sunday night or until the Yanks move into first place, whichever comes first. So go for vote. Since it's a new day, you all can vote for your own caption again.

Unrelated:Hhow about those Mets and Phillies, eh? That one's coming down to the wire too. Which team are you rooting for? · (1) ·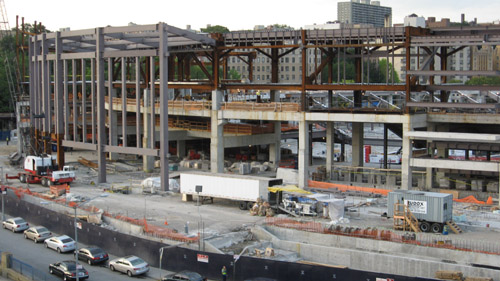 The New Yankee Stadium, shown here on Sept. 5, is lagging behind Citifield. (Photo by Ben K.)
Via Curbed comes an update on the stadium construction sites in New York City. According to this article in today's New York Sun, Citifield is ahead of the new Yankee Stadium in terms of construction progress, and the rumors that the Yanks are behind schedule continue to grow louder.
In the article, Sun reporter Christopher Faherty talks about the progress at Citifield. The Mets have much of their iron and concrete work completed and a good percentage of bricks in place. The electrical wiring is nearly finished as well. New Yankee Stadium is an entirely different story altogether.
Faherty writes:
With just about three months until the first official day of winter, the surrounding façade that will form the perimeter of the new Yankee Stadium is yet to be completed. A large swath, about 100 feet long, lies barren between two hulking walls of concrete, and views into the stadium show no evidence that any of the interior or the 50,000 planned seats are near completion.

Two Yankee electricians, who were interviewed by a reporter on Tuesday as they exited the construction site of the new stadium for a lunch break and asked not to be identified for fear of losing their jobs, said four separate crews were currently working on electrical aspects of the stadium.
I've noticed this as well. Over the season, I've taken pictures at most of the 19 games I've been to so far of the progress on the new stadium. To call it slow would be an insult to snails.
The Yankees, spending $1.2 billion to build the world's most expensive ballpark, refuse to comment on the pace of construction. "We are on schedule with construction, on budget, and fully expect to be operational and ready for opening day 2009," Alice McGillion, a team spokesperson, said to Faherty. But that's been their standard line since we first head the stadium was behind schedule in July.
I doubt the Yanks will fall too far behind in their stadium construction. Opening Day 2009 is set to be a very big day for the organization. They'll want to open their first new stadium since 1923 in grand style, and you can bet that a late opening date isn't in those plans.
By

Fashion designer Marc Ecko paid over $700,000 for the Barry Bonds 756 home run ball because hey, free advertising. Now he's putting its fate up for a vote. You can opt to bestow it to the Hall of Fame; brand it with an asterisk and then send it to the Hill; or ship it to the moon. So go vote here. · (10) ·