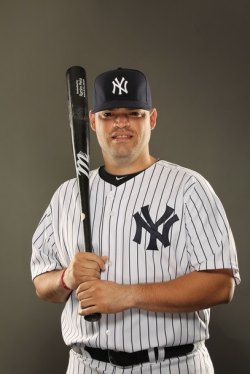 You might have noticed this weekend, while watching the first televised Yankee games of 2011, that some pudgy dude was busy socking dingers. That was Jorge Vazquez. Signed out of the Mexican League prior to the 2008 season, Vazquez is in camp with the Yankees for the second time. Despite the display he put on this weekend, he stands about as much a chance of making the team as he did last year.
If you look through Vazquez's history, you might wonder why he's not a consideration for that final bench spot. He raked his way through the Mexican League, finishing with an OPS below 1.000 just once in his final four seasons there (and it was .988 that year). Then, in his first stateside season, he put on something of a display at Trenton, hitting .329/.357/.578 in 238 PA. The only thing holding him back, it seemed, was the injury bug. He missed 86 days in 2009 due to various strains and bruises.
Last year he, along with fellow former Mexican Leaguer Manny Banuelos, underwent an appendectomy and missed the start of the season. He hit .390 during his brief return to Trenton before heading up to Scranton. There he hit .270/.313/.526 in 316 PA, mostly as the team's first baseman and DH. His discipline might be lacking, as he has drawn just 26 walks in 596 minor league plate appearances (4.4%), but his power remains prodigious; in AAA he produced a .256 ISO.
If Vazquez has displayed high batting averages and considerable power, then why is he nowhere on the Yanks radar? Why isn't he under consideration for a bench spot? Why didn't Baseball America write his name a single time in its writeup for the 2011 Prospect Handbook? Vazquez, it appears, is a case of scouting over stats. His style of play apparently won't play well in the majors. We've seen this before with plenty of other players, but it reminded me of one specific player formerly in the Yankees organization.
When I first started writing about the Yankees, during the 2004 season, they had a guy raking in AA. Mitch Jones finished the season with a .246/.334/.548 line. The next year, in 2005, he moved up to AAA and continued to rake, .268/.347/.507. During that year I wondered why Jones wasn't coming up to help. In 2006 I wondered even more. The Yankees outfield had suffered two major injuries, and they could have used a power bat such as Jones. They actually did call him up in late May, but sent him down after just a day on the roster. By year's end they had designated him for assignment.
For the next few years Jones ambled around the minors, and even spent some time in Japan. In 2009, amid a torrid season in the hitter-friendly PCL, the Dodgers finally gave him his first pro plate appearances. He made 15 that season, going 4 for 13 with a double and six strikeouts. He was also hit by two pitches. But that's basically the book on Mitch Jones. Vazquez could be headed for the same fate.
Chances are Vazquez returns to AAA this year and continues to produce quality power numbers. He might even flirt with a .300 average. But chances are, barring a crippling rash of injuries, he won't sniff the bigs. Despite the numbers, the scouting report just isn't there. Joe Girardi might have said it all, by saying really nothing at all, in response to a question about Vazquez. "If he hits a home run every day, I'm sure he'll get the Grapefruit (League) MVP." But he probably wouldn't make the Yanks.
AP Photo