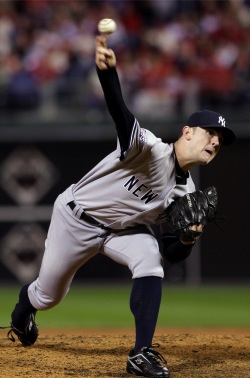 The 2009 Yankees featured an excellent bullpen, and a big part of that came from the success of David Robertson. A 17th round pick in 2006 out of the University of Alabama, Robertson dominated the minor leagues and forced his way onto the major league roster just two years after turning pro. He had some hiccups during his 30-inning cup of coffee in 2008, but came back strong in 2009 to earn a regular spot in the bullpen.
We saw plenty of good from Robertson, jokingly nicknamed K-Rob, in 2009. His strikeout rate, 13.0, ranked second among major league pitchers with at least 40 innings. Using his fastball, which traveled a mile per hour faster than in 2008, he blew away hitters. According to FanGraphs pitch type values, Robertson's fastball measured 4.7 runs above average, or 0.73 runs above average per 100 pitches. His curveball provides another weapon, as he can drop it as a change of pace. We saw more than one hitter's knees buckle on a K-Rob hammer in 2009.
When examining the Yankees bullpen, I lumped Robertson in with the presumed bridge to Mariano, along with Joba/Hughes and Marte. Given the way he pitched in 2009 we can expect that he'll get every shot to pitch in high leverage situations. But one thing remains troubling about Robertson: his walk rate. This has been an issue for him throughout his baseball career, dating back to his days as closer for Alabama. His strikeouts help cover it up, but his walk rates, typically in the mid-4s, are too high almost every year. Is this something he can correct in the future?
Certainly the possibility exists that Robertson can improve his walk rate. In fact, a similar pitcher with a familiar face did just that almost 15 years ago. From 1992 through 1994 Mark Wohlers pitched 134 big league innings and walked over 4.5 hitters per nine innings. Robertson doesn't have that much experience — he didn't hit the majors until 23 — but his walk rate hovers around that area. Wohlers compensated for the plentiful walks by striking out a ton of hitters, reaching 10.2 per nine by 1994, and allowing few home runs, just three in those 134 innings. Robertson, by comparison, has struck out 99 hitters in his 74 big league innings while walking 38 and allowing 7 home runs.
The good news for Robertson is that in 1995, when Wohlers turned 25, the same age Robertson will be for the 2010 season, he reduced his walk rate to 3.3 per nine, while raising his strikeout rate to a K-Robian 12.5 per nine. This resulted in a 2.09 ERA and his installation as the Braves closer. Wohlers continued the trend in 1996, lowering his walk rate even lower, to a downright awesome 2.4 per nine. The next year, however, the walk rate crept back up, and after that Wohlers was never the same.
The case of Mark Wohlers shows us that yes, Robertson can correct his walk tendencies. Wohlers not only did it, but did it at the same age as Robertson. True, Wohlers burnt out young, his last effective season coming at age 27, but given the general volatility of relievers I think the Yankees would be more than glad to get three year of Wohlerian performances out of Robertson, even if it means his flaming out early.
We really don't know, however, if Robertson will make the correction. He can still be a useful cog if he continues to walk hitters at his current clip. But he'll be a much better fit for the late innings if he throws more pitches in the zone, or otherwise gets hitters to swing at more pitches out of the zone. That much is obvious. What I'll be looking at in the 2010 season is of the actual adjustments he makes. Clearly he's a talented pitcher. Maybe everything will come together for him at age 25.
Credit: AP Photo/Matt Slocum