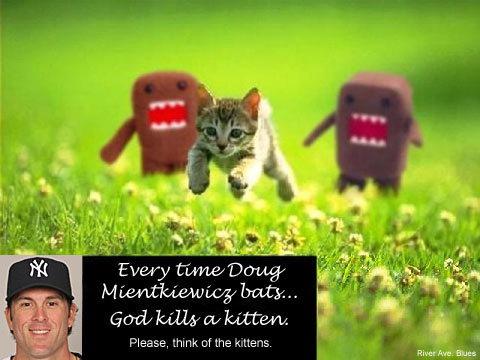 Ugly. Ugly. Ugly. That's all.
I understand it's only April and it's only A-ball, but it's hard not to get excited about what Ian Kennedy is doing this year. And what about that David Robertson kid? Man is he dealin' or what.
Hey look, at least the minor league squads won…
Triple-A Scranton (4-3 win over Columbus)
Kevin Thompson: 2 for 3, 1 2B, 1 E (fielding)
Andy Phillips: 3 for 3, 2 R, 2 BB
Bronson Sardinha: 0 for 5, 2 K – is it too soon to start thinking demotion to Trenton?
Shelley Duncan: 3 for 4, 1 R
Alberto Gonzalez: 2 for 4, 1 2B, 2 RBI, 1 K, 1 E (throwing)Â - is it too soon to start thinking utility role in the bigs?
Raul Chavez: 2 for 3, 1 R, 1 2B, 1 BB – catcher picked a runner off first
Tyler Clippard: 5.1 IP, 3 H, 1 R, 1 ER, 4 BB, 5 K, 3-6 GB/FB – best start since Opening Day, and that's not saying much
Ron Villone: 1 IP, 0 H, 1 R, 0 ER, 0 BB, 2 K – that's a funny line…here's what happened: Kevin Thompson committed a 3-base error (I'm guessing a ball went under his glove and back to the wall), and the runner was driven in by a sac fly
Chris Britton: 1 IP, 0 H, 0 R, 0 ER, 0 BB, 0 K – 4 for 4 in save chances
By

Damon CF Jeter SS Abreu RF Rodriguez 3B Giambi DH Matsui LF Posada C Cano 2B Mientkiewicz 1B Is it okay to hate Doug Mientkiewicz? I mean, it's not his fault he's starting — it's Torre's. But he's a backup first baseman at this point in his career, and if the Yankees wanted an efficient roster, Jason Giambi would be the backup first baseman. Not saying Phelps is the answer by any means. However, he's a much better option at this point, regardless of which hand the opposing pitcher throws with. Is it too much to ask a team with a $190 million payroll to go find a league average first baseman? Chris Shelton is rotting away in Detroit's AAA system. That's a start. Follow that lead. · (9) ·
So I'm digging through the pitch-by-pitch recap of last night's game, and I noticed something: of the 7 hits Hughes gave up, only 1 came after he was ahead in the count – Frank Thomas' single in the first, which came after Hughes had the Big Hurt down 1-2 in the count earlier in the at bat. What does that mean? Two things actually:
He needs to do a better job of getting ahead in the count (duh, that's pretty much the key to being an effective pitcher), and
He knows how to put guys away with 2 strikes.
Most young pitchers have trouble putting guys away with 2 strikes, often nibbling at the corners when they should be attacking the zone. Heck, some young guys don't even have a legit put-away pitch, which often leads to their downfall. Hughes didn't show that tendency last night, which obviously is a positive.
It looks like Hughes' next 2 starts will be at Texas on Tuesday, then home against the Mariner's next Saturday. The Rangers and Mariners both have lineups full of undisciplined hitters (both clubs have a team OBP of .304, tied for second worst in the bigs), and if Phil can keep up his "get ahead and finish'em off" routine, and limit how much he falls behind in the count, these next 2 starts could do wonders for his confidence. Assuming they keep him in the rotation of course…
Ben, Joe and I launched River Ave. Blues a little over 2 months ago with the idea of building a comprehensive, all-in-one Yankee blog that covered every aspect of the team, from game events to front office decisions to minor league action. Heck, we've even posted some info that we just thought you'd find interesting, even if it had little or nothing to do with our beloved Bronx Bombers.   
Unlike most new blogs, we came into this endeavor with a solid readership base already intact, thanks to our past blogging lives. However, over the last month or so we've seen our traffic increase steadily and pretty substantially, which was capped off yesterday with our best traffic day ever, as we grabbed over 2,000 unique hits (2,011 to be exact) and nearly 7,000 page views in all. As of this writing, we've already received over 830 unique hits and 2,750 page views today alone.
We want to thank you for helping this site grow to where it is now, and for helping it get to where it's heading. We greatly appreciate your interest, and we only hope to make RAB even more interesting, informative and entertaining in the future.
As always, you can contact us at riveraveblues (at) gmail (dot) com. Feel free to drop us a line with any questions or comments you have, or to let us know if there's anything you'd like to see more (or less) of on this site.
Thank you again, and GO YANKEES!!!
Ben, Joe & Mike 
Nerves struck Hughes in the first (understandable, heck I was nervous for the kid just watching on TV 3,000 miles away) and fatigue struck in the 5th (because of those ridiculous pitch counts from last year), but in between, Hughes was awesome. I thought he absolutely proved himself as ready for The Show.
He got squeezed on some pitches, but that's not an excuse. He's a rookie and he needs to establish himself before he starts getting those borderline calls, just like every other pitcher in the history of baseball. His curveball was good, filthy at times, and it's got a chance to be absolutely devastating once he acclimates himself. His changeup was what I said it was – a quality pitch. He got a nice amount of swing-and-misses on it.
Alex Belth made a great point: Hughes is the only starter the Yankees have that can consistently throw a fastball by a batter. That's why their starting pitching has been sucky, they aren't overpowering at all. The "outsmarting the hitter" schtick can get old when you see it 3 days in a row. Once in a while, you just need to reach back and use some brute force.
For a 20-yr old kid making his debut in Yankee Stadium admist a losing streak that seems longer than it really is, he did about as good as you could possible want. Too bad I won't be able to talk about him as a prospect much longer.
A good friend of mine – also named Mike – was at the game and got some video footage of Hughes. I was hoping for some better shots as well as better quality, but that's what you get for trusting a Canadian I suppose. Video after the jump…
It wasn't spectacular. It wasn't what we dreamed. But don't let the naysayers fool you: it also wasn't bad. Trust me, we're going to see a lot of innings like last night's second — strikeout, strikeout, ground out — once he settles into his new role.
Wednesday, I discussed the benefits of the rainout. And while the bullpen certainly needed a day off, and Andy Pettitte dramatically increases our chances for a win tonight, there was an intangible benefit to having Pettitte pitch Wednesday. Might Hughes have benefitted from watching Pettitte work the game prior to his? It's not a yes or no question, but it's definitely something to think about.
The natural reaction following any game like this is to watch Baseball Tonight and see what the "experts" have to say. Surprisingly, Orel Hershiser nailed the analysis: he was falling behind with his fastball in the first inning, leaving him little options behind in the count. It's a common ailment for rookies, whether they're 20 or 25, out of high school or with college polish. He came out in the second, flashed his curve more, and was able to make quick work of the Jays's B hitters.
That kind of pitch establishment will come with time. And, according to the logic I subscribe to and perpetuate, he'll best learn that in the majors. Some say that he needs to learn to hold men on and pitch with runners in scoring position. They say that if he faces many of those situations in the majors, he'll overthrow and become susceptible to arm injuries. I feel that those people are better at reporting than analyzing.
From NJ.com:
Horne, drafted by the Yankees in the 11th round in 2005 after being drafted by Cleveland (2001) and Anaheim (2004) and not sign ing, is in just his second year of pro baseball. The jump from Single-A to Double-A supposedly is the most difficult in a player's career.

"No, I don't think I am sur prised," Horne said after earning the win last night as the Thunder were victorious for the sixth game in a row, a 2-1 victory over the Connecticut Defenders in front of 3,910 at Waterfront Park.

"I have worked hard for a real long time now. Hopefully, it is a lot of hard work paying off."
…
"I am just trying to go out there every outing and execute all my pitches," said Horne, who missed 2002 and 2003 in college due to Tommy John surgery.

"All through spring training I have been concentrating on throw ing more strikes. That was the problem last year. I walked a lot of guys. I am pitching well enough now that I am making the other guys have to hit to score runs. As long as I don't give them extra base runners, I feel I will be fine."
Horne is probably my favorite Yankee prospect that is actually pitching these days (I'm talking to you JB). His trouble with walks last year is well documented, but this year he's completely turned it around, posting a 28-4 K/BB ratio in 22.1 innings. That's the long running theme amongst pitching prospects, they all have to learn at some point that you have to throw strikes and not be afraid of contact. Thankfully Horne seems to be past that step.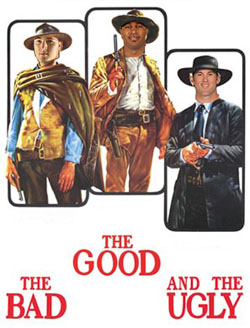 So maybe that didn't go quite as well as we hoped, but Phil Hughes' Major League debut was decidedly not terrible. We'll break it down over the course of the next day, and it looks now as though Hughes will start on Tuesday in Texas. For now, I want to bring you a few points from 20-year-old Phil Hughes' first Major League start, Sergio Leone style.
The Good: In between a bad first inning and a bad fifth inning, Phil Hughes looked pretty good. As Steve at WasWatching.com noted, Hughes did a masterful job getting out the Blue Jays' B hitters. And his strike out rate is now better than that of any other Yankee starter. His 5 strike outs in 4.1 innings translate into around 10 K/9 IP. With a 5:1 K:BB ratio, those are some fantastic peripherals. Hughes put these numbers up against a Blue Jay team that is league average in strike outs. The Rangers, his next opponent, are more frequent whiffers.
The Bad: Hughes had a very rocky first inning. It took him 27 pitches to get out of his first Major League inning. I would probably chalk that one up to nerves, and we'll have to see how he does in Texas. But he also struggled against the All Stars in the Blue Jays lineup. Vernon Wells was 3-for-3, and Frank Thomas knocked in two runs. Hughes' 7 hits in 4.1 innings isn't too good, but throughout his career, his first start at a new level has always been a struggle. He was victimized by a tight strike zone and a bad call at first base too. We'll see how he does next week against the Rangers. He'll have to develop some more trust in his breaking pitches, and he'll have to throw more strikes early on. Those are your keys to next week's Phil Hughes start.
The Ugly: Doug Mientkiewicz went 0-for-3 tonight batting in …. the Number 2 spot?!?! What the $#*& is that all about? Dougie Baseball is currently hitting .152 with a .250 OBP and a slugging percentage at around .250. He's 3 for his last 17, and that actually raised his batting average. So what does Joe Torre? He plugs him into a key spot in the lineup. Instead of going with Robinson Cano to avoid a lineup of three lefties in a row, instead of ever using Josh Phelps, Torre bats Mr. Automatic Out in the two hole, giving him four costly plate appearances. Doug Mientkiewicz with a negative MLV and a negative VORP is actually detracting from the Yankees' offensive output. I'm dumbstruck by his presence in the Number 2 hole.