Stop the presses, sound the alarm. Jose Tabata is injured. He left Sunday's game in the 7th, and hasn't played since. That's all I know right now. Here's updates on a bunch of other guys on the shelf…
Joba Chamberlain: still nursing the hammy, he'll be back any minute now…
Jesse Hoover: throwing in Extended Spring, I betcha he heads to Staten Island in July
George Kontos: on the DL, no word on why or when he'll be back
Tim Norton: just placed on the DL, who knows why or for how long
Lance Pendleton: has been throwing, should be back from TJ around mid-season
Marcos Vechionacci: out with a hand/wrist injury, no word on a timetable
And of course, the foursome of JB Cox, Chris Garcia, Mark Melancon and Humberto Sanchez are all out until 2008 with Tommy John, or Tommy John-like surgery.
Hopefully I won't be adding a certain 20-yr stud to this list anytime soon…
Triple-A Scranton (3-0 win over Toldedo)
Andy Phillips: 2 for 2, 1 R, 1 2B, 1 BB
Bronson Sardinha: 1 for 3, 1 BB, 1 K
the Duncan's: both 0 for 3, 1 R, 1 BB, 1 K
Alberto Gonzalez: 0 for 4, 1 RBI – 0 XBH in last 9 games
Mighty Matt: 5.2 IP, 2 H, 0 R, 0 ER, 5 BB, 5 K – 49 of 97 pitches were strikes (50.5%)
Chris Britton: 1 IP, 1 H, 0 R, 0 ER, 1 BB, 2 K
By

From the Boston Herald:

"I'm here to get my fair share of money. My main priority is to stay healthy and be able to make money, not to go out and try and hurry up and win a championship this year (at the risk of injury). … "I've got a lot of money to be made in this game, whether it's with Boston or not. My goal is to make sure I'm ready to play every day and to make money, and you can't make money if you're sitting on the bench. That's the way I look at it."

Yeah, he's a money closer alright. You can take that to the bank. (hat tip to YF vs. SF)

· (5) ·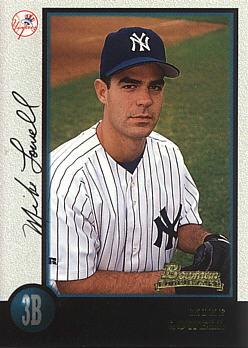 In obsessively checking this site's stat numbers conducting my daily look at our search hits for River Ave. Blues, I came across an interesting hit for the site. Someone searched for "Was Ed Yarnall released 2007″ and landed here. That got me thinking about Ed Yarnall, a one-time pitching prospect for the Yankees and the Marlins.
On February 1, 1999, Ed Yarnall served as the lynch pin in a deal that sent third base stud Mike Lowell – blocked at the Bigs by Scott Brosius – to the Marlins for Ed Yarnall, Mark J. Johnson and Todd Noel. Yarnall would be the only player in that trade to appear in pinstripes, and his 20 innings in the Bronx were far from memorable. He went 1-0 with a 5.40 while striking out 14 and walking 13 in 20 innings.
In 2000, the Yankees exchanged Yarnall and Drew Henson, among others, with the Reds for Denny Neagle, and Yarnall would never again pitch in the Bigs. He bounced around the Minors and pitched in 2006 for Omaha, the Royals' AAA affiliate. At the age of 31, Yarnall is now pitching in Mexico for Vaqueros Laguna. The other pieces in the Lowell trade – Noel, a former first round draft pick, and Johnson, who landed with the Tigers for 25 innings in 2000 – amounted to nothing.
So that got me thinking: Is the Mike Lowell trade one of the more disappointing deals of the Brian Cashman Era? With Scotty Bro holding down the Hot Corner, the Yanks had a valuable commodity in Lowell. But the Yanks got nothing in return, and Lowell went on to outperform Brosius from 1999-2001, Robin Ventura in 2002-2003 and Aaron Boone in 2003. It was only that arrival of A-Rod that pulled the Yankees third base spot ahead of Lowell.
Funny how these things work out sometimes.
As I've been noting throughout the year in Down on the Farm, Charleston righthanded reliever David Robertson is absolutely rolling. I've been getting a good amount of email and comments about him, so I thought it was worth it to drum up a post, filling you in on the relief version of Tim Lincecum.
So far this year Robertson's thrown 17.1 innings, giving up only 5 hits and 6 walks (0 runs, earned or otherwise) against 25 strikeouts. He's holding opponents to a get-the-hell-outta-here .086 batting average against, and he sports a nice little 2.86 GB/FB ratio. He's on Yanks' typical "2 innings every 3 days" plan for developing relievers, and has been especially unhittable since he went 1.1 IP, 2 H, 0 R, 0 ER, 2 BB, 2 K in his first outing of the year.
He attended the University of Alabama, where he was your typical do-everything college pitcher. He started some, he closed some, he came on in middle relief some, but his calling card remained the same throughout: lots of K's, but also a fair amount of walks. The Yanks took him in the 17th round with the intention of following his progress through summer ball, and boy did Robertson step up to the plate.
Pitching for Yarmouth-Dennis in the Cape Cod League, Robertson was perfect in 15 innings, striking out 15 men in the process. And when I say perfect, I mean perfect – he didn't allow a single base runner all summer. This is especially impressive because the Cape is basically a league of college All-Stars, where the best of the best go to strut there stuff for the following year's draft. Robertson also took home Playoff MVP honors on the Cape, a reward for his shutdown relief work. After that performance the Yanks showed him the money, giving him a bonus in excess of $100,000.
Rail thin at 5′-11″, 175 lbs, Robertson works primarily off his low-90′s fastball, which actually lost some heat since college. His slider is a hard downer, a knock-out pitch that he uses to record all those K's. He also throws a garden variety curveball and changeup, but as a reliever he'll use them about as often as a knuckleball or eephus pitch. He's done a good job of cutting down his walks, but the big test will come in higher levels, when he might not be able to simply pound the zone and overpower hitters as easily as Low-A guys.
He recently turned 22, so he is old for his level. A promotion to Tampa, and possibly even Trenton, is inevitable at this point, and he's very much a legit prospect. Given the injuries to JB Cox and Mark Melancon, Robertson has entrenched himself as the number 2 relief prospect in the system behind Kevin Whelan. If I were to whip up a prospect list today, I'd stick him in the 10-15 range.
EJ of Pending Pinstripes was wise enough to rank Robertson in his Top 30 Prospects, sticking him at number 27. Pinstripes Plus also has a recent article up on Robertson, though you need a subscription to read it.
(Photo via capecodbaseball.com)
**Correction** As commentor Lorraine points out, some of Robertson's Cape Cod League stats are incorrect. I took those stats from EJ's report on Robertson because I can't find 2006 Cape stats for the life of me. Since I still can't find any '06 stats, I can't update those numbers, but I assure you he was still awesome (I followed his progress religiously on one of my previous blogs, hoping the Yanks would cut a deal with him once the season was over). Mistake acknowledged though, my bad.
By

Excellent piece over at the Hardball Times today on the difference between Phil Hughes's mechanics in his start against the Jays and a start from 2006. There seem to be a few slight differences in the approach. He still keeps his arm low as he winds up and lets his lower half do much of the work. His shoulder flies open a little (remember Randy Johnson bitching about that?), and he has a slightly higher arm slot. I'm sure Gator as gone over similar video with Hughes, and it wouldn't be a surprise to see him tighten up his mechanics in a few spots this time around. · (5) ·
The Boss has spoken, and Cashman and Torre are safe for the time being. This may be upsetting to some, but it's a relief for others. The Yankees head to Texas in tact, in search of a few wins (with Phil Hughes's' first as a collateral gain).
This doesn't mean, however, that there won't be any shakeups. There are a few roster moves that could be made over the next few weeks that will completely alter the team's game plan headed into the season. But that's the beautify of baseball: the season is long, so if your initial plan fails, there's still time to tinker with it and create something that works. And when you have a bank account like the Yanks, changing courses becomes that much easier.
Before any moves are made, questions must be asked. Is this person going to work out? Are we dealing with too small a sample size to make a decision? If we don't unload this person now, what are the possible ramifications down the road? And on and on. We're all pretty familiar with the team's shortcomings right now, so let's get down to it.
Mike Myers
Most want him DFA'd, and I can't disagree. Myers's job is to get out tough lefties, but he's been more of a mop up man this year — and there's been tons of mopping to do. And, when he has been summoned to get a lefty out, he hasn't been at the top of his game (though an Ortiz double and the Crawford slam are the only ones standing out in my mind).
There is little reason to carry Myers on the roster. Even though the numbers say he's been better against righties this year, once again we're faced with a tiny sample size. If he returns to his career norms, he'll lose value as a mop-up man. And merely having a LOOGY on staff is a questionable practice, especially for a contenting team like the Yanks.
The solution: DFA him and call up Chris Britton. He'll be able to work in higher leverage situations than Myers without giving the entire Stadium a heart attack. Britton handled his own in the AL East last year. He's only pitched seven innings this year, and could definitely use the work. This is an easy to execute and smart move. In the words of California's governor: Do it! Do it now!
Man, David Robertson is on some kind of roll. If you go back to his performance in the Cape Cod League last year, his combined pitching line is 32.1 IP, 5 H, 0 R, 0 ER, 6 BB, 40 K. The Yanks didn't give him a 6-figure bonus as a 17th rounder for nuttin', but man, this is above and beyond the call of duty…
Triple-A Scranton (5-4 loss to Columbus)
Kevin Reese: 1 for 3, 1 R, 1 2B, 2 BB, 1 K
Bronson Sardinha: 1 for 4, 1 R, 1 HR, 2 RBI, 1 K – second straight game with a bomb
Shelley Duncan: 1 for 4, 1 R, 1 HR, 1 RBI, 1 K
Eric Duncan: 1 for 4, 2 K, 1 CS
Alberto Gonzalez: 2 for 4, 1 R, 1 K, 1 E (fielding) – 5 errors already for the potential Gold Glover…
Ross Ohlendorf: 5.2 IP, 6 H, 4 R, 4 ER, 2 BB, 5 K, 1 HB, 9-3 GB/FB – 73 of 101 pitchers were strikes (72.3%)Â 
By

If you're tired of all of the doom-and-gloom surrounding the last-place Yankees, have I got the piece for you. The Hardball Times' Sal Baxamusa takes a look at April baseball and decides that April tidings often mean, well, not as much as we think. Baseball is a marathon, and there's still plenty of time left for the lilting Yankees ship to right itself. · (1) ·
By

I can think of at least one more place Torre could have dropped another F-bomb. If you need a good laugh, check out this video of Torre arguing with some umps back in the day. If this was the Torre in the dugout nowadays, I don't think anyone would be calling for his head. Obviously, don't play this at work without headphones. Get there soon, though. Last time this video was posted, it was taken down within an hour. Huge tip of the cap to mg. · (3) ·