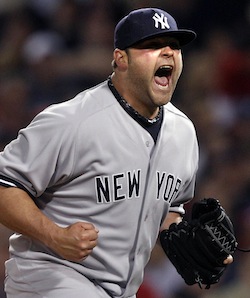 When the Yankees officially announced Joba Chamberlain as the team's official Eighth Inning Guy!!one!11 set-up man, the news landed with a nary a sound. Most Yankee fans knew that Joba would be, despite the Yanks' protestations, the set-up man soon enough, and although he hasn't been as dominant as we would like in the early going, he has done an adequate job limiting the damage so far.
Officially, Brian Cashman has said that Joba will be a starting pitcher in the future, but after three years of yanking him back and forth between the pen and the rotation, I can't help but think that the Yanks have made something of a final decision on Joba. He isn't working on maintaining his innings limit, and the team enjoys the luxury of having a shut-down reliever in front of Mariano.
Today, at ESPN's TMI blog Satchel Price from Beyond the Box Score examined five good reasons to move a starting pitcher to the bullpen. Price used Daisuke Matsuzaka as his test case and proposed moving him to the pen. The factors please:
They're simply not good
There's someone better on the way
Their stuff will play up in relief and the bullpen needs help
They face an innings limit due to age and/or inexperience
They may not be able to stay healthy pitching every fifth day
Now, clearly, these factors aren't mutually exclusive. A pitcher can have stuff that plays up in relief and may also face an innings limit. He might not be able to stay healthy, and someone else could be on the way.
For the Yankees and Joba, we've seen most of the factors at play. Number 1 doesn't apply to Joba because we know he can be that good. But, based on a very small sample, we've seen Phil Hughes supplant him in the rotation after a supposed competition and some good regular season results. We know his stuff will play up in relief, and while the Yanks don't need bullpen help, they can afford to take advantage of their depth at the Major League level. Joba did face an innings limit due to age, and the Yankees are concerned with keeping his arm healthy.
On their own, each individual factor doesn't explain the Yanks' thinking, but when considered as part of an overall picture, Price's proposal helps us understand why moving Joba to the pen works. It might not be the path to future pitching success, but for 2010, it should work out.