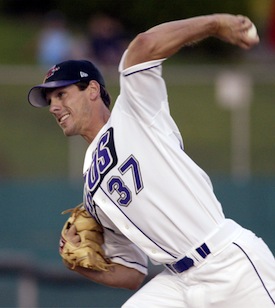 Since the Rangers downed the Tampa Bay Rays to earn the right to face the Yankees in the ALCS, most of the coverage has focused around Cliff Lee. The Yanks had to beat Lee's team last year to win the World Series; they almost traded for him three months ago; and they plan to go hard after him this winter when the southpaw hits free agency. It's a tailor-made situation for a compelling story, and Lee's story has led sports sections from Arlington to Armonk.
In response to the over-the-top Cliff Lee-Mania, RAB reader Richard Iurilli launched a Twitter phenomenon. "Cliff Lee throws so hard, he can throw a baseball around the world and strike himself out," he said. The kicker though was was the hashtag: #cliffleefacts. Said Joe Auriemma, "Cliff Lee can win a game of Connect Four in only three moves." Said Kelsey O'Donnell, "The apocalypse would come if Cliff Lee EVER loses a game." And on and on it went.
Yet, it's impossible to talk about the impending American League Championship Series without revisiting July 8, the day Cliff Lee maybe, kinda, sorta almost became a Yankee. In The Post today, Joel Sherman, seemingly the most connected of New York reporters, goes back inside the Cliff Lee negotiations, and for the most part, it's a story we know well. The Mariners were desperate to pry Justin Smoak from the Rangers, and they either wanted Eduardo Nuñez or Ivan Nova to join Jesus Montero instead of David Adams or were willing to use the Yanks to put the pressure on Texas GM Jon Daniels. Depending upon who you ask, a deal with the Yanks was on the verge of completion. "We had him," Brian Cashman said to Sherman. "We had a deal in principle pending physicals."
Sherman sheds some light on the process:
Around 9 p.m. Eastern Time on July 8, Seattle agreed with the Yankeees to accept Montero, Adams and righty Zach McAllister for Lee, and the sides swapped medical info. Around 3 a.m. Zduriencik called Cashman to say Seattle team doctors were concerned about Adams' right ankle. This confused the Yankees. Adams had been out since injuring his ankle sliding May 23, yet the Mariners kept insisting he had to be included and the Yankees only relented that night.

Seattle's concerns proved valid, as subsequent tests weeks later revealed a fracture and not a sprain for Adams.
Over the next several hours Seattle asked the Yankees to replace Adams. The Yankees offered touted righty Adam Warren. The Mariners said either Nova or Nunez must be the replacement, which was their initial position a week earlier. Cashman refused, stating the Yankees would not yield significantly more to get Lee for half a season than Philadelphia had given Cleveland to obtain Lee for a season and a half or Seattle had given Philadelphia to get Lee for a season.

Also, the Yankees came to believe Seattle had not shut down conversations with Texas. There are no written rules, but general protocol is that once a deal in principle is reached, then the trading teams go silent with other clubs.
Yankee fans spent the day waiting for the trade to become official on the 9th, and it never did. Now, instead of pitching Game 2 of the ALCS for the Yankees, Lee will face them in Game 3 on Monday night in the Bronx. "So be it," Cashman said. "If you want to be the best, you have to beat the best. We will find out in who has the best team. I have no regrets. I am comfortable with not [completing the trade]. In time we will learn if that was the right thing to do."
In his 3UP post today, Sherman discussed Lee at length and compared it to the Johan Santana situation. A few years ago, we lobbied hard against a trade that would have sent Phil Hughes along with at least Ian Kennedy and one or two other pieces to the Twins for Johan Santana, but this time around, I was more comfortable with the Lee trade. I can't speak for Joe or Mike here, but I worried about the Yanks' blown opportunity. I worried about Lee's future with another team, and I worried that Jesus Montero might just be a little bit overhyped. After all, even though the magazine ranked him the fourth-best International League prospect this year, Baseball America says his defense is highly suspect. If Montero is only a bat but not a catcher, his future value declines.
Of course, the Yankees have a plan, and they're going to stick to it. Brian Cashman knows that, as Tyler Kepner noted, when it comes to free agency, the Yanks get their guy. They got Mike Mussina and Jason Giambi, Hideki Matsui and Johnny Damon, CC Sabathia and Mark Teixeira. To the Yankees, money isn't an obstacle, and if the only thing that separates them from Cliff Lee is two weeks of the playoffs and a $110-million contract, so be it.
Still, even though Lee won't take the mound for another four days, his presence looms over this ALCS. He is Texas' savior, an ace they haven't had in decades, if ever, and he's the almost-was for the Yankees. Nearly a member of the team in July, Cliff Lee will once again try to stop the Yankees from winning a World Series for what hopefully will be the last time before he joins them.