By

I can think of at least one more place Torre could have dropped another F-bomb. If you need a good laugh, check out this video of Torre arguing with some umps back in the day. If this was the Torre in the dugout nowadays, I don't think anyone would be calling for his head. Obviously, don't play this at work without headphones. Get there soon, though. Last time this video was posted, it was taken down within an hour. Huge tip of the cap to mg. · (3) ·
No one can say it better than the Boss:
"The season is still very young, but up to now the results are clearly not acceptable to me or to Yankee fans. However, Brian Cashman our general manager, Joe Torre our manager and our players all believe that they will turn this around quickly. I believe in them. I am here to support them in any way to help them accomplish this turnaround. It is time to put excuses and talk away. It is time to see if people are ready to step up and accept their responsibilities. It is time for all of them to show me and the fans what they are made of. Let's get going. Let's go out and win and bring a world championship back to New York. That's what I want."
Phil Hughes's first major league win would be a nice start.
By

Following up on my post from last night questioning whether or not Torre should stay, Sports Illustrated's Jon Heyman notes that Don Mattingly is next in line to succeed Joe Torre as the Yankee skipper. While I'm in favor of making Mattingly the manager next season, I have to wonder if it's a good idea to send Donnie into this tempest in the middle of the season. Mike and I were discussing putting either Tony Pena or Larry Bowa into the manager's seat until the end of the year. The Yanks could then promote Mattingly for the 2008 season. Bowa would certainly be the one to light a much-needed fire under this lethargic team. · (3) ·
The Yanks are now losers of 8 out of their last 9, including a very costly 5 out of 6 losses at the hands of the Boston Red Sox. The team looks anemic at the plate, and the pitching is in shambles. It's safe to say that the Yanks haven't looked this bad since the early 1990s. At this point, the Joe Torre Job Watch is official on. Hoping on the bandwagon today is ESPN's Jerry Crasnick. Crasnick notes that Torre's successor to this mess will have a pretty thankless job. I think it might be time for Joe to go.
What do you think? Should the Yanks fire Torre and go with some combination of Mattingly/Girardi/Bowa in an effort to light some fire under this team? Sound off in the comments. We'd love to hear your take on a topic that should dominate headlines until the Yankee ship is righted.
Okay, it's the end of the month, where the hell is Joba Chamberlain???
Triple-A Scranton (7-1 win over Columbus)
Kevin Thompson & Jamal Strong: both 1 for 5, 1 R, 1 K
Andy Phillips: 2 for 4, 2 R, 1 HR, 1 RBI
Bronson Sardinha: 2 for 4, 2 R, 1 HR, 3 RBI, 1 K – first game back from injury, and he gets his first XBH in 8 games
Eric Duncan: 2 for 4, 1 R, 1 HR, 2 RBI, 1 K
Chris Basak: 2 for 4, 1 2B, 1 K
Darrell Rasner: 5 IP, 4 H, 0 R, 0 ER, 1 BB, 3 K, 3-9 GB/FB – definition of a AAAA guy
TJ Beam: 3 IP, 2 H, 1 R, 1 ER, 0 BB, 4 K
Gonna take the easy route today, and instead point you here. The notables:
Triple-A Scranton
Bronson Sardinha: 0 for 1, 1 R, 3 BB
Steven Jackson: 3.2 IP, 8 H, 6 R, 6 ER, 2 BB, 2 K, 6-2 GB/FB, 3 HR allowed
Double-A Trenton
Shawn Garrett: 4 for 5, 1 R, 1 2B, 1 3B, 1 HR, 2 RBI – triple in the first, double in the fifth, single in the 6th, homer in the eight makes the good ol' cycle
Chase Wright: 6 IP, 5 H, 2 R, 2 ER, 2 BB, 6 K
High-A Tampa
Reegie Corona: 0 for 5, 1 RBI, 1 BB, 1 K – 4 errors, all fielding
Jose Tabata: 1 for 4, 1 RBI, 3 BB, 1 K
Low-A Charleston
Mitch Hilligoss: 2 for 5, 2 R
Brian Aragon: 4 for 4, 1 R, 2 2B, 2 RBI
 
Julio Lugo's first-pitch comebacker off of Jeff Karstens's leg end up fracturing his fibula. He stayed in to face Youkilis, but after that, it was apparent that he couldn't continue. Yankee fans then collectively sighed as Kei Igawa was summoned from the bullpen. Our most recent memory of him was his 4.1 inning, seven earned run mess from Monday against the Devil Rays. Only the most optimistic of fans thought he stood a chance against the Red Sox. His wildness surely would have been his undoing.
Baseball is a funny game.
After somehow inducing a double play ball off the bat of Ortiz, Igawa went up 0-2 on Manny Ramirez. But, just as we thought Igawa was dealin', he freaking walked him. Ten pitches just to put the guy on first base. If Igawa gained any fans with the double play, they were gone by the end of that at bat. J.D. Drew's at bat involved plenty of grumbling on my part, but it ended with a swing and a miss. Go Kei.
We're now at the part of the recap where I question a Joe Torre decision. With Jeter on second, Senor Hustle at first, and a full count on Alex with one out, Joe tries the play I despise the most: the hit and run. Well, I certainly hope it was a hit and run. Otherwise, Jeter got such a terrible jump that he should have just put on the brakes. But I digress. Alex Rodriguez has struck out in 17 of his 63 at bats vs. Wakefield. He has reached base safely 23 times. There are few times, if any, that a hit and run is a good idea. But to do it even when the numbers aren't flush is just moronic.
So either Joe called a hit and run in a terrible station, or Jeter got a piss poor jump on a steal, and we're into the second. Before I could say, "man, Igawa is fuckin' us up," he has two down. Five pitches, Lowell and Crisp. Not the best hitters in the order, but hey, you gotta get the bottom of the order out, too. But, as if he's incapable of getting through an inning without pissing off an increasing number of fans, he walks Doug Mirabelli, a guy who walked 15 times in 202 plate appearances last year.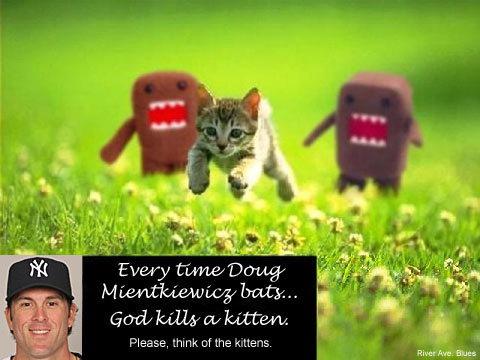 Ugly. Ugly. Ugly. That's all.