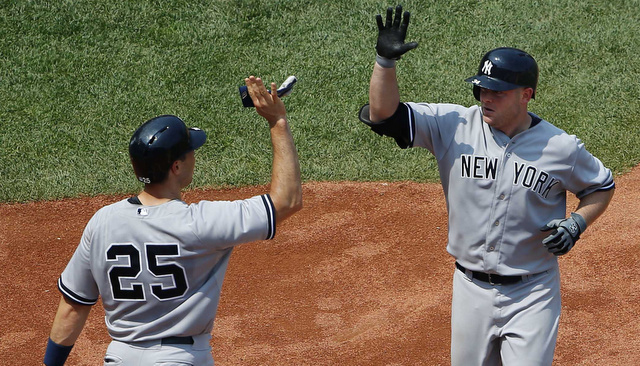 The Yankees are a team in transition, as they like to say, and that transition involves playing young kids over established veterans with some serious credentials. It's an obvious move to make but not necessarily an easy one. There are egos to be managed in the clubhouse, and an unhappy veteran can make things uncomfortable for a rookie trying to find his way in the show.
"I think it's difficult if the players are about them, but if the players are about the team and winning, I think they buy in, they understand and they do their job," said Joe Girardi to Mark Feinsand. "It's really important, because when they're willing to mentor, it really helps our young players. It does a lot for the clubhouse, too; the importance of the clubhouse staying together and understanding that we're still in this and we're fighting."
Alex Rodriguez has been pushed out the door, but Mark Teixeira and Brian McCann remain with the Yankees, only with reduced roles. Teixeira has started only one of the last four games and three of the last eight games. McCann hasn't caught a game in ten days now and he's been relegated to full-time DH duty. He's not a part-time player, but he kinda is. Teixeira and McCann are in new and unfamiliar roles.
I can't imagine these new roles feel like anything but a demotion for those two. How could they not? Teixeira went from batting in the middle of the order and playing every single day to playing two or three times a week. McCann has been a starting catcher in this league since he was 21. Suddenly that has been taken away from him and he's being asked to DH, something he's never done regularly before.
"I'm getting used to it. When all you know is catching, it's just a new routine. I've got to find a routine to work for me," said McCann to Dan Martin. McCann's situation is very different than Teixeira's. Teixeira is retiring after the season and he doesn't have to worry about his future as a player. McCann has two years left on his contract and right now he might not be sure what the future has in store for him. Will he be a full-time DH? Will he be an everyday catcher again?
So far McCann has done nothing but praise Gary Sanchez — "I haven't seen a young catcher this good since I've been in the big leagues. He's fun to watch play, and his ceiling is extremely high," he said to Martin — the kid who has taken his job. That's not really a surprise though. McCann came to the Yankees with a reputation for being a team first player and we've seen exactly that in his three years in pinstripes.
Teixeira has been a team first guy as well, and one of the reasons the Yankees aren't planning to trade him this month is his leadership and willingness to mentor young players. Brian Cashman and the Yankees value that leadership more than anything they could realistically get in return for Teixeira, which at this point might be a player to be named later or cash. Teixeira is like an extra coach now.
"I've really enjoyed hanging out with (Tyler Austin). I've known him for a few years in Spring Training, but first base is new to him. I was in his shoes my rookie year, learning on the job. I've really enjoyed talking to him about the ins and outs of playing first," said Teixeira to Feinsand and Martin. "I try to do as much as I can with Tyler or any of these young guys that are here … It might be different if I was still gonna be around and not retiring, but I understand these guys need to play."
This could have become a very uncomfortable situation, especially after A-Rod was shown the door. The Yankees made it abundantly clear they are ready to move on from the veterans and play the kids, even if it means eating a ton of money to cut a guy loose. That couldn't have made Teixeira and especially McCann feel too secure. It would be completely natural to wonder if you're next in that situation.
Instead, the Teixeira and McCann demotions have been a non-factor. If anything, they've been a positive because Teixeira is working with the young players and McCann has been productive in his new role (.286/.423/.429 as the full-time DH). We've seen other instances around the league where veterans were unhappy about losing playing and made a big stink about it. Teixeira and McCann have done the opposite of that. They might not love losing playing time (who does?), but they've handled this professionally, and that's important. They've helped foster a positive environment for the kids to develop.
"I told Joe when I decided to retire, 'Literally whatever you want me to do, if it's playing every day, once a week or once a month, I'll do whatever you want to do," said Teixeira to Feinsand. "I've done everything I want to do in this game. Because of that, it makes this process easier. If I play once a week, I'm going to be really excited about that one game I play. Those guys definitely need to play."