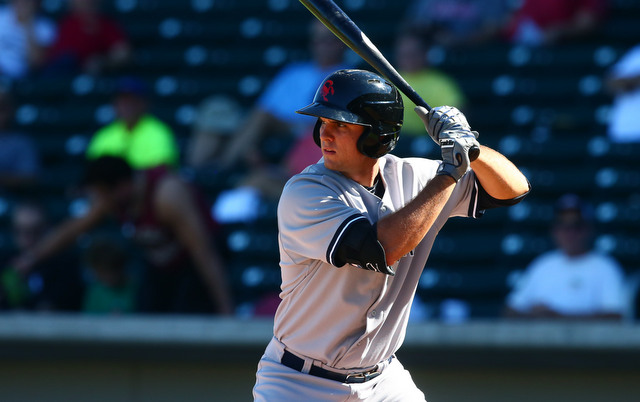 It has now been ten days since the Yankees played their final regular season game. The postseason has kept me from missing the Yankees so far, though that'll change eventually. Probably after the playoffs. Anyway, I have some thoughts about the 2016 season and the offseason ahead.
1. This is a very important Arizona Fall League season for the Yankees. Usually it's just a bunch of guys getting extra at-bats. This year the Yankees have one rehabbing big leaguer (Greg Bird), one rehabbing prospect (James Kaprielian), and one reclamation project (Dillon Tate) in the desert. Bird will hopefully be the full-time first baseman next season, and he's finally getting at-bats in the AzFL after missing the season due to shoulder surgery. Kaprielian, arguably the most talented pitcher in the system, will get a chance to make up for lost time after missing close to the entire season with an elbow problem. Tate's stock took a hit this summer as his velocity and stuff wavered. The Yankees want to get all three back on track, especially Bird and Kaprielian. They're important to the future of the franchise.
2. I'm usually paranoid about pitching depth. I'm always in favor of signing that one extra veteran to be the fifth starter and push the kids down to Triple-A. I'd rather have the arms and not need them then need them and not have them, you know? Despite that, I'm weirdly comfortable with the pitching depth the Yankees have at the moment. Luis Cessa, Chad Green, Luis Severino, and Bryan Mitchell all logged big league time this year, and then there's Jordan Montgomery and presumably Chance Adams in Triple-A. Severino is the only one of those pitchers with a really high ceiling, but I think they're all big leaguers, and I think the odds are pretty good we'll see each of them next season. Definitely the first four, assuming Green is healthy. Is a rotation featuring four of those guys going to win a championship in 2017? Nah. But I like all the live arms that are big league ready or close to it. It's been a while since the Yankees were this deep in potential starters.
3. Now, even with that pitching depth in mind, I do think the Yankees need to add a starter this offseason. A young controllable guy with high upside would be ideal. Someone like, say, Carlos Rodon or Jon Gray would be the dream scenario, just to throw some names out there. I'm not sure if that'll happen though. Plan B might be some riskier pitchers either due to injury or poor performance. Rich Hill will be the big free agent name this offseason, and I suspect he's going to get himself a nice contract. When I say riskier pitchers, I'm thinking more along the lines of Brett Anderson and Jaime Garcia (assuming his option is declined), or a trade for Tyson Ross. There's a chance they'll come reasonably cheap, and if healthy, they'll be pretty good. If not, then the Yankees can turn it over to the kids. Maybe I'm being too optimistic about the young starters. I'm known to do that in the offseason. It just seems like there are zero sure things in free agency. Not even a reliable veteran innings guy to be your fourth starter. So if no trade can be worked out, then taking shots on risky pitchers with upside and using the kids as a backup plan seems like a fine idea.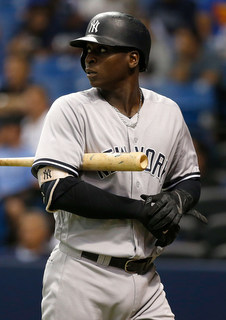 4. I'm not sure how this can be fixed aside from getting an entirely new offense, but the Yankees really need to improve their on-base ability going forward. They had a team .314 OBP (25th in MLB) and a 7.8% walk rate (19th). They also averaged only 3.83 pitches per plate appearance, which ranked 22nd in baseball. Their 77 games with no more than two walks were ninth most in baseball. That's a problem. The best thing a hitter can do in any given plate appearance is not make an out, and the Yankees were among the worst teams at not making outs this past season. Furthermore, one of their best count-workers (Mark Teixeira) is retiring and two others (Brett Gardner and Brian McCann) might get traded. Hopefully Bird's return and a full season of Aaron Judge will help correct this somewhat. With others like Didi Gregorius and Starlin Castro, this is just who they are. They're going up there swinging. Want the Yankees to score more runs? Then adding some more on-base guys to the lineup would be a good start. Gardner and McCann were the only full season regulars with a .331+ OBP in 2016. That ain't enough.
5. The Yankees re-signed pitching coach Larry Rothschild to a one-year contract last week, which means Rothschild, Joe Girardi, and Brian Cashman will be all be free agents next offseason. Probably the other coaches too, though I don't know their contract statuses. Point is, things are set up well for the Yankees to wipe the slate clean after next season should ownership decide to go in that direction. No one has to be fired. They can all be let go. I don't expect that to happen, at least not right now, but if the Yankees miss the postseason for the fourth time in five years, who knows. It would be easy to justify making sweeping changes. Either way, Cashman's contract and Girardi's contract are up after the season, and that's going to be a pretty huge story, especially if the club doesn't play in October again.