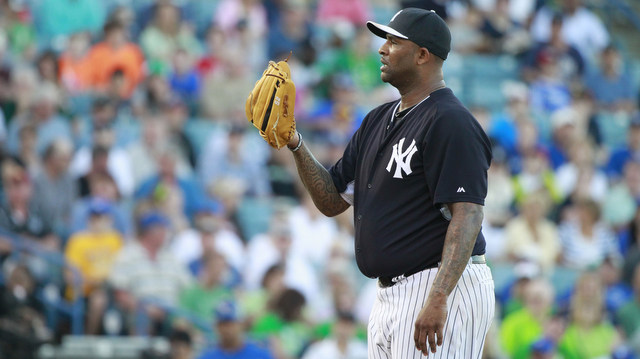 The Yankees will be on the east coast of Florida for their next two games, including this afternoon's match with the Mets in Port St. Lucie. It's a brand name pitching matchup too: CC Sabathia vs. Matt Harvey. Surely Sabathia is pumped to Harvey, right? "Not really. He's not on my team. I'm curious to see how Tanaka looks. That's my guy," he said to Chad Jennings. Right answer!
Today's reason to watch: Sabathia vs. Harvey! But mostly Sabathia, who is making his second official spring start and is probably slated to throw three innings and 45 pitches or so. His first Grapefruit League start was a mixed bag — his first inning was excellent, his second not so much — and he said his changeup in particular was not cooperating. So let's see if Sabathia irons that out this afternoon.
The Mets are playing all of their regulars this afternoon other than Daniel Murphy, who is nursing a hamstring injury. It'll be a nice test for Sabathia by mid-March standards. Here's the Mets' lineup card and here is Joe Girardi's starting nine:
Available Position Players: C Austin Romine, 1B Francisco Arcia, 2B Rob Refsnyder, SS Nick Noonan, 3B Cole Figueroa, LF Jonathan Galvez, CF Slade Heathcott, RF Aaron Judge, and DH Kyle Higashioka will be the second string off the bench. C Eddy Rodriguez, IF Dan Fiorito, and 1B/OF Tyler Austin drew the short straws and had to make the four-hour bus trip to be the extra players.
Available Pitchers: RHP Scott Baker, RHP Jose Ramirez, LHP Chasen Shreve, and RHP Chris Martin are scheduled to follow Sabathia. RHP Nick Rumbelow, LHP Jacob Lindgren, RHP Nick Goody, LHP Tyler Webb, and RHP Danny Burawa are the extra arms.
The weather is nice in Port St. Lucie this afternoon. Mostly sunny with temperatures in the mid-to-high-80s but not oppressive humidity. This afternoon's game is scheduled to begin at 1:10pm ET and can be seen on both YES and SNY locally as well as MLB.tv nationally. There's no local blackout for MLB.tv. Enjoy the game, folks.