By

Via the AP: Derek Jeter has scaled back his workload has he rehabs from left ankle surgery/setback in Tampa. He took five rounds of batting practice in addition to fielding 21 ground balls and running in straight line yesterday, compared to fielding many more balls and running the bases last week.

Jeter, 38, did not do any rehab work over the weekend, which Brian Cashman confirmed to Andrew Marchand was planned. I don't think this qualifies as a setback since he's still doing some baseball activity, but it's not terribly encouraging that the Cap'n had to reduce his work lately. I think we've all been expecting him to ramp it up a little more, if anything. Either way, it sounds like Jeter is still a long ways off from returning, and that's not good news. · (78) ·
This Yankees were off on Monday and will open their first interleague series of the season tonight, as the Diamondbacks come to town for a three-game set. Counting the currently injured Derek Jeter, only five players from the 2001 World Series remain active in the big leagues: Jeter, Andy Pettitte, Mariano Rivera, Randy Choate, and Alfonso Soriano. That's it. Doesn't that series seem like it was just yesterday? Where does the time go…
1. The Blue Jays designated Casper Wells for assignment yesterday, the second time the right-handed hitting outfielder has been cut loose in the last two weeks or so. He's a useful player — career 132 wRC+ against lefties (in limited time) with solid defensive numbers — who has gotten overrated the last year or two, which tends to happen when part-timers have some success. That said, I think he's an obvious upgrade over Ben Francisco and someone the Yankees should try to acquire given their general vulnerability against left-handed pitchers. At least four teams claimed Wells off waivers from the Mariners according to Jason Churchill, so the Bombers aren't going to be able to acquire him that way. They'll have to go out and make a trade with a division rival to make it happen. Tough to see it getting done.
2. Speaking of that vulnerability against southpaws, the Yankees lucked out quite a bit with their early season schedule. After seeing Jon Lester on Opening Day, they saw nine straight right-handed starters before the Orioles threw Wei-Yin Chen on Sunday. It would have been eleven straight right-handed starters if not for the two rainouts in Cleveland. That won't happen very often and the Yankees are lucky it did so early in the season. Things will change though, they're scheduled to see two lefties during the D'backs series (Wade Miley and Patrick Corbin) and a total of five lefties in the next eight games (Mark Buehrle, Matt Moore, and David Price are the others). I won't call any stretch of games in April a "defining stretch," but these next eight days will play a big role in how well the Yankees can stay in the hunt before their players start to get healthy.
3. I'm not going to lie, Andy Pettitte's back trouble has me pretty worried. The combination of his age and the fact that he hasn't had a full season in four years has me thinking nagging injuries could be the norm this summer. I mean, it took two whole starts before something started barking. Maybe the back will be a one-time thing or maybe he'll have to have starts pushed back due to aches and pains all year, but I feel like carrying two long-ish men in the bullpen (Adam Warren and David Phelps) is more of a necessity than a luxury right now. Phil Hughes and Ivan Nova certainly contribute to need that as well.
OF Slade Heathcott is still day-to-day with his neck strain, according to Mike Ashmore. Given his injury history and all-out style of play,"day-to-day" actually seems like an apt nickname. 2B Angelo Gumbs was placed on the DL today as well, hopefully for nothing involving the elbow.
Triple-A Scranton (10-1 win over Rochester)
By

The Yankees are off today, but baseball seems kinda pointless given everything that is going on in Boston right now. I hope all you from the area or you have friends and family in the area or whatever … I truly hope everything is okay. This is horrifying. Please keep everyone in your thoughts and forget about baseball tonight. Focus on what's important. · (155) ·
By

Via Dan Martin: There is still no timetable for Curtis Granderson and his fractured right forearm to resume swinging a bat. "Swinging was something that could happen," he said yesterday. "The timetable of when is still to be determined. After further consultation with the doctors and trainers, they decided to make sure I'm good throwing before I start to swing."

Granderson, 32, was cleared to resume throwing last week. Because he missed all but of five pitches of Spring Training, he figures to need a longer than usual minor league rehab assignment. This won't be a two or three day thing, he might need a week or ten days to prepare for the season. Maybe more. Joe Girardi said a May 1st return date is probably a little optimistic, but once Granderson is given the okay to start swinging a bat, they'll have a much better idea of when he'll be able to return to the lineup. · (13) ·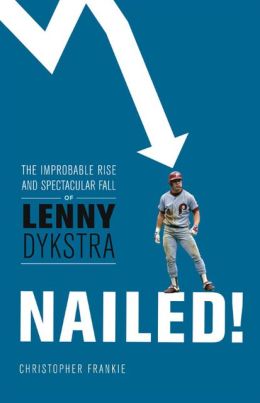 I recently had the opportunity to chat with author Christopher Frankie about his new book, NAILED! The Improbable Rise and Spectacular Fall of Lenny Dykstra. You may remember Lenny Dykstra from his time in the Majors (he played with both the Mets and the Phillies). You may remember him for his $55M car wash empire, or his affiliation with Mad Money's Jim Cramer. Or you may remember him for his increasingly baffling behavior that was so publicly scrutinized.
So without further ado, let me present Christopher Frankie.
Matt Warden: You were obviously motivated to write this book. What prompted that?
Christopher Frankie: First and foremost was the realization that this is an absolutely astonishing story and that my front row seat in 2008 allowed me to tell this insider's tale with the texture and context that was severely lacking in the mainstream narrative. Many people had heard some of Dykstra's story from TV and the newspapers, but I guarantee they haven't heard it like this.
On a personal note, I also wanted to show how and why so many smart, talented, hard-working and well-intentioned people got caught in Dykstra's web and had such a hard time walking away. It's a story of abuse, leverage, coercion and manipulation that I think will shock many people.
MW: What made working with Lenny so difficult to cope with?
CF: The manic and self-destructive behavior that wreaked havoc on everyone in Dykstra's life. The chaos he introduced into nearly every situation masked a lot of his misdeeds.
What also made working for Dykstra so difficult in 2008, when I worked for him, was the contrast between his public image and what I saw behind the scenes. The positive press, such as the HBO Real Sports feature, as well as Jim Cramer's endorsement, his $18 million mansion and private jet, all gave Dykstra added credibility and helped him explain away the "red flags" that would surface during the beginning of his financial downfall. It made it very difficult to discern fact from fiction at the time.
The 2013 amateur draft will be held from June 6-8 this year, and between now and then I'm going to highlight some prospects individually rather than lump them together into larger posts.
Hunter Renfroe | OF
Background
Originally drafted by the Red Sox in the 31st round of the 2010 draft, Renfroe didn't sign and instead followed through on his commitment to Mississippi State. He went into the weekend with a .414/.483/.828 batting line with 11 homers, 16 walks, and 19 strikeouts in 32 games after managing a .242/.318/.355 batting line during his first two years with the Bulldogs.
Scouting Report
Renfroe, who is listed at 6-foot-1 and 216 lbs., stands out immediately because of his right-handed power. He has arguably the most pop in the draft class and is capable of driving the ball out of any part of any park. His overall offensive game has taken a big step forward this spring and he's now among the best all-around hitters in the nation, with quick hands and a plan at the plate. Renfroe was one of those "has the high-end tools but needs to learn how to use them" guys for a while, selling out for power and struggling to make contact.
Defensively, Renfroe offers a big-time arm — he ran his fastball up to 96 as a reliever last spring — and enough speed and athleticism to handle center fielder, though right field might be his best long-term position. Renfroe caught in high school and as a freshman with Mississippi State, but a move back behind the plate is unlikely. Although the defensive tools are solid, he's clearly a bat-first prospect. There are plenty of videos on YouTube, and you can see above he's already got the bat flip part of his game down pat.
Miscellany
Baseball America (subs. req'd) ranked Renfroe as the 32nd best prospect in the draft recently while Keith Law (subs. req'd) did not include him among his most recent top 50 draft prospect rankings. However, during his chat last week Law did say he would "be a definite first-round pick if the draft were today" because of his offensive improvement. The Yankees had special assistant Jim Hendry on hand to watch the outfielder this weekend according to Kendall Rogers, so we know Renfroe is on the team's radar. College hitters tend to climb draft boards quickly due to strong performance more than any type of player, so the Bombers might not even get a chance to draft Renfroe with one of their three first round selections (26th, 32nd, 33rd) in a few weeks.
After the Yankees allowed Russell Martin to leave as a free agent this winter, they made it clear they would go with internal options behind the plate. The free agent and trade markets didn't offer a ton of catching solutions anyway, but going with some combination of Chris Stewart, Frankie Cervelli, and Austin Romine behind the plate was a very sketchy proposition. It became obvious Romine would open the season in Triple-A as Spring Training progressed while the other two shared catching duties in the Bronx.
"For the first month it will be somewhat of a process figuring out how you are going to do it," said Joe Girardi to George King on Opening Day when asked about how he would handle his catching situation. "It's something I thought about the last three or four days and talked to my coaches about it. Right now it's going to be a fairly even split and go from there."
That "fairly even split" has already disappeared two weeks into the regular season. The 27-year-old Cervelli has started nine of the team's eleven games so far, including all three against the division rival Orioles this weekend. That includes a day game after a night game on Saturday. Stewart, 31, was scheduled to start one of the postponed games against the Indians last week, but the Yankees used the rainout as an opportunity to essentially skip his spot and continue to keep him on the bench.
Of course, the reason Cervelli has seized the starting catching job so early in the season is his bat. He's mashed in those nine starts, going 9-for-25 (.360) with seven walks (.500 OBP) and one strikeout (!) while averaging 4.13 pitches per plate appearance. It's tough to take that kind of production out of the lineup given how poorly the bottom of the batting order has performed in general — the seven through nine spots combined for a weak .261/.314/.378 line heading into yesterday's game, and that's including Frankie.
Cervelli (and Stewart for that matter) hasn't really stood out defensively in the early going, but it has only been nine games. He hasn't had to use his much-improved throwing arm because opponents have only attempted one stolen base in his nine games — Cervelli threw out Prince Fielder of all people last week — though I guess that could be a reputation thing. Opponents know his throwing has improved and aren't even bothering to attempt a stolen base, something like that. Who knows. Frankie has allowed three balls to get by him in 72 innings behind the plate, but all three are wild pitches.
"Right now I feel I can catch every day in the Major Leagues,'' said Cervelli to King at the end of Spring Training. "It's not in my mind, but I'll let them decide. I have to talk with my actions and my game. That's my dream, catch 150 games.''
Well, catching 150 games isn't going to happen no matter what Cervelli hits or however many would-be base-stealers he throws out. He's not a true talent 185 wRC+ hitter and at some point his offense will return to Earth, but Frankie has already managed to play his way into a clearly defined clearly starting catcher role. That is exactly what the Yankees needed to see early in the season not just given all their injuries, but also for their future behind the plate. One year after being demoted to Triple-A, Cervelli has a golden opportunity to make himself a fixture behind the plate going forward, and he's already starting to take advantage.
Record Last Week: 4-1 (36 RS, 14 RA)
Season Record: 6-5 (60 RS, 47 RA, 7-4 pythag. record), 1.0 game back in AL East
Opponents This Week: Mon. OFF, vs. Diamondbacks (three games, Tues. to Thurs.), @ Blue Jays (three games, Fri. to Sun.)
Top stories from last week:
Please take a second to answer the poll below and give us an idea of how confident you are in the team. You can view the interactive Fan Confidence Graph anytime via the nav bar above, or by clicking here. Thanks in advance for voting.
Given the team's current roster construction, farm system, management, etc., how confident are you in the Yankees' overall future?
As much as I love homers and lots of offense, there is nothing quite like a dominant pitching performance. The Yankees got an absolute gem from their number two starter in an important early-season game on Sunday, shutting out the division rival Orioles 3-0.
#HIROK Star
This says all you need to know about Hiroki Kuroda's outing: the Orioles didn't get a man to second base until there were two outs in the ninth, and that was the result of an error. The veteran right-hander showed no lingering effects of the line drive he took to his finger tips two starts ago, keeping the Fightin' Showalters off balance with a two-seamer that was running all over the place and offspeed pitches that were dotting the edges of the zone. Kuroda threw 54 fastballs and 59 offspeed pitches (32 splits, 23 sliders, four curves), so yeah, good luck figuring out what was coming next.
Twenty-two of the 32 Orioles batters saw a first pitch strike and 24 of 27 outs were recorded on the infield (five strikeouts, 18 ground balls, one pop-up). Five singles, no walks, no hit-batsmen, and because no runners made it as far as second until the game was basically over, Kuroda was never really in much trouble and never once did it feel like Baltimore was on the verge of putting together something big. He was in complete control from start to finish. It was Kuroda at his finest. Just a joy to watch. I wish he was five years younger so they could give him a five-year contract. Seriously.
First The Small Ball, Then The Long Ball
Kuroda and Wei-Yin Chen matched zeroes for the first four and a half innings, but the Yankees finally broke through for three runs in the fifth. Brennan Boesch and Frankie Cervelli opened the inning with singles, and Boesch moved to third on Lyle Overbay's sacrifice fly. Backup backup shortstop Jayson Nix has been pretty terrible this year — came into the game 3-for-19 (.158) with eight strikeouts — but he plated the first run of the game with a sac fly to right. A run was sufficiently manufactured.
Of course, the Yankees are the Bronx Bombers are it's only a matter of time before they get back to hitting the ball out of the park. One pitch after Nix's sac fly, Brett Gardner (!) muscled up on a high fastball and clubbed a two-run homer high off the right field foul pole. It wasn't a Yankee Stadium cheapie, that thing was long gone. The only question was fair or foul. Two singles, two sac flies, and one really long homer resulted in a three-run lead. That was all Kuroda needed.
Leftovers
It's not that easy to win a game when your 3-4-5 hitters combine to go 0-for-11 with one walk and four strikeouts, but that's exactly what the Yankees did on Sunday. Heck, add in Vernon Wells and it's still 1-for-15 with a walk from the 2-3-4-5 hitters. The rest of the lineup went a combined 6-for-14 with a walk. The middle of the order has been carrying the offense early on, so it was good to see the rest of the guys pick them up when they had their first real bad game.
It's not easy to out-bad defense Eduardo Nunez, but Nix has certainly done it thus far this year. He fumbled the exchange on a double play pivot and then muffed a ground ball in this game, but thankfully neither came back to bite the team. Considering the injuries to Derek Jeter and Alex Rodriguez as well as Nunez's general shakiness, the Yankees need to find themselves a more reliable utility infielder at some point.
In other offense news, Gardner's dinger was only his third career homer off a lefty, and his first against a southpaw since taking Ricky Romero deep in July 2010. That one was his only career grand slam, as you surely remember.
Oh by the way, Kuroda has now recorded the last three Yankees complete-game shutouts. He did it on July 18th (seven innings, rain-shortened) and August 14th (two-hit the Rangers) of last year. Remember when everyone was worried how he would transition to the AL East? Good times.
Box Score, WPA Graph & Standings
MLB.com has the box score and video highlights, FanGraphs the other stats, and ESPN the updated standings.

Source: FanGraphs
Up Next
The Yankees are off on Monday, then the Diamondbacks come to town for the three-game series. Ivan Nova will kick that one off against Brandon McCarthy on Tuesday night. In case you're wondering, no, former Yankee Ian Kennedy is not scheduled to pitch in the series. Check out RAB Tickets if you want to go to any or all of the games.