By

Via Ken Rosenthal: The $20M release fee for Masahiro Tanaka will be paid out in two installments — $13M in 2014 and $7M in 2015. Under the old system, the posting fee had to be paid out in one lump sum as soon as the player signed. The installment plan was added to the new system as a way to give smaller market clubs a better chance of landing the player, which … whatever. MLB continues to bend over backwards for the small markets. This doesn't really impact the Yankees. · (41) ·
Man I hope all of you are staying warm tonight. It has been brutally cold in the Tri-State Area (the entire country, really) these last 24 hours and it's supposed to stay that way for another day or two. At least tomorrow the temperature will be in the 20s and not the single digits. Yeah, totally ready for the offseason to be over. Hurry up, Spring Training.
This is your open thread for the evening. The Knicks, Devils, and Islanders are all playing, so talk about those games or anything else on your mind right here. Go nuts.
Masahiro Tanaka might be on our minds, but he's no sure thing. Plenty of teams will bid for his services, and more than one source considers the Mariners, not the Yankees, as the frontrunners.* If they don't land Tanaka they'll certainly have to look elsewhere for a starter. Even if they do, it wouldn't hurt to add another reliable arm to the fold.
*The Yankees simply can't lose Tanaka to the Mariners, can they? Imagine losing the top pitcher and the top hitter on the FA market to the friggin' Mariners. I can't see Yankees' ownership letting that happen.
Earlier in the off-season, after the Yankees signed Jacoby Ellsbury and Carlos Beltran, we heard rumblings about Homer Bailey of the Reds. After losing Shin-Soo Choo, the Reds need both a leadoff hitter and a center fielder. They have ample pitching, and might not be able to sign Bailey beyond 2014, after which he becomes a free agent. John Fay of the Cincinnati Enquirer speculates that the Reds could create some payroll space for more moves (GM Walt Jocketty says they're out of money) by trading Bailey and his projected $9 million salary. If that's the case, the Yankees will certainly be on the phone.
Pros
After a rough start to his career, Bailey has turned into a fine pitcher. He might not be an ace, but he's solidified himself as a No. 2 or No. 3 option in the last couple of seasons.
In the last two seasons Bailey has shown great durability, making 65 starts and throwing 517 innings, 12th most in baseball. His 3.58 ERA ranks 35th (out of 74) among qualified starters, and his 5.7 bWAR ranks 29th out of 80 pitchers who made at least 50 starts over the last two seasons.
Fearful of an NL pitcher entering the Yankee Stadium bandbox? Bailey has made his home starts at the Great American Ballpark in Cincinnati, which has had a higher home run park factor than Yankee Stadium for the past three years.*
Bailey has a relatively clean bill of health. After some shoulder issues earlier in his career — he missed time with inflammation in 2010 and an impingement in 2011 (plus a shoulder sprain while hitting that year), he has missed no time in 2012 or 2013.
In the last few seasons Bailey has started employing a two-seamer more frequently, resulting in more ground balls (though he is by no means a ground ball pitcher). An increase in that trend can go a long way in Yankee Stadium.
Cons
Bailey won't come for free, of course. The Reds value him greatly, and have even discussed an extension with him. Chances are they can't afford him, but he is a good pitcher on a contender. They don't get dealt often.
Brett Gardner might seem like a surplus player at this point, but he can, and likely will, play an important role on the 2014 Yankees. Without a permanent DH, the Yankees will have plenty of at-bats for four outfielders. Absent Gardner, that becomes Ichiro (or perhaps, best case, Zoilo Almonte). That's quite a downgrade.
Because it appears the Reds don't need to deal Bailey, they could demand more than just Gardner, which makes the deal even less palatable.
Looking for a con for Bailey himself…it's sometimes a dicey proposition adding a fly ball NL pitcher to Yankee Stadium, but Bailey does show signs that he can adapt.
In himself Bailey looks like a fine option for the Yankees. Even if they don't trade for him, they could seek him out when he hits free agency after the 2014 season. Of course, with a third straight strong campaign he could be in line for a nine-figure contract.
Two weeks and three days from now, we will know where Masahiro Tanaka will spend the 2014 season. He's either going to sign with one of the 30 MLB teams by 5pm ET on January 24th or return to the Rakuten Golden Eagles for another year. I like having a hard deadline like that. Wish they could do it for every free agent.
The Yankees are expected to pursue Tanaka very aggressively and in fact, they've already made contact with his agent Casey Close. They haven't made an offer yet, at least as far as we know, but that will happen at some point relatively soon. The new posting system means the price for Tanaka will be enormous, larger than other Japanese imports and easily the richest deal ever given to an international player. (The current record is the $68M the White Sox gave Jose Abreu a few weeks ago.)
Who is Tanaka though? I mean, we know who he is, but what are his strengths and weaknesses? How is he expected to fare in Major League Baseball compared to the less competitive Nippon Professional Baseball? We've read bits and pieces about the right-hander in recent months but I think it's time to put together a one-stop shop for all things Tanaka. That's what I tried to do with this post — create a smorgasbord of information on the guy. If you have a question about him, hopefully the answer is here. Let's dive in.
The Vitals
Born: November 1st, 1988 (age 25)
Height: 6-foot-2
Weight: 205 lbs.
Bats/Throws: right/right
Background (i.e. short version of Wikipedia): Tanaka drew up in Itami, a suburb of Osaka in southern Japan. He attended Komazawa University Tomakomai High School in Hokkaido, which is a couple hundred miles from home in northern Japan. The Rakuten Golden Eagles, Nippon Ham Fighters, Orix Buffaloes, and Yokohoma BayStars all selected Tanaka with their first round pick in the 2006 NPB draft. The teams then drew straws and Rakuten won his rights. The NPB draft is weird.
Tanaka's nickname is Ma-kun and it's often abbreviated to just Ma. It doesn't actually mean anything from what I can tell, it's just a high school nickname that stuck. Tanaka's wife is Mai Satoda, a big time pop star in Japan.
Scouting Reports
This seems like the next logical step in this information overload. Here is a scouting report on Tanaka from Ben Badler (subs. req'd) back in August:
At 6-foot-2, 205 pounds, Tanaka throws a low-90s fastball that can touch 96 mph. Even though Tanaka can reach the mid-90s, his fastball is the pitch that gives some scouts pause because it comes in on a flat plane, making it more hittable than the velocity might suggest. Tanaka has two secondary pitches that have earned grades of 60 or better on the 20-80 scouting scale, including a 70 splitter with late downward action to keep hitters off his fastball. His low- to mid-80s slider is another plus weapon, while he'll mix in a curveball as well.
And here is another scouting report, courtesy of Keith Law (subs. req'd) and his top 50 free agents list from November (Tanaka ranked third behind Robinson Cano and Jacoby Ellsbury):
Tanaka used to pitch away from contact, but in the past two years, he has become more aggressive within the zone with his fastball, and his splitter is a solid 60 on the 20-80 scale. His fastball sits in the low 90s, and his slider will flash above-average to plus, while he mixes in a below-average curveball and a cutter, the same "kitchen-sink" approach pitchers often use in NPB but have to simplify when they come to MLB.

Tanaka's delivery doesn't include as much hip rotation as many pitchers developed in Japan; he hides the ball behind him but doesn't generate much torque, and he's got a big hook in the back of his delivery. He also missed a month with an undisclosed injury in spring 2012, which has to be a concern given his high workloads dating to high school.

The optimistic view of Tanaka sees incredible control and at least one pitch, possibly two, to miss MLB hitters' bats, making him worth the $15 million-plus it'll take in annual salary to sign him. There are absolutely reasons for skepticism here, but the same holds true for every free-agent starter on this list.
Courtesy of Sweeny Murti, Rakuten closer and former Yankees hurler Darrell Rasner recently spoke about Tanaka as a teammate and gave us a glimpse of how he's been using his workouts to prepare for MLB:
He's a good teammate. I've watched him last couple years and he's studied English, he's worked really hard on that. He was very good with us foreign guys (one-time Yankees Andruw Jones and Casey McGehee and former Phillies/Astros/Royals pitcher Brandon Duckworth also played for Rakuten in 2013). Just him working English and trying to communicate with the non-Japanese speaking players was really cool. A great teammate, fun in the clubhouse. His work ethic is awesome and just all around good guy, good heart.

…

The ball is different. The major league ball is a lot slicker and a little bit bigger. I don't know what it is, but (Japanese baseballs) do have some (grip) to them. But (Tanaka) plays catch with the major league ball and throws bullpens with the major league ball. I personally don't think its going to be a big thing for him. His competitiveness will get him through little things like that that other guys complain about. He's going to get through those.
This last nugget from Jeff Passan back in November isn't really a scouting report, but it does shed some light on how the Yankees view Tanaka:
Yankees officials are not concerned the rough tenures of Japanese pitchers Hideki Irabu and Kei Igawa would in any way repeat themselves with Tanaka. In fact, Yankees scouts compare his temperament and makeup to a player with far more success in New York: Hideki Matsui.
In other parts of their write-ups, both Balder and Law says Tanaka is viewed as someone who can step right into a big league rotation and be a number two starter almost immediately. It's worth nothing other successful Japanese starters have gone through what amounts to a one-year transition period — they really took off in their second MLB season, not the first.
Obligatory Video
Because we have to, here is some video of Tanaka from the 2013 season:
That's every one of his strikeouts, both regular season and postseason. I didn't bother to count but there are around 200 of 'em.
Obligatory Stats
Because we have to, here are Tanaka's career stats with Rakuten:
Yr
Age
Tm
W
L
ERA
GS
CG
IP
H
R
ER
HR
BB
SO
WHIP
HR/9
BB/9
K/9
K/BB
'07
18
Rakuten
11
7
3.82
28
4
186.1
183
83
79
17
68
196
1.347
0.8
3.3
9.5
2.88
'08
19
Rakuten
9
7
3.49
24
5
172.2
171
71
67
9
54
159
1.303
0.5
2.8
8.3
2.94
'09
20
Rakuten
15
6
2.33
24
6
189.2
170
51
49
13
43
171
1.123
0.6
2.0
8.1
3.98
'10
21
Rakuten
11
6
2.50
20
8
155.0
159
47
43
9
32
119
1.232
0.5
1.9
6.9
3.72
'11
22
Rakuten
19
5
1.27
27
14
226.1
171
35
32
8
27
241
0.875
0.3
1.1
9.6
8.93
'12
23
Rakuten
10
4
1.87
22
8
173.0
160
45
36
4
19
169
1.035
0.2
1.0
8.8
8.89
'13
24
Rakuten
24
0
1.27
27
8
212.0
168
35
30
6
32
183
0.943
0.3
1.4
7.8
5.72
7 Seasons
99
35
2.30
172
53
1315.0
1182
367
336
66
275
1238
1.108
0.5
1.9
8.5
4.50
Tanaka won the Sawamura Award (Cy Young equivalent) in both 2011 and 2013. Otherwise the stats looks good to me. I reckon the guy can pitch.
Stats, Now With Context
Did you know that offense (particularly power) had declined so much in Japan these last few years that NPB started using what amounted to a juiced ball in 2013 and didn't bother to tell the Japanese players' union until midseason? True story. Because of that, we need to add some context to Tanaka's stats otherwise we don't know what they're telling us.
Here's a table from David Golebiewski that compares Tanaka's performance over the last three seasons to the performances of other NPB aces during the three years before they came to MLB:
By now you know how ERA+ works, right? One hundred is league average and the higher the number, the better the pitcher performed relative to rest of the league. It's the same idea for K+, BB+, and HR+, just using strikeout, walk, and homerun rates, respectively. Got it? Good.
As you can see, Tanaka's performance relative to the rest of NPB these last three years is very much on par with Yu Darvish's performance the three years before he came stateside. He's also been way better than Daisuke Matsuzaka was before he came to MLB, ditto Kei Igawa and Hiroki Kuroda and pretty much everyone else. As far as NPB pitchers go, Tanaka has been as good as it gets.
About That Workload
Recently, both Tom Verducci and Passan noted Tanaka's massive career workload is a red flag. And make no mistake, it has been massive: over 1,300 innings before his 25th birthday, not counting the postseason. The only MLB pitcher to approach that number in recent years is Felix Hernandez, who chucked 1,388.1 innings before turning 25. Clayton Kershaw (1,180), CC Sabathia (1,165.1), Matt Cain (1,095.2), Dontrelle Willis (1,022.2), and Jon Garland (1,009) are the only other pitchers this century to throw more than a thousand innings before their 25th birthday. Here's the full list, if you're interested.
Of course, bulk innings are only one piece of the workload equation. Total pitches are another factor to consider and Tanaka sure has thrown a ton of pitches over the years. Here are some numbers from Passan:
Over the last five years, he has averaged more pitches per start, 113.3, than any pitcher in the major leagues. The closest is Justin Verlander at 112.9 and Felix Hernandez ranks second at 106.5. And it's not just the per-game haul. Some of the individual outings Tanaka has logged horrify the pitch-count phobes.

There were the 742 pitches Tanaka threw over six starts in a two-week span as a 17-year-old at the national high school baseball tournament. And the back-to-back 137- and 142-pitch starts at 20 years old. The coup de grace came during the Japan Series this season, in which Tanaka went 160 pitches during a Game 6 loss, then came back the next day and threw another 15 in relief to close out Rakuten's championship victory.
Amazingly, Passan never mentions in his article that NPB starters are on a seven-day schedule, not a five-day schedule like MLB starters (Verducci mentions it in passing). They start once a week in Japan, which allows their pitchers to throw a few extra pitches each time out. So while Tanaka has a lot of high individual game pitch counts, he also had extra rest. Here's another note on his workload from J.J. Cooper:
Over the past four seasons, Tanaka has averaged eight innings per start and he's pitched a complete game in nearly 40 percent of his starts. Over that same time frame Justin Verlander, considered the iron man of current U.S. starting pitchers, has averaged just under seven innings an outing and has pitched a complete game in 10 percent of his starts.

But Tanaka has been starting only once a week, not once every five days. And he's been doing it against lineups where he can quite clearly gear up for the middle of the lineup while cruising through the bottom third with lesser stuff, something BA's Ben Badler noted frequently during the 2013 season.
Does that mean Tanaka's workload is not a concern? Of course not. Throwing so many innings and pitches — especially at such a young age — is generally a bad idea. Pitching is an unnatural act and doing it a lot will lead to injury. It's inevitable. The injury could come next week, next year, next decade, who knows? But do it long enough and you're going to get hurt, guaranteed.
Dice-K and (to a lesser extent) Darvish were subject to similarly high workloads at a young age and were mostly lauded for being durable. That tone has changed in recent years, especially since Matsuzaka broke down two years after coming to MLB. As Verducci wrote two years ago, the Rangers made an effort to control Darvish's workload after signing him by reducing his side work and using off-days to give him extra rest throughout the season. Tanaka's next team figures to do something similar but there is no sugarcoating it: his workload is a red flag.
Force Those Comps
I hate comps, the cool shorthand for player comparisons. They're forced more often than not, especially when it comes to performance. Tanaka is from Japan and therefore we should only compare him to other Japanese pitchers, right? No. Well, not unless we're talking about workload/transition from NPB to MLB kinda stuff.
If we must (and I guess we must) come up with some comps for Tanaka, we should compare him to similar pitchers regardless of whether they were born in Japan, the Dominican Republic, or Southern California. We should compare him to other pitchers who don't walk anyone and operate with a low-90s fastball, one knockout offspeed pitch (preferably a splitter), plus another very good offspeed offering.
Jim Bowden mentioned Dan Haren as a comp for Tanaka while Tony Blengino (former stats guy in the Mariners' front office) mentioned Jered Weaver. Both pitchers are workhorse righties with average-ish fastballs and an array of secondary pitches. Haren in particular seems like a strong comp* because he used a splitter as well, though he is several inches taller than Tanaka and that's something to consider. Pre-shoulder surgery Freddy Garcia could be another comp as well.
* Haren averaged 4.7 bWAR and 227.1 innings per season from age 25-30, in case you're wondering. Everyone should be thrilled if Tanaka turns into Haren.
It's also worth pointing that like Tanaka, both Haren and Weaver work up in the zone with their fastballs and they've succeeded in MLB by generating weak fly balls. They don't get many grounders but the fly balls they get usually don't travel very far. Here are their batted ball distance charts, courtesy of Baseball Heat Maps: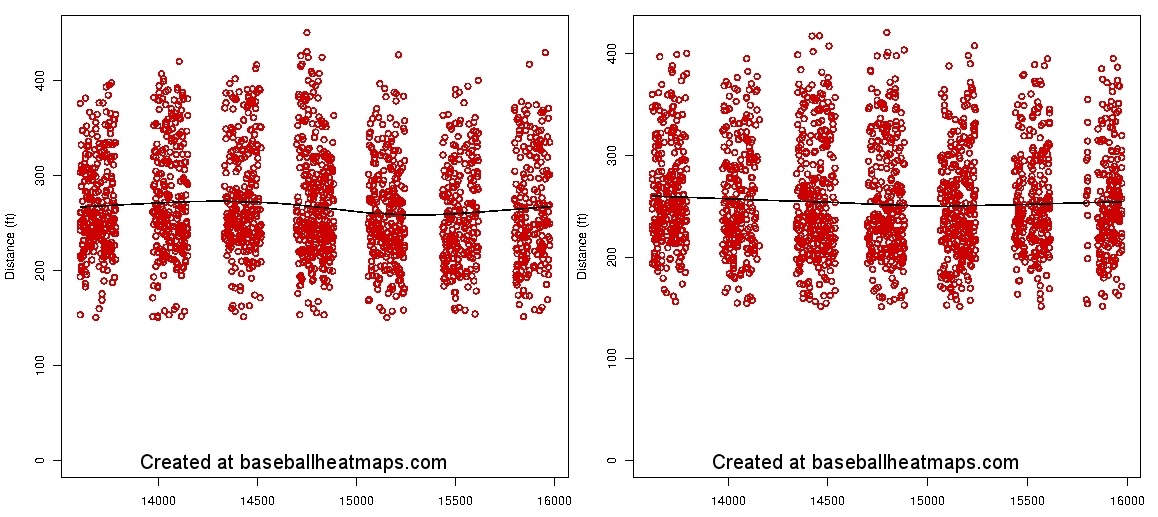 Haren is on the left and Weaver is on the right. You can click the image for a larger view, if you must.
The red dots are individual fly balls and the vertical clusters are seasons, so that's 2007-2013 from left to right. As you can see, both guys have consistently averaged 275-ish feet per fly ball over the years. A 275-ish foot fly ball is an out with a defensively competent outfield. There's a reason Haren (.288 BABIP from age 25-30) and especially Weaver (.268 BABIP from age 25-30) have enjoyed lower than league average (.297) batting averages on balls in play over the years. Those weakly hit fly balls are easy outs.
Anyway, back to Tanaka. Dave Cameron came up with some statistical comps — I don't necessarily agree with his 46-54% ground ball rate assumption, but let's roll with it — and the group ranges from awesome (James Shields, Cole Hamels, Zack Greinke) to eh (Jon Niese, Wandy Rodriguez, Edwin Jackson). More than anything, Cameron's list reinforces that the range of possible outcomes is huge. We can slap a comp on any player but they're usually unfair and almost always incorrect. Masahiro Tanaka isn't the next Darvish. He isn't the next Igawa either. He isn't the next anyone. He's the first Masahiro Tanaka.
Let's Talk Money
Thanks to the new posting system, Tanaka is a free agent with a $20M surcharge called a "release fee." Only the team that signs him has to send the $20M to Rakuten and apparently the release fee is paid out in installments over several years, so it isn't even a huge one-time payment (like posting fees under the old system) that would burden a small market club. The new system is very player friendly but it really sucks for his former team in Japan. Hard to understand why NPB agreed to it.
The FanGraphs crowdsourcing says most fans expect Tanaka to receive a six-year contract in the $120M-124M range, and according to our poll, that's maximum most RAB readers are comfortable paying him. That's just the contract, so add in the $20M release fee on top of that and total outlay is $140M-144M for six years. There's always a chance some team will go nuts and blow everyone else out of the water with a big offer, but six years and $120M-ish seems like the contract benchmark right now.
The Rangers paid a total of $107.7M for Darvish (contract plus posting fee) while the Red Sox paid $103.1M for Dice-K. Tanaka has way more negotiating leverage than both of those guys thanks to the new system, plus teams have more money to spend right now than ever before. It really is a perfect storm — the available free agent pitchers are all sketchy, the new national television contracts just kicked in, and the new posting system was implemented.
Given the Darvish and Dice-K costs plus general inflation, that $144M or so outlay for Tanaka actually seems like it might be a little light. I wonder if it'll end up being closer to $160M between the contract and release fee. Either way, it's the shape of that financial commitment that hurts the Yankees and really all big market teams. Only the contract is subject to the luxury tax, not the release fee. Darvish and Dice-K commitments were basically split right down the middle, posting fee and contract. Tanaka will be almost all contract.
The Yankees spent the last two years making move to help them get under the $189M luxury tax threshold in 2014 but lol that went right out the window as soon as they missed the postseason last year and lost nearly $60M in ticket revenue alone. Even with Robinson Cano in Seattle, the Yankees are going to be over the luxury tax threshold this coming year no matter what happens with Alex Rodriguez's suspension. There's certainly no way they'll be under if they sign Tanaka or a similarly priced pitcher.
A six-year contract worth $120M contract carries a $20M average annual value, so adding Tanaka would instantly cost the team $10M in luxury tax money next year. If they are over the $189M threshold in 2015 and 2016 — seems likely given their current contract commitments — that's another $20M total in luxury tax money thanks to Tanaka. The Collective Bargaining Agreement expires following the 2016 season and who knows what will happen with the luxury tax then. Given how healthy the game is financially, I think they'll have to raise the threshold to $200M or so at the very least. But I digress.
Tanaka would not be a $140M-ish commitment for the Yankees. He would really be something like a $170M-ish commitment thanks to the luxury tax, maybe more depending on what happens with the next CBA. Thanks to their payroll level, every dollar the Yankees spend on player contracts from here on out is really $1.50. That's not insignificant and, as Hal Steinbrenner has made abundantly clear the last two years, ownership is very concerned about the bottom line.
The Competition
I looked at the competition for Tanaka a few weeks ago, but since then Badler reported the Mariners are seen as the favorite to sign him. At the same time, Ken Rosenthal reports the Mariners' front office needs to persuade ownership to open up the wallet to make another big move(s). Given the size of Tanaka's inevitable contract, just about every GM will have to convince their owner he's worth it. I'm not sure Seattle is unique in that regard.
Based on everything we've heard in recent weeks, here's how the competition for Tanaka stands right now:
Serious Bidders: Cubs, Dodgers, Mariners, Yankees
Second Tier Threats: Angels, Blue Jays, Phillies, Rangers, Red Sox, Tigers
Interested But Financially Disadvantaged: Braves, Diamondbacks, Indians, Orioles, Pirates
That's half the league right there. Some of those second tier clubs could simply be playing possum and preparing a massive offer for Tanaka. They all have the financial wherewithal to make a market changing offer if ownership really wanted.
The great unknown here is Tanaka's personal preferences. Is he simply going to shoot for the largest payday? Or does he want to go somewhere where he's comfortable and the travel back to Japan is relatively easy? Is being able to wear #18 — considered the "ace number" in Japan — important to him? That would put the Yankees (Kuroda) and Mariners (Hisashi Iwakuma) at a disadvantage. Those and a million other questions can be answered only by Tanaka and his agent. The Yankees' greatest advantage here is their money — they can match pretty much any offer he gets if they really wanted — and maybe (only maybe) the presence of Kuroda and Ichiro Suzuki as well. Just because they're all Japanese doesn't mean they're guaranteed to get along, you know.
Tanaka is the first truly great Japanese pitcher who will be able to pick his MLB team. Darvish and Dice-K were stuck going through the posting system and both Kuroda and Iwakuma were considered good but not great pitchers when they came over as free agents. (Both have exceeded expectations in MLB.) By my unofficial count, 37 players have come over from Japan as free agents and there was no discernible location bias: 14 signed with East Coast teams (including NPB stars like Hideki Matsui and Kaz Matsui), 12 signed with West Coast teams (Kenji Johjima and Hideo Nomo), and the other 11 signed with Middle America teams (Tadahito Iguchi and Kosuke Fukudome). Japanese players have not shown an inclination to stay on the West Coast so the travel back to Japan is easier, but Tanaka may feel differently. We just don't know.
* * *
Thanks to the new posting system, Tanaka is the most compelling free agent in recent memory. He's a complete unknown at the big league level yet the tools are there for him to be an impact player right away. It's almost as if a draft prospect like 2009 Stephen Strasburg or 2011 Gerrit Cole were a free agent, except you don't have to worry about stretching him out to 200 innings. Some team — and I truly hope it is the Yankees — will pay Tanaka a boatload of money without being completely sure of what they're buying.
Hopefully any and all of your questions where answered in this post but I really doubt it. So much about this situation and Tanaka himself is mystery to us, from where we sit. Despite all the money being thrown around and all the scouting that has taken place — the Yankees have heavily scouted Tanaka, including sending both assistant GM Billy Eppler and former special assignment scout Don Wakamatsu to see him — no one knows how this guy will fare in MLB until he gets up on a mound. I find this whole situation fascinating and I'm really looking forward to seeing it play out.
The Yankees have backed out of a deal that would have moved their High Class-A affiliate from Tampa to Ocala, reports WFTV Channel 9. Susan Latham Carr says the agreement is technically suspended until April, but it is unlikely to completed. Apparently the team withdrew their relocation plan after getting some resistance from the local community regarding a proposed tax hike that would have paid for a new ballpark. The city of Ocala is out the $300k it spent trying to woo the team.
"While we expected to bring the community together with this project, it has unfortunately become a source of division," said Ocala City Council President John McLeod. "They were a little taken aback at the first county commission meeting where they were expecting a little bit more united support, and they didn't get that. That's politics. That's the way things go sometimes."
The Yankees have been looking to move their High-A affiliate out of Tampa for a while now and this isn't the first relocation deal that has fallen through — a plan to move the club to Orlando fell apart back in 2010. The deal with Ocala, which was agreed to back in October, included a new $45M ballpark that would have been built in time for Opening Day 2016. A half-cent sales tax increase over the next ten years would have paid for the facility.
Relocating the High-A affiliate is all about finding a better and more lucrative market. The Florida State League has historically struggled with attendance and High-A Tampa averaged only 1,827 fans per game last season, fourth best in the league. They're stuck competing with the Rays, the NHL's Tampa Bay Lightning, and various collegiate sports. Moving the team a hundred or so miles north to Ocala would have eliminated some of that competition.
The Yankees will surely continue to look to relocate their High-A affiliate, but they are locked into Tampa for Spring Training. That isn't changing no matter what. The team still has a 12 years left on a 30-year contract that will keep them in Steinbrenner Field for Spring Training and Grapefruit League play.
I know hot stove news should pick up now that the holidays are over, but man I am so ready for this offseason to end. Sitting around waiting for the Alex Rodriguez ruling — which could come at any moment now — is probably the worst part of any offseason I can remember. At least the Masahiro Tanaka stuff has a deadline. This just never seems to go away. Sick of it. Bring on Spring Training already.
Here is your open thread for the night. Florida State and Auburn are playing the National Championship Game tonight plus the Rangers, Islanders, and Nets are in action as well. Talk about those games or anything else right here. Have at it.
By

Via Rob Biertempfel: The Yankees had interest in bringing outfielder Chris Dickerson back before he took a minor league contract with the Pirates earlier today. Dickerson told Tim Williams he signed with Pittsburgh because their right field job is wide open, at least until top prospect Gregory Polanco shows up.

Dickerson, 31, hit .238/.266/.400 (78 wRC+) with four homers and five steals in 109 plate appearances for the Orioles last season. He also hit .243/.350/.368 (104 wRC+) with two homers and one steal in 160 Triple-A plate appearances. I've always liked Dickerson because he does a little of everything — he's got some power, got some speed, and he's a really good defender. Not sure what more you'd want in a cheap extra outfielder. If the Yankees can unload Ichiro Suzuki, Dickerson could have filled his role (pinch-runner and defensive replacement). No surprise he went for the better opportunity though. · (18) ·
In 19 days, we will know where Masahiro Tanaka will pitch next season one way or another. He'll either sign with an MLB club or return to the Rakuten Golden Eagles for another season. The Yankees are expected to be heavily involved in the bidding for Tanaka, and, until his January 24th signing deadline passes, the right-hander figures to dominate the hot stove headlines.
The Bombers definitely need another starter — you can argue they need two more starters, really — and that is the top priority right now, but they also need bullpen help. Quite a bit of bullpen help, really. The Yankees have already signed lefty Matt Thornton to a two-year deal but he is just a lefty specialist at this point of his career. They could use another non-specialist — someone who can get both lefties and righties out — to pair with David Robertson and Shawn Kelley. Someone to knock the Dellin Betanceses and Preston Claibornes of the world down a peg.
We've already looked at Grant Balfour, who would be a great bullpen addition after his deal with the Orioles fell through. Great as long as the medicals check out, I mean. Other big-ish name relievers available in free agency are Francisco Rodriguez, Fernando Rodney, and former Yankee Luis Ayala. That's … not very appealing. There are also plenty of reclamation project types though, guys coming off injury and/or poor performance who could sign relatively cheap. Maybe even on a minor league deal. Here's a run down of the reclamation project lot.
Andrew Bailey
Bailey, 29, is a New Jersey native who was one of the very best relievers in baseball while with the Athletics from 2009-2011 (2.07 ERA and 2.74 FIP). The last two years with the Red Sox have been a struggle both performance-wise (4.91 ERA and 4.68 FIP) and physically, as thumb and shoulder surgery have sidelined him.
Bailey had surgery to repair a torn shoulder capsule in late-July and the next pitcher to come back from a torn capsule to be even league average will be the first. Its list of victims includes Chien-Ming Wang, Mark Prior, Rich Harden, Johan Santana, and John Danks. Given the timing of the surgery, it's unlikely Bailey will be able to pitch at all in 2014. At least not enough to make a real impact.
Mitchell Boggs
Two seasons ago, the 29-year-old Boggs was a key cog in the Cardinals' bullpen as they advanced to the NLCS (2.21 ERA and 3.42 FIP). Last season was a total disaster (8.10 ERA and 7.42 FIP) as he lost the strike zone (7.71 BB/9 and 16.7 BB%) and found himself back in Triple-A, where he wasn't much better (6.07 ERA and 5.09 FIP).
Boggs wasn't hurt in 2013, he was just terrible. He's always been a hard-throwing guy with sketchy command, but everything fell apart last year. The Mets, Cubs, Phillies, Indians, and Mariners are among the clubs with interest in him according to Jayson Stark. The Cardinals know pitching as well as anyone, and if they cut ties with Boggs — they traded him to the Rockies for a small amount of international spending money in July — he might not be salvageable.
Octavio Dotel
The 40-year-old Dotel was still going strong in 2012, when he had a 3.57 ERA and 2.30 FIP for the Tigers. He was limited to only 4.2 innings last year thanks to elbow inflammation that which required platelet-rich plasma treatment, according to Bob Nightengale. Dotel hoped to be healthy in time to showcase himself in winter ball, but that didn't happen. Given his age and injury, Dotel is as risky as it gets. Add in his career-long problems with lefties — he's basically a right-handed specialist — and there's even more reason to be skeptical.
Joel Hanrahan
The Red Sox acquired Hanrahan last winter and he lasted only 7.1 innings before blowing out his elbow in mid-May and needing not only Tommy John surgery, but also surgery to repair a torn flexor tendon and remove bone chips from his elbow. Before getting hurt, he was awesome with the 2011 Pirates (1.83 ERA and 2.18 FIP) and slightly less awesome with the 2012 Pirates (2.72 ERA and 4.45 FIP).
Hanrahan, 32, is currently throwing off a mound as part of his rehab and he plans to showcase himself for teams in Spring Training, so says Tim Dierkes. Elbows are generally fixable and Hanrahan has always been a high-strikeout (career 9.29 K/9 and 24.0 K%) guy with no substantial platoon split. His experience as a closer is a plus, but, given the Yankees' bullpen situation, not exactly a requirement at this point.
Ryan Madson
Elbows are generally fixable like I said, but Madson is the exception. The 33-year-old had Tommy John surgery in April 2012 and has not pitched since due to rehab and subsequent setbacks. He had another surgery last May to clean out scar tissue. Madson, who was unreal before getting hurt (2.78 ERA and 2.74 FIP from 2009-2011), has been holding private workouts for teams in recent weeks according to Jon Heyman. There's really not much more he can do at this point. He's a total unknown after missing two full years.
Eric O'Flaherty
O'Flaherty, 28, is the only left-hander in this post. He was stellar with the Braves from 2010-2012 (1.59 ERA and 2.98 FIP) because he dominated lefties (.219 wOBA against) and held his own against righties (.293 wOBA against). O'Flaherty blew out his elbow late last May and had Tommy John surgery, which figures to keep him out until midseason 2014.
The Braves have been talking with their former southpaw about a reunion all winter, and a few days ago Dave O'Brien said talks were still ongoing. With Thornton slated to be the top lefty come Opening Day, the Yankees can afford to be patient and wait for O'Flaherty — who is more than just a matchup southpaw, remember — to be ready at midseason. It's worth noting O'Flaherty and former teammate Brian McCann are very good friends — McCann said he took #34 with the Yankees to honor O'Flaherty — which could give New York a recruiting edge.
* * *
The price for reclamation projects has gone up in recent years, just like it has for all free agents. Getting these guys on minor league contracts is the best case scenario but it might not be possible at this point. Bailey's shoulder injury really scares me and the fact and he's unlikely to help much in 2014 makes him an easy pass in my opinion. Hanrahan and O'Flaherty are the most appealing to me with Madson a distant third.
The Yankees can use some more certainty in the bullpen right now and none of these guys provides it. I think they need to add another reliever (or two) who they can count on to be ready for Opening Day. If they could snag someone like that plus, say, Hanrahan on a one-year deal (with an option, ideally) and treat him as a midseason pickup, great. I'd rather not see the Yankees treat a reclamation project as Plan A, however.
The Yankees need bullpen help and they have some extra outfielders lying around, ergo trading an outfielder for a reliever seems like an obvious move to make. It's not that easy though. It takes two teams to tango and the outfielders worth trading aren't all that appealing. Finding a trade match won't be easy. Then again, Ken Rosenthal threw this out there late Saturday night:
Don't be surprised if the Diamondbacks trade right-hander J.J. Putz following their addition of former White Sox closer Addison Reed. Putz is signed for $7 million in 2014, and the D-backs most likely would be required to accept a comparable salary in return.

Yankees outfielder Ichiro Suzuki, earning $6.5 million, could be one possibility, though it is not known whether Yankees ownership would part with Suzuki or how he would adjust to a backup role.
First things first: that's not really a rumor. It looks like speculation more than anything. Of course, it also seemed like speculation when Rosenthal said the Phillies could trade Cliff Lee to the Mariners for prospects and then acquire Roy Halladay from the Blue Jays a few years ago, so who knows. (The original Lee-Halladay story seems to be gone, sadly.) The man is well-connected and his speculation tends to be informed speculation, so maybe there are some legs to an Ichiro-Putz swap.
The Diamondbacks overhauled their roster this offseason and part of that overhaul included trading for Reed, who figures to take over as closer. Putz was shaky early last season before landing on the DL for two months with an elbow problem in early-May. He never did get his closer's job back, instead spending the rest of the year in a setup role. Putz, who will turn 37 next month, had a 2.36 ERA (3.83 FIP) in 34.1 innings in 2013. From 2010-2012, he posted a 2.60 ERA (2.48 FIP) in 166.1 innings. He was excellent.
Injuries, specifically elbow injuries, have been a big problem for Putz over the years and therein lies the risk. He's had two elbow surgeries (nerve problem in 2008 and bone chips in 2009) and dealt with various strains and inflammation (2007, 2009, 2011, 2013) throughout his career, so missing time last summer was not exactly a surprise. He's an even bigger risk now that's approaching 40, but, when he's healthy, Putz is pretty good. Certainly better than most of the guys the Yankees currently have lined up for the bullpen.
One potential obstacle standing in the way of an Ichiro-Putz trade is Arizona's outfield depth. They aren't the only team with a logjam. The D'Backs are currently slated to go into the season with Mark Trumbo in left, A.J. Pollock in center, and Cody Ross in right with Gerardo Parra the heavily used fourth outfielder. Tony Campana, who is very similar to Ichiro at this point, is the fifth outfielder. Maybe they prefer Ichiro's experience and name value to whatever Campana brings to the table.
Ichiro's role on the Yankees right now is basically pinch-runner and defensive replacement. Not exactly hard to replace. They've been shopping him in hopes of saving some money but trading him for a useful (albeit risky) bullpen arm like Putz would be even better. Their contract situations are similar — they're owed almost identical salaries in 2014 as Rosenthal pointed out, and both guys will become free agents next winter — and the Yankees would take a step towards addressing a pressing need. I don't really care how the deal would help the D'Backs, to be honest. All I know is if they're open to dealing Putz for Ichiro, the Yankees should jump all over it.
2013 Season: 85-77 (637 RS, 671 RA, 77-85 pythag. record), didn't qualify for playoffs
Top stories from last week:
Please take a second to answer the poll below and give us an idea of how confident you are in the team. You can view the interactive Fan Confidence Graph anytime via the nav bar above, or by clicking here. Thanks in advance for voting.
Given the team's current roster construction, farm system, management, etc., how confident are you in the Yankees' overall future?