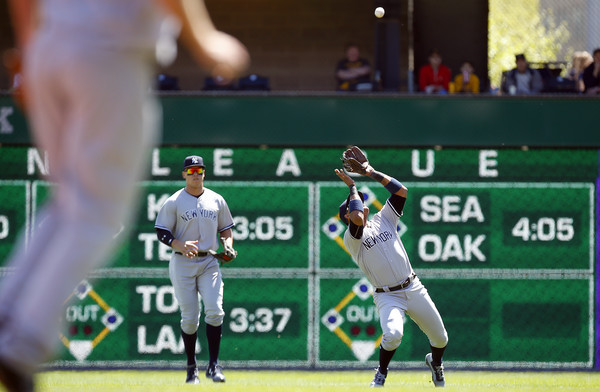 The 2017 regular season is only 23 days old, yet yesterday was already the fifth off-day for the Yankees. Geez. I know there are always a lot of off-days in April because of weather concerns, but five in the first three weeks of the season seems … excessive. Whatever. It is what it is. Here are some thoughts as the Yankees gear up for tonight's series opener against the Red Sox.
1. I know the Yankees lost the series in Pittsburgh over the weekend, which is especially annoying because Sunday's game was very winnable, but overall, I would have signed up for an 11-7 start to the season in a heartbeat back in January and February. The 11-7 start isn't a mirage either. Here are some numbers:
Run Differential: +30 (1st in MLB)
Team wRC+: 123 (1st in MLB)
Team ERA: 3.17 (2nd in MLB)
Runs Scored Per Game: 5.11 (t-3rd in MLB)
Runs Allowed Per Game: 3.44 (t-1st in MLB)
The Yankees also had the best record in baseball in Spring Training by several games, remember. What if they're actually, you know, good? Keep in mind the Yankees are off to this good start despite not having Didi Gregorius at all, and getting only four and half generally ineffective games from Gary Sanchez. (Greg Bird hasn't done a whole lot either.) The season is still young and I'm not going to read too much into this start. For example: I'm not buying Chase Headley and Starlin Castro as true talent 185 wRC+ and 178 wRC+ hitters, respectively. This good start has happened though. It's in the books. And that's exciting. The Yankees might not be heading for the .500-ish season many seemed to expect when they committed to the youth movement last year.
2. Speaking of Gregorius, my guess — and this is only a guess — is he returns to the Yankees for the start of the homestand Friday. That gives him three more minor league rehab games — poor Didi is going to go broke feeding the minor league kids during this long rehab stint — which could go nine innings at shortstop Tuesday, nine innings at shortstop Wednesday, nine innings at designated hitter Thursday, then back in the Bronx Friday. So far he's played two seven-inning games at shortstop and one full game at DH. I'm looking forward to seeing Didi back in the lineup. Back in the lineup and back in the field. Ronald Torreyes has done a hell of a job filling in at short, but Gregorius is clearly the better player, so the sooner he comes back, the better it is for the Yankees. Hopefully these next few rehab games go well, the shoulder feels strong, and we see him back on the big league roster in the coming days. Didi is a fun player and I am pro-fun.
3. Sanchez is about two weeks away from returning based on the original four-week timetable given at the time of his injury. His rehab is progressing nicely — Sanchez has been increasing his throwing and hitting pretty much everyday since the middle of last week — and hopefully that continues. I know I shouldn't do this because so much can change even in the span of two weeks, but I can't stop myself from looking forward and thinking about what the lineup will look like with Sanchez and Gregorius. Does this work?
3B Chase Headley
C Gary Sanchez
2B Starlin Castro
SS Didi Gregorius
RF Aaron Judge
1B Greg Bird
If Gardner continues to slump — he hit safely in seven of his first eight games, but has gone 2-for-24 (.083) since crashing into Rickie Weeks — Joe Girardi will have no choice but to drop him in the lineup. Then again, three lefties in a row in the wraparound 8-9-1 spots? Nah. Won't happen. May you one day find someone as committed to you as Girardi is committed to breaking up the lefties. The lineup really isn't something worth thinking about anyway. It's going to change on a near daily basis. Aaron Hicks has been getting fairly regular starts so far — he has 44 plate appearances in 18 team games, last year he had to wait until the 28th game for his 44th plate appearance — and I'm sure that will continue. Also, Chris Carter is going to play as long as Bird continues to not hit. At the very least Carter will start against lefties, I believe. Still, the Yankees lead baseball in wRC+, my preferred all-encompassing offensive stat, and they're going to get Gregorius and Sanchez back reasonably soon. That's exciting.
4. Gardner hasn't hit since crashing into Weeks and Holliday hasn't hit since his back acted up, forcing him to sit out two games against the Cardinals last weekend. His slump actually goes back further than the two days on the bench. Holliday is in a 2-for-24 (.083) rut at the moment, and I suppose his back could have been giving him trouble before he sat out the two games. He did crush that long home run against the White Sox — at 459 feet, it is the third longest home run in baseball so far this year — so his back can't be bothering him too much. Still, Holliday hasn't been quite right for nearly two weeks now, which has been a bit of a drag on the offense. Between off-days and the interleague series in Pittsburgh, Holliday has essentially had five days off in a row — he pinch-hit in each game against the Pirates, that's all — and hopefully that will get him on track, especially if the back is truly the cause of his problems. Then again, pretty much every player goes through a 20-something at-bat slump during the course of the season, so this might not be anything more than baseball being baseball. The combination of age (37) and a back injury, no matter how minor, still makes me wonder if something is up physically.
5. One more lineup related note: Ellsbury's versatility within the batting order has been a pleasant surprise early on. He doesn't fit anyone's idea of a cleanup hitter, but Girardi has stuck him in the four spot a few times and Ellsbury has delivered. He's hitting .435/.480/.565 (205 wRC+) with one home run in 25 plate appearances batting fourth, and .368/.400/.579 (182 wRC+) and one home run in 20 plate appearances batting fifth. (He's also hit .176/.222/.176, 11 wRC+, in 18 plate appearances batting first, so yeah.) I don't expect this level of production to continue because how could you? At the end of the day, Ellsbury is still a slash-and-dash hitter who has hit double-digit home runs only twice in parts of eleven big league seasons. Point is, the Yankees asked Ellsbury to hit in the middle of the order at the start of the season, something he's never really done in his career, and he's come through. Being able to move guys around in the lineup is a nice little luxury.
6. I'd like to see Bryan Mitchell get a little more responsibility, which is sort of a weird thing to say when he's second on the team in relief innings. (Adam Warren has 10.2 innings, Mitchell has 8.2.) Right now Mitchell is the low-leverage multi-inning guy. He's made seven appearances so far this season, and in each of those seven appearances the Yankees were either trailing when he entered the game, or winning by at least four runs. Mitchell can be wild. We saw it when he loaded the bases with no outs Sunday. But he also has really good stuff and can make hitters do things like this: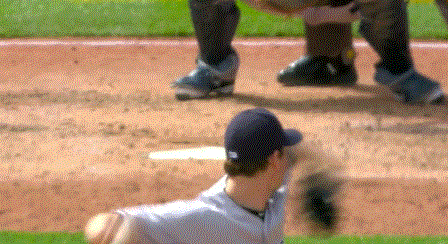 For whatever reason Girardi has been more inclined to use Jonathan Holder in more important situations than Mitchell so far this season — Holder has been brought in to start the sixth with one and two-run leads already, and both times he failed to get out of the inning — and I'd like to see their roles reversed. I get that Mitchell can give you two or three innings at a time. There will still be plenty of opportunities to do that though. Mitchell has never been able to develop a changeup and I think he's destined for the bullpen long-term because of it. I'd like to see him get a little more involved. Let him air it out for an inning a time and I think the Yankees will be pleasantly surprised.