Early in the 2013 season, it appeared that Ivan Nova would fall into the What Went Wrong category. Through his first three starts he allowed 10 runs in 14.2 IP and hadn't recorded as much as a single out in the sixth inning. In the third inning of his fourth start, he exited with what appeared to be an elbow injury about fifteen seconds after trainer Steve Donohue came to check on him. His season had disaster written all over it.
Given how many young pitchers undergo the procedure every year, it would have surprised few if Nova required Tommy John surgery. Thankfully, that turned out not to be the case. The Yankees quickly assured us it was a triceps injury, abating some of the fear. About a month later he was back on the roster, pitching out of the bullpen. Apparently, something clicked for him between the injury and the return.
Able to air it out in shorter appearances, Nova let loose with fastballs that, for the only time in his career, consistently exceeded 95 mph. Even more impressive was how he kept the velocity up for a five-inning relief appearance against the Mets, allowing just one run while striking out six. Unfortunately, due to the returns of Mark Teixeira and Kevin Youkilis, the Yankees had to option Nova. It seemed like poor timing for the move, given his resurgence.
Nova didn't let the demotion get him down, and his persistence paid off. After about two weeks in the minors he got the call again to make a spot start against the Rays. It went well enough, as did his follow-up appearance, a 5.2-inning mop-up job against the Orioles. That earned him a spot in the rotation, wherein he produced one of the best second halves in the majors.
In 87.1 post-ASB innings Nova produced a 2.78 ERA, seventh best in the American League and good enough to bring his season-long ERA down to 3.10. His velocity had dipped back to normal levels, and actually took a further hit in his final four starts. And his peripherals looked a lot like his career numbers. So we must ask the question, was Nova actually good or did he merely get lucky?
Part of the answer is that Nova's second half peripherals are a bit deceiving, in that they're arbitrary end points. If you look at his peripherals from the time of his return from the DL, a bit less arbitrary in nature, his peripherals look a bit better. Then there's the issue of peripherals not being a true measure of a pitcher's ability. Some pitchers are better at inducing poor contact, meaning they'll out-perform their peripherals. Other issues play roles, including focus and recovery.
All of that is a long way of saying that it's incredibly difficult to judge whether a pitcher is lucky or good based on a single season, never mind a portion of a season. Add in Nova's inconsistent performances for the last few years, and he becomes even more of a mystery. We've seen him pitch like one of the best in the league, and we've seen him pitch like a guy who will scramble for minor league deals in his late 20s. How could we possibly know which Nova pitches for the Yankees in 2014?
We can leave that speculation for another time, when we're bored in January and February. For now we can reflect on Nova's 2013 and how his resurgence helped make the season enjoyable for that much longer. The pitching staff, considered a strength before the season, broke down as CC Sabathia and Phil Hughes got knocked around start after start. Nova stepped up mid-season and gave the Yankees quality innings every fifth day. Without him, they wouldn't have remained in contention for as long as they had, and they could have been staring down their first losing season since 1992.
Instead Nova did answer the challenge, not only salvaging some respectability in 2013, but giving the team hope for 2014 and beyond. In a season when so many things went wrong, Nova was one of the bright spots.
For the first time in a long time, there is serious uncertainty on the left side of the Yankees' infield. At this time last year we were all being told Derek Jeter's rehab from ankle surgery would have him ready for Spring Training, plus Alex Rodriguez's left hip injury wasn't even a thing yet. Some concern about Jeter, yeah, but overall the left side of the infield was not a full-fledged problem. Obviously, circumstances have changed.
"I think the left side of the infield, for various reasons, has question marks. Whether it's recovering from a broken ankle in Derek or the controversy that's yet to be resolved with Alex," said Brian Cashman to Andy McCullough yesterday. New York has already been in contact with Omar Infante, Kelly Johnson, Brendan Ryan, and Brandon Phillips just in case Robinson Cano signs elsewhere, but there is no "just in case" at shortstop and third base. They need help. Everyone knows it.
In a perfect world, the Yankees would add a player capable of playing both shortstop and third base since their left side of the infield needs may change throughout the summer. (I'm sure they will.) It just so happens that type of player is available via free agency this winter in Jhonny Peralta, who's spent the last three-plus years with the Tigers after opening his career with the Indians. Let's break down the 31-year-old's game to see if he's a fit for the Bombers.
The Good
First and foremost, Peralta can hit. Especially by left side of the infield standards. He put up a .303/.358/.457 (123 wRC+) batting line this past season and a .278/.334/.438 (109 wRC+) line over the last three years, doing most of his damage against lefties (114 wRC+ since 2011) as a right-handed batter. Peralta's strikeout (18.5% since 2011) and walk (7.7%) rates are pretty much exactly league average, so he doesn't have any serious problems controlling the strike zone.
His defense is better than he gets credit for. Peralta has played shortstop almost exclusively with Detroit, posting good to great defensive stats across the board since 2011: +1 DRS, +25.3 UZR, +16.2 FRAA, and +11 Total Zone. He dabbled in left field last this season and spent a couple thousand innings at third base earlier in his career.
Peralta has been to the postseason a bunch of times in his career and has performed very well, hitting .283/.326/.506 (122 wRC+) with eight homers in 178 plate appearances spread across 45 career October games. I don't know how you value past postseason performance, but either way, this isn't a negative.
Peralta is a very durable player, appearing in at least 140 games every year from 2005-2012. He has never once been on the DL as a big leaguer.
The Tigers did not make Peralta (or anyone else) a qualifying offer, so teams will not have to surrender a high draft pick to sign him.
The Bad
Peralta's offensive performance has been very up-and-down throughout his career. Here are his wRC+'s since breaking into the league full-time in 2005: 136, 85, 105, 112, 83, 91, 122, 86, 123. Are you getting the guy who was 20% better than league average twice in the last three years, or the guy who was 10-15% below-average three times in the last five years?
He won't give you anything on the bases. Peralta has attempted only 34 steals in 1,383 career games (38% success rate) and he's been consistently below-average at taking the extra base (first-to-third on a single, etc.). Speed is not part of his game.
Peralta was one of 12 players suspended 50 games for their ties to Biogenesis this August. He said he made a "terrible mistake" in "spring of 2012″ in a statement without elaborating further. Obviously performance-enhancing drug stuff creates some uncertainty.
The Yankees have been connected to a ton of middle infielders already this offseason, but Peralta is not (yet) one of them. I have been wondering if the team would try to steer clear of players with PED ties in an effort to "clean up their image," so to speak, but Cashman told McCullough they "certainly have to be open-minded" about such players this winter. The fact that they'll tender Frankie Cervelli a contract is an indication they won't close the door on those guys, which is a good thing in my opinion. There's a system in place and Peralta served his time.
Not too many comparable infielders have hit the free agent market in recent years, and certainly none with a super-recent PED suspension in their history. That complicates things a bit. Jeff Keppinger's contract (three years, $12M) with the White Sox strikes me as way too light for Peralta, so maybe the deals signed by Marco Scutaro (three years, $20M) and Aramis Ramirez (three years, $36M) are more appropriate. Splitting the middle and calling it $28M across three years ($9.3M luxury tax hit) sounds good to me, but I'm terrible at estimating this stuff. Remember, power pays and Peralta has it (18 homers in 162 games for his career), especially relative to his position. Three years and $30M might be more accurate.
It's important to remember that Peralta has, you know, a say in where he signs. The idea of splitting time between short and third depending on the day might not be all that appealing to him, especially if other clubs (the Cardinals?) offer him a full-time job at shortstop. Stephen Drew turned the Yankees down last winter because of uncertainty about playing time (and position). This stuff matters to these guys. Peralta's year-to-year inconsistency worries me a bit but not enough to scare me away completely. He makes plenty of sense for New York if the price is right. Do the Yankees make sense for Peralta though? He could opt for a steadier job elsewhere.
By

Via Ken Rosenthal: The Yankees have contacted free agent utility man Kelly Johnson. They've been connected to guys like Omar Infante, Stephen Drew, and Brandon Phillips in recent weeks given the uncertainty surrounding Alex Rodriguez and, to a lesser extent, Robinson Cano. This is just more of the same.

Johnson, 31, hit .235/.305/.410 (101 wRC+) with 16 homers and seven stolen bases in 407 plate appearances for the Rays this past season, splitting time between second, third, and left field. He is who he is offensively, and that's a low average (.226 since 2011), medium walk (9.8%), high strikeout (26.3%), okay power (.169 ISO), good speed (37-for-49 in stolen base attempts) guy from the left side of the plate. Of the available infield options, I prefer Johnson to Infante and Phillips because he figures to take a one-year deal and I'm not sold on the other two as long-term replacements. Even if Cano returns, Johnson makes sense as that lefty bat off the bench I always talk about. · (16) ·
Late last night, word came down from Hal Steinbrenner that the Yankees will not be making any changes to their player development system this winter. No major personnel changes, anyway. Damon Oppenheimer will remain amateur scouting director, Mark Newman will remain VP of Baseball Ops, and Pat Roessler will remain director of player development. This comes after nearly three months of auditing the farm system and trying to figure out why it was so unproductive this past season and has been over the last several years.
"Yeah, we have. We've made some changes," said Hal to Andy McCullough yesterday when asked about the development staff. "The vast majority of the changes will be procedural. We've changed a few coaches, and we've brought in a few people. But [Brian Cashman] spent a lot of time, a good two months, looking at process: How we do things, how people communicate with each other. And we found some things that we were not happy with. So we changed them."
"Procedural" changes. They're going to change the way they communicate. They're going to rearrange some furniture, slap some lipstick on the organizational pig, and go about business as usual. The problems were big enough to swap out some coaches and improve communication but not make wholesale changes. The guys in charge are on the right path, they just need to tweak some things and everything will be good. Change some procedures and ¯\_(:-/)_/¯. That's one way to take that quote.
Now, let's be serious for a second. Over the last few years, the Yankees have seen many prospects either stall out or go down with a major injury, especially pitchers. The last top pitching prospect, a "hey this guy could be really special" guy, to not blow out his arm in the minors was Joba Chamberlain in 2007. Andrew Brackman blew out his arm, Dellin Betances blew out his arm, Manny Banuelos blew out his arm, Alan Horne blew out his arm, Jose Campos blew out his arm, and Christian Garcia blew out his arm twice. Ty Hensley blew out his hip, so I guess he's the exception right now.
There are always going to injuries (especially to pitchers) and there will always be some level of attrition. It's completely unavoidable. But I think we're beyond the point of blaming it on attrition or bad luck. The Yankees admitted to feeling the same way when Hal launched his investigation into the team's farm system a few months ago. That was an admission on his part that something is going wrong somewhere, that things are not turning out the way they should be. Simply put, New York has not been able to turn their prospects into productive big leaguers. They fart out some relievers every so often but so does every other club, they aren't anything special in that regard.
Now here's the thing: I think the Yankees actually do a pretty good job of acquiring high-end talent, both internationally (before the spending restrictions were put into place, anyway) and in the draft. Yes, it could be better (it could always be better), they have made some questionable high picks in recent years (Cito Culver and Dante Bichette Jr., most notably), but they still walked away with top shelf guys like Tyler Austin, Mason Williams, and Greg Bird in the later rounds, for example. Williams has underperformed, Bird has dealt with injury, and Austin has battled both. The talent is there, they just can't get these guys over the developmental hump.
As an outsider, evaluating a farm system and a development system is close to impossible because so much of it happens away from cameras and reporters. All we see is the results and, let's be real here, the results stink. They've stunk for a few years now. The Yankees are in the middle of this weird transitional period where payroll is coming down and the last remnants of the dynasty years are fading away, so support from homegrown young players is vital. They haven't been getting it though, the results are obvious. In the five years since Brett Gardner and David Robertson came up, the team's best homegrown player has been Ivan Nova (104 ERA+ in 504 innings), and that's just not good enough.
"It's really easy to say, 'Get rid of this guy. Get rid of this guy. And get rid of that guy,'" said Steinbrenner. "But that doesn't always solve the problem. Sometimes it's procedural or process, the way scouts influence each other because they're talking too much to each other — somebody has a preconception about a player they haven't even seen yet because they've talked to two scouts about them and they go in to go see the player with those preconceptions. So those are the kind of things we're working on, communication. We're teaching the scouts. We're going to teach them to look for different things, maybe things they haven't looked at before."
I was being a jerk and downplaying the value of procedural changes before but they are important. Something had to change and something did. We don't know the scope or extent of those changes but something is being done behind the scenes unless Hal is lying. It's possible these adjustments will fix everything, get the position players on track and stop the top pitchers from visiting Dr. Andrews once a year. But I think the track record of developmental failure is too long to only make procedural changes. New sets of eyes and new voices could help the club crack the player development riddle no one in the organization seems to be able to solve. The Yankees had a chance to make meaningful changes to their farm system these last few weeks, but they opted for the half-measure instead.
By

Nov. 12th: Hal Steinbrenner told reporters the team will make no changes to the player development staff, so Newman will remain in his current role. They are making changes to their player development system that Hal called "procedural." So nothing. They're doing nothing, basically.

Oct. 26th: Via Mark Feinsand: Amateur scouting director Damon Oppenheimer will remain with the team in that role. He was rumored to be one of executives in danger of being replaced due to the team's recent farm system failures. Oppenheimer has been the team's scouting director since the 2005-2006 offseason and he's been considered for a handful of GM jobs over the years.

Meanwhile, Feinsand says other changes are expected to be made in the baseball operations department. Long-time VP of Baseball Ops Mark Newman was rumored to be on the hot seat alongside Oppenheimer, so he might be the one to take the fall for the unproductive farm system. The Yankees have been essentially auditing their player development staff in recent weeks and I'm glad to hear some changes are coming. Too much has gone wrong — top prospects keep stalling out and pretty much every pitching prospect worth a damn gets hurt — to maintain status quo. · (114) ·
By

Via Andy McCullough: Brian Cashman confirmed the Yankees will indeed tender Frankie Cervelli a contract prior to the December 2nd deadline, but the team will continue seek catching help in the coming weeks. "We have catching but we will explore if we can improve offensively at that position, and see where that will take us. There's some [players] that interest us. Most don't," said the GM.

Cervelli, 27, hit .269/.377/.500 (143 wRC+) with three homers 61 plate appearances this past season before a broken hand, a stress reaction in his elbow, and a 50-game performance-enhancing drug suspension ended his season. He's projected to earn $1M next season, his first year of arbitration-eligibility, and I thought there was a chance the team would cut ties following the Biogenesis mess. The Yankees have been connected to free agent Brian McCann but that's really it so far. Other available catchers include Jarrod Saltalamacchia, Carlos Ruiz, and A.J. Pierzynski. · (22) ·
By

In something of an upset, Indians skipper Terry Francona was named the AL Manager of the Year tonight. I figured Red Sox manager John Farrell was a lock as soon as his club clinched the whole worst-to-first thing. Joe Girardi finished fourth in the voting, receiving two second place votes and five third place votes. When you manage the Yankees and don't make the postseason, you aren't winning any awards. It's a minor miracle he got that many votes. The full voting results are right here. Pirates manager Clint Hurdle took home NL honors. Well-deserved. · (12) ·
Just like the first day, the second day of the GM Meetings came and went without much fanfare. There were some random reports today indicating the Yankees had interest in various free agents they've already been connected too (Carlos Beltran, Brian McCann, etc.), but that's really it. As I said yesterday, these meetings are more about laying groundwork and getting discussion started rather than finalizing deals. Well, unless you're the Phillies. They inked Marlon Byrd to a nice little two-year, $16M pact this afternoon. He would have made sense for New York at that price.
Anyway, here is the nightly open thread. You've got all three hockey locals in action plus college basketball for entertainment. Talk about those games, the GM Meetings, or anything else right here. Do your worst.
The 2013 season is over and now it's time to review all aspects of the year that was, continuing today with the captain who wasn't around to go down with the ship.
This was the season Derek Jeter was never supposed to have. He's Derek Jeter. Things are always supposed to go his way, and if they don't, he proves people wrong and makes them go his way. Last season was a perfect example. The Cap'n was supposed to be finished, a washed up former star who was losing a fight with Father Time. Instead, he led the big leagues in hits (216), at-bats (683), and plate appearances (740). Thirty-eight-year-old shortstops aren't supposed to do that.
Jeter finished that remarkable season on a down note, playing through a bone bruise in his left ankle during the month of September before it finally gave out and fractured in Game One of the ALCS. He had surgery in late-October and although the rehab timetable meant things would be tight, it appeared he would be ready in time for the start of Spring Training. Unfortunately, Father Time started started to win the war after losing the battle in 2012.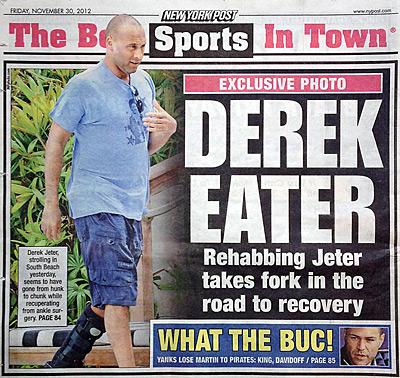 The offseason was full of gossip stories about Fat Derek Jeter and reports that his rehab was right on schedule. The Cap'n emphatically said he was working hard and would be ready in time for camp. Ultimately, that was not the case. Jeter's rehab had slowed down at some point and he was far behind the other position players in Spring Training. He didn't play in his first Grapefruit League game until mid-March and only appeared in five total, as many as Cito Culver. It was clear he would not start the season on time.
Jeter opened the 2013 campaign on the DL as he continued his rehab from the ankle surgery. In early-May, right when everyone was expecting him to return to the lineup, the Yankees announced their captain had suffered a major setback — there was a new fracture in the ankle, a smaller hairline crack that would nevertheless keep him out until the All-Star break. New York was getting nothing offensively from Eduardo Nunez and Jayson Nix at the shortstop position, so the setback was a big blow.
It wasn't until July 11th, four days prior to the All-Star break, that Jeter joined the team. He played in only four rehab games and was rushed back to serve as the DH when Travis Hafner's shoulder started barking (again). Jeter was in the lineup for the series finale against the Royals and his return lasted all of eight innings. He legged out an infield single in his first at-bat of the year but felt tightness in his right quad when he tried to do the same a few innings later. The Yankees kept Jeter active over the weekend and through the All-Star break to see if he'd feel better, but that didn't happen and back to the DL he went.
The second DL stint was shorter, only 17 days total. Jeter rejoined the team one day prior to a West Coast trip through two NL cities that would force him to play the field. That (second) first game back from injury resulted in one of the most memorable moments of the season, a first pitch solo homer off Rays left-hander Matt Moore:
Jeter played a total of four games at shortstop (the game against the Rays and three on the West Coast) before his right calf started acting up. Tests revealed a Grade I strain and just like that, the Cap'n was right back on the DL. This stint lasted 24 days. When he returned on August 26th, the team's 131st game of the season, the Yankees were seven games back in the division and six games back of the second wildcard spot.
Following the third DL trip, Jeter stayed healthy for approximately two weeks. He wasn't all that effective, going 9-for-48 (.188) with one extra-base hit (a double) and ten strikeouts while playing ten of 13 games at shortstop. After missing so much time due to injury and only playing in seven rehab games — that's seven rehab games total: four coming back from the first injury, zero coming back from the second, three coming back from the third — it was no surprise he showed considerable rust at the plate. The problem was the Bombers were slipping in the standings and couldn't afford the lack of production.
Jeter's season came to an end on September 7th, when he exited a game against the Red Sox in the sixth inning with soreness in his surgically repaired left ankle. Tests came back clean but he was going to sit a few games before returning to the lineup. The team didn't want to risk yet another setback. Four days later, with the Yankees sitting ten games back in the division and three games back of the second wildcard spot, Brian Cashman announced Jeter was being placed on the DL to prevent him from pushing too hard to come back after the doctor said he needed to strengthen the area around his ankle before returning. Jeter's fourth DL stint of 2013 ended his season.
All told, the Cap'n hit just .190/.288/.254 (48 wRC+) in only 17 games around the various leg injuries this past season. He made four separate trips to the DL this summer after making four total from 1999-2012. The Yankees never really came out and said so, but the team and their doctors gave indications the leg injuries were all related — Jeter was compensating for one injury but putting extra stress elsewhere on his body. Certainly sounds reasonable, especially with leg injuries, but at the end of the day it doesn't really matter. Jeter missed all that time and it hurt the team dearly in 2013.
Rather than wait for him to exercise (or decline) his $9.5M player option for next season, the Yankees re-signed Jeter to a one-year contract worth $12M about two weeks ago. They reportedly agreed to the increased salary (and luxury tax hit) in exchange for avoiding a repeat of their contentious negotiations from three years ago, which only makes sense if Jeter's camp indicated he was prepared to decline the player option and ask for more money. The Cap'n had no leverage following his self-proclaimed "nightmare" season but the Yankees gave into his demands anyway. Jeter is a total unknown heading into next season but the team paid him as if he'll be a big time contributor because hey, he's Derek Jeter and things are always supposed to go his way.
On paper, the Yankees currently have four outfielders for three spots. In reality, they have two outfielders for three spots. Both Ichiro Suzuki and Vernon Wells took advantage of the opportunity to show they are no longer everyday Major League players this past season and New York will spend a chunk of the winter looking for an upgrade, especially now that Curtis Granderson has declined the qualifying offer.
The Yankees have already been connected to Jacoby Ellsbury and Shin-Soo Choo, the offseason's two best free agent outfielders, and they also have interest in the veteran Carlos Beltran. That interest in expected to be mutual, unsurprisingly. Beltran has shown an eagerness to play for Bombers in the past, most notably offering to sign with them at a discount prior to 2005. He also came to the team at the last minute and gave them an opportunity to match the deal he eventually took from the Cardinals prior to 2012. I thought Beltran was a perfect fit before 2005 but not so much before 2012. What about now? Let's break his game down.
The Pros
Despite his age, Beltran remains an effective hitter from both sides of the plate. He hit .296/.339/.491 (132 wRC+) overall this past season, broken down into a 144 wRC+ against righties and a 102 wRC+ against lefties. Over the last three seasons, it's .288/.356/.503 (137 wRC+) overall and a 140 wRC+ against righties compared to a 128 wRC+ against southpaws. His overall strikeout (16.6% since 2011) and walk (9.6%) rates are both better than average as well.
Beltran has answered some serious questions about his durability in recent years, playing in 140+ games in each of the last three seasons and 438 of 486 games overall since 2011. That includes the last two in the DH-less NL. He's recovered well after only playing 145 of 324 possible games from 2009-2010.
As you surely know, Beltran is arguably the best postseason hitter of his generation. He's a career .333/.445/.683 (196 wRC+) hitter with 16 homers in 219 plate appearances across 51 playoff games. In October, Beltran is basically Babe Ruth (career 197 wRC+). That'll be helpful if New York gets back to the postseason.
The Cons
Beltran's walk rate (6.3%) this year was his lowest since his rookie season by a decent margin. He swung at 31.0% of pitches out of the zone, a career-high since the data started being recorded in 2007. Beltran's out-of-zone swing rate has actually increased every year since 2009. He's trending the wrong way and, not coincidentally, is at an age when hitters start their swing earlier to compensate for lost bat speed.
Once a historically great base-runner, Beltran is no longer a threat to steal bases and he's only league average when it comes to taking the extra base (first-to-third on a single, etc.). Once upon a time he was a lock for 30+ steals a year, but that part of his game is long gone.
Beltran's defense has slipped as well. His reads off the bat are still good but his range and arm have really declined. His defensive numbers since moving to right field full-time in 2011 are pretty bad: -2 DRS, -20.1 UZR, -7.1 FRAA, and -22 Total Zone.
He has stayed healthy these last three years, but Beltran had major knee right knee surgery in 2010 — he actually had an arthroscopic procedure instead of microfracture surgery against the Mets' wishes — and still deals with regular soreness. Beltran has been on the DL once in the last three years but day-to-day ailments are fairly common.
Beltran declined the qualifying offer prior to Monday's deadline, so teams will have to forfeit a high draft pick to sign him. For the Yankees, that means surrendering the 18th overall selection.
According to Tim Brown, Beltran is seeking a three or four-year contract this winter and that's just not happening. It shouldn't, anyway, especially from the Yankees. He'll turn 37 soon after Opening Day and he's got a bad knee. It's not a matter of if he'll become a full-time DH, but when. It could easily be this season. I was thinking more along the lines of two years and $30M, a $2M per year raise over the contract he signed with the Cardinals to essentially account for market inflation. Teams have lots of money to spend and he has no reason to settle for one year.
The drop in walk rate — it's worth noting Beltran's strikeout rate did not increase at all this year — is a concern to me only because it might mean his bat speed is really starting to slip. The now poor defense and general age-related concerns are another red flag, plus giving up a high draft pick would stink. Beltran is, however, a big upgrade over the team's current right field options and his switch-hitting power bat would fit perfectly into the middle of the Yankees lineup. The question is whether he wants to come to the Bronx at this point. I'm guessing one of Beltran's top priorities this winter is joining a team that gives him a strong chance to win a World Series and he simply might not believe New York can give him that opportunity. He'd be a solid pickup on a two-year contract but Beltran's demands might throw a wrench into things.