By

7:47pm: The deal is worth $1.875M with another $275k available in bonuses based on games finished according to Ken Davidoff. Very reasonable.

7:43pm: The Yankees and Joba Chamberlain have avoided arbitration by agreeing to a one-year contract, the team announced. No word on the money, but MLBTR projects a $1.8M salary for 2013. The projections were dead-on for Brett Gardner ($2.8M) and way off for Phil Hughes ($7.15M). Joba, 27, will be a free agent next offseason.

David Robertson and Boone Logan are the team's only remaining unsigned arbitration-eligible players. · (31) ·
Here is your open thread for the evening. The Knicks are playing, so talk about that game or anything else here. Enjoy.
By

According to the AP, Derek Jeter has been cleared to resume baseball activities as he rehabs from a late-October surgery to repair a fractured left ankle. "I've got the okay to start … but I don't start until next week or the week after, anyway," said the Cap'n. "In terms of baseball activity, I'm right where I need to be."

Last we heard, the 38-year-old Jeter had been riding a bike and running in a pool. An Opening Day return seems likely but is far from guaranteed at this point. A setback is always possible, as we saw when Andy Pettitte pushed himself too hard recovering from his leg fracture at midseason. The most important thing is that Jeter is progressing well and he's right where he needs to be. Very good news. · (11) ·
By

Team USA announced its official roster for the World Baseball Classic earlier today (seen here), with Mark Teixeira being the only Yankee to make the squad. Andy Pettitte was reportedly going to participate in the event, but he is not on the final roster. Bob Klapisch explains that Pettitte's exclusion may have to do with the insurance (or lack thereof) on his contract. Not gonna lie, I'm happy Andy will be the Yankees and not Team USA during Spring Training.

The remaining WBC rosters will be announced later this afternoon. Robinson Cano (Dominican Republic) and Frankie Cervelli (Italy) will participate in the tournament, and that's expected to be it as far as 40-man roster players go. · (14) ·
Principal owner Hal Steinbrenner created a bit of a stir last week when he showed a remarkable lack of awareness by saying he was "surprised to hear that there's [fan anger] if you see what we've done this off-season." Other than re-sign a few of their own older players and import the downside of Kevin Youkilis' career, the Yankees haven't done much of anything this offseason. They didn't even maintain the status quo — the pitching staff is the same and the offense is weaker because Nick Swisher and Russell Martin were allowed to depart.
Anyway, let's move on from that nonsense and talk about something else Hal said last week. Here are the specific quotes, courtesy of Brian Costa…
"I've been resolute that [getting under the $189M luxury tax threshold in 2014] is our goal. And that is our goal … I don't see [staying under the tax threshold] being less of a goal (in the future). I believe that you don't have to have a $220M payroll to win a world championship, and you shouldn't have to."

[snip]

"I'm not a big believer in extensions. There's exceptions to every rule, but I'm just not a big believer in extensions. I'm worried about this year."
These two ideas, getting under the luxury tax threshold and avoiding contract extensions, are technically mutually exclusive. In reality, the two ideas are at odds with each other. Getting under the luxury tax means the team will operate within defined financial limits, but avoiding extensions means the team will also have to pay market value for players. Paying market value and having a hard salary limit are not going to mix well, even with a payroll as large as $189M.
Right now this is not much of an issue. The Yankees only have two legitimate extension candidates in Robinson Cano and Phil Hughes, and the latter is far from a no-brainer. Both are one year away from free agency and Cano is a special case because he's an elite player due a long-term, nine-figure commitment one way or the other. Perhaps the team should consider extensions for Brett Gardner and David Robertson (three years, $12M for both?), but other youngsters like Ivan Nova, David Phelps, Eduardo Nunez, and Michael Pineda haven't done enough to warrant any kind of guaranteed commitment. Not yet, anyway.
The Yankees, specifically Hal since he made the comments, want to have their cake and eat it too. They want to stay under the luxury tax threshold in the future and that's fine even if I disagree with it, but they also don't want to hand out contract extensions to young players. They can do both, but it won't be easy. The team saved millions of dollars by buying out Cano's arbitration years with an extension six years ago, and they should be more open to doing the same in the future. There's a disconnect between the team's two policies right now, even if breaking one will help them accomplish the (much more lucrative) other.
By

According to multiple reports, the Mariners have re-acquired Mike Morse from the Nationals in a three-team trade that sends John Jaso to the Athletics and prospects to Washington. The Yankees had interest in Morse but apparently not enough to make a serious run at him. That's a shame. Oakland designated catcher George Kottaras for assignment to clear room on the 40-man roster, and New York should definitely look to bring him in. Here's the now-outdated Scouting The Market post I wrote about him last summer. Makes too much sense to actually happen. · (133) ·
Happy Hump Day everyone, here's your open thread. The Nets are playing, but talk about anything else you want here as well. Have at it.
By

6:09pm: According to multiple reports, Hughes received $7.15M. Wow, good for him.

5:31pm: The Yankees and Phil Hughes have avoided arbitration and agreed to a one-year contract for 2013, the team announced. No word on the terms, but MLBTR projected a $5.7M salary. Hughes, 26, will be eligible for free agency next offseason. I wrote about the idea of a contract extension a few weeks ago. · (16) ·
Three years ago, a then 36-year-old Derek Jeter looked dangerously close to being finished. He hit .270/.340/.370 (93 wRC+) across 739 plate appearances in 2010, by far the worst full season offensive performance of his career. The Cap'n rebounded in mid-2011 thanks to some mechanical work with former hitting coach Gary Denbo, and he rode those adjustments to a .316/.362/.429 (117 wRC+) showing last season. It was his best season since 2009 and second best since 2007.
An ankle fracture that may or may not be related to the bone bruise he played on for most of September ended Jeter's season during Game One of the ALCS back in October. He had surgery a few weeks later and his rehab is progressing well based on last week's update. Jeter has yet to do any baseball activities such as swing a bat or field some grounders, but he's riding a bike and running in a pool. So far, so good, so right now he's on track to be ready for Opening Day.
Great players tend to age differently than others, but no matter how iconic he may be, Jeter is 38 years old and Father Time is lurking. The number of full-time shortstops who qualified for the batting title at that age (or older) and managed to be above-average offensively is three, and only one has done it in the last 60 years. That was Jeter in 2012. Factor in the ankle injury, the significance of which should not be downplayed, and I think it's far to say the Yankees captain is more of a question mark now than ever before, even after that disappointing 2010 season.
In a recent Insider-only ESPN piece, Dan Szymborski used his ZiPS system to look at the next three seasons of Jeter's career. The standard disclaimer goes here: projections are not predictions, they're an estimation of a player's true talent level. Szymborski notes that even high-BABIP hitters like Jeter (career .354) tend to fall off rapidly in their late-30s, to the tune of 30+ BABIP points in a single season. Based on that alone, ZiPS measures the Cap'n at .288/.338/.396 next season, which isn't far off from his 2010 effort. That does not factor in the ankle injury, however.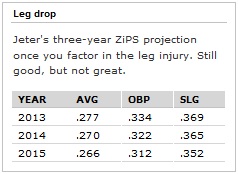 Szymborski notes that players who missed 30 or so days due to a leg injury — which Jeter would have done had he injury occurred in say, June instead of October — tend to underperform projections the following year. When he plugs the leg injury into ZiPS, it spits out a .277/.334/.369 projection for Jeter in 2013. That almost exactly matches his 2010 season, when he was close to 10% below league average. You can see Jeter's ankle-reflecting projections in the table on the right, and they aren't particularly pretty.
The league average shortstop hit .256/.310/.375 (86 wRC+) this past season, and that's atrocious. So the good news is that even an old and somewhat hobbled Jeter projects to be an above-average hitting shortstop for at least the next two years, which, coincidentally, is how long he remains under contract (assuming the player option for 2014 is exercised). The bad news is that those projections are a big step down for the Cap'n, which is not what the Yankees need at a time when they're losing offense in right field and behind the plate. Maybe at DH and third base as well.
Projections are wrong all the time, of course. ZiPS is consistently the best out there on a macro level, but on a micro level there are a ton of hilariously poor misses. The system projected a .280/.347/.393 line for Jeter last season, just as one example. I have no worries about Jeter preparing himself for the season, but I do worry about a potential setback if he pushes himself too hard. Just look at what happened to Andy Pettitte last summer. We all know Derek is going to put the necessary work in, but at some point the clock is going to strike midnight. Maybe it happens in 2013, maybe it happens in 2015. When you add the ankle problem on top of his age, the chances of Jeter's production taking a big step back becomes even greater, and that's one of the last things the club needs right now.
Here is your open thread for this evening. The Nets are playing, but otherwise you're on your own for entertainment. Talk about whatever you like here, enjoy.