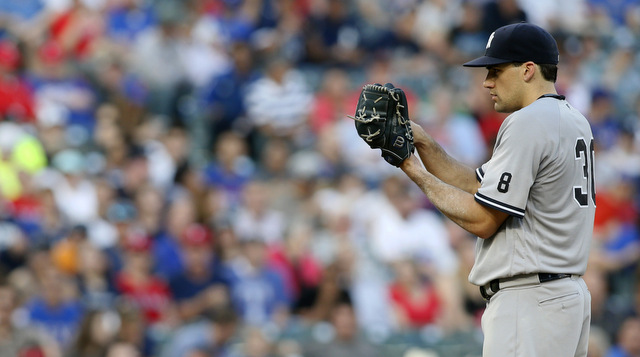 According to Andrew Marchand, right-hander Nathan Eovaldi said he is open to signing a long-term contract with the Yankees. Assuming the price is right, of course. "It would depend on what they offered," said Eovaldi to Marchand. "I love it here."
Eovaldi is one of the most important players on the roster right now. He's only 26 and he's pitching as well as he has at any point in his career. He's also just a year away from free agency. The Yankees have to start thinking seriously about his long-term future if they haven't already. (I'm sure they have.) Is Eovaldi most valuable long-term as a trade chip or in the rotation?
Honestly, I'm not sure there's a right answer. You could make a very good argument for trading Eovaldi and a very good argument for keeping him. In fact, let's do both really quick:

That about sums it up, right? The fact the upcoming free agent pitching market is terrible is a double-edged sword. Teams will be looking for pitching in trades and the Yankees have a pretty good pitcher to offer. Supply and demand, baby. At the same time, it also means it's going to be pricey for the Yankees to build their own pitching staff.
Right now I am on team #ExtendEvo. I think power pitchers this young are hard to come by, and it helps that he's already proven to be coachable (learned the splitter) and had some success in New York. If another team had Eovaldi and put him on the trade block — or he was available as a free agent — wouldn't we want the Yankees to go after him? Of course we would.
At the same time, the Yankees have to listen to trade offers. It's only smart. Someone might blow you away with an offer and the Yankees need all the young talent they can get. We know the Cubs have some interest. I could see the Giants, Rangers, Tigers, Astros, Pirates, White Sox, and Nationals all getting involved in Eovaldi talks too.
So far this season Eovaldi has a 3.71 ERA (3.53 FIP) in ten starts and 60.2 innings. His strikeout (22.9%) and ground ball (54.3%) rates are both career highs at the moment, as is his swing-and-miss rate (9.3%). There are plenty of reasons to like Eovaldi long-term and also some reasons to remain skeptical. No doubt about it. The fact he is at least open to an extension with the Yankees is a positive.