So here it is, the final mailbag of the offseason. Remember to use the Submit A Tip box in the sidebar to send in any links, questions, comments, etc.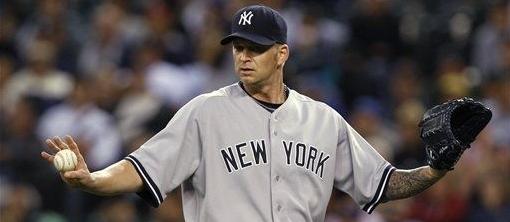 Andrew and many others ask: If the Yankees do trade A.J. Burnett and eat $23m of the contract, does that $23m still get attached to the Yankees' luxury tax figures over the next two years?
We've been getting this question a few times a day, but I have absolutely no idea how this stuff works. I have to think we'll get a definitive answer if and when a trade does go down.
Let's just say they do eat that $23M split evenly over the next two years, does his luxury tax hit become $11.5M ($23M divided by two)? Or does it become $14.5M ($23M + $16.5M annually for the first three years of his contract divided by five)? It would have to be the first way, right? Otherwise they're paying luxury tax on money they're not paying Burnett.
Ryan asks: Does the possible A.J. Burnett trade make the possibility of signing a big time free agent like Cole Hamels more likely now, with the subtraction of his salary on the payroll?
I suppose it does, but they're not going to save a ton of money by trading Burnett. If they're going to drop huge money on one player next year, it'll be because they've replaced Nick Swisher on the cheap. His salary ($10.25M) plus Hiroki Kuroda's salary ($10M) is where your $20M a year player is coming from. Either that, or they Yankees will have to raise payroll further. Freeing up some money by trading Burnett will help, but it won't be the only reason they go after Hamels or someone like that.
Jon asks: Any chance the Yankees take a Jon Lieber-esqe flier on either Scott Kazmir or Brandon Webb?
Well, the Lieber contract was two guaranteed years knowing that he'd miss the first year after Tommy John surgery. There's no way in hell you can guarantee Kazmir or Webb anything, it's been far too long since they were effective big league pitchers. Plus those guys both had serious shoulder problems, not just an elbow. Minor league contracts? Fine. Nothing more though, otherwise you're just wasting time, roster spots, and money.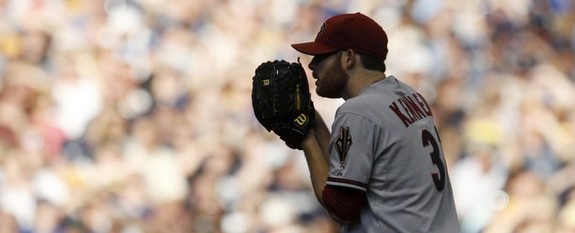 Joseph asks: IMO, while I can't doubt his NL West success, I don't believe [Ian Kennedy] would be anywhere near the pitcher he was last season if he was on the Yankees in the AL East. He doesn't have blow-me-away stuff and in my opinion, a lot came together last year for him. So, what's your take? I don't dive too heavily into advance stats, so my analysis is lacking.
We don't even have to bring up his stuff or his command or anything like that. This applies to every pitcher ever: moving from the NL West to the AL East will cause your performance to suffer. It doesn't matter if you're Ian Kennedy, Tim Lincecum, Clayton Kershaw, or Pedro Martinez in his prime. It's unavoidable. The lineups in the AL East are far better, there's a DH instead of a pitcher batting, and the ballparks are much less forgiving. In terms of pitching environments, the AL East and NL West couldn't be any more different.
Kennedy is no exception like I said, and in fact his numbers would probably take a bigger hit than most because he's on the best team in the division and doesn't have to face his own lineup. Since moving to Arizona, 145.2 of his 416 innings (35.0%) have come against the punchless Giants, Dodgers, and Padres. Replace those teams with the Red Sox, Blue Jays, and Rays, and he'd do worst. It's just the way it is. IPK is a really, really good pitcher, but his performance would absolutely suffer if he was still in pinstripes.
Will asks: I feel as though big market/high payroll teams are being put in an disadvantaged spot by the draft process/new CBA. Now that there is a cap on the draft/international market I feel like it is unfair to winning teams. How else are those teams going to acquire talent besides free agency? Picking so late in the draft is already a disadvantage, now the new CBA and possible worldwide draft would really hurt teams like the Yanks. What do you think?
The spending restrictions put in place by the new Collective Bargaining Agreement hurt everyone, but they hurt good teams the most. The more you win, the less you have to spend on top amateur talent without hurting themselves in the future (by forfeiting picks or future spending money per the new rules). Instead of being rewarded for winning, you're punished. Good teams like the Yankees will be stuck signing free agents to improve their roster long-term, unless they just completely out-scout and out-player develop everyone else. It sucks, but at least the Yankees have more money to use on free agents than any other team.