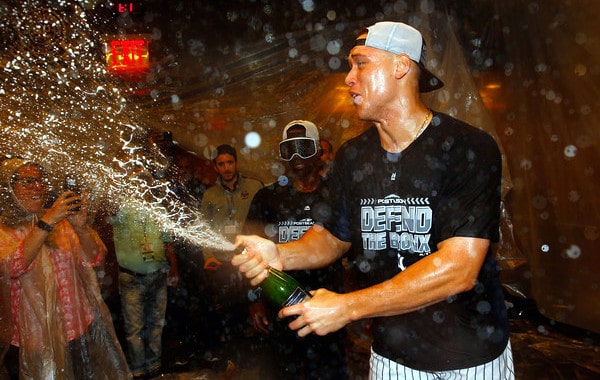 With four days to go in the 2018 regular season, we know one thing for certain: The Yankees will play the Athletics in the 2018 AL Wild Card Game next Wednesday. The game will likely be played in Yankee Stadium, though that is not set in stone yet. The magic number for homefield advantage in the Wild Card Game is two. The Yankees-Athletics matchup is set though.
The Wild Card Game is its own postseason round. The Yankees and A's will set a 25-man roster for the Wild Card Game, then whichever team advances will be able to set a new 25-man roster for the ALDS. Because of that, we've seen some funky wildcard rosters in recent years. The Yankees carried only nine pitchers on their 2015 Wild Card Game roster. Last year they carried ten. That means a great big bench.
So, with the Wild Card Game now only six days away, this is as good a time as any to try to piece together the 25-man roster the Yankees will carry next Wednesday. It's a bummer the Yankees are going to finish with 100-ish wins and have to play in a winner-take-all Wild Card Game, but hey, if you don't like it, win more games. Let's dig into the potential Wild Card Game roster.
The Locks
Might as well start here. The way I see it, the Yankees have 17 players who are absolute locks for the Wild Card Game roster right now. The 17:
Catchers (2): Austin Romine, Gary Sanchez
Infielders (5): Miguel Andujar, Adeiny Hechavarria, Gleyber Torres, Luke Voit, Neil Walker
Outfielders (4): Brett Gardner, Aaron Judge, Andrew McCutchen, Giancarlo Stanton
Pitchers (6): Dellin Betances, Zach Britton, Aroldis Chapman, Chad Green, Jonathan Holder, David Robertson
I was initially on the fence about Hechavarria, but the more I thought about it, the more I realized he's going to make the Wild Card Game roster. Worst case scenario is he serves as Andujar's defensive replacement. The rest is pretty straightforward though, right? Right. We still have eight roster spots to fill, so let's get to it.
Locks, If Healthy
Didi Gregorius is out with torn cartilage in his right wrist and he could play in games before the end of the season. He got the okay to resume baseball activities yesterday, so that's good. If he's able to play this weekend and has no problems, he'll be on the Wild Card Game roster. If not, it opens up the possibility for Ronald Torreyes to make the roster. The Gregorius/Torreyes spot is our 18th player.
Aaron Hicks, meanwhile, has a tight left hamstring and is day-to-day. He too could play before the regular season ends, and, if that happens, he'll be on the Wild Card Game roster as well. If Hicks can't play in the Wild Card Game, I think Tyler Wade makes it instead. Wade can play the outfield, if necessary, but more importantly he can run. No Hicks on the roster means Gardner is in center field rather than on the bench as a pinch-running option. With Hicks out, Wade becomes the pinch-runner. The Hicks/Wade spot is our 19th player.
The Starting Pitcher(s)
We still don't know who will start the Wild Card Game. Aaron Boone has indicated the decision could come soon and he's made it pretty clear it'll be either J.A. Happ, Luis Severino, or Masahiro Tanaka. The Yankees aren't going to do a straight bullpen game. Two weeks ago RAB readers wanted Tanaka to start the Wild Card Game. I think the Yankees want it to be Severino. Happ is a perfectly fine candidate as well.
At the moment Happ is lined up to start the Wild Card Game on normal rest and Tanaka with two extra days of rest. Severino would be on three extra days of rest, though he could wind up starting Game 162 should the Yankees need to win that game to clinch homefield advantage. Hopefully it doesn't come down to that. Based on the way things are set up now, all three guys will be available to start the Wild Card Game. That's not an accident. The Yankees made sure they had options.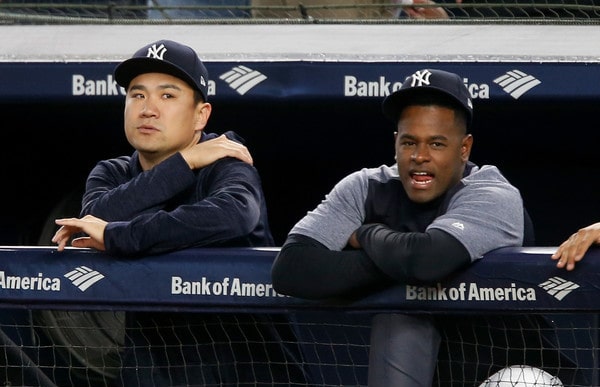 Instead of focusing on names, let's focus on roster spots. The Yankees carried three starting pitchers on the 2015 Wild Card Game roster (Severino, Tanaka, Ivan Nova) and three starting pitchers on the 2017 Wild Card Game roster (Severino, Sonny Gray, CC Sabathia). I expect them to carry three starting pitchers again this year. That gives the Yankees:
The starting pitcher.
An emergency guy for extra innings.
An emergency emergency guy in case there's an injury or things really go haywire.
It is entirely possible Happ, Severino, and Tanaka will all be on the Wild Card Game roster even though only one guy is starting the game. Or it's possible Happ and Severino are on the roster with Lance Lynn, who has bullpen experience, replacing Tanaka. I don't think the Yankees would carry Sabathia as a reliever at this point, but it can't be ruled out. Gray? Eh. Seems like a worst case scenario.
I suspect that, unless he has to start Game 162 on Sunday, Severino will be on the Wild Card Game roster. Even if he doesn't start the Wild Card Game, he could be another bullpen option. Heck, he might be on the roster even if he starts Game 162. The Wild Card Game would be Severino's throw day and he could give you an inning or two out of the bullpen. Yeah, one way or the other, I think Severino's on the roster. He's our 20th player.
My hunch is both Happ and Tanaka will be on the roster as well. I was thinking maybe the Yankees would carry Lynn instead of one of those two because he has bullpen experience, but I keep going back to Brian Cashman saying it is "all hands on deck for that one game," and Happ and Tanaka are objectively better than Lynn. The bullpen experience is nice. I don't think it trumps effectiveness. Happ and Tanaka are the 21st and 22nd players (and eighth and ninth pitchers) on our roster.
The Last Bullpen Spot
Whoever starts the Wild Card Game, that guy will be on a very short leash. It could devolve into a bullpen game rather quickly. For both teams. Because of that, I think the Yankees will carry ten pitchers on the Wild Card Game roster like last season, rather than nine like in 2015. I wouldn't rule out an 11th pitcher, honestly. I'm going to stick with ten though. That seems like plenty for a one-game scenario.
With Happ, Severino, and Tanaka joining the six late-game relievers, we are left with eleven candidates for the final pitching spot: Gray, Lynn, Sabathia, Chance Adams, Luis Cessa, A.J. Cole, Domingo German, Tommy Kahnle, Jonathan Loaisiga, Justus Sheffield, and Stephen Tarpley. I think we can rule out Adams, German, Loaisiga, and Sheffield right now. They would've gotten a longer look this month if they were Wild Card Game candidates.
Tarpley has gotten some run lately as a left-on-left guy and the other night Boone told Erik Boland that Tarpley has put himself "in the conversation" for the Wild Card Game roster. Since his ugly big league debut, Tarpley has thrown 5.2 scoreless innings with seven strikeouts, and lefties are 1-for-11 (.091) with five strikeouts against him. In the minors this year Tarpley held left-handed batters to a .141/.213/.183 line with a 29.4% strikeout rate. Really good!
There is one reason to carry Tarpley on the Wild Card Game roster: Matt Olson. Oakland's lefty swinging first baseman went into last night's game hitting .247/.338/.496 (128 wRC+) against righties and .251/.329/.369 (96 wRC+) against lefties. He's someone you can LOOGY. That said, if you bring in a lefty for Olson, A's manager Bob Melvin will counter with righty swinging Mark Canha, who's hitting .274/.331/.596 (148 wRC+) against southpaws. Melvin's been doing it all year.
In a high-leverage situation — is there such a thing as a low-leverage situation in a game as important as the Wild Card Game? — I'd rather have one of the regular late-inning relievers facing Olson than Tarpley facing Canha. All the late-inning guys have good numbers against lefties. I have a hard time envisioning a scenario in which Tarpley faces Olson/Canha in the middle (or late) innings rather than one of the usual late-inning guys. Worrying about the platoon matchup there seems like paralysis by analysis. Overthinking it.
I'm tossing Tarpley into the maybe pile right now. A good series against Andrew Benintendi, Mitch Moreland, and Rafael Devers this weekend would really help his cause. For our purposes, we're down to Cessa, Cole, Gray, Kahnle, Lynn, Sabathia, and Tarpley for the final bullpen spot. Hard pass on Gray and Cole. They've pitched too poorly for too long. Can't see it being Cessa either. Kahnle was excellent in the Wild Card Game (and postseason) last year …
… but that was 2017 Tommy Kahnle. 2018 Kahnle is not 2017 Kahnle. 2017 Kahnle would be on the Wild Card Game roster no questions asked. 2018 Tommy Kahnle? Nah. So we're left with Lynn, Sabathia, and Tarpley. So maybe it will be Tarpley? Either way, we're talking about the last guy in the bullpen, someone who won't pitch in the Wild Card Game unless things go really crazy. I'd take Lynn. Tarpley has a shot. Whoever it is, this is our tenth pitcher and 23rd player on the roster.
The Rest of the Bench
A ten-man pitching staff means a six-man bench. Romine gets one bench spot. (No, Romine shouldn't start the Wild Card Game.) Another spot goes to Wade (Hicks out) or Gardner (Hicks in). If Gregorius plays, both Hechavarria and Walker are on the bench. If Gregorius does not play, either Hechavarria or Walker is in the starting lineup and the other is on the bench. Depending on Didi, either three or four bench spots are already claimed. There are four candidates for the remaining bench spots. The four and their potential roles:
Greg Bird: Lefty bench bat
Kyle Higashioka: Third catcher
Ronald Torreyes (if Gregorius is in): Utility infielder
Tyler Wade (if Hicks is in): Utility guy and speedster
The big name bench candidate is Bird. We know Voit is starting at first base in the Wild Card Game, even against a right-handed pitcher. He's been too good and Bird's been too bad. The question is this: What would Bird provide the Yankees? A backup first baseman and a lefty bench bat who could take aim at the short porch? Sure. But Walker could do that too, and Bird offers zero defensive versatility.
Then again, if Gregorius is unable to play in the Wild Card Game, Walker would presumably start at second base — it would be either Gleyber at short and Walker at second, or Hechavarria at short and Gleyber at second — thus leaving the Yankees without a backup first baseman/lefty bat on the bench. Given his performance, leaving Bird off the Wild Card Game roster would be completely justifiable. I still think he'll be on. The Yankees love him and they have the spare bench spots. I hereby declare Bird our 24th player.
Don't dismiss Higashioka as a Wild Card Game roster candidate. His presence would allow the Yankees to pinch-run for Sanchez without worrying about Romine potentially getting hurt. Or they could pinch-hit for Sanchez in a big spot. I wouldn't do it and I don't think the Yankees would, but it would be an option. The Yankees only had two catchers on the roster last year because Sanchez was the man and he wasn't coming out of the game. They did carry three catchers on the 2015 Wild Card Game roster though (Sanchez, Brian McCann, John Ryan Murphy).
Right now we have a 24-man roster that includes either Gregorius or Torreyes, and either Hicks or Wade. This is starting to get confusing. Let's recap everything. This is how I think the bench and 25-man Wild Card Game roster shakes out:
| Catchers | Infielders | Outfielders | Starters | Relievers |
| --- | --- | --- | --- | --- |
| Sanchez | Andujar | Gardner | Happ | Betances |
| Romine | Bird | Judge | Severino | Britton |
| | Hechavarria | McCutchen | Tanaka | Chapman |
| | Torres | Stanton | | Green |
| | Voit | Hicks/Wade | | Holder |
| | Walker | | | Robertson |
| | Didi/Toe | | | Lynn/Tarpley |
Those are 24 roster spots. Ten pitchers and 14 position players. The Gregorius and Hicks injuries are the x-factors. There are three scenarios here with regards to the 25th roster spot:
Gregorius and Hicks are both hurt: Torreyes and Wade both make it, and the Yankees carry either Higashioka or an 11th pitcher.
Only one of Gregorius or Hicks is healthy: Ten-man pitching staff, Torreyes and Wade both make it.
Gregorius and Hicks are both healthy: Ten-man pitching staff, only one of Torreyes or Wade makes it.
If both Gregorius and Hicks are healthy — and we all hope that is the case — I think Wade makes the Wild Card Game roster over Torreyes because he's more versatile and his speed could really come in handy in a late-inning pinch-running situation. If both Gregorius and Hicks are both hurt, the Yankees are kinda stuck. It's either Higashioka or an 11th pitcher at that point.
The position player side of the Wild Card Game roster is going to depend on the health of Gregorius and Hicks. On the pitching side, the Yankees can pick and choose who they want. We know the six end-game relievers will be there. The Yankees are likely to carry three starters, no matter who they end up being. Do they carry Tarpley? That might be the most interesting Wild Card Game roster question.