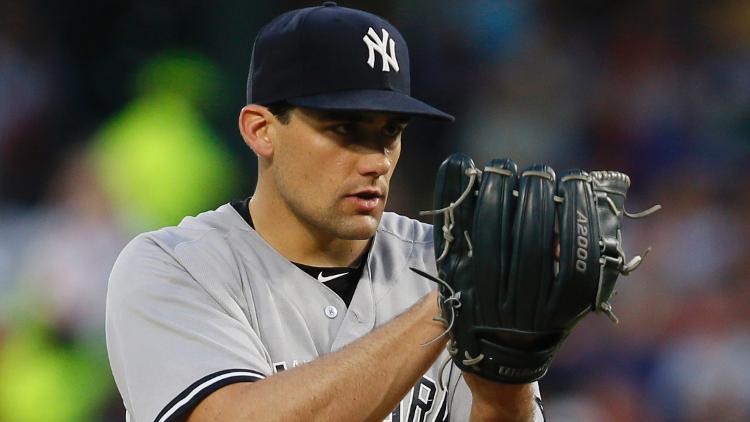 Near No-No Nate
Nathan Eovaldi's chance to make history fell just short on Monday night, but he still established a new level of pitching dominance for Yankee starters this season and helped the team start its road trip with a 3-1 win over the Rangers.
Eovaldi dominated the Rangers lineup, holding them hitless through six innings until Nomar Mazara led off the top of the seventh with a single. He finished with a stellar line of seven-plus innings, no runs, two hits, six strikeouts and one walk, becoming the lone Yankee starter to produce a scoreless outing in 2016. His Game Score of 77 also set a new benchmark for the rotation.
He consistently got ahead in the count, and while pitching with the advantage, was able to get hitters to chase his diving splitter out of the zone. The Rangers went 0-for-12 in at-bats ending in his split-fingered fastball; six of those outs were swinging strikeouts, and five were harmless grounders. His command of his slider was just as impressive: he threw 19 of them, 17 for strikes, and none resulted in a hit.
Although Eovaldi missed out on etching his name in the record books, he did put himself on a couple lists with some pretty good names. The last Yankee to throw at least seven shutout innings while giving up no more than two hits against the Rangers in Texas was Ron Guidry (1980). It was also his eighth straight game with at least six strikeouts, the longest streak by a Yankee right-hander since Roger Clemens in 2001.
From best to worst
One day after Eovaldi spun a gem, Luis Severino produced the exact opposite – a terrible performance in which he was pummeled by the Rangers' bats and allowed twice as many runs (six) as innings pitched (three). Severino's Game Score of 20 was the worst for any Yankee starter this season, and it was also the shortest outing for any pinstriped starter.
The Rangers ultimately cruised to a 10-1 victory, handing the Yankees their worst loss in Arlington since a 13-3 beating on August 21, 2001.
The most frustrating part was that numerous times the Yankees seemed thisclose to escaping an inning with no harm done, but were stung by several crushing two-out hits. Nine of the 10 runs allowed by the Yankees came with two outs, continuing a troubling trend for the team.
After Tuesday's disaster, they had surrendered 49 two-out runs, by far the most of any AL team (the Tigers were second with 39), and the Yankees easily led the league in batting average, on-base percentage, slugging and OPS allowed with two outs.
Dead Bats Society
Following their 3-2 loss on Wednesday night, there are few words left to describe the magnitude of the Yankees' near-historic offensive struggles this season, so let's just recap with some facts (because numbers never lie):
• Yankees have scored 72 runs, their fewest thru 20 games since 1990. And that season ended … um, not good.
• They've tallied two runs or fewer in 10 of 20 games, the most for any Yankee team this early into the season since 1966. Yuck.
• Yankees are the only major-league team this season that's scored two-or-fewer runs in at least half of their games. Disgusting.
• They've scored three runs or fewer 15 times this season. Over the last 100 years, no other Yankee club has ever done that more times in the team's first 20 games. Ugh.
• Since their game in Detroit was postponed on April 10, the Yankees have played 15 games and scored more than four runs just once. Gross.
On a more positive note, A-Rod returned from his oblique injury and produced his best game of the season, going 3-for-3 with a homer, double and single. It was his 543rd career double, tying Tony Gwynn for 32nd place all-time. Next up on the list is The Captain, Derek Jeter, with 544. A-Rod also scored his 1,000th run as a Yankee, the 12th player in franchise history to reach that milestone, and is one of nine players to total at least 1,000 runs and 1,000 RBIs in pinstripes. The other guys? Mattingly, Bernie, Jeter, Yogi, Mantle, DiMaggio, Ruth and Gehrig.