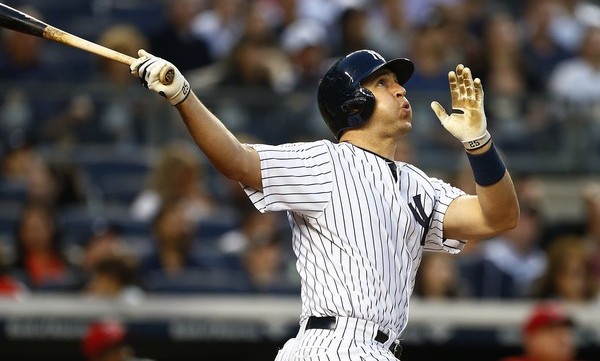 Yesterday morning we looked at the five longest home runs of the 2015 Yankees season. Now it's time to look at the other end of the spectrum, the laughably short home runs. Yankee Stadium's right field porch helps create plenty of these. But hey, both teams are playing in the same ballpark with the same dimensions, so what's fair is fair.
Once again, we're going to rely on the wonderful Hit Tracker for our home run distance data because Statcast data isn't full available just yet. Maybe next year. All home runs count the same, of course. The short ones in this post count just as much as the long distance homers we looked at yesterday. I guess that's part of what makes baseball fun. Anyway, here are the top five. Or bottom five?
5. September 12th: A-Rod sneaks a home run into the short porch. (box score)
I've said this more times than I care to count: Alex Rodriguez is the smartest, most instinctual player I've ever seen. Plus he's insanely talented. When the Yankees moved into the new Yankee Stadium and it became apparent the short porch in right field was a very short porch, Alex made adjustments to better drive the ball the other way, resulting in home runs like this:
Aside from
Derek Jeter
, who was never much of a power hitter, A-Rod is the only true everyday right-handed hitter the Yankees have had in the lineup for multiple seasons since 2009. I still have a hard time believing someone else could make an adjustment like that look so effortless. No righty is able to poke the ball to the opposite field for a home run quite like Alex. That home run traveled 341 feet, by the way.
4. June 20th: Beltran goes the other way for his second of the game. (box score)
Boy the Yankees crushed the Tigers this summer. They played them seven times, won five times, and outscored Detroit 46-26 (!) in the process. The Yankees won this particular game against the Tigers by the score of 14-3 thanks in part to two Carlos Beltran home runs. The second one was the team's third shortest dinger of the season.
Believe it or not, that was Beltran's first and still only two-homer game with the Yankees. He went deep from both sides of the plate too — he hit a a solo home run off the right-hander Alfredo Simon earlier in the game. That was a more traditional big fly. This opposite field solo shot measured in at 339 feet.
3. August 7th: Teixeira homers without leaving the yard. (box score)
This is definitely my favorite home run in this post. It didn't even leave the ballpark. Teixeira hit a high fly ball out to left field — not the short porch! — that some poor fan in the first row failed to catch, and the ball landed back on the field. Check it out:
The play was originally ruled a double on the field.
Joe Girardi
asked for a review and the call was later changed to a home run. The fan didn't get the ball either way. Sucks for him. Bring your glove next time. No shame in it. The distance on this one? A mere 336 feet.
2. May 25th: McCann hits one just over Orlando. (box score)
Orlando in this case means Paulo Orlando, the Royals outfielder. Unlike the other home runs in this post, this one at least looks like it was going to be a base hit not matter what. This was not a towering fly ball that landed one or two rows deep. No, this was a rocket line drive over Orlando's head:
Maybe Orlando catches that in a normal sized ballpark. He is quite the defender. I'm thinking that's a double to the wall in most ballparks with an average-ish right fielder. That's certainly not a routine fly ball. McCann hit it hard and was rewarded with four bases instead of two. This blast traveled 336 feet. Also, Jeremy Guthrie was charged with eleven runs in one inning that afternoon.
1. June 5th: Teixeira hits one high but not far off Weaver. (box score)
Unfortunately, the Yankees didn't hit any ultra-cheap home runs either off or wrapped out the right field foul pole this season. Here is last year's shortest homers post. No. 1 was a doozy. That home run was so cheap you can't help but laugh.
The Yankees didn't hit any home runs like that this past season. Instead, the shortest home run was a very high fly ball that landed a row or two back in right field. In most ballparks, it's a lazy fly ball to the warning track with plenty of hang time. In Yankee Stadium, it's a dinger. Check it out:
That home run checked in at 334 feet. I could only dream of hitting a baseball that far. Oh, and fun fact: three of the team's nine shortest homers of the season came off Jered Weaver in that June 5th game. In addition to that Teixeira homer,
Stephen Drew
hit a pair of cheapies that measured 347 feet each.
Here's the video of Drew's homers
. Poor Jered.
* * *
In case you're wondering, the Yankees' shortest home run of the season away from Yankee Stadium was a McCann solo home run at the O.Co Coliseum on May 28th. Here's the video. That was the team's tenth shortest home run of the season at 348 feet. Sixteen of the Yankees' 18 shortest home runs this season came in the Bronx, because duh.