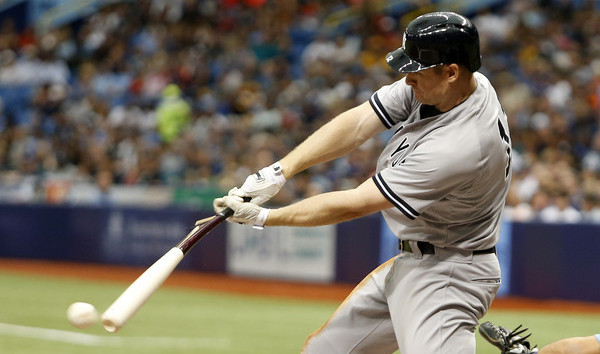 The Yankees have won 18 of their last 24 games, and during that stretch they've done just about everything well. The bullpen has been excellent, the team defense has been very good, the non-Michael Pineda rotation has been good enough, and the offense is much improved from the last two years. The Yankees are the fourth highest scoring team in baseball with an average of 4.85 runs per game. That's up almost a full run per game from 2013-14 (3.96 R/G).
For most of April the Yankees relied heavily on Jacoby Ellsbury and Brett Gardner to generate offense. They still do, but for that first month, those two had to get on base if the club wanted to have any chance to score. Ellsbury and Gardner got on and someone drive them in. If that didn't happen, the Yankees didn't score very much. Those two carried the offense.
Lately, the Yankees have been getting some more contributions from the lower part of the lineup. Carlos Beltran, who looked as close to done as it gets for several weeks, is now 12-for-37 (.324) with two homers this month and is showing some real signs of life. Hopefully it's not just a mirage. Brian McCann has rediscovered his power stroke as well, clubbing three homers in his last 13 games after hitting one in his first 14 games. Getting those two going was really important.
The very bottom of the lineup is a different matter. There's not much the Yankees can or should do about Didi Gregorius. They have to give him an extended trial at shortstop because he could, maybe, possibly, be a long-term solution at the position. That means living with the growing pains now. Didi's hitting a powerless .254 with a .333 OBP in his last 18 games, which is fine for a number nine hitter in my book. Jose Pirela figures to steal some at-bats from number eight hitter Stephen Drew, which should help the lineup as well.
That leaves third baseman Chase Headley, typically the seventh place hitter between McCann/Beltran and Drew/Gregorius. Headley is hitting .233/.285/.383 (83 wRC+) in 130 plate appearances this season, with the second highest strikeout rate (22.3%) and the second lowest walk rate (6.2%) among the team's regulars. He does have a knack for big hits (169 wRC+ in high-leverage spots!), but, overall, the Yankees were counting on more from Headley.
No one came into the season expecting Headley to repeat his stellar 2012 season (145 wRC+), but it was fair to expect a repeat of his 2013-14 campaigns (109 wRC+), especially since he hit .262/.371/.398 (121 wRC+) during his short time in pinstripes last year. Instead, he has the third lowest average exit velocity (84.69 mph) on the team even after last night's homer. Given that, it doesn't seem his .273 BABIP with approach his .310 mark from 2013-14 mark anything soon.
The good news is Headley's plate discipline hasn't changed despite the drop in walk rate. A change in approach would be a big red flag. He isn't swinging at any more pitches out of the zone (25.0% after 27.0% from 2013-14) and isn't making less contact (80.8% after 76.9% from 2013-14). The contact and approach are there. The quality of the contact isn't for some reason. For what it's worth, Headley has been a second half hitter since becoming a full-time player in 2009.
| | First Half | Second Half |
| --- | --- | --- |
| 2009 | .232/.308/.366 (88 wRC+) | .293/.377/.421 (122 wRC+) |
| 2010 | .269/.319/.367 (92 wRC+) | .257/.337/.387 (105 wRC+) |
| 2011 | .299/.391/.401 (127 wRC+) | .247/.306/.390 (98 wRC+)* |
| 2012 | .267/.368/.413 (124 wRC+) | .308/.386/.592 (170 wRC+) |
| 2013 | .229/.330/.359 (100 wRC+) | .280/.371/.458 (135 wRC+) |
| 2014 | .226/.296/.350 (88 wRC+) | .265/.367/.402 (121 wRC+) |
* Missed six weeks after breaking a finger sliding into a base.
Does that mean Headley is guaranteed to start hitting later in the season? Of course not. It's a career long trend though and that's something we have to acknowledge. Slow starts — slow first halves, really — are nothing new for Headley. Even with last night's homer, what Headley is doing so far this year is right in line with what he's done early in every other year as an everyday player.
"It's fun to just be another guy in the lineup. I feel like guys aren't game planing against just me. There's other guys in the lineup they have to worry about," said Headley to Ryan Hatch recently, referring to no longer having to be The Man offensively, like he did with the Padres all those years. "If you're going to do that, there are other guys who can get you. There's consequences with that."
Headley's defense has been excellent so far this year, every bit as advertised, but his offense has undoubtedly been a disappointment to date. Hopefully the big game last night is a sign he is breaking out of it. His lack of offense hasn't really hurt the Yankees yet, and both McCann and Beltran are starting to pick up some of the slack, but the Yankees need Headley to get back to his career norms so the offense can fire on all cylinders.