By

Good news for the Yanks courtesy of Bryan Hoch: Alex Rodriguez will be arriving at the Yanks' facility in Tampa on Monday to ramp up baseball activities. A-Rod underwent surgery on March 9 to temporarily repair a torn labrum in his right hip, and in a text message exchange with Joe Girardi yesterday, A-Rod said he was feeling good. In fact, he was spied riding a stationary bike while watching the game yesterday. The Yankees, meanwhile, are holding true to their May 15 expected return date for A-Rod, but the whispers of a late April or early May return continue to grow louder. That day can't come soon enough. · (17) ·
Cesar Izturis' eighth inning home run pretty much summed up the Yankees' Opening Day 10-5 loss. Izturis signed a two-year, $5 million contract with the Orioles this off-season for his glove. After he has a career OPS+ of 67 and blasted just two home runs over this last three seasons.
So of course, with the Yanks knocking at the Orioles' door in the 8th inning, he turns on a Phil Coke offering and deposits it just out of the reach of Johnny Damon in the left field seats. I wouldn't be surprised if Izturis' blast is the only one he hits all season.
For the Yankees, Opening Day was an entire game of "just out of reach." For CC Sabathia, the $23 Million Man, the strike out zone was just out of reach. He lasted just 4.1 innings, giving up 6 earned runs on 8 hits and an alarming 5 walks. He recorded no strike outs in a start — a feat he has accomplished four times in his career — for the first time since July 25, 2005.
One at-bat, in particular, sticks out for me. With the bases loaded in the fifth inning, Luke Scott was up. Sabathia got ahead 0-2 on two sliders Scott fouled away. Instead of attacking Scott with a fastball, Sabathia threw four more sliders. None of them got the plate, and Scott didn't bite.
After the game, Sabathia said he just didn't have it. He couldn't locate his fastball, and as any pitcher at any level knows, a pitcher who cannot locate his fastball is pitching at a disadvantage. (The heating pack, by the way, was for CC to stay warm and loose. In the post game show, Sabathia and Girardi both said nothing was physically wrong with the lefty. He just "never got in the groove," as Posada said.)
Offensively, the Yanks were always just out of reach of the Orioles. Down 6-5 in the 8th, Nick Swisher led off the inning with a double. Joe Girardi used the speedy Ramiro Peña to pinch hit, but then he gave away an out as Brett Gardner bunted. I understand the theory behind moving the runner to third. Peña could potentially score on an out. With three contact hitters in Gardner, Derek Jeter and Johnny Damon due up next though, why not let Gardner put the ball in play? As he showed in the third, good things happen when he does that.
Anyway, Derek Jeter tapped out to third, and after a Johnny Damon walk, Mark Teixeira left two runners. His 0-for-4 with 5 LOB left the Yankees just out of reach.
By the time Phil Coke and Brian Bruney combined for four earned runs in two innings, the Yanks had lost their chances. They had left 11 runners on base and couldn't deliver that blow. The game was just out of reach.
While Sabathia wasn't great, while the Yankees' five runs and 11 hits weren't quite enough, it is also important to keep it all in perspective. Game one is a loss, and what can you do? Jorge Posada showed some signs of power. Hideki blasted a homer. Damon and Jeter combined for five hits, and Robinson Cano walked twice. Anyway, we've still 161 more of these to go.
By

Mike Ashmore has the details. No real surprises, but they will have to remove two players from the roster before Opening Day to get down to the 24-man roster limit. I'm guessing that Justin Snyder and Jose Gil will get shipped down to High-A Tampa. The rotation is strong with Zach McAllister, George Kontos, Eric Hacker, Ryan Pope and Ivan Nova holding down the five rotation spots, and guys like Kanekoa Teixeira, Kevin Whelan, Mike Dunn and Josh Schmidt highlight a formidable bullpen. Chris Malec, Reegie Corona, Eduardo Nunez and Marcos Vechionacci represent a lock down defensive infield, but the outfield isn't anything to write home about. Low-A Charleston's roster was announced yesterday. · (38) ·
ZOMG CC is teh bust!11!! Keep the convo going here folks.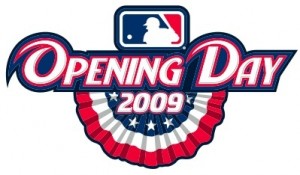 It's like Christmas, but better.
After six long and occasionally torturous months, the Yankees will finally return to paying meaningful games today. The weather looked threatening at one point, but it's cleared up a bit and it now looks like we'll have baseball down in Baltimore. Praise be to Mo.
Your Opening Day starting nine:
Derek Jeter, SS
Johnny Damon, LF
Mark Teixeira, 1B
Hideki Matsui, DH
Jorge Posada, C
Robbie Cano, 2B
Xavier Nady, RF
Cody Ransom, 3B
Brett Gardner, CF
And on the mound, weighing in at $170,000,000, CC Sabathia.
Notes: Expect Tex to get the bejesus booed out of him … you can find out 2009 Predictions thread here … please considered participating in The 2009 RAB Pledge Drive to benefit Joe Torre's Safe At Home Foundation if you haven't already …
Predictions are stupid (I said this yesterday). How can one person expect to figure out what's going to happen over the course of a season before it's even begun? The answer is they can't. Yet if they're right in their guesses, they'll make sure everyone remembers it. If they're wrong, no biggie; no one remembers pre-season predictions.
There is, however, value in the community. If we band together and each make predictions, perhaps if we add them together we'll come up with something that resembles reality. Plenty of blogs conduct community projections for their teams' rosters. While we've never done that at RAB, we've proved that we're not above copying good ideas. So let's dive into some community projections.
Here's how we'll work it. You'll pick the six division winners, wild cards, playoff brackets, and MVPs, Cy Youngs, and ROYs for each league. Not only that, but at the suggestion of TJSC (okay, so maybe he came up with this entire idea; shut up), let's take this further and talk mid-season trade. If a few high-payroll teams drop out of contention we could see a robust trade market come July. For the projections, name the player you think will be traded, and where he'll land. Don't worry about who the team gets in return. So, for example, Magglio Ordonez to the White Sox. That's all we need.
To get the ball rolling, here are my picks:
Yanks
Twins
Angels
WC: Red Sox
Braves
Cubs
Dodgers
WC: Phillies
AL MVP: Mark Teixeira
NL MVP: Ryan Howard
AL Cy Young: A.J. Burnett (hey, can't go back on my bold prediction)
NL Cy Young: Derek Lowe
AL ROY: Matt Weiters
NL ROY: Colby Rasmus
Notable trades:
Magglio Ordonez to the Angels (after a Vlad injury)
Aubrey Huff to Cleveland
Jake Peavy to the Cubs
Placido Polanco to Arizona
Matt Holliday to Atlanta
Garrett Atkins to Houston
Make your picks, in more or less this format, in the comments. Then we'll add 'em up and make a page for it. With our powers combined, we are Captain Planet maybe we can approach something resembling accurate projections.
When the Traveling A-Rod Circus makes its way up to Boston this year for the first time, the Yanks' third baseman is sure to be greeted with a louder-than-usual chorus of Bronx cheers. Not one to engender much love in the Hub, A-Rod and his off-season steroid revelations simply give the Fenway Faithful more ammunition. I have to wonder though if this isn't some huge act of hypocrisy perpetrated by baseball fans throughout the nation.
Yesterday, as I was procrastinating work on an appellate brief browsing my usual baseball sites, I came across an article on Takashi Saito from the Oct. 3, 2008 edition of the Los Angeles Times. Saito, now the Red Sox set-up man was with the Dodgers at the time, and the article is about a medically groundbreaking procedure Saito received last July when he suffered what should have been a season-ending tear of his elbow's ulnar collateral ligament.
Generally such an injury leads to Tommy John surgery, but in Saito's case, it led to an injection of a medicine designed to greatly enhance his body's natural healing process. That almost sounds like Human Growth Hormone, but it's not. Here's how the LA paper described the process:
Saito credited his unlikely recovery from a partially torn ulnar collateral ligament in his elbow that he suffered in July to a cutting-edge medical procedure, which, to his knowledge, had never been tried on a major league pitcher. To this day, team physician Dr. Neal ElAttrache can't definitively say that injecting platelet-rich plasma into Saito's elbow is what allowed him to avoid Tommy John surgery. ElAttrache also won't guarantee how long the elbow will hold up or that Saito won't have to have surgery in the future…

Trainer Stan Conte said he estimated that Saito had a 20% chance of pitching again this season and told management not to count on him being back. So when ElAttrache offered using PRP as an option, Conte was open to the idea.

Within a week of hurting his elbow, Saito had blood drawn and spun to isolate the platelets, which clot and promote healing. The platelets, 10 times more concentrated than in normal blood, were injected into the site of the tear in the elbow. ElAttrache said he used PRP in the past to repair tendons, but never ligaments.
So what's the difference? Medically, Saito's doctor took something found naturally in his body — platelets — concentrated them into a super-high dosage and then reinjected the platelets into the site of Saito's injury. When a baseball player injects himself with a steroid, as far as my medical knowledge goes, he is basically doing the same thing. He takes a super-high dosage of testosterone, something found naturally in the body, or a synthetic substance and injecting into his body to promote quick healing and an unnatural edge.
Of course, what Saito did doesn't run afoul of medical ethics, U.S. law or baseball rules. So the Red Sox fans will cheer him — or ignore him — as he contributes during the season, and A-Rod who went looking down illegal paths for that edge will get booed. It's quite the conflict in baseball's PED policy. How and where do you draw the line between acceptable forms of over-medicating?
Last week was a pretty uneventful one for the Yanks. Well, unless you count the opening of their new gazillion dollar palace. Derek Jeter hit the first ball out of the park in batting practice, and the team opened the place with a win over the Cubbies in an exhibition game. More good news about the New Stadium: you can actually drink in the bleachers now! It's not all happy times though, because we might never The Voice of God again.
Aside from opening the New Stadium, the team finalized it's two remaining roster questions, taking Jon Albaladejo as the seventh reliever and Ramiro Pena as the utility infielder. The Pena move is somewhat significant because it reinforces the front office's dedication to getting younger, more athletic, and better defensively. Joba Chamberlain put together two strong starts to close out his spring, but more importantly Jorge Posada has seen the light. Brett Gardner was also named the best rookie in camp.
A-Rod's rehab from hip surgery continues to go well, and it looks like he might even be able to return in late April. Reegie Corona was returned by the Mariners, and Phil Hughes's strong spring continued in his latest Triple-A outing. All is good in Yankeeland these days.
Please take a second to answer the poll below and give us an idea of how confident you are in the team. At some point in the next few weeks I'll create a permanent link to a graph showing the change in fan confidence over time, but for now this will have to hold you over. Don't worry, I'll pretty it up eventually. Thanks in advance.
Given the team's current roster construction, farm system, management, etc., how confident are you in the Yankees' overall future?
Well, beat the drum and hold the phone – the sun came out today!
We're born again, there's new grass on the field.
There's an old saying in baseball. It goes a little something like this: Life begins on Opening Day.
That is a statement 100 percent true. This afternoon at around 4:07 p.m., weather permitting, Jeremy Guthrie will deal the first pitch of the Yankees' season to Derek Jeter, and that countdown to game 162, to October, to a possible parade begins.
Every year, Opening Day is a special time for me. We spend the winter going over the what if's. Who's going to sign where? Who's going to start? Who's going to relieve? Who plays center field? Who overpaid? Who underpaid? Who wins the hardware? Who finds himself on the wrong end of a scandal?
It makes for great conversation, but it's not baseball. For six months now, the Yankees haven't played a game that counted. They closed out the season last year on Sept. 28, 2008 with a ten-inning loss to the Red Sox. For the first time since I was 11, the Yanks failed to play a game in October, and the team went out with a whimper.
Now we're perched on the edge of a brand new day. Every one, every team, every pitcher is at 0, and the promise of a new season is fresh in the air. No one is facing an uphill climb to the pennant. No one is facing a firesale, a declining season, a disappointing performance. Everyone is just waiting for it to count again.
For the Yankees and their fans, the start of the season has come to mean expectation. Since Luis Gonzalez's bloop fell beyond the reach of Derek Jeter on a warm November evening in Arizona seven and a half years ago, the Yanks have had the weight of baseball expectations on them. They've spent more money than any team since 2001 and have nothing but one AL pennant to show for it. Every year, they land the Next Big Thing and are picked to win it all. When they fall short, it's a disappointment.
This year, though, it's different. The Yanks, all $209 million of them, are underdogs. Sure, they have Mark Teixeira, CC Sabathia and A.J. Burnett. Sure, they have a multi-billion-dollar ballpark that offers riches for the richest and more money for the Yanks' coffers. But they've been picked by many to finish third in a very competitive division. Before the season starts, the Yanks, used to lofty expectations, are being told not to expect much. That's okay with me. It's makes watching the games that more fun this year.
As 4 o'clock rolls around this afternoon, I'll be wrapping up a class. I'll head home, flip on the TV, and there will be baseball. There will be the Yanks in their road grays taking on the Orioles. It will be one of 162, and it will be a glorious rebirth of baseball, the game that kills us or elates us on a nightly basis, the game we love. It will be the two finest words in April. It will be Opening Day.
Got a beat-up glove, a homemade bat, and brand-new pair of shoes;
You know I think it's time to give this game a ride.