By

Via MLBTR, Jon Heyman has a tiny little blurb about the Giants being interesting in bringing Xavier Nady back to the Bay Area at some point. It isn't clear if Heyman means they're interested in trading for the X-man during the season, or pursuing him when he's a free agent next winter. Nady, who grew up about two hours south of San Francisco and starred at Cal-Berkeley, fits their need for a power bat that can fill in at first base and the corner outfield spots. Given his contract status, the Yanks shouldn't expect much for Nady in a mid-season trade, and would probably maximize their return by offering him arbitration after the year and taking the compensation draft pick(s). · (30) ·
By

We couldn't let the opening weekend at the new Yankee Stadium go by without heading up to the Bronx to check out the new digs. While Joe is out of town this weekend, Mike and I are heading up to Yankee Stadium this afternoon to scope out the scene. While we'll be wandering the halls before the game, we'd like to invite any RAB reader who's coming to the stadium today to find us once the game starts. We'll be sitting all the way up in the Grandstand in section 420B. We're in row 5, seats 8 and 9. Come find us. · (18) ·
The Yankees played a game in the Bronx last night. They were wearing their pinstriped home uniforms. They took the field first, received a lot of applause, hit some home runs and won. Sounds good, right?
For all that is right in Yankee Universe, I couldn't shake the nagging feeling that I was watching the Yanks play a home game in someone else's stadium. The frieze looks great; the Great Hall looks, well, great; and Michael Kay called the stadium "majestic" every half inning. It will take a little while to get used to this new stadium as the home park for our New York Yankees.
That said, Yankee fans couldn't have asked for a better debut. The team blasted three home runs with Robinson Cano hitting the first one out. Derek Jeter knocked out the first Yankee hit in the new stadium, and while Chien-Ming Wang wasn't brilliant, he did enough to nail down what should be the first of many Yankee wins on the north side of 161st St.
For the Yankees, Friday night was nothing but a tune up. They left Florida with the best record in the Grapefruit League and came north to test run the new stadium. The team responded in kind. They knocked out 13 hits — including two doubles and three home runs — and plated seven as they downed the Cubs 7-4.
If we bothered to look closer, we might see a few things that weren't so encouraging. Chien-Ming Wang was off. He threw just 43 of 71 pitches for strikes, and he induced seven ground balls to five fly outs. He was missing up with his sinker, and the Cubs weren't getting good swings.
Of course, Wang's line would have looked a lot better if not for a "past a diving Jeter" play. With two outs and two on in the top of the second, Wang got a ground ball that could have been an out. Jeter ranged to his left, dove and missed it. Two runs scored, and Wang used five more pitches to get through the inning. Jeter's defensive short-comings aren't always that obvious, but tonight, we saw exactly how his lack of range can impact an inning.
To be fair, Jeter the leadoff hitter, came to bat three times and was on base three times. He scored a run and did all we could ask offensively. He's hitting nearly .400 since returning from the WBC and remains a top offensive threat at the top of a potent Yankee lineup. That defense though will always be a problem.
Anyway, enough with the negative digs at Derek. Tonight was a night to ring in the stadium and a new era in baseball history. While the Y.M.C.A. made a rather unfortunate debut at the new Yankee Stadium, everything else was as planned. Here's to many more of those victories when they count.
By

Following up on yesterday's post, the Yankees officially welcomed Reegie Corona back from the Mariners today. After hitting .281-.311-.386 in 57 at-bats this spring, Corona was assigned to Double-A Trenton, where he played last year. All of the players the Yanks lost in the Rule 5 Draft this year have been accounted for, as Corona, Zack Kroenke and Ivan Nova returned to the Yanks while Jason Jones will remain with the Twins after a trade. · (4) ·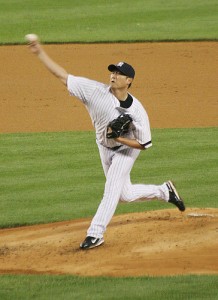 Baseball in New York is finally back. It's been six long months since the city last hosted a game featuring big leaguers, and even though tonight's game is just an exhibition, who cares? It's baseball in New York.
The star of the show will undoubtedly be the New Stadium, which will experience the tender lovin' of a Major League game for the first time tonight, even though the game doesn't count. The weatherman says to expect some showers throughout the evening, but the baseball gods have a way of taking care of these things. Remember, the final game at the Old Stadium was threatened by rain, but come first pitch there was nothing but blue skies and sunshine.
Lou Piniella and his Chicago Baby Bears will help christen the new place in what amounts to nothing more than a test run of all the services and neat little features. Between tonight and tomorrow the bigwigs will get an idea of what needs to be improved before the season starts, and then while the Yanks are on the road the next two weeks, that stuff will be taken care of. Beautiful, ain't it?
Here's the starting nine:
Jeter, SS
Damon, LF
Teixeira, 1B
Matsui, DH
Posada, C
Cano, 2B
Nady, RF
Ransom, 3B
Gardner, CF
On the mound is number forty, Chien-Ming Wang.
Both YES and the MLB Network will be carrying the game; first pitch is scheduled for 7:15. Enjoy folks.
Note: Long-time RAB reader and commentor Arman Tamzarian asked us to pass this along (no, that's not his real name):
I'm a Program Manager with Larkin Street Youth Services in San Francisco. I'm running a half marathon to raise money for the program, and am looking for sponsorship help. Larkin Street has been working with homeless youth for the past 25 years in San Francisco. Larkin Street not only works with youth ages 12-25 around housing, but has a whole division teaching resume building, interview skills, job retention, and getting youth jobs. Larkin Street works to move youth out of the system and into independence.
You can find his sponsorship page here, and you can also find more info about Larkin St. here. Even if it's just a couple bucks, please consider helping out.
Photo Credit: Flickr user matt.hintsa
For now, the weather is holding in New York City, and the Yankees may just get to play that first game at the new stadium in a few hours after all. Meanwhile, City Room, the Metro-focused New York Times blog, checked in with an interesting piece on the efforts to cleanup the neighborhood before the stadium opens today.
Here's how Matthew Warren described it:
Inside the stadium, workers cleaned and polished metal railings. Outside, landscapers planted bushes and trees. City park workers picked up trash, painted benches and spread grass seed in nearby parks. Power washers were sent out to remove graffiti from neighboring buildings. Workers put down lines of fresh white paint on the crosswalks, and even a nearby McDonald's was undergoing renovation.

"Now for opening day, there's a little bit more of a rush to get things clean," said a parks department worker enrolled in a job training program, who was painting park benches green at Macombs Dam Park. "I'm not sure when the last time they were painted was."
While it's a good idea for the South Bronx to put its best face forward for the debut of the new home of the Yankees, it shouldn't take a new stadium for the city to clean up a dirty neighborhood. Mike and I are heading up to the Bronx tomorrow afternoon. We'll have a full report and lots of pictures after the game then.
Back in my first year of college I had a professor that assigned us a semester long project that counted as a significant part of our grade. Basically as the semester went along and we learned the material, we would be able to proceed further along with the project, which was great if you managed to stay on top of it on a regular basis. However, he designed the assignment so that at certain points you were going to get stuck because the material wasn't going to be covered in class and the textbook/reference material was useless.
The whole point behind these "sticking points" was that you had to seek out the professor outside of class and ask for his help. It was his way of helping you get more comfortable with going to your superior and asking for guidance, which as we all know is inevitable in the real world. I still think he was a little lonely and liked the company, but whatever. Anyway, when you went to him he wanted you to ask very specific questions rather than just the what do I do now jobs we all wanted to ask, and when we did come with a general question like that he would say "you're asking good questions, but not the right ones." It was frustrating as hell, but in the long run it definitely helped me out.
So why am I talking about this? Because Jonathan Halket at The Hardball Times looked at five questions facing the Yankees in 2009. Much like my old professor was fond of saying, I think Halket asked good questions, but not necessarily the right ones. Don't take this as a shot at Jeter him or the THT gang, his article is very good and I recommend you head over and check it out. I just think the five biggest questions the Yanks will face this year are a little different than the ones he asked. Let's take a look, shall we?
1. Can this team stay healthy?
Alex Rodriguez's surgically repaired hip will draw attention all year. If he's struggling, people will wonder how much it's hindering him, and of course there's always the chance that it breaks down completely and he'll need to have the more severe surgery. CC Sabathia has thrown 275.2 innings in the last twelve months, and AJ Burnett has spent 135 out of 549 possible days (24.5%) on the disabled list over the last three seasons. Andy Pettitte admitted to pitching with a sore shoulder in the second half last year, and we all know about Jorge Posada's wing. Even Mo went under the knife this offseason.
These are not inconsequential players. You could argue that they're the six most important players on the team, and all of them will have some health questions to answer as the season goes along. And that's the thing, I can't answer this question, we just have to watch and see how it all plays out.
Luckily, the Yanks do have more depth than they've had in years past, especially on the pitching side. If Sabathia, Burnett or Pettitte goes down, they have Phil Hughes waiting as the best sixth starter in baseball. Ian Kennedy, Al Aceves and even Brett Tomko are as good a seventh-eighth-ninth group of starters you can find. They also have the ammo needed to go out and make a move should A-Rod's hip or Posada's shoulder put them down for the count at some point.
In his latest column, our favorite Yankee-mocking columnist mentions that some Yankees scouts pondered the idea of signing Dallas McPherson. Yet they never brought the idea to Brian Cashman, so it's not going to happen. Mike and I discussed this on the RAB Radio Show, and came to the same conclusion as Sucka: The Giants might be a good fit.
Sucka also mentions Melky Cabrera, "with rival clubs viewing him as a more inexpensive option than Xavier Nady or Nick Swisher." I'm assuming the sentence read like this before editing: "with rival clubs viewing him as a more inexpensive and less productive option than Xavier Nady or Nick Swisher." He goes onto say that the Yanks will only move him for the right price, which is what they should be thinking. Brett Gardner hasn't proven much yet, and having Melky on the bench, especially when he is "playing as well as he ever has" (marketing speak if I've ever heard it), provides the Yanks with at least some insurance.
So it looks like the roster is set for now. We'll see how things change over the course of April.
* Think this nickname for Rosenthal has staying power?
Last year we decided to use the popularity of RAB for some good, creating a pledge drive dedicated to raising money for The Jorge Posada Foundation. We based the pledges on the number of strikeouts recorded by The Big Three of Phil Hughes, Joba Chamberlain and Ian Kennedy, and even though things didn't go according to plan we still raised $1050 for Posada's cause.
The pledge drive was so successful last year that we're going to do it again this year, except we're going to change things up a bit. Instead of strikeouts from young pitchers, we're going with offense baby. Basically what we want to do is have you guys, the readers, pledge some amount of money for every run the Yankees score this year. SG's projection blowout has the Yanks scoring somewhere around 850 runs this year, so if you pledge $0.03 per run, that's just a $25.50 donation on your part. I know we're in a pretty brutal recession, but any pledge is welcome, even if we're talking just one penny per run.
All donations with year will benefit Joe Torre's Safe At Home Foundation, which is dedicated to "educating to end the cycle of domestic violence and save lives". You can learn all about the Foundation at it's website, and you can also watch a message from Torre explaining why he started Safe At Home by clicking here. No child should ever have to be in fear at their home, and we hope you'll help us support Joe in his fight against domestic violence.
Last year we collected the donations at the end of the year via PayPal,  personal check or money order, and we'll do the same thing this year. That's something to worry about at the end of the season though. If you wish to pledge – and we hope you do – just send an email to me at mike (at) riveraveblues (dot) com, letting me know how much you wish to pledge. Please put something like "Pledge Drive" in the subject line to make the admin work easier.
Thank you in advance, and let's go Yankees!