By

Bernie Williams knows about the pressures of playing in New York with a big contract. He knows about expectations and the media. To that end, he had some interesting things to say about Alex Rodriguez this weekend. "As hard as this may sound, it could be a blessing in disguise for him, because it might give him an opportunity to get away from all this craziness and give him an opportunity to heal. Kind of dissipate the whole distraction," Bernie said while practicing with the Puerto Rican WBC team.

I agree with that aspect of Bernie's comments, but he also said that it "might be good for the Yankees too" because the team has "enough firepower in that lineup." But with older players returning from injuries and younger players coming off sub-par years, the Yanks were really counting on A-Rod's bat. It's nearly impossible to replace a .306/.389/.578 hitter, and while being away from the PED scandal fallout may do A-Rod good, the Yanks will suffer if he is to miss a lot of time. (Hat tip BBTF.) · (19) ·
Chien-Ming Wang threw three strong innings this afternoon, but a silent Yankee offense came out on the wrong end of a 3-1 game against Atlanta.
Wang, making his second start after missing half of 2008 with a Lisfranc injury, went three innings and used just 33 pitches. Twenty-seven of those went for strikes, and his one mistake with a high change-up that Casey Kotchman deposited into the right field seats. Wang, as I detailed on RAB's twitter account during the game, made a few nice plays in the field and had his splitter and sinker working. For an early March outing, it was a good one.
Brett Tomko followed Wang, and while he walked away with the loss, Tomko continued to make his case for a spot in the Yankee bullpen. He threw three innings, giving up a run on three hits while striking out three. Phil Coke allowed a run before giving way to three pitchers who probably won't see action in the Bronx this year.
Offensively, the Yanks mustered just six hits against the Braves and struck out eight times. It was an unimpressive showing by the depleted Yankee lineup.
In WBC action, Team USA eked out a win against Canada. In a thrilling game, the Americans secured 6-5 win after JJ Putz threw like a Mets reliever and nearly gave away the game. Derek Jeter had a pair of hits; Chipper Jones went 0 for 4 with three strike outs and left five runners on base; and after rooting for Kevin Youkilis to deliver, I felt the need to shower. The Dominicans fell to the Netherlands in a shocker, and Japan, the defending champs, advanced to the second round. As of this writing, Panama is losing to Puerto Rico, and Italy and Venezuela play at 8 p.m.
Anyway, you know the rules: Here's your open thread. Play nice.
By

Michal Rozsival knows a thing or two about having a torn labrum in the hip. The Rangers' defenseman played with the injury for the entire 2007-2008 season, then had surgery to correct it during the offseason. The procedure was done by Dr. Marc Philippon, the same guy taking care of A-Rod. "It's one of the joints with the most pressure if the whole body on that joint so you have to be real careful with it in recovery," Rozsival said. "The usual time is four to six months."  Rozy admits to still feeling the occasional twinge once in a while, but says it isn't painful. Now, obviously hockey is more physical sport, but they don't play every day. If nothing else, this is a filler post gives us an example of a New York area athlete overcoming the injury currently staring down the Yanks' best player. · (8) ·
Over at MLB.com's shop, fans have the chance to buy customized replica jerseys. As the Yankee jerseys include a name on the back — contrary to tradition, of course — there is no shortage of popular snark.
MLB, though, has taken steps to combat what they view as derogatory customized jerseys, and according to CNBC's Darren Rovell, fans can no longer purchase A-Fraud jerseys. I tried to customize and A-Roid jersey too with no luck. However, if you want A-Steroid, act now. I'm sure MLB will ban that one once they catch wind of it too. I doubt, however, that this one will ever go out of style.
Did you know that last night's win was the Yanks' first win since February 26th, a span of seven games? Is it a coincidence that they won when A-Rod was away from the team? I THINK NOT!1!!!1!
Chien-Ming Wang will be making his second start of the preseason this afternoon, and the Braves will counter with young Jair Jurrjens. Wanger is scheduled to throw between 35-40 pitches, and if the sinker's working that could mean as many as five innings. I doubt it though, three is more likely. Here's his backup:
Damon, LF
Melky, CF
Teixeira, 1B
Matsui, DH
Nady, RF
Ransom, SS
Leone, 3B
Pena, 2B
Pilittere, C
Scheduled Pitchers: CMW, Brett Tomko, Phil Coke, Mike Dunn, Wilkins DeLaRosa
The game is on YES, first pitch is scheduled for 1:15. I look forward to hearing Michael Kay say the A-Rod injury is a blessing in disguise. Derek Jeter and Team USA will be taking on Team Canada in the WBC at 2:00; the game can be seen on ESPN if you're interested.
Photo from the AP
By

NoMaas has a clip of CC Sabathia from last night's game, showing the big guy striking out a helpless Ryan Raburn to start the game. I haven't figured out a way to direct link to their post or the video (lame), so make sure you head on over and check it out before it gets buried on the main page. They've also got a clip of David Robertson getting a little towel work in. Check it out. · (8) ·
In their first night game of the exhibition season, the Yanks sent their shiny new $161M toy to the mound to get their first real look at him in action. CC Sabathia was CC Sabathia last night, albeit for only two innings instead of his usual eight or nine. Sabathia allowed two hits – one a bloop double that Shelley Duncan probably should have caught, the other a single through the hole – but surrendered an unearned run thanks to yet another Angel Berroa misplay. He struck out two and induced five groundballs, throwing 20 of his 26 pitches for strikes. It basically went as well as anyone could have hoped for, and he'll look to improve upon tonight's effort when he faces these same Tigers next Wednesday.
Al Aceves pitched very well in relief of CC, giving up just one hit and one walk in 2.2 innings of work, a considerable improvement over his last outing. Steven Jackson gave up a pair of runs in an inning-plus of work, while Jose Veras, Anthony Claggett and David Robertson combined to strike out six in three shut out innings to end the game. Aceves and Jackson each hit ex-Yank Gary Sheffield with a pitch. I'm sure Sheff was livid.
The offensive load was pretty well spread out, with six different players contributing an RBI in the 7-3 win. Handsome Cody Ransom doubled, as did Johnny Damon and a trio of backstops – Jorge Posada, Jose Molina and Jesus Montero. Austin Jackson chipped in a garbage time single while Nick Swisher drew yet another walk (that's five walks in six preseason games for Swish). Ramiro Pena, manning short while Jeter's away at the WBC, went two for two and swiped a bag, perhaps making a case for a bench spot now that A-Rod might be out for a while.
The Bombers have a quick turn around with the Atlanta Braves coming in to Steinbrenner Field for a matinee this afternoon. Chien-Ming Wang will be making his second start of the spring, and the game will be shown live on YES. See you at the game thread later.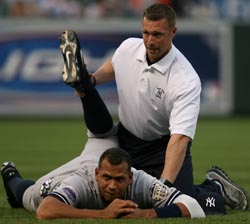 Just yesterday it looked like Alex Rodriguez would be going the rest and rehab route for his ailing hip, avoiding, at least temporarily, the worst case scenario of four-plus months on the shelf with surgery. But tonight, all of a sudden things don't sound so promising. From PeteAbe:
Alex underwent more tests today and supposedly planned to throw and even hit in a cage out in Colorado. Then he will take a day or two to decide what to do, in consultation with the Yankees.

The sense I get from talking to people both in Tampa and elsewhere is that Alex will be having the surgery and it would be as soon as Monday. The Yankees are fearful of his trying to play and then having to come out of the lineup.
The most damning quote came from Joe Girardi, who, when asked if surgery was a possibility, said "That's a determination Alex and the doctors have to make. The organization will continue to discuss it with both parties. But yeah, there is a possibility."It certainly seems that surgery is a much greater possibility today than it was yesterday.
Basically, the advantage of having surgery now is that A-Rod gets a month head start on rehab, which could possibly have him back on the field in June or July, and that the issue is addressed right away. I'm no doctor, but it would seem that playing through the injury could lead to even more damage, something no one wants a part of, obviously. The team will have a month to acquire a stopgap, whether it be a trade or free agent signing, and basically not have to worry if their best player could go down for the season at any moment.
During the chat earlier today I said I was in favor of A-Rod having the surgery now, and I still am. I just think it's best that he gets this entire thing taken care of and behind him as soon as possible. Based on what we heard tonight, it looks like Alex may be leaning that way as well.
Update (11:06pm): This is what I get for writing a post two hours in advance. Brian Cashman said no surgery has been scheduled yet, and as of right now all parties involved are trying to develop a course of action.
Photo Credit: Mitch Stringer/CSM
I'm sure plenty of people are curious to see how the Yanks have fared without A-Rod in the lineup over the last few years, so I looked in it. You are forewarned, it's not pretty:
With A-Rod: 457-312 (.594), 5.81 runs per game
Without A-Rod: 19-22 (.463), 4.46 runs per game
Yikes. On to the think happy thoughts linkage:
Anyway, here's your open thread for the night. CC Sabathia is making his Spring Training debut tonight against the Tigers. Alas, the game is not on television, but you can follow along with the box score here. The only local team in action is the Nets, who are down in Orlando. Anything goes, and since it's Friday, you don't have to be nice.
Yesterday, we discussed who could replace A-Rod if the Yanks' slugger needs surgery. Buster Olney — in a piece discussing Mark Teixeira's new role on the Yanks — has another internal option for the Yanks to consider.
The Yankees have talked internally in the past about how Robinson Cano's best position might be third base in the long term. And it might be that if they determine A-Rod will be out for a long period of time, they could shift Cano from second to third and create another set of options for themselves as they try to replace A-Rod's offense.
Olney also notes that the Yanks have some insurance on A-Rod's contract if Rodriguez is out for an extended period of time.
Anyway, that Cano option is intriguing. The Yanks could shift Robbie to a new position and opt for the slightly easier route of filling the second base hole. Mark Grudzielanek, my choice, and Ray Durham are both still free agents. Tim Dierkes feels that the Yanks could inquire on Dan Uggla too.
Right now, A-Rod will play on — and no, he's not getting traded to the Mariners as Impacto Deportivo is reporting. The Yanks will hope that judicious rest and proper rehab can lead A-Rod to a productive 2009, but if it can't, they have a bunch of options both internally and externally.