By

As part of his ongoing series of organizational reports, the Biz of Baseball's Devon Temple profiled the Yanks yesterday. While the piece covers familiar ground — a fruitful offseason, the new stadium — Temple makes an interesting comparison between the Yankees and just about every other team in baseball. The Yanks' value, according to Forbes, has tripled over the last decade to well over $1 billion, and when we compare the Yanks to the Marlins, "the Yankees are a brand and the Marlins are a team in the National League East." Along with money come expectations, and soon we'll see how the 2009 Yankees face those too. · (9) ·
Ben, Mike, and I have made it no secret that we want to see Nick Swisher win the starting right fielder job. It's nothing against Xavier Nady. He's still a good player and having him start in right wouldn't be a horrible idea. That is, if Nick Swisher weren't on the team. At Driveline Mechanics, devil_fingers takes a statistical look at the projections for the duo. He also adds in the Yankees' other corner outfielders, Johnny Damon and Hideki Matsui, the outfielder being replaced (Bobby Abreu), and Manny, just because he's Manny.
The methodology uses the PECOTA, ZiPS, and CHONE projection systems to evaluate the players based on wOBA and the CHONE defensive projections. Clearly, this is not perfect. I'm no fan of projections myself, but since this is for fun I'll play along. For a frame of reference, here are the basic slash stats for each player:
Swisher: .247/.360/.454
Nady: .273/.327/.456
Manny: .290/.399/.524
Hideki: .277/.360/.443
Damon: .276/.351/.417
Abreu: .271/.371/.413
After calculating for wOBA, adjusting for position (though not wholly necessary because everyone in this group is a corner outfielder), and converting to runs added, Swisher comes out as the second best in the group. He's at less than half Manny's total, but at 16.5 runs he's ahead of the other Yankees, plus Abreu, on the list. You can get the whole graph here. On the defensive front, Manny is also tops. And by tops I mean has the longest bar on the graph. Swisher and Damon are the only ones projected to prevent runs with their gloves, as they are at positive 5 and 6 runs, respectively.
Put it all together, and you have the final tally. The boost in each player's ranking is due to a replacement level adjustment (it was the same for all players, so don't worry). Not only is Swisher projected to provide far more value than his teammates, but when considering defense he's projected to be nearly as valuable as Manny.
As I said before, this is just a projection system and not something to be taken as gospel. It would be great if Swisher actually hit to his CHONE projections, and given his career stats prior to last year it's certainly possible. I also don't think Nady will hit quite as poorly as his projection. Even if he improves upon it a little, say a .345 OBP, he still wouldn't be as good as Swisher. Given the difference in their projected defensive production, it would be tough for Nady to catch up.
While this projection alone won't win Swisher the job, hopefully he makes his case during Spring Training. I've always liked Swisher thanks to Moneyball and I was psyched when the Yanks acquired him. If he can return to form he'll be what Brian Cashman would call an asset to the team.
Okay, so maybe he's not leaping a car in a single bound, but Cody Ransom's got some ups. My sincere hope now is that after Ransom officially beats out Berroa for the utility infielder job, he goes up to him and says: "You see Angel, it's like this. You either smoke or you get smoked…And you got smoked."
Haven't you had enough of the media's obsession with steroids in baseball? I sure have. The constant headlines about A-Rod do nothing to enhance my enjoyment of the game, and I'm sure that's true for plenty of others. It's even worse when they're trying to out players who used in the past. Not to simplify an issue to one sentence, but: If there were no penalties to using steroids prior to 2004, why wouldn't you use them?
(Answer: Because of your long-term health. That's the only good one I've got.)
Jason at It is about the money, stupid takes a long look at the media's role in this "scandal." (Again, how can it be a scandal if there were no baseball-related consequences to using?) The article includes a massive bullet list of baseball writers admitting they had done wrong by not exploring the situation further. It's an excellent read if you like hear people admit their mistakes.
A few of them strike me a bit odd. The one that stuck out the most was from Ken Rosenthal. "That is our greatest sin, extolling these guys as something more than they were. Some of us had a feeling that something was amiss. We are more guilty of making McGwire and Sosa into heroes when they weren't." Where do I even begin on this?
First of all, McGwire and Sosa are not and never were heroes, even if they hit all those home runs clean. Baseball players are not heroes. They are entertainers. We might attach some narrative lore to them, especially the legendary ones, but that doesn't make them heroes. There are people who sacrifice their lives for the betterment of others. That's when you can get into the hero discussion. It does not apply to people who hit baseballs 400 feet.
Second, the crime was not making the players into heroes, even though it was wrong. The crime was not digging deeper into the steroids issue. If other reporters had followed up on Steve Wilstein's revelation about McGwire's andro, perhaps this issue would have blown up a bit sooner than it did. Yet most in the press ignored it, and since the public didn't want to believe it the issue was shelved for a few more years.
At least Jon Heyman is honest: "I guess we were all caught up in the excitement of the home run chase. Rather than spend all of the time and energy [on steroids] when the only guarantee was that we would annoy everyone around us, we took an easier route."
The first comment on Jason's post makes a point: "The reason they didn't report it wasn't because of a fear of their jobs, or their reputations, or how the players percieved them. They didn't write it because it wasn't a story then." I think that they could have made it a story, though. Tonight on SportsCenter: Baseball players are cheating and tarnishing the legacy of the game. I mean, that's basically what happened years later, anyway. If the media flat out accused the players of cheating, the public would have gotten into an uproar much sooner. But the media left it alone, and the rest is history.
Now that my rant is over, it's time to get to the open thread stuff. The Nets host the Celtics, the Knicks host the Hawks, and if you're into Big East hoops Marquette takes on Pitt on ESPN2. The Rangers picked up forward Nik Antropov from the Maple Leafs (damn Canadian inability to properly pluralize) for a second rounder and a conditional pick. They also nabbed defenseman Derek Morris from the Coyotes for Nigel Dawes, Petr Prucha, and Dmitri Kalinin. Dave at Blue Seat Blogs likes the Antropov acquisition but abhors Morris.
When the Braves and the Yankees who bothered to travel to Orlando started playing today, the Yanks' lineup featured Johnny Damon, Brett Gardner, Xavier Nady and, um, Jose Molina. The team has to send four starters, and well, that's the crowd they put together.
Unsurprisingly, by the time the ninth inning rolled around and Doug Bernier and Todd Linden were in the lineup, the Yanks were facing a one-run deficit. They never closed the gap and despite decently strong pitching, fell 3-2 to Atlanta. The team hasn't won a game since Feb. 26. It matters little.
For the Yanks, Ian Kennedy started and didn't have his breaking pitches going early on. He gave up a pair of runs in the first, and the Yanks would never recover. He settled down and allowed no more runs while giving up three total hits and a walk. He struck out nary a batter. Dan Giese relieved, going three strong and surrendering a run. He struck out three and walked one in a very solid outing. Andrew Brackman and Mark Melancon pitched a scoreless inning each. Melancon has now made three spring appearances without surrendering a run. He'll get some early game action soon to face some big league hitters.
Offensively, the Yanks went 5 for 31 against the Braves, and no one had more than one hit. Johnny Damon tripled, and Dan Giese picked up a hit. That was about all.
This is of course the problem with spring road games during the WBC. The Yanks' big guns are away from the team, and they don't have to take too many other players with them. The pitchers got in the work they needed; the hitters got their swings. The outcome just doesn't matter.
Things will start to heat up tomorrow when Joba takes on Team Canada at 1:15 p.m. After him come the rest of the the starting five for the first time this spring. Mariano Rivera is also primed to throw a bullpen on Thursday as the Yanks while away the lazy days of March. Just 33 more days until Opening Day.
Robinson Cano and his sub-par 2008 season have been major issues of discussion this off-season. While many Yankees fans figured he'd improve upon his 2007 season, he got off to a horrid start before bringing himself back to an acceptable level of offensive production (.298/.324/.452 from June 1 on, .302/.331/.464 from July 1 on). Mike linked to a Beyond the Boxscore analysis of Cano, which used Cano's contact rate, BABIP, and Isolated Power to show that we can expect a rebound, but not to get pie-in-the-sky and think that he can reproduce 2006. That sounds reasonable, and I think Yanks fans everywhere would take Cano's 2007 — even considering his slow start — in a heartbeat.
Yesterday, Moshe Mandel of The Yankee Universe took an in-depth look at Cano from both a statistical and scouting point of view. On the scouting end he discusses Cano's stance, which became a big issue later in the year. After experiencing success with an open stance for his entire career, hitting coach Kevin Long though tit better to close it up. You can see the difference in this post on Cano's 2008 season: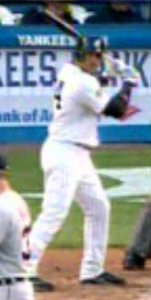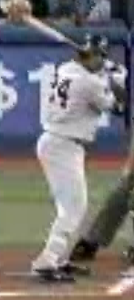 So what was the difference in 2008 which caused concern for Cano's stance? Mandel tackles the issue:
Another obvious problem with Robbie's swing was the motion of his head combined with his front shoulder flying open. Players are supposed to keep the head looking at the pitcher, and then the ball, at all times, while the front shoulder remains square to the pitcher. Robbie consistently pulled his head early while allowing his front shoulder to fly open, which contributed greatly to his unbalanced swing and resulted in plenty of softly pulled balls on pitches that Robbie would typically drive.
Why weren't these issues a problem in the past few years? That's tough to say. It would take some serious video analysis to see exactly how his body moved through the swinging motion, and how that changed from 2006 through 2008. Makes me wish there were an easy way to find such compilations. Maybe MLBAM could one day offer this as a premium service for nerds. I'd rather pay for that than my ESPN Insider account.
On the statistical end, Mandel takes things a bit further than the typical BABIP argument that Cano was unlucky. He cites a Rich Lederer article which notes the values of line drives, ground balls, and fly balls.
When it comes to batting average, line drives are king, followed by groundballs, outfield flyballs, and infield flies. … However, when it comes to production, flyballs are more valuable than groundballs. To wit, including home runs, line drives produced .40 runs in 2007 and .39 in 2008, while the average outfield flyball yielded .18 runs in 2007 and 2008. Meanwhile, the average groundball generated .05 runs per event in 2007 and .04 in 2008.
Cano saw a decrease in ground balls and an increase in fly balls last season, so this could have drive his batting average down. Mandel: "Essentially, Cano hit fewer grounders and more flyballs without gaining the run production that increased flyballs would give a hitter whose swing is not faulty. One other point to notice is that Cano's O-Contact% and FB% saw a significant increase, affirming the point that pitchers were throwing Robbie fastballs out of the zone, and he was more than willing to just put them in play rather than fouling them off or laying off of them."
I've loved Cano ever since he came up in 2005, and I've had high hopes for him ever since. He delivered in 2006 and 2007, which makes me think that his 2008 problems are surmountable. He's worked heavily with Kevin Long, and by all accounts has done all he can this winter in order to fix the flaws in his swing. Given his talent, this should all add up to a solid campaign for Cano in 2009 and beyond.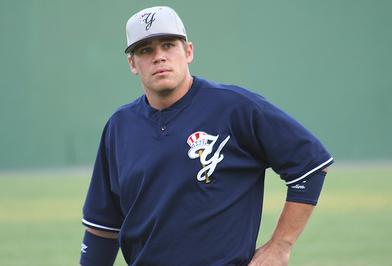 Eric Duncan | 1B/3B
Background
Born just outside of Morristown in Florham Park, NJ, Duncan grew up a Yankee fan and idolized Paul O'Neill. He spent most of his childhood in California, moving back to New Jersey when he was in the eighth grade. Duncan attended Seton Hall Preparatory School in West Orange and set school records for batting avg (.536), hits (52), homers (12) and RBI (60) as a senior. He was named the Gatorade New Jersey High School Player of the Year and earned a spot on the Baseball America All-American First Team.
Committed to Louisiana State strictly for negotiation leverage purposes, Baseball America rated Duncan the best prospect in the state and 23rd best prospect overall for the 2003 draft. The Yankees selected him with their first round pick, number 27 overall, and he signed days after the draft for  a $1,250,000 bonus. Duncan is the best high school hitter to come out of New Jersey in the last decade, if not longer.
Last night, Alex Rodriguez made some headlines by offering up an innocuous compliment to his fellow Dominican team member Jose Reyes. "I wish he was leading off on our team or playing on our team. That's fun to watch," A-Rod said. Warn the children! Sound the alarms! Make a mountain out of a molehill!
Immediately, the ever-objective media went into overdrive. Peter Abraham accused A-Rod of stirring up past history with Jeter. Marc Craig at the recently-decimated Star Ledger pondered the same thing. I'm sure the News and Post had some equally inflammatory coverage of this statement.
In reality, A-Rod didn't say anything newsworthy, and he never insulted Jeter. In fact, as iYankees notes, he may have insulted Johnny Damon, but no beat reporter has mentioned that. After all, A-Rod said he wants Reyes leading off, and that role is filled by Johnny Damon. Rodriguez never mentioned that short stop position. He also never used the phrase "instead of" in reference to Jeter or anyone else on the Yanks.
But wait! There's more. A-Rod said something else after those two sentences. "Anytime you have that type of speed… I mean, we have a guy in Gardner that'll be fun. That's probably the most fun you can have, watching those guys run."
A-Rod is acknowledging what any normal baseball fan in New York knows: Jose Reyes is a young and exciting player who could emerge as one of the game's top offensive forces and would be a contributor on any team. He has the rare mix of speed and power and has shown the ability to get on base at a rate that would allow him to fully exploit both skills, and gosh, he's also fun to watch. Let's put A-Rod in the stockade just for thinking it, and let's leave off the part of the quote that contextualizes it too.
By

Somehow, someway, in a bad economy with no other potential suitors, Scott Boras is going to get Manny Ramirez his millions. According to numerous reports — rounded up by MLBTR — Manny and the Dodgers are soon going to agree to a two-year, $45-million deal. Included in this deal with be a one-year opt-out that Manny can exploit if he and Boras feel his 2009 performance and the 2009-2010 market warrant it. That the Dodgers would do this deal at this price point with an opt-out is a bit mind-boggling. Meanwhile, the Yanks have some outfield holes to fill next year, and either Matt Holliday or Manny Ramirez could wind up the beneficiary of some Bronx bucks. I'm sure the thought has occurred to Mr. Boras already. · (52) ·
MLB Trade Rumor's Tim Dierkes offered up some food for Spring Training thought this week as he ran down his list of the 45 worst contracts in baseball. Tim lists two current members of the Yanks' 40-man roster and one guy DFA'd last year:
Jorge Posada, Yankees. Four years, $52MM ($13MM per year). Signed November of 2007.
Hideki Matsui, Yankees. Four years, $52MM ($13MM per year). Signed November of 2005.
Kei Igawa, Yankees. Five years, $46MM ($9.2MM per year). Signed in December of '06, this was a clear and poorly thought-out response to Boston's Daisuke Matsuzaka signing.
If those are the worst contracts the Yanks have, we don't have much to worry about. Sadly, though, I think Tim misses the mark. Let's first dismiss these three contracts. Kei Igawa is a legitimately bad deal. The Yanks had a knee-jerk reaction to the Daisuke Matsuzaka signing and inked Igawa to a ill-fated four-year deal. Much of that, though, is the signing bonus, and Igawa costs the Yanks just $5 million in taxable expenditures. That's not too bad a deal for a team with the Yanks' deep pockets.
Jorge and Hideki present interesting case studies in contracts. Posada's deal wasn't bad and still has the potential to be good. While he is a 37-year-old catcher, he is coming off of some very stellar seasons at the plate. The deal became bad on a cold night in April when Posada threw out his shoulder. This injury had nothing to do with wear and tear behind the plate, and he should be able to come back as well as anyone his age could expect to. If Posada eventually becomes a full-time DH and hits as he has in the past, the deal still looks fine.
Hideki Matsui is good when healthy, but good health has eluded him lately. He missed much of 2006 with a shattered wrist and has since encountered knee problems. He's in the final year of his deal and will DH. The Yanks would probably agree with the assessment here: The money could have been put to better use.
So what's missing? Well, Fack Youk and I are on the same wavelength here. When I read this list 24 hours ago, I first thought, "Alex Rodriguez." On Tuesday, Fack Youk wondered why the Yanks' third baseman isn't on the list. Jay rests his argument on PED use and the Scandal of 2009. I dissent.
Rather, A-Rod's deal was bad from the day it was signed. Sure, from a business perspective, the Steinbrenners must have thought it would pay off. But from a baseball perspective, what team in its right mind would sign a 32-year-old to a ten-year deal worth as much as $300 million? While the deal is structured so that A-Rod earns just $21 million in 2015 and $20 million in both 2016 and 2017, no GM would ever sign a 40-year-old to a three-year, $61-million deal. This contract was bad before the PED problem; it's just gotten worse.
In a similar vein is Derek Jeter's deal. Jeter is owed $42 million over the next two seasons, and I'd say Jorge Posada is more likely to earn his money than Jeter is his. (This evaluation of Jeter's deal may be unfair because the Yanks signed him to a ten-year extension knowing they would be overpaying him at the end. Perhaps this deal evens out in the long run.)
Finally, Ken Davidoff adds his two cents to this discussion. The Yankees, he writes, currently have $91 million in committed payroll for 2012. If CC Sabathia opts out as I expect him to do, that figure drops to a still-unreasonable $68 million. The Red Sox meanwhile are one of three teams with $0 owed to players in 2012.
While the Boston figure would have risen had they succeeded in signing Mark Teixeira this winter, Davidoff's point is that the Yanks are limiting their future flexibility with some questionable deals. Less than one-sixth of the team will earn $91 million in 2012. How do you fill up a roster without zooming past that $200-$250 million level and still win?
The Yanks' approach over the last eight years has always been spend, spend, spend. While the organization has tempered that spending with some player development, money remains king in the Bronx. If the Yanks don't win over the next few seasons, the final years of these very long contracts won't appear promising.