Sorry for the tardiness. Enjoy.
By

It's easy for us to overhype the Yanks' prospects. We want every young kid to be the second coming of Derek Jeter or Bernie Williams, but more often than not, these youngsters end up being the fiftieth coming of Ricky Ledee. But this year might be different for the Yanks have a reliever earning a lot of pre-season buzz. As Chad Jennings writes, the Yanks are expecting big things out of Mark Melancon this year, and they view the 23-year-old as the heir apparent to Mariano Rivera. Those are some lofty expectations for a pitcher with just 20 AAA innings under his belt, but he sounds as though he's up for the challenge. · (23) ·
As the Yanks kicked off their annual Spring Training camp earlier this week, Joe Girardi ran through a whole list of issues. Atop that list was the status of Jorge Posada. Tyler Kepner reports:
Don't expect Jorge Posada to catch before mid-March. He will play designated hitter before then, but as he recovers from shoulder surgery, Girardi expects Posada to start only 100 to 110 games behind the plate this season. From 2000 through 2007, Posada started 134 to 142 games at catcher each year.
Now, I know the Yanks shouldn't be banking on Posada to reach those 2007 levels in terms of games played. He's coming off a very serious shoulder injury and needs to be healthy for the remaining years on his contract.
However, if he catches just 100-110 games this year, the Yanks still need to find someone else to catch the other 52-62 games. Do they turn to Jose Molina? Do they turn to Kevin Cash? Neither of those two are very appealing options offensively. Molina played in 100 games and put up a line of .216/.263/.313 last year. Kevin Cash played in 61 games for Boston and managed a .225/.309/.338. Can you imagine one third of the season with those two guys in the lineup?
The Yanks have a strong farm system with some appealing trading chips. They shouldn't use them, however, to acquire a catcher simply because they have depth behind the dish in the low levels of the minors. I wouldn't be surprised to see Francisco Cervelli up in the bigs if he can hit. Someone after all is going to have to spell Posada more often than we would like.
By

I was away from the Internet for most of yesterday, and when I returned it turns out that A-Rod still did steroids. Damn. I was kind of hoping that my hiatus would undo all that. What I did find upon returning, though, is that a number of Yankees, including Jorge Posada, Derek Jeter, Mariano Rivera, and Andy Pettitte — a/k/a The Rings — want to join A-Rod as he faces the media when he reports to camp. It sounds like a plan. If the Yankees want to keep the situation under control, having the most admired players on the team standing up for Alex is the way to go. Will it work? You never know with the New York media. I think it's a quality game plan, though. · (14) ·
Pitchers and catchers officially report to Tampa for the time today, but as we already know, just about everyone is there already. PeteAbe has a list of who's throwing in the bullpen today:
Burnett (Molina)
Chamberlain (Cash)
Kennedy (Romine)
Sabathia (Posada)
Pete also says that Brian Bruney, Dan Giese, Jose Veras, Jon Albaladejo, Kei Igawa, David Robertson and a handful of minor leaguers will also take the mound. Oh, and apparently no one's told CC to lose the beard yet.
Now here's a question: Given the concerns about Posada's shoulder, would it be prudent for the Yanks to let Molina be the personal catcher for say, Burnett and Joba this year? My highly unscientific reasoning is that 1) Burnett can be wild, so it would be nice to have the better defender back there, and 2) Joba has better splits throwing to Molina (.178-.264-.228 against) than Posada (.231-.300-.307). This would also split up the chore of each guy having to learn two new pitchers. Posada's familiar with Pettitte and Wang obviously, so now he can focus on CC while Molina tackles AJ.
There's also the added benefit of Posada working with two lefties, who are naturally better at controlling the running game. Given the uncertain state of his shoulder, that's a pretty big bonus. A "catcher rotation" like this would put Posada on pace to catch about 98 games this year (basically 60% of a 162 game season), but skipping a few Joba starts will put him up around 105-110 games caught, right about where they want him. It would also keep him fresh for the stretch run, theoretically.
Eh, I guess I'm just thinking out loud.
By

Via Jim Street of MLB.com, the Mariners have signed RHP Josh Fields,  their 2008 first round pick. Fields was a senior and ran out of college eligibility, which is why the August 15th deadline didn't apply to him. So why do Yankees fans care? Because as Lane Meyer of NoMaas explains, Fields' signing eliminates the compensation pick Seattle would have received if he didn't sign, so now the Red Sox pick one spot ahead of the Yanks instead of one spot behind them. You can see the updated pick order at our 2009 Draft Order Tracker. Oh well, such is life. · (18) ·
By

As the name implies, the Yanks have signed veteran righty Brett Tomko to a minor league deal, and PeteAbe says he gets an invite to Spring Training. Tomko had a decent year in 2005, going 11-7 with a 4.04 ERA for the Giants, but since then he's bounced around with a Dodgers, Padres and Royals. His strength has always been limiting walks (2.89 BBper9), and I'm guessing he was brought in to provide a little competition for the long man spot. It's basically a no risk move, because if he stinks they'll cut him with zero consequences. Realistic best case scenario: Tomko pitches well during the spring and the Yanks are able to trade him for a Grade-C prospect before Opening Day. (h/t MLBTR) · (16) ·
By

Per the AP, former Yankee Jim Leyritz found himself back behind bars earlier today when he violated the terms of his bond. According to authorities, Leyritz, who will go to trial for DUI Manslaughter charges on May 25, had been drinking while out on bail. Leyritz's lawyer disputes these claims and has already filed a motion for release and an emergency hearing. This whole saga has been one tragic story. · (9) ·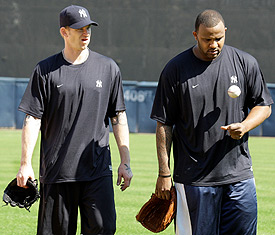 TFGIF. On to the links:
As you may or may have noticed, we added a small new feature to the site. Each comment now has a little box just above the reply button; if the button is orange, that means it's a new comment. If it's gray, that means you've seen it already. It updates after someone leaves a new comment and you hit refresh. Right now, hitting refresh without a new comment on the post doesn't change anything. If we can solve the caching conflict, that functionality should be restored.
Here's your open thread for the night. The Devils and Rangers are both in action, and the NBA is off for the All-Star Break. Anything goes, just be nice.
Photo Credit:  Gene Puskar, Associated Press
By

KG over at Baseball Prospectus posted his list of baseball's top 100 prospects today, with two Yankees making the list: Jesus Montero at #38 and Austin Jackson at #46. Jose Tabata barely squeaked on at #91. It's not just KG, but in general there's just a lot of people who are stubborn when it comes to Pedro Alvarez. He showed up to camp out of shape on two occasions already, plus there's questions about his defense and ultimate position, and concerns about his strikeouts (167 K in 170 games with Vandy, too many for an elite college guy). Plus he hasn't seen a pro pitch yet. I'm sorry, but he's just not a top five prospect at this point.

Shameless self promotion: don't miss my Top 30 Prospects list. · (5) ·