By

In a true must read piece, Shawn Hoffman of Squawking Baseball interviewed Braves' Director of Baseball Administration, and former Yanks' front office member, John Coppolella. The interview mostly covers the arbitration process, but there's also a bit on how Coppolella, area scout Mark Batchko and intern Kiley McDaniel (of the now defunct Saber Scouting) discovered bullpener Edwar Ramirez through a routine check of independent league stats. Make sure you check it out. (h/t dan and EJ Fagan) · (4) ·
By

Well, at least A-Rod has finally made a baseball-related headline. Jack Curry of the Times reports that the third baseman will meet with a hip specialist in Colorado on Wednesday. Furthermore, the Yankees' medical staff found a cyst when examining Rodriguez on Saturday. This will almost certainly keep him out of the WBC, as the team doesn't want him risking a serious injury.

Now, back to your regularly scheduled open thread. · (49) ·
A few times this afternoon, Michael Kay referred to Team USA as consisting of "the best players" in America. I'm not sure if that's the line being fed announcers in order to generate some excitement over the World Baseball Classic or if it's truly Michael Kay's interpretation of the team. Either way, it's hardly accurate.
That team, led by Derek Jeter, was just good enough to eke out a one-run win over the Yanks. However, considering the Yanks' pitching today, I either don't have high hopes for Team USA in the upcoming tournament or do like what the pen in the Bronx could do this year.
The day started out as we predicted last night: Derek Jeter grounded into a double play against Phil Hughes in the top of the first. The Yanks' young righthander meanwhile rolled through two innings. He struck out David Wright and Adam Dunn in the second before tiring in the first.
An inning later, Jeter, of course, would be the one who delivered the the hit that would send Phil Hughes to his pitch-count induced shower. Down 2-1 at that point, the Yanks would never regain the lead as they lost 6-5.
Hughes looked good today through 41 pitches. He clearly tired a bit in the third, but he K'd two in 2.2 innings. Of all things, he ran into some trouble on inside pitches. The Yanks' pitchers are working on establishing the inside half of the plate this spring, and Hughes hit Curtis Granderson and Ryan Braun both on 0-1 inside fastballs.
So that was it for Hughes. Eric Hacker was terrible, and Angel Berroa's lack of range and inability to field didn't help much in a four-run sixth for team USA. But Phil Coke, Dave Robertson and Jose Veras combined for 6 K's in 4.2 innings.
Offensively, Brett Gardner ho-hummed his way to another 3-for-3 day while Melky went 1 for 2. Jorge added a pair of hits in three ABs, and Nick Swisher picked up a hit and two RBIs.
Ian Kennedy and the Yanks will face the Braves on the road. tomorrow at 1:05 p.m. in an non-televised game.
Anyway, here's your open thread for the night. The Devils and Nets are in action tonight, and you could catch the tail end of the Jays-Team Canada game on MLB Network. Oh, and the Rangers reacquired Sean Avery, eating up whatever last bit of salary cap wiggle room they had. Oh joy.
Talk about whatever you want; just be nice; and if you haven't voted in this week's Fan Confidence Poll, do it.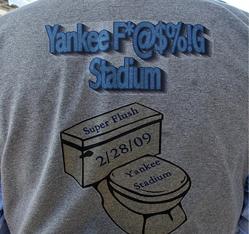 Kevin Rozell at The Voice of the Yankees Universe has a slew of new pictures from the now substantially complete New Yankee Stadium. Substantially complete basically means the contractor has turned the building over to the Yankees for it's intended use, but there are probably still some outstanding issues that have to be addressed, nothing that could delay the Stadium's opening though.
Kevin has shots from high atop the frieze, the tier seats, field level and Mo knows where else. The new bathrooms are looking rather spiffy, as are all the public walkways. We get a glimpse of where the big decisions are made, and can sneak a peak at some of the design drawings. Oh, and some of the advertisements are in place. The place looks spectacular, so make sure you head over and check out all of Kevin's pictures.
Yesterday afternoon, with an assist from The Artist Formerly Known as "The" Steve, I explored the Yanks' improved pitching depth heading into the 2009 season. Today, we move onto Steve's questions about the lineup and bullpen. The quotes are his; the commentary is mine.
On Jorge Posada: "How does the shoulder hold up? What does another season of Jose Molina starting do to our offense?"
This is of course the $64,000 question surrounding the Yankee lineup this year. Already this Spring, we've suffered through a scare over Posada's shoulder. The Yanks and Jorge insisted that the injury meant nothing, and Posada has been hitting this week. But that fear of a recurrence will linger well into the summer.
Over the winter, we covered this topic in a variety of posts. In wrapping up the season, I conclude that Jorge's injury by itself led to the Yanks' missing the playoffs. Joe raised some concerns about the Yanks' potential back ups. In a nutshell, those analyses still stand. The rest of the Yanks who can hit will have to overcompensate for Jorge, and the team would have the equivalent of a pitcher hitting in the catcher spot if Posada can't catch or misses significant time.
Right now, Ivan Rodriguez remains a free agent, and a few teams have some near Major League-ready catching prospects. Landing one of those coveted pieces will cost a king's ransom, and the potential for Jorge's shoulder to flare up again is something against which the Yanks haven't really addressed.
On Brett Gardner/Melky Cabrera: "The league has already figured out Melky and may very well adjust back to Gardner's effective late season adjustments. If Gardner is starting and hitting .220 in June, then what?"
This morning, Joe IMed me as I was heading out the door. "I wonder if there's a chance, any chance, that this Manny-Dodgers fallout leads Manny to the Bronx," he said. I countered with a one-year, $15 million that the Yanks could conceivably offer. I don't see Manny signing for such little money though even if Ron Gardenhire envisions him in the Bronx.
But as long as Manny remains unsigned, Scott Boras has to be rooting for Brett Gardner and Melky Cabrera to flame out. Manny's availability always means the Yanks could shift Johnny Damon into center and sign Ramirez for the other outfield spot. It would create a terrible defensive outfield and one of the best lineups of all time. In reality, however, the Yanks are probably not heading down that path. If Melky and Brett can't cut it, the Yanks could try shoving NIck Swisher, against his wishes, into center or the team will end up repeating 2008 when their center fielders hit a combined .261/.320/.391.
On Mariano Rivera: "Coming off a great season, but he is 39 and can't keep it up forever." I'd also add that he's coming off of surgery as well.
Aren't Yankee fans in denial about reality when it comes to Mariano Rivera? Every year, he gets a little older, but the only way that shows up is in his face (and lack of hair). I don't like to and can't imagine a scenario in which Mariano doesn't throw in 60-70 games this year while notching 30-45 saves. One day though, it will happen. When it does, I don't envy the person tabbed to Mariano's heir apparent. It's no small task to replace the greatest ever.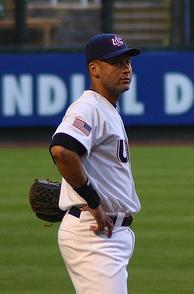 Derek Jeter has played in 1,985 regular season games in his career, 123 more in the playoffs, and who knows how many more in Spring Training. He's racked up 2,535 hits, reached base 3,486 times, and scored 1,467 runs, but today he's going to do something for the first time in his career: He's going to play against the Yankees.
The second edition of the World Baseball Classic kicks off on Thursday, but Team USA comes in to Tampa today for a little tune-up against out beloved Bombers. Jeter will certainly look weird in an unfamiliar uniform, but he'll be hitting in his familiar number two spot in the order. Considering that his backup is a former MVP, you shouldn't expect him to play the entire game.
It's not often that someone steals the thunder from a Phil Hughes start in the RABiverse, but The Cap'n playing against his team will do the trick. We've got quite the matchup today, so here's each team's starting nine:
Team USA
Pedroia, 2B
Jeter, SS
Chipper, DH
Wright, 3B
Dunn, RF
Youkilis, 1B
Braun, LF
McCann, C
Granderson, CF
Scheduled Pitchers: Roy Oswalt, Jonathan Broxton, Matt Lindstrom, Brad Ziegler, Matt Thornton, LaTroy Hawkings
Yankees
Damon, LF
Gardner, CF
Teixeira, 1B
Posada, DH
Nady, RF
Ransom, 2B
Cash, C
Berroa, SS
Leone, 3B
Scheduled Pitchers: Phil Hughes, Phil Coke, Mike Dunn, Jose Veras, Eric Hacker, David Robertson, Kanekoa Texeira
The game will be broadcast live on both YES and MLB Network. According to my DVR, YES will replay the game at 11:00pm tonight and 9:00am tomorrow if you miss it.
Photo Credit: Flickr user corellianjedi2
By

Via MLBTR, the Yanks have signed ten players not yet eligible for salary arbitration to one year contracts. The list includes Ian Kennedy ($408,925), Cody Ransom ($455,100), Jon Albaladejo ($406,075) and David Robertson ($406,825). Like most teams, the Yanks determine the salaries for players with three years of service time based on a sliding scale of how much service time they actually have. I haven't seen anything on the contracts of Phil Hughes of Joba Chamberlain this winter, both of whom fall into the pre-arb category, but it's safe to assume both are in that $400-450k range. · (24) ·
It's behind the pay wall, but Matt Meyers of ESPN the Magazine has a nice write-up about the tetragon of infield prospects in the Angels system back in 2005. You probably recognize the names: Brandon Wood, Erik Aybar, Howie Kendrick, Kendry Morales. They were the next wave of the Los Angels Angels of Anaheim, a force that would power them, and keep them cheap, for years to come. That is, if all four worked out. As we've seen over the years, that is rarely the case.
The Angels now face a situation where two might be regulars this season, but might not be adequate. The most prominent of the group is Howie Kendrick, who holds a .306 major league batting average over the past three seasons. Problems are that 1) his high for plate appearances is 361, meaning he's been hurt a good deal, 2) his career OBP is .333, meaning he's not wont to take a walk, and 3) he doesn't have a ton of pop.
Aybar got into 98 games at short last year and put up a .277/.314/.384 line. He's mainly known for his defense, so if he can show a bit of improvement at the plate during his age 25 season, he could become a solid regular. He'll be no Hanley Ramirez, of course, but the idea is that he'll save enough runs with his glove to make up for some of his offensive shortcomings. The shortstop job looks like his to lose this spring.
The other two, however, don't look as promising. Brandon Wood has seen time in 68 major league games, racking up 157 plate appearances and striking out in 55 of them. I know we've discussed the overvaluation of strikeouts by some fans, but when it comes along with a .212 OBP, it's never good. He is only 24, though, and he had a solid year in AAA — but that's in the Pacific Coast League. You know, the one in which Bubba Crosby slugged .635 in 2003. Same goes for Morales, who slugged .543 in the PCL last season. He did have a somewhat successful stint with the Angels in 2007, though.
The Yankees face a similar issue right now, though theirs is with pitching. The troika of Joba Chamberlain, Phil Hughes, and Ian Kennedy has been touted much like the Angels' crew of prospects. They're the ones who were supposed to bring in a new generation. Instead, both groups are falling victim to the reality that even can't-miss prospects can miss.
I have mixed feeling of Meyers's concluding sentence: "However, this is looking more like a cautionary tale of what happens when you overvalue your own talent, and hold onto it too long." The process is a bit more complex than simply overvaluing talent on hand. It's difficult to ascertain who will cut it in the majors and who will bust. General managers have to make that call, and clearly it's not always the right one. That doesn't mean that it's always them overvaluing their talent on hand.
Another Meyers line I take issue with: "This problem has been compounded by the fact that all four of them were once heavily coveted in trade talks, and the Angels refused to part with any of them." Again, I don't think this is necessarily a case of overvaluing your own prospects. The Angels had a plan and they stuck to it. Perhaps there were flaws in the process, but that doesn't mean that there were flaws in the evaluation of their own talent. The problem is that he doesn't go into any of the trade proposals. You can only make decisions based on the information you have at the time, and at the time these supposed trade opportunities came and went, the Angels still had four top-flight infield prospects. They weren't going to move them for just anyone, nor should they have.
It's easy to talk about overvaluing prospects when you're writing in hindsight. Player A was highly touted but busted? Blame it on management; they should have known their own players better. It's never that simple, though. So many other factors have to come into consideration when evaluating a veteran for prospect trade that it's impossible to get it right every time. As Meyer notes, some guys — he cites a great example in John Schuerholz — seem to have a knack for it. Even he has had his stumbles, though, thanks to the wonderfully unpredictable world of major league prospects.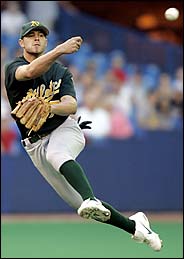 Orlando Cabrera, one of the last remaining Type-A free agents, signed a one year deal with the Oakland A's today, taking the starting shortstop job from the incumbent Bobby Crosby. O-Cab gets $4M for the season, and the ChiSox get the A's second rounder and a sandwich pick for their loss (here's the updated draft order). It seems like whenever a team signs an infielder, the natural reaction is for Yankee fans to say "they should trade for [insert displaced player here] to be the utility infielder," but when it comes to Crosby, not so fast I say.
Once a darling amongst baseball insider types (remember when Peter Gammons & Buster Olney touted him as an MVP candidate?), Crosby's career has basically fallen off a cliff. Over the last three years, his wOBP has settled into the .278-.288 range, and his aggregate batting line is .232-.291-.349, simply attrocious for an everyday player. He hit just .210-.269-.313 from July on last year, so there's no second half surge to get excited about, and his BABIP's have been in line with his career average. So yeah, don't hold your breath expecting a rebound.
Defensively, Crosby's okay, but nothing special. He's spent his entire career at shortstop (minors included), so expecting him to play second or third would be based on nothing but hopes and dreams. His UZR sits around 2.0 these days, obviously better than Derek Jeter but not enough to make up for his offense. Then, of course there's his contract, which pays him $5.25M in 2009 before sending him off to the free agent pastures after the season. Yikes.
So just say no. Fight the urge to think that every team's displaced players would be an upgrade for the Yanks' bench, because the only thing Crosby brings to the Yanks is additional payroll. There's no reason to give this guy a 40-man roster spot, or trade literally anything for him.
Photo Credit: Reuters via NYT
Only in Spring Training and game five of the World Series do teams tie. When two teams reach that ninth inning with no end in sight and no more pitchers ready, the managers generally call off the exhibition. Today, in Kissimmee, that is exactly what happened between the Astros and Yanks.
In March, the scores don't matter. It's all about getting a tune up, getting in swings, getting in pitches. For the 2009 Yankees, then, today's tie was a big day. Chien-Ming Wang made his return to the mound after his freak Lisfranc injury last summer. While his sinker was up a bit — normal for this time of year, he said after the game — he held the Astros to two hits and no runs over two innings.
Offensively, the Yanks plated five runs but in unspectacular fashion. Angel Berroa, playing with Derek Jeter and Alex Rodriguez joining their respective WBC teams, homered and doubled; Melky Cabrera tripled in his bid to keep a job; and Jorge Posada went 1 for 3 as the DH, returning to play after a few days off due to shoulder soreness.
Beyond that, a bunch of guys who won't make the team — George Kontos and Steven Jackson — blew the game in the 8th. Brett Tomko pitched two good enough innings, and two hours and 46 minutes after the first pitch, it was all tied up with nowhere to go.
Tomorrow, Phil Hughes will face Team USA in a game televised on YES, the MLB Network and I believe for free on MLB.tv. That should be a good one.