The Yanks have announced who will be starting their first four exhibition games next week; allow me to quote PeteAbe:
Wednesday at Toronto: Brett Tomko

Thursday vs. Tampa: Phil Hughes

Friday at Minnesota: Ian Kennedy

Saturday vs. Minnesota: Joba Chamberlain
According the the YES Network's site, Thursday's and Saturday's game will be on TV. So that's right, in four days we'll get to see Phil Hughes make a start againt the defending AL Champs, then two days later we'll see Jobamania. Awesome. Just awesome.
With the exception of Joba, the regular starting rotation is being held back a week. CC Sabathia will make his first spring start on March 6th, which puts him on track to start Opening Day in Baltimore. Joba's second spring start would come on March 5th, lining him up with the fifth spot in the rotation. No surprise really, but this kinda confirms it.
Anyway, here's the open thread for the night. Talk about whatever, just be cool about it.
By

Kevin Goldstein of Baseball Prospectus posted his list of the Yanks' top eleven prospects today, with Jesus Montero beating out Austin Jackson for the top spot. Montero & Jackson were the system's only five star prospects, and where followed by a ton of three star guys. I think that's a little generous, I wouldn't have been surprised to see Jackson rated as a four star guy. McAllister's a little too low in my opinion, but nothing crazy.

Eric at Pending Pinstripes posted his top thirty list as well. Make sure you check it out. For comparison's sake, here's my list. · (38) ·
While slogging my way through the grit-inspired book authored by Joe Torre and Tom Verducci, I came across an interesting two paragraphs on a move in 2002 that could have change Yankee history. While the Yankee Front Office signed Rondell White to a forgettable two-year, $5-million contract, new Yankee Jason Giambi and then-manager Torre wanted to sign a different player to fill the left field gap.
"The one I was interested in," Torre said, "was Johnny Damon." Verducci eleaborates on page 170:
As the Yankees were wrapping up the Giambi negotiations, Giambi lobbied the Yankees to sign his buddy Damon to play left field. The Yankees decided they had a better idea; they signed Rondell White for $10 million over two years, leaving Damon to sign four days later with the Red Sox for $31 million over four years.

"Giambi tried to talk them into signing me," Damon said. "Rondell beat me to the punch. I heard there was one person who didn't want me there." Damon declined to identify the person with the Yankees who did not want him."
While it's easy to chalk this one up to revisionist Joe Torre history, from the sound of it, Ddamon would have come to New York, and some members of the organization wanted him. Why they never signed him in 2002 will long remain a mystery, but it certainly had a lasting impact on Yankee history.
Had the Yanks signed Damon, he wouldn't have been on the 2004 Red Sox, and the odds are good that the Yanks wouldn't have even been in a position to blow a 3-0 lead. That they went with White over Damon probably stands as one of the bigger, if lesser known, mistakes of the last decade.
Last year wasn't the smoothest debut for Joe Girardi. He helmed a team which got off to a slow start, suffered a number of significant injuries, and in the end didn't make the playoffs for the first time since 1994 (1993?). He also had a tumultuous relationship with the press, so that means we get to see a number of stories about how Girardi needs to adapt and learn to relate to people, players and media alike. Most of us know the media's take of Girardi via PeteAbe, who was up front in his criticism of the manager. Today, he writes of how Girardi is changing.
One the problems, as Tony Pena points out and Giradi confirms, is the way he spent his time last season.
"Joe is Joe; you can't change your personality. But I think he has learned that sometimes you have to spend your time in different ways," said Tony Pena, Girardi's new bench coach. "I see him doing things he didn't do last year, making those gestures. It's good."
…
"Oh, sure, I have to do a better job of that. It can't be all managing the game. I have to improve the relationships, and finding that balance has to happen every single day," he said.
I think Girardi proved himself year a game manager. His bullpen management was a breath of fresh air. We had a few complaints about his ever-fluctuating lineups, but part of that was out of necessity. In any case, he seemed to change his approach later in the season, consistently trotting out the team's "A" lineup. That's not necessary all the time, of course — the team's back was against the wall in August. It did show that the manager is willing to adapt, and that's an important part of the managerial game.
As a manager of people, it's difficult to ascertain exactly how effective he was last year. The media didn't appreciate him not being truthful about injuries, so their criticism of him has to be viewed with that bias in mind. Yet it seems a few of the players had cause for concern as well. Jorge Posada noted that "it doesn't always add up the way you want. You have to account for personalities." Johnny Damon thinks it's all good, at least right now: ""Everything has been cool. He has made tremendous strides in talking to people, from the top players to the guys who don't have a shot."
I was excited when the Yankees hired Girardi after the 2007 season, and one rough season (by Yankees standards) isn't deflating that at all. He can certainly be the man to lead this team to a championship. By all accounts, he's working his hardest to do just that.
By

Just to round off the early Sunday morning, Ken Davidoff caught up with Rob Crawford, elementary school teacher and vice president of Red Sox Nation. Whatever that means. Davidoff wanted get an idea of Fenway's eventual reaction to A-Rod on April 24, but Crawford thinks they'll hold just as much for Mark Teixeira, the one who got away. It will make for an interesting atmosphere when the Yankees send up their three and four hitters. Both were rumored to be Red Sox, but both ended up in pinstripes. "We really thought we had him," said Crawford. · (74) ·
By

The Yanks got to suffer through the spring ritual of picture day last week, and while I don't really know what happens with these pictures, the results sure are bizarre. The Sports Hernia took a look at some of the stranger and more humorous photos. Andy Pettitte looks might surprised to see the camera, and Derek appears, well, just vacant. For more, check out Getty Images. CC Sabathia looks either very happy or rather pensive. · (29) ·
By

Six-year veterans didn't find a robust market this winter, but arbitration-eligible players did just fine. They went from an average $1.13 million salary to $3.07 million, a 172 percent increase and a new record. They didn't hit the arbitration average salary record, $3.26 million, set in 2004. Also of note: only three cases went to arbitration this year, and the players went 2-1, their first winning record since 1996. · (6) ·
By

Gerrit Cole, the Yanks' famously unsigned first round pick, made his collegiate debut for UCLA this afternoon, one hitting UC Davis over six innings. His final line was 6 IP, 1 H, 1 R, 0 ER, 2 BB, 7 K, with the lone run coming in the 4th inning on a single, two-base error to move the runner to third, and a sac fly. It's a shame he choose not to do this in a Yanks' uniform, but what can you do. Such is life when you gamble on uber-talented but tough to sign players. · (49) ·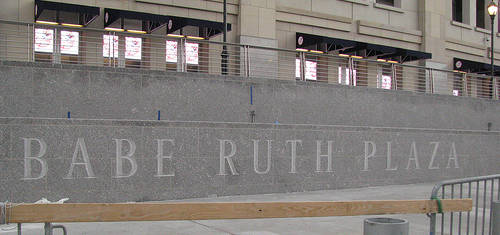 Kevin at The Voice of the Yankees Universe has a slew of photos from a recently substantially complete New Stadium, and my Mo does the place look like a palace. Just check out the Team Store, or the premium seats, or what looks like an information desk, or the lockers. That's crazy. There's plenty more for you to see too.
Anywho, he's the open thread for the night. The Rangers, Devils and Islanders are all in action tonight, and you've got a college baseball doubleheader on MLB Network. Talk about whatever you like, just be nice.
By

Mo bless Brian Foley of The College Baseball Blog for pointing this out: MLB Network is going to be showing a doubleheader from the MLB Urban Invitational straight outta Compton this afternoon. The first game between San Diego and Bethune-Cookman will air at 5pm Eastern, and they'll be followed by San Diego State taking on Southern at 8:30. I'm not sure what the pitching matchups will be, but I know that Stephen Strasburg won't be taking the mound for SDSU; he struck out eleven in 5.2 IP yesterday. If you're looking for a way to occupy some time on a lazy Saturday afternoon in February, thee's not much better than college baseball. · (9) ·