By

Just what we need today: more A-Rod. Stick with me for a minute, though. From time to time River Ave. Blues works with the Blogy by Fans network (In Mo We Trust, formerly Depressed Fan). They've launched a Spring Training '09 blog, and I've written an article on the Yankee experience. It's nothing new, but do me a solid and check it out. If not my article, than the rest of the site. It's something else to help kill the time between now and Opening Day. · (25) ·
In about four hours, Alex Rodriguez is going to face death by media. The venerable and not-so-venerable members of the sports media are going to gather in Tampa as A-Rod, flanked by a bunch of Yankee lifers, faces spontaneous questions from the keepers of the press for the first time since his televised confession to Peter Gammons last week.
When the dust settles, again, around A-Rod, the media will have cared far more than PED-fatigued fans do. A-Rod will, of course, hear boos when the Yanks hit the road, and he will probably hear boos when the Yanks return to the Bronx on April 16. But how is that different from any other year? This press conference will truly be the media trying to bury a broken man while attempting to somehow atone for decades of ignoring the clubhouse story that was unfolding right before their very eyes.
Now, we can bury the media some other time. This morning, let's talk about someone else speaking out against steroid use in baseball. This player — a very prominent member of the Boston Red Sox — exploded onto the baseball scene in 2003, and Yankee fans always viewed this gregarious player with a raised eyebrow. Of course, that ignores the fact that he had a stellar rookie campaign, battled injuries in Minnesota and was generally misused by his manager before arriving in a hitter-friendly park with arguably the best right-handed hitter of his generation backing him up in the line up. (And that's just a case of "who really knows?")
Yesterday, David Ortiz criticized steroid use in baseball in a lengthy interview with Nick Cafardo. YFSF highlighted the interesting bits — and remember that A-Rod and Ortiz are very close friends:
"I think that the A-Rod situation, it was a little bit tough for the game," Ortiz said. "Talking about the best player all the way around. At the same time, people have to give the guy credit because he came out with what he said at the point of his career where he had done it all. On top of that, that was what? Six years ago? The guy has put up numbers his whole career. It was one thing that he said that caught my attention was that he was young and at the time. . . . sometimes you make the wrong decision like he did. He's been playing clean and he's still producing. He's still been the best player in the game. If I'm a fan and I had to judge the guy, I would put that in the past and move forward. The guy, he works hard, man. He's still doing his thing. He's still got nine more years on his contract where he's definitely gonna do some damage still."

[snip]

"I think you clean up the game by the testing. I test you, you test positive, you're going to be out. Period," Ortiz said. "If I test positive using any kind of banned substance I'm going to disrespect the game, my family, my fans and everybody. And I don't want to face the situation so I won't use it. I'm sure everybody is on the same page."

"From what I've seen right now from the testimony that Alex gave, I would say it was very low the percentage that wasn't using it. Like he said, that's what was going around the league at the time. What else do you want? But in 2004 when they came out with the testing, I guarantee the percentage has been going down."
Ortiz expressed his belief that around 80 or 90 percent of the game is now clean. Who knows if that's naivete, undetectable designer drugs, the truth or some combination of all three? We just don't know anymore.
Meanwhile, Paul, one of the Sox fans at YFSF, has an apt conclusion to his post on the matter. "One thing I'm surprised no one asked," he writes, "especially given Ortiz's previous comments about the GNC products from the Dominican, is whether he's one of the 103 other names."
The problem with David Ortiz's statement is that you can't hop in a time machine and ban everyone in 1999. You can't really save baseball from the past. Ortiz is hitting on all the right things if you care about PED use and the pall it may or may not have cast over the game. But in the end, it's not really Ortiz who is right.
Rather, the one person who was right is the one most overlooked and quite tarred by the scandal. On May 17, 2005, Mark McGwire said, "I'm not here to talk about the past." That's really the best thing right now for baseball. Officials, players, agents, owners can point as many fingers as they won't, but the only action that will solve this PR problem is to move forward.
For now, though, we'll just have to a few hours until A-Rod is ready to talk about the past.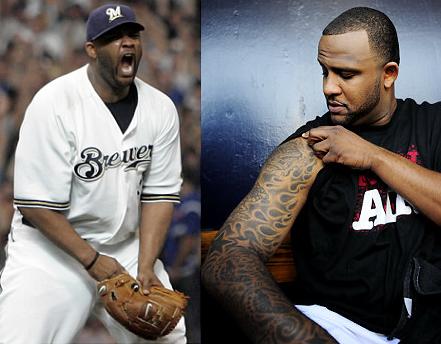 The first pic is from Milwaukee's final game of the regular season, when CC clinched the Crew's first playoff berth in a quarter century with a complete game four hitter (but you know, he's never pitched well in a big game). The second pic is from Saturday's John Harper column. So I guess we know what CC this winter, besides losing what looks like a ton of weight.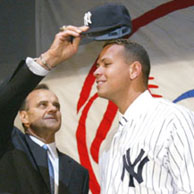 It seems like it was just yesterday, but on this day five years ago the Yankees acquired Alex Rodriguez in exchange for Alfonso Soriano and Low-A prospect Joaquin Arias. Texas also kicked in $67M of the $179M left on A-Rod's deal. After volunteering to shift over to third in deference to incumbent shortstop Derek Jeter, the Yankees had their new megastar.
It's no secret but A-Rod's been one of the more controversial figures in New York sports history, and until his recent PED admission it was almost entirely undeserved. It's nobody's business who he chooses to date, and his postseason struggles are obsessed over even though they're about 2% of the problem, with poor starting pitching being the other 98%. The fact of the matter is that A-Rod has been one of the most productive players in baseball since arriving in New York. He's hit more homers than anyone else in that span (208), scored the most runs (596) and driven in the second most (616). It's a trade you make a million times out of a million.
A-Rod will be holding a press conference tomorrow to address what's already been addressed, in the very same spot where Andy Pettitte admitted his mistake last year. Something tells me A-Rod won't get the free pass Pettitte has since received, he's not a True Yankee™©® after all.
So anyway, here's your open thread for the night. The Knicks, Nets, Rangers and Islanders are all in action. Anything goes, just be nice.
Photo Credit: Gregory Bull, AP
By

Ever heard of Jimmy Scott? Neither had I until this morning. I didn't think it was possible to not know a pitcher with 330 career wins and 4,022 career strikeouts, but we all make oversights from time to time. It makes sense, then, that he calls himself "the best pitcher you never heard of." If you haven't checked out his website, Jimmy Scott's High & Tight, you can mosey on over there and check out his interview with Scott Brosius. It provides some insight into the latter years of Brosius's career, as well as his decision to retire at age 34 after the 2001 season.

Disclaimer: If you believe Jimmy Scott is a real player, or believe that I believed it…I don't even know what to say to you. · (15) ·
Tomorrow, if all is still on schedule, the Yankees will officially receive the keys to their new home sitting on the northwest corner of 161st St. and River Ave. in the Bronx. In the meantime, I have three stadium-related stories.
First up is a story about the rent. According to NYC Comptroller William Thompson, the Yankees owe $65,511 in back rent for 2008. The team plans to pay what they owe and says that the difference arises over improper deductions. Adam Lisberg's article ends with a good zinger from Randy Levin too. "If I was Bill Thompson, I'd start paying more attention to Mike Bloomberg than the Yankees," Levine said, referring to Thompson's mayoral hopes, "or else he's going to find himself in a situation similar to a cellar-dwelling baseball team."
Last week, NHL Comissioner Gary Bettman got a grand tour of the new Yankee Stadium, and it seems as though the NHL is considering the Bronx as a potential host for the 2010 Winter Classic game. The Sporting News loves the idea.
Finally, we have some food news for the new digs. When it opens to the public in April, the new home should have far better food options than the House that Ruth Built. Salsa on the Go's Cuban sandwiches, however, won't be among the options. Salsa Caterers, the vendor's parent company, lost its support from Goya and will not earn a spot in the new stadium. The Yanks say that the new ballpark will feature local food ventures and what Crain's termed "Latin fare" as well.
By

Via Bryan Hoch, The Mexican Gangster is going to pass on the World Baseball Classic this year, instead focusing his efforts on making the team. Aceves made a big splash last September by making four strong starts and finishing with a 2.40 ERA in 30 big league innings, but beware the low strikeout rate (4.80 K/9), low groundball rate (1.03 GB/FB), high FIP (4.80) and absurdly low BABIP (.234). Sample size is an issue, but he still could use a little more time in a minors after his meteoric rise last season. With the rotation full, Aceves will likely start the year in the Triple-A Scranton rotation, and will be among the first called up if a spot starter is needed. (h/t Patrick) · (18) ·
Save the Big Three! We still say it today, though not with as much fervor as we did last winter. Clearly, one is safe. Another is relatively safe. The last is the subject of many chat queue trade proposals and character slams. Still, even Ian Kennedy could prove to be a valuable asset to the Yankees following a year in which he not only pitched horribly at the major league level, but alienated some fans with his over-confidence following a shelling. Kat O'Brien catches up with the young hurlers, but most importantly she catches up with Brian Cashman and Dave Eiland to shed some light on two controversial Yankees.
First up is Cashman, who says exactly what he needs to say:
"In terms of what they can be, they haven't dropped in our opinion," Cashman said.
Fine wording by Cashman. He implicitly acknowledges their poor 2008 campaigns while still noting that it doesn't categorize them as busts. They're still young and have time to prove their worth to the team, even if their worth amounts to currency in a trade.
As for the pitchers themselves, you might have heard that Hughes showed up to camp a bit heavier. The line, for now, is that he added 10 pounds of muscle. That brings him well above his weight for last season, which O'Brien notes was "his lowest weight since the middle of high school." We'll see if that extra off-season work can help him stay healthy throughout 2009. He could easily get a dozen starts in the Bronx if he does.
Kennedy seems his regular confident self after a winter of dominating the Puerto Rican winter league. He went down there to work on his curveball and his command, and in doing so managed a 1.56 ERA in 34.2 innings. He'll face stiffer competition this season, but that can be good for him as he continues his development. "I feel better now than I ever have as a pitcher," said Kennedy. "I just feel more complete than I ever did before."
Neither pitcher is likely to open the season in the rotation. Yet, as Eiland tells it, they're both ready for whatever the Yanks throw at them. "In their minds, they need to feel like they're competing for a spot," said Eiland. "We still have very high expectations for those two. We still look at them as we always have, that they're going to play a major role in this organization – if not today, not too far off."
By

Spring Training. It's a time for optimism, for hope. Reports gush from camp that Player X has lost a ton of weight, that Player Y is in the best shape of his life, and that Player Z is feeling great despite his injury history. Unfortunately, there are times when a player just isn't feeling his best. From the schadenfreude department comes this report from the Providence Journal about J.D. Drew's back. It's been sore all winter, and things aren't looking up as he heads into camp. The Red Sox knew his injury risk when they signed him after the 2006 season, and with three years and $42 million left on his contract, they just might be running into a worst case scenario. Not that I would wish that on them or anything. · (15) ·
A year ago, Scott Boras and Alex Rodriguez suffered through a public and personal divorce. While A-Rod's opt-out resulted in a $270-million, 10-year deal from the Yanks, his timing — in the middle of Game 4 of the World Series — earned him universal baseball scorn. With another top client jobless as Spring Training begins, Boras is again on the receiving end of some bad press.
According to a report in the Dominican-based Impacto Deportivo, Manny Ramirez may be on the verge of jettisoning Boras as his agent this week. The free agent could attempt to handle negotiations himself.
For Scott Boras, losing Manny Ramirez at this point in his career wouldn't be the biggest loss to the agency business. After all, Mark Teixeira, also a Boras client, just landed himself a $180-million, eight-year deal. Boras will draw a far bigger commission from that one Teixeira deal than he will throughout the rest of Manny's career.
But on the other hand, Boras seems to play a dangerous game with his clients. He tried to steal the spotlight for A-Rod in 2007, and he completely misread the Manny market this year. Teams seem to be getting wise to his dealings. It's tough to convince a GM that some unknown team is also in on the GM's top target when the GM is expecting Boras to drop that line.
So instead, Boras the agent tells his clients that he can get them a better deal. Turn down the two-year, $40-million option; turn down the two-year, $45-million offer; turn down the one-year, $25-million offer. Somewhere out there is a three-year offer, and somewhere out there are a bunch of fans who aren't going to look too kindly on a player haggling over a few million dollars while the American economy hits a recession.
Manny will probably land with the Dodgers. Joe Torre is expecting him, and the team is holding open a locker for the slugger. But he looks bad, and Boras' players are finally deciding that perhaps the bad press just isn't worth it. As teams grow tougher, it will be interesting to see how Boras maintains his empire. He didn't get to the top without smarts, and he'll have to adapt. It's all part of the game of the business of baseball.