By

Chad Jennings is breaking down the Yanks depth basically position by position, and today touches on the infielders. We all know what 2009 has in store for Robbie Cano and Derek Jeter, but what about guys like Doug Bernier, Juan Miranda and Kevin Russo? Give it a read, Chad breaks it all down.

Also, I thought I had already linked to his pitchers and catchers breakdown, but apparently not. There's the links for ya. · (22) ·
Via MLBTR comes word of a Buster Olney report about the Yankees. The team is searching for a second gem out of Mexico.
According to the ESPN scribe, Yankee officials believe that Walter Silva would be a good fit for the team. Silva is 32 and according to Olney's sources, had a strong season in Mexico this winter. Writes Olney:
Silva is the property of the Monterrey franchise, and went 7-8 with a 4.21 ERA for that team last year. He threw well in winter ball, pitching for Mazatlan; in 16 games, Silva had a 2.54 ERA, allowing 31 hits and striking out 29 in 35 innings.
Sounds like this is one of those no risk-potential reward signings. Why not?
Update 5:41 p.m.: The latest rumor is that the Padres are close to a Minor League deal with Silva. The odds of his making a contribution this year at the Major League level aren't great, but it never hurts to kick the tires.
Mike's not available this week, so I'm going it alone on the RAB Radio Show. Don't worry, it's an abbreviated edition, running under 15 minutes so you won't have to listen to me rant for too long. A couple of readers sent in questions, so I figured I should go ahead and answer them. Then it's onto my favorite subject: the bullpen. The Yanks are a couple of breaks away from having an absolutely dominant bullpen, and even as it stands they could be top five in the league.
Onto the podcast. It is available in a number of formats. You can download it here by right clicking on that link and selecting Save As. If you want to play it in your browser, just left click the link. You can also subscribe to the podcast feed, which will send it to you every Thursday. You can also subscribe in iTunes. Finally, we have the embedded audio player below.
Audio clip: Adobe Flash Player (version 9 or above) is required to play this audio clip. Download the latest version here. You also need to have JavaScript enabled in your browser.
Podcast: Play in new window | Download (16.4MB)
By

Fighting for a position on the Major League roster, Melky Cabrera has opted out of playing for the Dominican Republic in the upcoming World Baseball Classic. Melky was one of two true center fielders on the DR's preliminary roster and probably would have seen some playing time during the tournament. However, the 24-year-old, coming off of his worst professional season, has, according to MLB.com's Anthony DiComo, told the team he wants to stay in camp to win the starting center field job. That's probably a smart choice for Melky. · (79) ·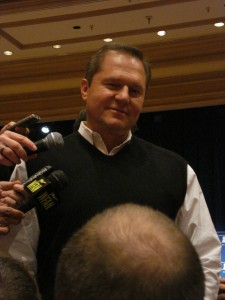 It's that time of year again, the time when we can start thinking about June's amateur draft. The cool thing about this year is that I don't have to waste two hundred words explaining why the Yanks are picking where they are. All you have to do is take a look at our 2009 Draft Tracker, and everything you need to know is right there in a (hopefully) easy to understand format.
I figured I would kick off this year's coverage by taking a look at some of Scott Boras' most notable clients. These players are some of the very best available in this year's draft class, but absurd bonus demands and/or a hint of injury/disappointing performance could lead to them dropping from their rightful place atop the draft landscape. Just ask Andrew Brackman or Rick Porcello. Teams might be not be willing to put up with Boras this year given the current economic client, and in fact the Dodgers' front office has apparently told the scouting department not to draft any Boras clients this year (we'll have to wait and see if that holds true). Top players slide in the draft every year, it's part of life.
Fun starts after the jump.
By

When the Red Sox leadership blamed the Yanks and called for a salary cap yesterday, it was really only a matter of time before Yankee attack dog Hank Steinbrenner got in on the action. While Hank's comments were not up to their usual biting self and generally pale in comparison to anything George used to unleash, the Steinbrenner son did not disappoint.

In his response, he defended the Yanks' spending on revenue sharing grounds. "Along with a few other teams, we're basically baseball's stimulus package," he said. "As long as we're..giving all this money to other teams in revenue sharing, a staggering amount, we should be able to spend on salaries what we want to. Because of revenue sharing and because of the popularity nationwide, the Yankees are critical to baseball." Amen, Hank. Amen. · (36) ·
Update (2:30 a.m.): Who had 36 hours in the "find A-Rod's cousin" pool? Intrepid ESPN.com reporter Amy K. Nelson along with a producer from ESPN Deporters discovered the identity of A-Rod's anonymous cousin and respectfully left him alone dug up his story. Basically, Yuri Sucart, a Miami resident is indeed the cousin to whom A-Rod referred on Tuesday. According to ESPN's sources, Sucart has long "lived his life vicariously" through A-Rod and would do the superstar's bidding.
Now that this once-suspect version of A-Rod's story has been proven to be true, the media witch hunt continues to look more and more biased against A-Rod.
* * *
I don't particularly envy Derek Jeter right now. For the last 13 seasons, Derek Jeter has been the face of the New York Yankees, and over the last 15 months, he's watched as some of the key players who have surrounded him have succumbed to the steroid scandal.
In Dec. 2007, George Mitchell's incomplete trainwreck of a steroid investigation revealed numerous drug users on the Yanks' teams from 2000, and Andy Pettitte and Roger Clemens took the their fair share of criticism. Three years before that, Jason Giambi apologized to, well, something that we all took to mean steroid use. Meanwhile, Jeter has supposedly led a clean career in an era filled with PED-enhanced ballplayers.
This week, when finally given the chance to speak to the media yet again, the Yankee Captain issued something more than the vanilla statements for which he has become famous. While expressing his support for A-Rod, he also voiced his disappointment.
Beyond this rare showing of an opinion from Jeter, though, was his statement on the way the steroid scandal — and the so-called Steroid Era — has been covered in retrospect. "Everybody wasn't doing it," he said to a gaggle of reporters at Steinbrenner Field yesterday afternoon. "That's the thing that gets irritating. I think it sends the wrong message to baseball fans and kids, saying that everybody was doing it. That's just not the truth."
In a way, Jeter's criticism is one the fans have been leveling at the media this week. The reporters have seemingly gone overboard in their zealous glee surrounding the A-Rod story. For example, take Daily News reporter Mark Feinsand's lengthy pieces slamming A-Rod here and here.
As with many who cover the Yanks, Feinsand feels that A-Rod's apologies have been more scripted than real. He feels that the Yanks' third baseman should, for the good of the game, just take responsibility for what he did without blaming his cousin, his youth, the pressure of fame or anything else. In all fairness to Mark, he has some good points. After all, how sorry can A-Rod really be when he will exit this game having made well over $400 million in salary alone?
It's not, however, just this reaction to A-Rod that seems so off. Rather, it's the reaction to A-Rod coupled with the reaction to Andy Pettitte's HGH admission from last December. Take a read through Feindsand's piece on Pettitte. "Good for him," Feinsand wrote, commending Pettitte for owning up to his mistakes and attempting to put the past behind him. Talk about a double standard.
Of course, this may not be an unfair double standard. After all, Andy Pettitte didn't go live on national TV to tell Katie Couric he never used steroids. But while A-Rod has been just as forthcoming as Pettitte, the media has been ruthless. Maybe they expected A-Rod to be a bigger figure in the game. Maybe everyone is collectively disappointed that A-Rod, when he eclipses Bonds' home run totals in a few years, will hold a still-tainted record. Whatever the reason, A-Rod is being far more scrutinized than anyone who has so far admitted to drug use.
Meanwhile, over at the Worldwide Leader, Gene Wojchiechowski is ready to start A-Rod's clock anew beginning today. Sounds good to me.
After suffering through an off-season of Yankee spending and losing out on Mark Teixeira at the last minute, Red Sox owner John Henry and team president/CEO Larry Lucchino have renewed their calls for a salary cap. Henry last called for a cap following the 2004 trade of Alex Rodriguez from the Rangers to the Yankees, and while the Boston officials feel that support may be growing among other owners for an "enlightened" cap, the Yankees are sure to oppose a firm spending limit.
"I think you have to make an intelligent, persuasive case for it," Lucchino said to MLB.com's Ian Browne. "I do look around and I see a hockey league, a basketball league, a football league, all with forms of a salary cap or payroll system, and I think it's as inevitable as tomorrow that there will be some kind of system like that in baseball. It's just not as imminent as tomorrow."
According to Lucchino, the owners are already doing what Browne termed their "due diligence" in advance of the 2011 expiration date for the current Collective Bargaining Agreement. Obviously, the Yanks' off-season spending has spurred on the dissent from Boston despite the fact that the Red Sox consistently are among the game's top spenders. Lucchino slammed the Yanks' winter spree despite the fact that the team's Opening Day payroll will be on par with 2008's. "I think we've seen when the Yankees have spent like the U.S. congress," Lucchino said. "I agree whole-heartedly with John, that an examination of a salary cap, an enlightened approach to a salary cap, could make sense for the game. I think people in baseball are examining that possibility."
Clearly, the next few years will be telling. If the Yanks continue to spend as they have, teams will band against them. However, the owners may be spoiling for a fight they can't win right now. The Players Association will probably not support a salary cap, firm or otherwise, and the PA leaders aren't too happy with the way they have been portrayed during the recent PED scandals. With the Red Sox on board, though, we're just getting a glimpse of labor fights to come.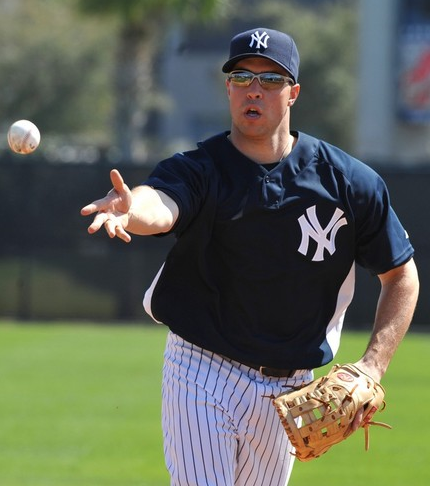 Joe Girardi announced today that new first baseman Mark Teixeira will fill the Bobby Abreu Memorial third spot in the batting order, with Alex Rodriguez retaining cleanup duties. The announcement does seem a bit premature considering no one's faced live pitching yet, but Tex has always loved batting third, being quoted as saying "I've always loved batting third." Good enough for me.
Some numbers for argument's sake:
Mark Teixiera
Batting Third: .311-.394-.573, 19.3 PA/HR, 8.3 PA/XBH
Batting Fourth: .279-.378-.523, 16.3 PA/HR, 9.8 PA/XBH
Career: .290-.378-.541, 19.4 PA/HR, 9.0 PA/XBH
Alex Rodriguez
Batting Third: .303-.396-.602, 14.7 PA/HR, 8.7 PA/XBH
Batting Fourth: .300-.394-.569, 16.0 PA/HR, 9.6 PA/XBH
Career: .309-.389-.578, 16.4 PA/HR, 9.0 PA/XBH
Yeah, I'm still in the camp that wants A-Rod batting third. Let him get more plate appearances over the course of the season.
Anyway, here's your open thread. The Rangers are playing the Islanders, and the Nets are in Dallas. Anything goes, just be nice.
Photo Credit: Getty Images