Got a special treat for you tonight. Loyal reader Giselle was watching the Double-A Trenton game on TV up where she lives in Massachusetts (they were playing the Red Sox's Double-A affiliate), and she offered write-up the Trenton game and add some of her observations.
Check it out and let her know what you think in the comments. Be gentle, it's her first time.
8-1 win over Portland. 10 hitters came to the plate in the 6th and scored 5 runs off of 6 hits (4 doubles).
Reegie Corona and PJ Pilittere: Both 0 for 4, each K'd once. Corona grounded into a dp.
Ramiro Pena: 2 for 5, 3 K's 1 RBI, scored a run. Caught stealing and was given an error on an Uggla-like bad hop.
Austin Jackson: 4 for 4 walk, 2 doubles, rbi, 2 runs scored. Kept his perfect OBP intact after being down 0-2 in the 9th w/ 2 outs.
Chris Malec: 3 for 5, double, rbi, 2 runs scored.
Colin Curtis: 2 for 4, doubled, 2 rbi, scored a run. Threw a runner out at 2nd. (he got the force out at second cause the runner didnt know the ball was gonna drop. whats that scored as? stupidity?) [Note by Mike: Yes, the official scoring is SR, or "stupid runner"]
Edwar Gonzalez: 0-3 with a walk, a rbi, and a run scored. Threw a runner out at 2nd.
James Cooper: 2 for 4, K'd once and scored a run. Infield hit in the 8th.
Walter Ibarra: 1 for 3 with a walk, rbi, and a run scored. Couldn't bunt a runner over to third, ended up doubling him home to score the first run.
Chase Wright: 5.1 IP 5H 1R 1 ER 1BB 6K, 4-5 GB-FO ratio.
Jose Valdez: 0.2 IP 1K zeroes.
Zachary Kroenke: 1 IP 1H 0R 0BB 1K
Anthony Claggett: 1 IP 1H 0R 2BB 2K. Pitched himself into and out of trouble.
Oneli Perez: 1 IP 3K. Three up, three down.
By

This week, while watching both the Home Run Derby and the All Star Game from Tier Reserved Section 31, I got to thinking about the seats in Yankee Stadium and the seats in the new stadium. While we know that the Tier Boxes at the new stadium won't be quite the same as they are in the current stadium, there is one consolation: The sightlines have to be better.

In my seats this week, if I sat straight, I was facing the spot behind second base in the outfield and not the pitcher's mound. I also couldn't see the outfield from right-center to the foul line. It made for quite the Derby-watching experience. So maybe, with nearly every seat at the new park offering unobscured views of the field, this new stadium will make for a more enjoyable game-watching experience once we get over the fact that it's not the Yankee Stadium we know and love. · (3) ·
Your mission tonight: comment on the following picture. We can do captions, comments, what have you. Tommiesmithjohncarlos, I'm expecting a lot from you.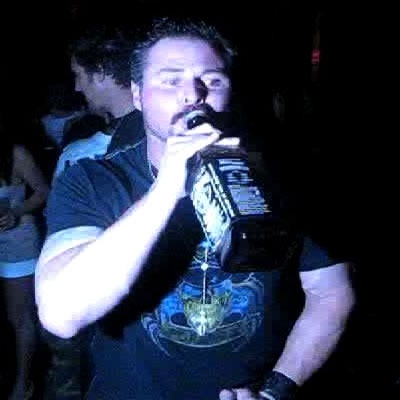 By

The numbers are in, and this week's 15-inning All Star marathon at Yankee Stadium was a huge ratings hit. As Maury Brown at the Biz of Baseball reports, an estimated 14.54 million viewers watched the game, the most viewers of the Mid-Summer Classic in the last six years. Brown also notes that Monday's Home Run Derby was the highest rated cable TV broadcast of the year and that merchandise sales — including the popular Statues on Parade — and FanFest attendance reached record highs as well. Brown does offer up an interesting question to ponder: How can MLB top this year's Yankee Stadium send-off next year and in years to come? · (13) ·
By

Buster Olney reports that Richie Sexson and the Yankees are a good fit have reached a tentative deal. The righty, released last week by Seattle, will get paid the pro-rated minimum by the Yanks and could be in the lineup on Saturday when the Yanks face A's lefty Greg Smith.

The Mariners had let Sexson go over concerns surrounding his attitude and his .218/.315/.381 offensive line in 292 plate appearances this year. But the Yanks' view Sexson's right-handed bat as a balancing force in a lineup that has struggled against southpaws this year. In 71 plate appearances against lefties, Sexson is hitting .344/.423/.623 this year. And if Sexson doesn't stick in New York, it's only money. · (151) ·
By

In our effort to provide the best coverage about the new stadium and what it all means to Yankee fans, I'd be remiss if I don't point the way to two recent stories. Sandy Grossman, a one-time vendor at Shea and Yankee Stadium, a wrote an extensive profile of current Yankee Stadium vendors and what the move across the street may mean to those vets of the beer trade. A lot of the long-time vendors may be losing their jobs as the Yankees shift food service companies with the move across the street.

While you're at it, check out this Alex Belth piece too. He got to chatting with a cop at the 103rd St. subway stop this week, and she told him tales of working the Yankee Stadium beat on game night. Good stuff. · (15) ·
By

Okay, so it's not from the most credible news source. But it appears that David Wright is making progress in challenging a check-swing appeal, in which Bruce Dreckman ruled against the Mets third baseman. The takeaway quote: "The decision was first handed down in New York's lowest circuit court, Shea Stadium." Give it a read. I guarantee you laugh. · (15) ·
For a few months, the last Yankee home game on Sunday, September 21 — a mere two months and four days from today — was scheduled to begin at the dreaded TBA. It is TBA no longer as ESPN and MLB have announced an 8 p.m. start time for that historic game.
While I don't have tickets, I'm a little disappointed in this decision. One of the pure New York joys for me has always been a Sunday afternoon game in the Bronx. In fact, there's even a song to go with it. In September, with a faint hint of fall in the air, and the shadows falling just so, it's even better.
But alas, the finale at Yankee Stadium — like all of the events we've seen this week — is a historic baseball occasion, and we'll have to sit through a Joe Morgan and Jon Miller send-off. Hopefully, that game in nine and a half weeks won't be the last one ever at Yankee Stadium, but right now, our Bombers don't seem to be a team destined to play in October this year.
So instead, the Yankee finale will be a night game, and the party at the stadium — a wake, if you will — will last long past the last pitch sometime after 11 p.m. Maybe, if the Baseball Gods are feeling up to it, they'll even run the game into 15 innings as they did last night when they screamed to the crowd and the players, "Don't go yet!"
It's tough to realize that Yankee Stadium will see its final regular season home game in 66 days, but that's all that's left. Cherish them.
Triple-A Scranton is off until tomorrow for the All-Star Break. The Pacific Coast League All-Stars beat the International League All-Stars 6-5 after 2008 Olympian Blaine Neal blew the save in the glorious fashion in the top of the 9th. Cody Ransom replaced Justin Christian on the IL roster because J-Chrizzle is in the bigs, but did not play in the game because he's dealing with family matters.
Double-A Trenton is off until tomorrow for the All-Star Break. The North beat the South (fitting) 5-3.
Austin Jackson: 1 for 4, 1 R, 1 2B, 1 RBI, 1 SB – started in CF, batted second & played the whole game … doubled in an insurance run in the 8th
Chris Malec: 0 for 1, 1 R, 1 BB, 1 K – manned the hot corner after entering the game in the top of the 6th
PJ Pilittere: 0 for 2 – took over behind the plate in the top of the 5th
Jason Jones: 1 IP, 1 H, 0 R, 0 ER, 1 BB, 3 K – started the game for the North squad … 15 of 23 pitches were strikes (65.2%)
By

Last night, prior to the game, the Yankee Stadium crowd gave Bob Sheppard a big round of applause. His voice was the most noticeable absence of the All Star festivities, and it's now been nearly 10 months since the Voice of God last announced a game. While Sheppard is working to return to the booth, the reality is that he's in his late 90s and is recovering from a debilitating illness. He won't be around forever. To that end, Darren Rovell at CNBC suggests that the Yankees should look into preserving Bob's voice forever. The technology exists for a company to spend a whole bunch of hours recording Sheppard — approximately 10 — in order to pick up his speech patterns so that his voice could be saved digitally forever. The cost — in the six-figure range — is pocket change to the Yankees, and I sincerely hope they look into this idea. Bob Sheppard won't be around forever; his voice filling Yankee Stadium should be. · (28) ·