Update by Mike (6:15pm EDT): Ken Davidoff with the quote of the day: "Sabathia didn't reject the Yankees' offer. Good Lord. How could someone report that?"
Update by Mike (5:41pm EDT): Rosenthal shot it down as well.
Update by Mike (5:30pm EDT): The crew on Baseball Tonight has shot down this rumor, citing a Yanks' official.
Update 5:17 p.m.: For what it's worth, Baggarly has updated his blog post to reflect his info that the Brewers may now be the frontrunner. A few reports have the Yanks ready to go hard after A.J. Burnett and Derek Lowe as well, but that doesn't mean Sabathia is completely out. Either this is building to a head or it's a Vegas-inspired Red Herring.
==
Because everyone's already talking about, here you go: Andrew Baggarly reports on the Mercury News Extra Baggs blog reports that CC Sabathia has declined the Yankees' offer. He writes:
It's been confirmed to me that the Giants had discussions with CC Sabathia's camp last night, and they expect to have face-to-face meetings with the left-hander in San Francisco after the winter meetings.

It sure must've have been a productive discussion, because word is that Sabathia has declined the Yankees' six-year, $140 million offer. (I must stress that's unconfirmed, but talk is spreading fast. If true, look for the Yanks to get hyper-aggressive on A.J. Burnett.)
Let me say this: Beware unconfirmed rumors. They are unconfirmed, obviously.
Second, it makes no sense — none — for Sabathia to reject the Yanks' offer. He loses all bargaining position in doing so, and the Giants, Angels or Brewers would have no reason to come close to the Yanks' generous offer. Even if he has no intention of signing with the Yanks, he is far better served to keep the Yanks' offer alive.
I don't buy this one, but there you go.
As Joe noted a short while ago, no one knows much of anything in Las Vegas. For Exhibit A, let's take a look at yet another Jake Peavy rumor.
According to a tidbit in the Chicago Sun-Times, Jake Peavy wants to be a Cub, but seems to expect to land with the Yanks if the Cubs deal falls through. So, over the last few months, we've heard various rumors saying that the Yanks are in and out of the Peavy deal, that Peavy doesn't want to leave the NL or the NL West or doesn't mind coming to New York, that he will or won't be traded to the Cubs or the Braves.
Basically, this is a prime example of no one knowing anything. No one knows anything about Peavy. No one really knows anything about CC Sabathia's state of mind, the Angels' intentions with Mark Teixeira, or what's going on in Manny's head. So when you start reading reports about what players want or don't want, take them with a rather large grain of salt.
Hat tip to Will in Chicago for e-mailing this one in.
By

Ken Rosenthal says the rumored Ramon Hernandez for Ryan Freel deal has been agreed to, and is pending MLB approval because of the money changing hands. We'll update with more as we get it. The Matt Wieters Era begins. · (20) ·
By

The terms: 3 years, $37M. That sounds like three guaranteed years at an AAV of $13M per with a $1M buyout on an option for a fourth year. K-Rod is supposedly going to take a physical tomorrow, which should seal the deal. Jerry Manual has a scheduled press conference at 4pm Vegas time today, so we'll dig up more then.

Update (12:48pm): Joe just saw Minaya in the hallway talking to Gammons and other media types with a big grin on his face.

Update (12:55pm): I just huddled around Minaya with the other NY media guys … he emphasized that the deal is not official but he feels "better about where it is today then yesterday." · (15) ·
By

According to Ken Rosenthal's 12:50 p.m. update (scroll down at the link), the Giants plan to meet with CC Sabathia and his agent this weekend in San Francisco. In other words, the Yankees will not be leaving Las Vegas with CC in tow. This story is going to drag on for a few more weeks, and impatient fans are just going to have hold their horses for a little while longer. · (82) ·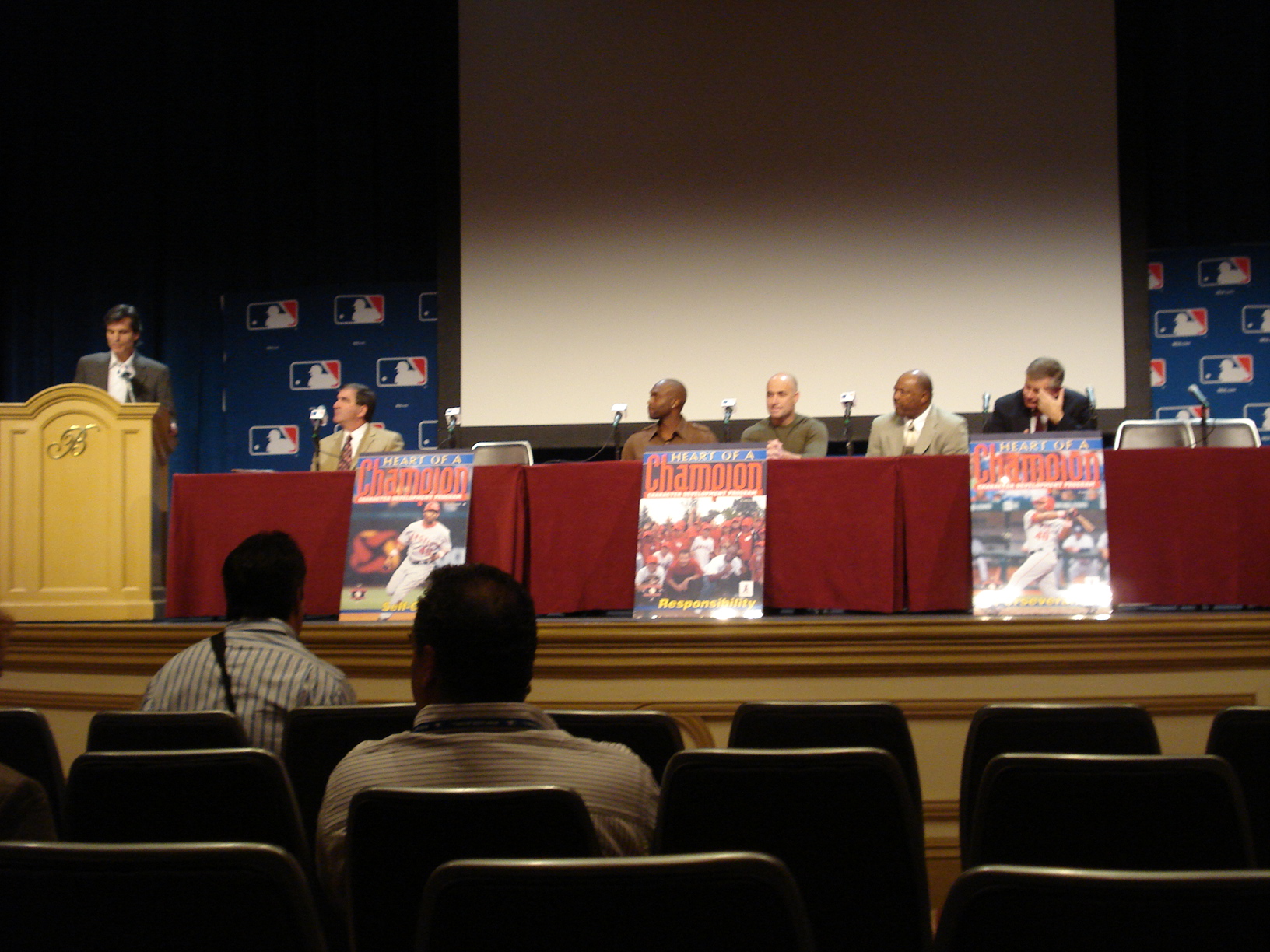 Here's a shot of the press conference for the newly founded Torii Hunter Project; Torii's foundation provides scholarships and all sorts of educational support for children. You probably recognize the two guys in the middle: Hunter and tennis legend Andre Agassi. Agassi's school in Las Vegas is one of three partners with Torii on this project. The gentleman to the far right is the representative of another partner school in Orange County, while a representative from the third partner school in Hunter's hometown of Pine Bluff, Arkansas wasn't available because school is in session.
Torii spoke, and he seems like a genuinely great and caring guy. His bling nearly blinded me though.
The Brewers are set to announce that they've resigned incumbent third baseman and ex-Yankee Mike Lamb, which likely puts Bill Hall out on the trade market. Ken Rosenthal and Ed Price noted that the Yanks have interest in  CC Sabathia's close friend (8:44pm post), who would presumably take the role of primary utility man and righty pinch hitter. And I don't get it.
First off, CC Sabathia's decision to sign or not sign the Yanks will not be based on Bill Hall's presence, so don't even worry about that. Secondly, what exactly makes Bill Hall so desirable? Usually when I dig deeper on a player (like Nick Swisher or David DeJesus) I can find some information that the player is undervalued and a viable buy-low candidate, but that's not the case with Hall.
First off, Hall's contract is ugly. He's owed $6.8M in 2009, $8.4M in 2010, then a $9.25M option or $500,000 buyout kicks in for 2010. That's a lot of cheddar for a bench guy. Secondly, his production has declined for three straight seasons as he entered his prime years. Hall had a monster year in 2006 that landed him that fat contract and Joe a fantasy baseball title (.369 wOBP, 35 HR, 44.3 VORP), but he then dropped down to a .317 wOBP & 6.7 VORP in 2007, and bottomed out with a .297 wOBP & -5.1 VORP this past year. Inconsistent playing time and at-bats off the bench will not sharpen up his production, and he's already made it known that he doesn't like being a part-time player.
Hall's biggest asset is that he's extremely versatile; he's spent significant time at short, third, and in centerfield over the last few seasons, and has also seen action at second. However he's below average at best at each of those spots, with career RZR's of .838 in center, .723 at third, and .804 at short. That's not just bad, that's horrific. Citing Hall's versatility as a plus is the same as saying Jon Garland is an innings eater, it just means he can suck at more spots.
Granted, Hall would come dirt cheap because of his contract (if the Yanks take on all of that money, they could get him for like, a C-minus prospect) and maybe there's some bouceback potential because of the change of scenery, but there's nothing to suggest that. His BABIP has been steady and reasonable, his line drive rate is consistent, and his plate discipline numbers don't show any significant spikes. There's just nothing to suggest that his three year decline was a fluke.
Pass on Bill Hall, I'm sure Cody Ransom could approximate his production for 1/17th of the cost. If you want a player on the Brewers and one of CC's buddy, go for Mike Cameron. It makes so much more sense.
* * *
Just a quick aside: I overheard a Milwaukee writer talking to two other writers not far away from us, he said he's looking forward to the Yanks signing both CC and Sheets because "then the Brewers would get the Yanks' two first round picks." Heh.
Update (1:00pm): I just overheard the guy say he confirmed with Baseball America that the Yanks' can't lose the Gerrit Cole pick. That only took two-plus hours.
By

Since we made something of a mistake on an earlier post, I just wanted to bring a correction to everyone's attention. Contrary to what the New York Post reported recently, Ken Davidoff will not be losing his job at Newsday. Joe corrected my earlier post, and I'd just like to reiterate that this is good news indeed. Knowing that Davidoff will still be around reporting and blogging for Newsday is comforting indeed. This also goes to show what happens when we break our anti-New York Post pledge. Trust me; that won't happen again. My apologies to the Newsday crew and our readers for the bad info. · (0) ·
You don't have to be in Las Vegas to get the sense of uncertainty surrounding Major League Baseball. There haven't been any major signings in this free agency period, and it appears that the most sought-after free agents — Sabathia, Teixeira, Burnett — will end the week still unemployed. So what gives?
It appears that teams are playing everything close to their chests. Information continues to leak out, but in most cases it is quickly debunked. Just check out MLB Trade Rumors, where the tireless Tim Dierkes is not only reporting on every rumor he sees, but is constantly updating posts with new information, most of which contradicts the original reports.
Let's take the Ben Sheets situation for example. Last night, while I was losing $100 on blackjack, Ben found a Mark Feinsand report that the Yanks were preparing an offer to the righty in the two-year, $30 million range. A bit later, Joel Sherman, who like most people here is shorter than I imagined him, said that the Yankees aren't quite sure they'll make an offer. Then, later in the night (or early in the morning), Feinsand updated his post to say that the offer would be in the $26 million range.
So are they going to make an offer? How much will it guarantee Sheets? What are his other prospects? At this time we don't have answers to those questions. Everyone will do some digging, though, and I'm sure we'll hear something later today about another team, possibly the Red Sox, becoming interested. Little will come of it, at least in the immediate future.
Even in the cases of players who seem closer to signing or being traded — Francisco Rodriguez and Jake Peavy, most notably — we're still not sure exactly what's going on. Omar Minaya and his crew supposedly met with the closer on Sunday and made an offer. That was rumored to be for three years, then we heard two and a vesting option. Now we're back to hearing three guaranteed, for $37 million. The Peavy trade now supposedly involves four teams, and could go down as early as today.
I'm really hoping these moves do happen. It would at least be good for the mood around here. However, even though they're proclaimed to be close, I'm not quite sure. I'm not quite sure of anything out here in Vegas.