Three batters into the top of the first, the usually-punchless Mariners found themselves enjoying a 3-0 cushion. With King Felix on the mound, those runs would be more than enough, but Seattle battered A.J. Burnett for three as the game progressed. Hernandez, meanwhile, was untouchable. He allowed just four hits in eight innings and struck out 11 as the Mariners beat the Yanks 6-0.
Felix earns his nickname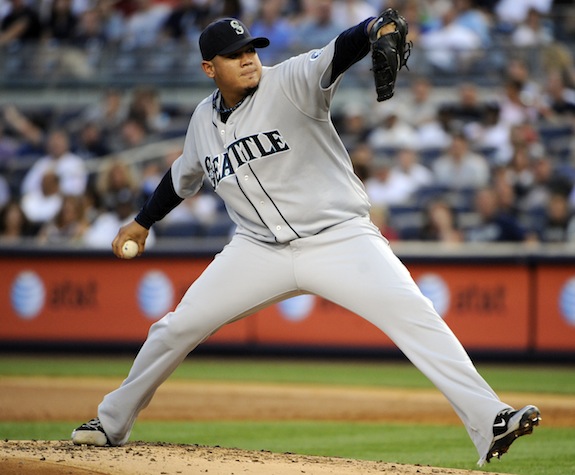 Last weekend, we celebrated how the Yanks had managed to play two four-game sets against the Royals and miss Zack Greinke both times. This week, we curse the scheduling gods for their retribution. The Yanks and Mariners have faced off in three series, and each time, Felix Hernandez has taken the mound. Each time, the Mariners have won.
For all the aces the Yankees have faced this year — the Jon Lesters, the Roy Halladays, the Cliff Lees — none have dominated more than Felix Hernandez, and tonight was no exception. Using a fastball sitting above 94, a change-up in the upper 80s and a set of 85-mph breaking balls, Hernandez was nearly untouchable. At one point, he struck out five Yanks in a row and ended the game with 11 Ks. It was, as that Avis commercial says, total domination.
On the season, Hernandez is now 3-0 against the Yanks in three starts. He's thrown 26 innings and has given up a solitary earned run on 15 hits and eight walks. He's struck out 31 Yankees. I'm glad they won't have to face him again.
A.J. struggles early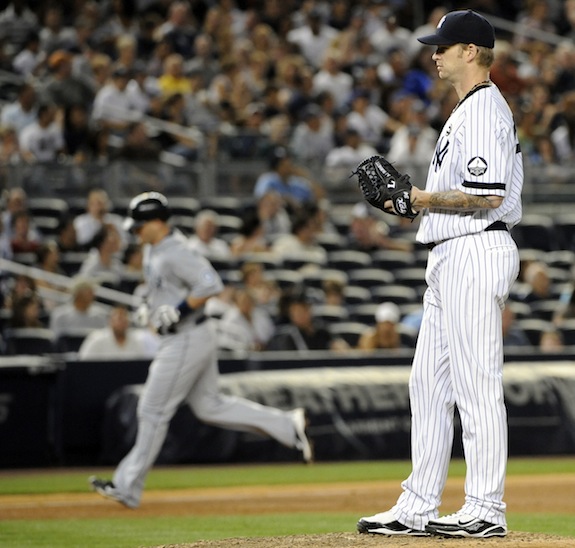 By now, the Bad A.J./Good A.J. meme has grown tired. A.J. Burnett is what he is: an overpaid, inconsistent pitcher who's with the Yanks for the next three seasons. Tonight, we saw A.J. struggle early. He gave up a single to Ichiro, inexplicably walked Chone Figgins and then after a stolen base, gave up a booming home run to Russell Branyan. It was the fourth long ball Branyan had blasted in the Bronx in seven games this year, and he would return for an encore performance later in the game.
As the evening wore on, it was clear that A.J. had no command. In 7 innings, he gave up six runs on 12 hits while walking three. He struck out just four Mariners, and a weak-hitting team teed off on him as though it were batting practice. His 92-mph fastballs were all over the place, and he couldn't throw the curve for strikes. For Burnett, now 9-11 with a 4.80 ERA on the season and 0-3 with a 6.08 ERA in August, it was business as usual.
After the game, Burnett spoke with reporters about his struggles, and his comments, on the surface, seem insensitive. He claimed that only the home runs were hard hit and that he was only concerned with the long balls. "If I don't give up those home runs, it's a 2-0 game. Those are the only pitches I'm worried about," he said, adding later, "I'm not worried about all the other hits, but the two home runs bother me."
For Burnett, those comments have to be a coping mechanism. No one knows better than A.J. that his results are not where they need to be and where the Yanks want them to be this year. He's underperforming his ERA by nearly a full year, and his strike out totals as well as his fastball velocity are down a few ticks this year. The Yankees need to get A.J. back on track if they're going to win in October, but right now, the dominant A.J. is nowhere to be seen.
A-Rod leaves early
The only other noteworthy part of this game was a fourth-inning substitution. As we reported earlier, the Yankees had to pull A-Rod after he felt his calf grab during his second-inning at bat. The Yankees now anticipate that he'll miss more time, but a DL trip is unlikely. Ramiro Peña will get the bulk of the third base playing time.
I believe the Yanks made a mistake playing A-Rod tonight. Had they sat him out, they could have put him on the disabled list retroactive to Monday, and he would have been eligible to be activated near Sept. 1 when rosters expand. Now, they'll sit him and hope he can heal without a trip to the disabled list. It was a costly move in a game against a dominant pitcher, and while the Yanks shouldn't give up before a pitch is even thrown, using A-Rod tonight could come back to haunt them.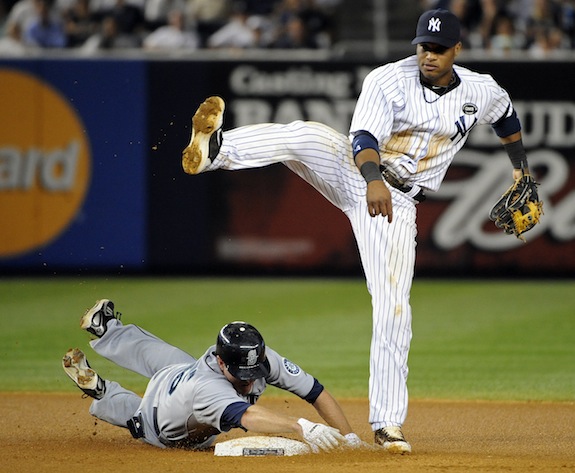 WPA Graph
Down, down, down.
Up Next
These two clubs go at it again at 1:05 p.m. on Saturday afternoon. Javier Vazquez (9-9, 4.89) will look to get back to his winning ways against Jason Vargas (9-5, 3.15).