By

Bob Sheppard has seen more games at Yankee Stadium than anyone else in the organization, but he won't be on hand for the historic finale this Sunday. Last year, the long-time public address announcer contracted a bad case of bronchitis and pneumonia. He missed the end of last season and has yet to appear at Yankee Stadium this year. While Sheppard had aimed to announce this Sunday's game, Jim Baumbach reports this morning that Sheppard is still not healthy enough to put an eight-hour shift at the stadium.

In fact, Sheppard isn't strong enough to attend the game as a guest of the Steinbrenner's, according to Baumbach. "My heart will be up in the Bronx, but my body will be in front of the television," he said. Sheppard, however, hopes to welcome the crowd to the new stadium in April. He is, after all, under contract for next year. · (10) ·
By

Hideki Matsui hasn't seen much action lately. He's been riding the bench since the first game of Saturday's double header and is 0 for his last 16. Since returning from his knee injury, Matsui is hitting just .205/.267/.325 in 90 plate appearances. Now, word comes that, as soon as the Yankees are eliminated, Matsui will probably get the knee surgery he's been putting off for a while. Considering his lack of production over the last few weeks, he probably should have just gotten the surgery earlier this year. Matsui is under contract for the 2009 season, and it will be interesting to see how the Yankees manage to slot him into their plans to say the least. · (16) ·
So the Yankees have now played four games in a row against playoff-bound teams, and they've won three of them. Sadly, that seems to fall into the "too little-too late" category as the team is still nine games out of a playoff spot with just 12 games left to play.
Tonight, the Yanks played a crisp, quick game against the AL Central-leading White Sox. They scored two runs early on a Xavier Nady home run and two runs late on a Wilson Betemit double and a Johnny Damon single, and the White Sox never really had anything going offensively. Al Aceves continued to limit the number of opposing base runners. He allowed just one base runner an inning and struck out three. As a back-end starter, he's certainly more than serviceable.
On the milestone front, Mariano Rivera recorded the 479th save of his career, and he is now second all-time on the saves list. Trevor Hoffman sits 73 saves ahead of Rivera, and Rivera's attempts at catching Hoffman will depend upon the future of Trevor. Hoffman, soon to be 41, wants to return to the Padres next year, and as long as he keeps pitching, Rivera won't catch him. Derek Jeter took an 0-fer and remains tied with Lou Gehrig on the all-time Yankee Stadium hit list.
While the Yanks won, that fact has taken second-stage to Dr. Jorge Posada. All the Yankee bloggers are writing about Posada, and when Joba came into pitch in the eighth tonight, the YES Network analysts went on and on about it for the entire inning.
To recap: Jorge Posada said on CenterStage that Joba should stay in the bullpen. "Leave him in the bullpen," Posada said. "If you start him and he pitches 200 innings, he won't be able to. You're going to lose him. He's going to get hurt."
Now, this isn't a new argument. We've been discussing this for the better part of fourteen months when the Yankees first decided that, for the first time ever in his career, Joba Chamberlain, a prospect with potential number-one starter stuff, should pitch out of the pen due to an innings limit. Unfortunately for everyone, Joba — a very, very good pitcher — thrived, and a lot of Yankee watchers can't get over the fact that Joba as a starter is more valuable than what they've seen Joba do as a reliever.
But let me post two situations. The first is this: If I said to you that A-Rod should only pinch hit because he could get injured playing every inning of every game, you would think I was certifiably insane. If I said to you that CC Sabathia should only pitch the eighth inning every two or three days because he could get injured throwing complete game shut-outs every five days, you'd lock me up and throw away the key. This is no different. Until Joba shows that he absolutely cannot handle the demands of starting, he should start. That's the bottom line.
Interestingly, someone bothered to ask Joba what he felt about all this, and as PeteAbe relates, Joba has always been and will always be a starter. He hasn't minded coming out of the bullpen this year, but it doesn't sound like he'll be as keen about it in the future. Joba is a potential ace, and to waste him in the bullpen would be further proof that the Yankees don't know how to develop pitchers. Luckily, I have more faith in the people running the Yankees than I do in Jorge Posada, John Flaherty and any other former baseball player opining about Joba's role with the team.
Thanks to his 9 for 11 binge over the weekend, Derek Jeter now stands tied with Lou Gehrig for the most hits in Yankee Stadium history. With Mark Buerhle on the bump for the ChiSox tonight, whom Jeter has hit .455 against in his career, there's a good chance the lucky folks in the Stadium will witness history tonight.
Beloved by New Yorkers yet ridiculed for being over-rated everywhere else, Jeter's legacy is being etched right before our eyes. It won't be long before he's the franchise's all-time leaders in both the good (hits, games played, stolen bases, runs scored, marriage proposals) and bad categories (outs made, times caught stealing, GIDPs), the mark of longevity.
In 50 years we'll be telling our grandkids about the immortal Derek Jeter and all of his superhuman accomplishments. Drink it in; you may never see a greater Yankee.
1. Damon, LF
2. Jeter, SS
3. Abreu, RF
4. A-Rod, 3B
5. Giambi, 1B
6. Nady, DH
7. Ransom, 2B – .368 OPS during the Rays series … that's what you call "getting exposed when thrust into full-time duty," kids
8. Moeller, C
9. Gardner, CF – three games in a row? what is this, a tryout or something?
And on the mound, the Mexican Gangster himself, Al Aceves.
Notes: Joe Girardi is blaming himself for the Yanks' season … Jorge Posada thinks Joba belongs in the bullpen. He should leave the analysis to those of us still living in our mothers' basements … No DotF tonight; everyone's season is over
By

Dr. Jorge Posada, the Yankees' trainer starting catcher who is out for the season with a shoulder injury, made a "CenterStage" appearance on YES this weekend. His interview, it seems, was rather incendiary. During the hour-long show, Posada said that Joba Chamberlain must stay in the bullpen to avoid future injury.

Now, I love Jorge, but come on. Posada, in the same interview, admitted that he hasn't been around the team and hardly watches their games. In other words, he has about as much info as I do about the condition of Joba's shoulder and the nature of his rotator cuff injury. Jorge should leave the medical assessments to Gene Monahan and the Yankee brass.

I do, however, agree with Posada in one regard. Jorge said, "Pudge, he's my friend, but he's going to have to go somewhere else." Amen. · (32) ·
By

We all know Harlan Chamberlain's story, but what about Joba's mom? In a very extensive piece in the Lincoln, Nebraska-based Journal Star, Colleen Kenney profiles Jackie Standley, Joba's mother. It's a fascinating look at another side of the Chamberlain family story. · (19) ·
Everyone knows Stan's. The sports bar and merchandise stores lie under the elevated tracks of the 4 train, across River Ave. from Yankee Stadium. But when the Yankees move north across 161st St. next year, the businesses will be on unchartered territories. The center of action around the stadium will shift uptown, and a trip to Stan's won't be on the way to the stadium.
Yesterday, at the game, my dad wondered how this move would impact local businesses, and I thought that tradition would maintain these places. Lisa Kennelly spoke to the local business owners, and they're not as confident as I am. The Yankees are opening up restaurants, steak houses and Martini Bars at the new stadium and will become a high-powered and wealthy competitor to the local business across the street.
The bars are confident that they'll attract enough business to stay open, but the merchandise retailers fear that fans won't want to walk a block or two out of the way for items they can buy at the Stadium. "If fans can go directly to the stadium and shop for everything, they may just stay there," Joe Bastone of the Yankee Tavern said to Kennelly.
Hopefully, these businesses can survive. A trip to Stan's has long been a part of the journey up to Yankee Stadium, but with the center of attention moving up the block, it's going to be an uphill climb for these Bronx baseball businesses.
For the next nine years, we'll continue having the same debate over and over again: Is A-Rod clutch? Clearly, he's not doing himself any favors this year. His lack of timely hitting is pretty indisputable this year, though he has brought his average with RISP up to .268, from .248 at the end of August.
Many people think that clutch is unquantifiable and/or a luck-prone stat and disregard it. That's been a popular sentiment since Baseball Prospectus became relatively mainstream. While I'm not sure where I fall on the issue, I do know that there seems like a perfect stat to qualify clutch situations: Leverage Index.
We saw this stat last year, when we ran some WPA graphs after early-season games. I've linked to the definition of Leverage Index above, but the premise is that the higher the leverage index, the more critical the situation. This takes into consideration score differential, outs, runners on, and inning. Basically, it answers the question: How important is this at-bat to fate of my team?
Last week, Carl Bialik, The Wall Street Journal's Numbers Guy, examined A-Rod's clutchiness. He uses A-Rod's OPS in high, medium, and low-leverage situations. He funs:
His career OPS in high-leverage situations is .975. In medium-leverage, it's .960. And in low-leverage, it's .972. That's consistent with the American League as a whole during his career, when each year batters in high-leverage situations hit somewhere between 1% worse and 6% better than they did in low-leverage situations.
Since we're talking about A-Rod's failures this year, Bailik shows us that yes, A-Rod hasn't been that clutch in 2008″
In 2004, he hit 19% better in high-leverage situations than in low-leverage ones. In 2005 and 2006, he hit 17% worse. Last year, he hit 15% better. And this year, he'd hit 32% worse, through Monday.
Bialik went to Jim Albert, Bowling Green State University statistician, for further findings.
The problem is small sample size: In a typical season with the Yankees, Mr. Rodriguez only gets about 130 plate appearances in clutch situations. That's also why we can't learn much from his 44 at bats in the last three postseasons, when his performance was abysmal.

Prof. Albert was apologetic about his findings: "Sorry for not giving you better news — no significance is generally not front-page stuff — but this illustrates the dangers of trying to make too much from this type of situational data."
Take what you will from this. For me, it's just more uncertainty in the perennial clutch debate.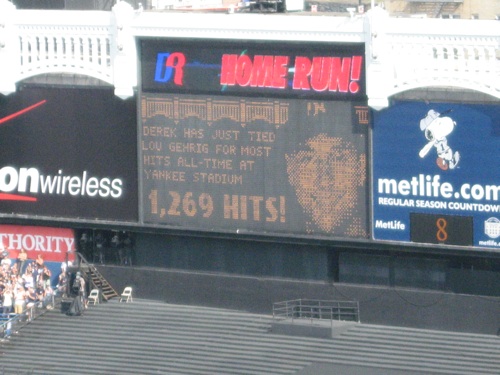 Derek Jeter has put on a hitting clinic this weekend. (Photo by Benjamin Kabak)
For Yankee fans born after 1939, Lou Gehrig exists in legend. His is an image in black-and-white photos, grainy TV footage and, of course, seminal speeches. He was, even as he approaching death, the luckiest man on the face of the Earth. We know him as a retired number, a plaque and a Yankee Great.
Today, as the Yankees battle for the pride of third place, we all saw another Yankee Great in action. In my mind, it's hard to link Derek Jeter with Lou Gehrig simply because Gehrig is who he is. But there's Derek Jeter, and in seventy years, when someone else great comes along, they'll talk about Derek Jeter with the same reverence we reserve for Lou Gehrig now.
When the Yankees came back to the Bronx after their four-town road trip, Derek Jeter needed to collect ten hits in ten games to establish himself as the all-time hits leader at Yankee Stadium. The man he's shooting to pass is, of course, Lou Gehrig. Well, Jeter has responded in a big way. In his last 14 ABs spanning the first three games of the last homestand in Yankee Stadium history, Jeter has collected 12 hits.
In the fifth inning today, Jeter tied Lou Gehrig's record of 1269 hits, and he did it in grand fashion. As has long been Derek's wont, Number Two lofted a ball the opposite field and over the right-center field wall for a home run. It was Derek's 206th career home run and the 106th he's hit at Yankee Stadium. More than a bunt single or a booming double, this home run allowed Jeter to trot around the bases, enjoying the adulation of a crowd who knew they were watching one of the all-time Yankee Greats accomplish a once-in-a-lifetime feat.
Meanwhile, the Yanks handily downed the Rays today. As our team limps to a middle-of-the-pack finish, they wrapped up the season series with the Rays, winning two of three this weekend and 11 of 18. Carl Pavano, strong enough until tweaking his hip, picked up his third win of the season. The oft-injured righty says he'll make his next start on Friday. His career is probably depending on it.
Four batters into the Yanks' first, A-Rod launched a grand slam deep into the right field bleachers. The Yankees had a lead. They wouldn't look back, and with Derek's name atop the Yankee Stadium hit list, and Mariano Rivera on the mound, the final sight my parents — lifelong Yankee fans — would see at the House that Ruth Built was a strike out as a Rivera cutter bore down on Willy Aybar. What a way for my parents to say their final good byes to Yankee Stadium.
By

Mike Ashmore's got the word. After missing most of the last 2 years due to Tommy John surgery and various other ailments, Sanchez will become the first player the Yanks received in the Gary Sheffield deal to reach the bigs. The 6'6″, 270 lb monster will work out of the pen, as you'd expect. I can't wait. · (28) ·