Facing the Orioles for the third time this year and second in two starts, Phil Hughes couldn't dominate Baltimore, but the Yankee offense picked up the slack. Thanks to a Nick Swisher two-run home run, the Yanks had a lead before the Orioles could record an out, and the Yanks went to bed tonight 12-7 winners. With Tampa's 9-0 win over Toronto, the Yankees remain two games out of first in the AL East.
Biggest Hit: Curtis Granderslam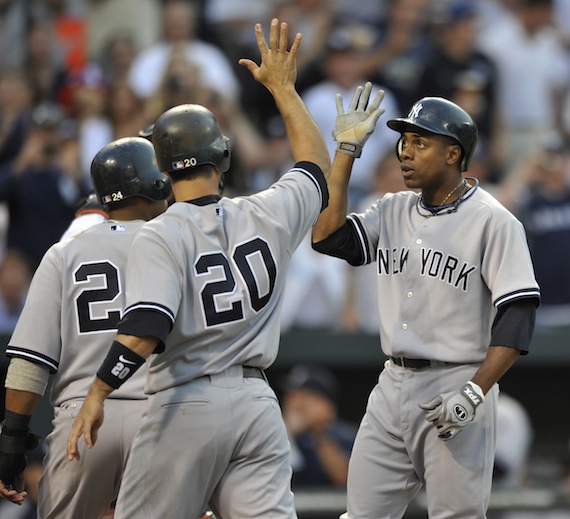 With Stephen Strasburg's taking center stage in the I-95 area between Baltimore and Washington — and throughout baseball, in fact — the Yankee game seemed to be a bit of an afterthought. The Orioles claimed a paid attendance of 23,171, and the crowd seemed to consist mostly of Yankee fans. After the Yanks jumped out to a quick 2-0 lead, the team couldn't quite bury Kevin Millwood. Curtis Granderson fouled out to end the first, and a Derek Jeter double play ended the second.
In the third, we were on the verge of watching much of the same unfold. After a Nick Swisher strike out, Mark Teixeira beat the shift with a dinky single, and A-Rod struck out as well. Robinson Cano singled, and Jorge Posada walked. Curtis Granderson worked the count to 2-2 and then deposited the Millwood offering 382 feet into right field for a grand slam. The Yanks had a comfortable 6-0 cushion, and Granderson had his fourth dinger of the year.
For Curtis, the home run was one of his two hits on the night, and with his 2-for-5 effort this evening, Granderson found his triple slash up to .256/.333/.444. He's still not producing at quite the level the Yanks had hoped, but since returning from the DL, he is 12 for 37 (.324) with 2 home runs and 8 RBI. He stole a base as well tonight and seems to have his legs under him.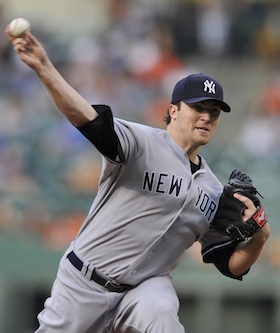 Hughes in trouble
Tonight, we watched Phil Hughes pitch with some grit. He couldn't quite put the Orioles away today, and I think facing the same team for the second time in a week took a toll on him. He allowed a season-high nine hits, and while many of those were not hard-hit balls, he had trouble getting the third strike and the third out on more than one occasion. He didn't have the hammer working and didn't record a K until Luke Scott fanned in the 4th.
Yet, Hughes made it work. He still induced seven swinging strikes and avoided issuing free passes. Even as his ERA crept up ever so slightly to 2.71, Hughes improved to 8-1 on the season, and he showed how keeping runners off base can limit the runs scored even on a night when the hits fall. Hughes will draw the weak-hitting Houston Astros in his next start this weekend at the Stadium, and as he is now pushing 70 innings, he should be hitting his stride.
A slumbering giant lifts an eye
It's far too early to call Mark Teixeira's season-long slump over, but after a disastrous weekend in Toronto, the Yanks' number three hitter showed some signs of life today. He beat the shift twice and powered a late-game home run 417 feet to right-center. He also walked twice. Sometimes, the cure for what ails you consists of a few lucky hits and a blast.
The Good, the Bad and the Ugly
Derek Jeter walked to lead off the game. If he can get his isolated patience back to its career norm of .070, the Yankees should start scoring even more runs…Nick Swisher is an utter beast in Baltimore, and he's making a strong All Star case for himself. His 3-for-6 night pushed his triple slash numbers up to .311/.397/.551…Robinson Cano is a hitting machine…David Robertson since May 8: 11 IP, 10 H, 2 ER, 6 BB, 11 K.
A-Rod's 0-for-5 was a bit of a disappointment. He found himself up in some good hitting situations and couldn't come through. He seemed perturbed after grounding out to end the 6th with the bases loaded…Brett Gardner left the game in the 7th with soreness in the thumb he broke last year. Although he expects to play on Wednesday, he said doctors had warned him it could take up to a year to feel right again. Apparently, he often feels the pain, but tonight it was particularly troublesome. Gardner appeared to be tagged on the thumb in the sixth when Nick Markakis threw him out at third.
Chad Gaudin was just terrible. Staked to a 12-3 lead, Gaudin allowed seven of the 13 Orioles he faced to reach base, and the Yanks opted to ask Mariano to pretend to stretch before Gaudin got the last few outs of the game. He showed why the A's were so willing to cut bait a few weeks ago, and I have to believe that either Romulo Sanchez or Ivan Nova could be as effective or better than Gaudin is now.
Boring. Just the way I like my WPA graphs
Up Next: More Orioles
The Yankees will look to extend their winning streak against the Orioles to 10 straight later tonight as CC Sabathia (5-3, 4.14) will take on the birds at 7:05 p.m. He faces Chris Tillman (0-1, 7.71) in a 7:05 p.m. game.