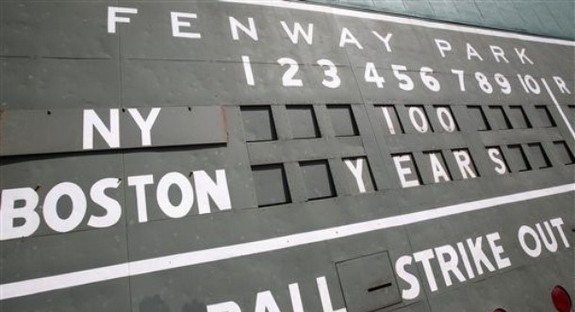 It's just another game for the Yankees, but it's a historic day for the Red Sox. Fenway Park, home to so many memorable Yankees moments, turns 100 years old today. The Sox will have basically every living Red Sox player in the ballpark and on the field for a pre-game ceremony, though apparently Theo Epstein didn't get an invite. The guy only delivered their first two World Championships in a lifetime, I'm sure the Fenway faithful didn't want to give him a hand anyway. Seriously, the Sox have never really been great at public relations.
Anyway, the Yankees will lend a hand in the festivities by wearing 1912 throwback uniforms, the same get-ups they wore when the place opened. There are no numbers on the back, so you better know your Yankees by their mannerisms. Here's the starting lineup…
SS Derek Jeter
CF Curtis Granderson
DH Alex Rodriguez
2B Robinson Cano
1B Mark Teixeira
RF Nick Swisher
LF Raul Ibanez — would have preferred Andruw Jones in left with the wall
3B Eric Chavez
C  Russell Martin
RHP Ivan Nova
Looking for a big outing out of Nova today, quality innings and lots of 'em. The game is tentatively scheduled to start at 3:15pm ET and can be seen on YES locally and MLB Network nationally. We're going to chat during the game, so join the fun after the jump.