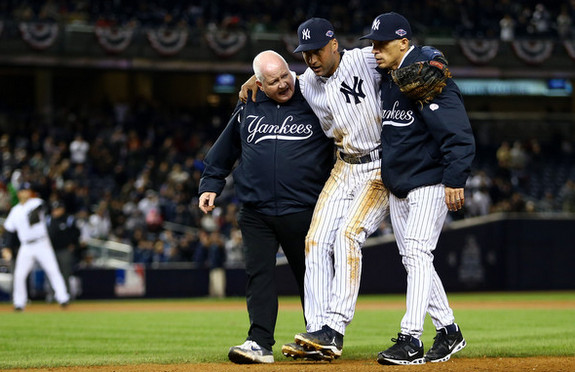 I don't really know what the say after last night's debacle. It was a microcosm of the Yankees' entire postseason rolled into one game — great starting pitching, blown scoring opportunities, Raul Ibanez putting on a Superman cape, and Joe Girardi making weird moves. And then Derek Jeter suffered a season-ending injury on top of all of it. No, it was not a good night for the Bombers. Not in any way, shape, or form.
1. What in the world are they going to do without Jeter? Okay, either Jayson Nix or Eduardo Nunez plays short (I'd guess Nix since he can actually play defense) while Ichiro Suzuki leads off, but then what? You almost have to bat Nick Swisher second because his at-bats have been slightly less feeble than Curtis Granderson's. I guess the other candidate to hit second would be Alex Rodriguez, who at this point might as well be swinging a rolled up newspaper. I don't have much faith in Brett Gardner being productive after missing so much time and having so few at-bats, but at this point I feel like why not start him? Just try it, the guys who are playing now aren't getting the job done and the Tigers have a brutal infield defense. Maybe he can beat out some grounders.
2. I can't believe I'm actually typing this, but right now the only member of the Core Four* left standing is Andy Pettitte. How the hell did that happen? He retired like two years ago. Jorge Posada called it a career last winter, and now Jeter and Mariano Rivera are injured. The changing of the guard, so to speak, has not exactly gone as smoothly as expected, I would say. Seeing Jeter's season end like that is just cruel and heart-breaking. The guy represents everything that is right in baseball.
* I absolutely hate that term but I'm using it because it's convenient here. For all the crap the media has given A-Rod for the supposed "24+1" mentality through the years, how the hell is singling out four players any different? It's the same thing just spun as a positive.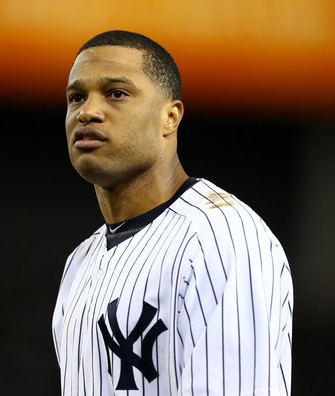 3. I assume Jeter will still be around the team and stuff going forward, but you know who has to step up as the on-field leader in his absence? It's not A-Rod, it's Robinson Cano. He's actually been less productive at the plate than Swisher, Granderson, and A-Rod in the playoffs, going hitless in his last 22 at-bats and 2-for-28 overall. The last time he reached base on something other than an intentional walk was his first inning double in Game Two of the ALDS. That's a full series ago. Robbie is indisputably the team's best all-around player and they aren't going anywhere unless he starts producing. Free agency is looming and if he wants that monster nine-figure contract, well now is time is step up dude.
4. The attendance problems at Yankee Stadium are legit embarrassing and a real problem for the team. There were entire sections of empty seats last night during a playoff game. That should never happen. I fully understand Friday's mess — the game's start time did not become official until about 7pm ET on Thursday and people were getting out of work just as the first pitch was thrown — but there was really no explanation for last night. When the Yankees are sending out emails for ticket deals about two hours before the scheduled start time, there's a problem. This goes beyond pricing people out or losing the atmosphere of the Old Stadium, there's another disconnect here. Maybe a large portion of bandwagon fans from the late-90s just lost interest. Either way, seeing empty seats for Game One of the ALCS on national television is embarrassing. Even the Rays sell out playoff games for chrissakes.
5. I try not to put my opinion in any poll posts because I don't want to sway the vote, but I'm all in favor of starting Hiroki Kuroda on short rest in Game Two tonight. Apparently more people would rather see David Phelps than agree with me. That's cool, no biggie. I basically looked at it as five innings of Kuroda vs. five inning of Phelps, and I'm taking the former every day of the week. Tomorrow's off-day means everyone in the bullpen will be on high-alert and ready to go as many outs/innings as necessary. The Yankees want Kuroda, Andy Pettitte, and CC Sabathia starting six out of seven potential games in any series, and this move makes it possible in the ALCS.
6. Yesterday I said I wanted Sabathia to start Game Three on short rest, but the Yankees will instead start him in Game Four on normal rest. The most important thing is that he'll be able to start Game Seven, which he can do in either scenario. He was going to start one of the first four games of the series either way, it was just a question of whether he started on three days' rest in Game Three or Game Seven. Might as well have him do it in Game Seven since that game is unlikely to be played anyway. This works. Whether the rest of the team cooperates remains to be seen.