The season is still young, very young in fact, especially for starting pitchers who've made two, maybe three starts. CC Sabathia is one of the guys that has made three starts, and if there's been one thing giving him trouble so far, it's right-handed batters. Eight of 15 right-handed batters he faced last night reached base (three walks, five hits), and on the season, 18 of the 52 righties he's faced have reached base, a .346 OBP. That's noteworthy only because he held RHB to .295 OBP last year and .305 in 2009.
Sabathia relies on his changeup to combat batters of the opposite hand just like every other pitcher in the history of the universe. I don't think many of us realized how good that pitch was for him until we starting seeing him pitch every five days, but there's no denying it's a quality offering. In fact, it's been the third best changeup in baseball since the start of the 2009 season at 31.2 runs above average, trailing only Felix Hernandez (+35.3) and Tim Lincecum (+53.9, yikes). For whatever reason, the pitch hasn't been cooperating with CC so far this season. To the heat maps!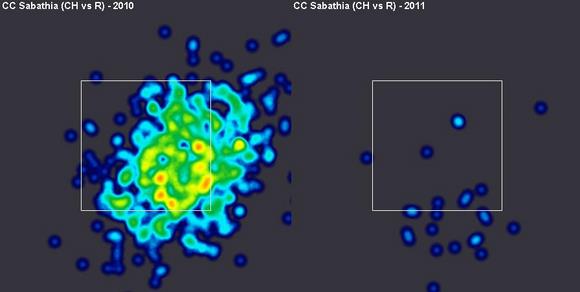 (what the frack is a heat map?)
As you can see, the vast majority of Sabathia's changeups were down-and-away from right-handers but in the strike zone last year. The handful of changeups he's thrown this year are still down-and-away, but now they're down below the zone and not strikes. That's good to a certain extent because at least he's not hanging them, but the entire point of a changeup is to get batters out in front thinking the pitch is a fastball. If it's not a strike, they won't swing no matter what kind of pitch is coming at them. At least good batters won't, anyway.
Fortunately we have no reason to believe this is anything more than the normal randomness a pitcher will experience throughout the season. Pitches are like swings, they come and go every so often and are prone to slumps. Changeups are feel pitches according to the zillions of baseball announcers I've listened too over the years, and it's tough to get a good feel for the ball when it's been like, 40-degrees out as it has been early in the season. Right-handers won't continue to get on base 34+% of the time against the Yankees' ace, especially not once he gets back to commanding his changeup the way he has in the past.