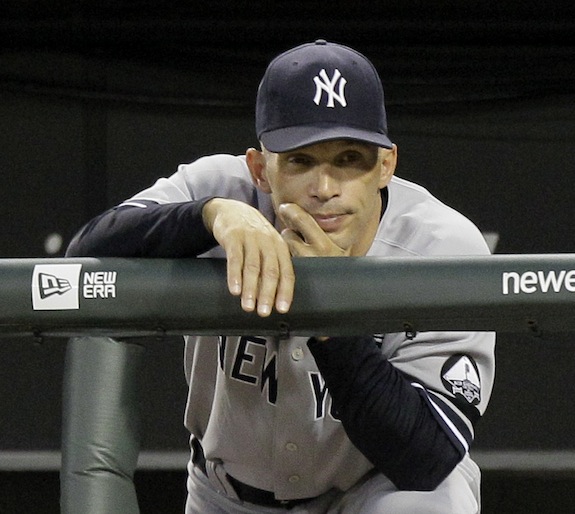 For much of the last six weeks, Joe Girardi and his decisions have unwillingly grabbed the New York media spotlight. The Yankees, after all, had their playoff spot wrapped up in early August, and the sports writers, radio screamers and obsessed fans needed something to dissect as the season whiled away the final few weeks. So Joe Girardi and his moves came under fire.
On the one hand, questioning Girardi's approach made sense. He didn't seem to manage with much urgency over the final few weeks and often make lineup decisions and pitching moves that left the Yanks on the wrong side of a lopsided score and left many scratching their heads. But on the other hand, Girardi had a plan, and despite protestations that he truly wanted to win the AL East, he stuck with his plan. He made sure that his bullpen arms weren't burned out; he rested Nick Swisher and his ailing knee; he gave aching Mark Teixeira time off. The team is well rested heading into its impending ALDS match-up with the Twins, and that is all thanks to Girardi.
Still, the murmuring about Girardi's future continues to bubble. The Yankees have a policy that they keep in place for everyone: The team does not extend contracts before they run out. Derek Jeter will hit free agency. Mariano Rivera will hit free agency. Joe Girardi will hit free agency.
Girardi's free agency brings with it intrigue. Joe's hometown Chicago Cubs also have a managerial vacancy, and as everyone knows, GM Jim Hendry salivates at the thought of a Girardi homecoming for the hapless Cubs. As Buster Olney said last week, "Cubs remain intent on taking a run at Joe Girardi, partly to learn about him, and partly to placate fan base; they want to at least try."
In today's Chicago Tribune, Phil Rogers ponders the Cubs' relationship with Girardi. He believes the Cubs have Girardi atop their list, but no one he has spoken with thinks the Yanks will jettison their skipper or that the skipper will leave New York. He writes:
As the Yankees worked out to face the Twins in their American League Division Series, I polled a dozen people who either work for the Yankees or deal with them on a regular basis.

Asked to rate the chances Girardi will change jobs after the playoffs on a 1-10 scale, with 1 being the least chance, the New York insiders gave replies ranging from a -1 to a 3.5. "The door's open," one said, "but just a crack."

None among those surveyed thinks there is even a 50-50 chance Girardi is sufficiently weary of New York and all that life there entails to pull the plug. That could change if something goes very bad against the Twins, but one person close to the Yankees' brain trust offered a take that must be the worst fear for anyone who covets Girardi in the Cubs' dugout. "If he does go somewhere, it won't be (to Chicago)," he said.
Similarly, in idle chatter on Twitter, I've asked Ken Davidoff and Mark Feinsand about Girardi's future, and they both think he will return as the Yanks' manager. Fans though are divided. They see a guy too married to match ups and fringe role players. They claim he can hurt the Yankees more often than not despite his .591 winning percentage as the Bombers' helmer. In New York, even winners can't win.
So in a few hours, Girardi and his A-lineup behind CC Sabathia will take the field, and while many think this is a big series for Girardi, it isn't. He has his team as healthy as any can be on October 6 after 162 games, and he's lined up his rotation so that his ace pitches two of five games and lefties face a lineup vulnerable to southpaws in four of five contests. His bullpen too is rarin' to go with a Hall of Fame closer and four legitimate set-up man in front. That's what the manager is supposed to do, and even though the pressure is on Girardi to win because that's what we do in New York City, this ALDS will not make him or break him. Unless he doesn't want to be, he'll return to the Yankees in 2011 and beyond, and that's as close to a sure thing in baseball as you'll find.