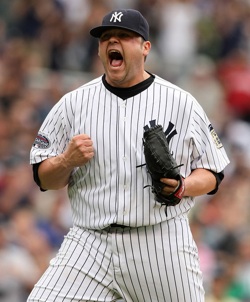 "If he wants to yell and scream after a strikeout, I guess that's what gets him going. It's May baseball. The home run was in a much bigger situation. I didn't dance and scream. If a hitter did something like that, it would be bush. It's kind of interesting how a pitcher gets away with it."
That's what Dave Dellucci whined about said to the media yesterday afternoon after the Indians lost to the Yankees. The "he" Dellucci is referring to is, of course, Joba Chamberlain. Once again, the media — and opposing players — are making mountains out of mole hills.
In the 8th inning yesterday, Joba came in with something to prove. You could see it on his face and in his body language. He was throwing the ball to get people outs, and that's what he did. When Dave Dellucci came out with two outs in the inning, everyone just knew that Joba would try to strike him out, and strike him out he did. In Joba's way, he got excited. He yelled; he pumped his first; and then he calmly walked back to the Yankee dugout.
Dellucci didn't like Joba's antics, and neither did Mike and the Mad Dog. But Joba defenders are spot on. Joe Girardi nailed the rebuttal in one regard. "That's who he is, and he's not showing anyone up," the Yanks' skipper said. "He's not looking at Dellucci, he's looking in our dugout. He's going to show some emotion. There's a lot of pitchers, when they get an out, they give a fist pump. To me, the important thing is … you're not showing someone up, and he's looking at our dugout."
Peter Abraham took that defense even farther and railed into Mike and the Mad Dog. Joba's a young and exciting player. He wears his emotion on his sleeve, and that's a-ok. Mike and the Mad Dog — and Dave Dellucci — are promoting some ridiculous ideal. Players can be excited when they succeed if, yes, it's only May and even if, yes, Dellucci's home run had a bigger impact on the game (which is an obnoxious comment to make in its own right). And if anyone doesn't think emotion comes into play, just ask Richie Sexson.
It's clear where this is going. Every time Joba does the fist pump, he'll be criticized, and when he gives up a lead and is visibly agitated, he'll get criticized. He had it coming, Chris Russo and Mike Francesca will say in a never-ending quest for attention — and ratings. That's just ridiculous, and the bluster over the first pump should — but won't — end now.
Joba pumping his first comes to us courtesy of Yahoo! Sports and Getty Images.
Triple-A Scranton (5-4 win over Charlotte in 11 innings, walk-off style) thankfully a reliever (probably Britton) will be shipped to Scranton tomorrow to make room for Igawa, because tomorrow's pitching staff would have been Heath Phillips (4 innings as the starter, tops), Steven Jackson and Scott Patterson
Justin Christian: 0 for 3, 2 RBI, 1 BB, 1 HBP – walk-off walk
Alberto Gonzalez & Cody Ransom: both 1 for 5 – Ransom tripled, scored a run & K'ed
Eric Duncan, Matt Carson & JD Closser: all 1 for 4, 1 BB – Duncan scored a run & K'ed … Carson scored a run & swiped a bag … Closser drove in a run & K'ed
Greg Porter: 2 for 5, 1 R, 1 E (throwing)
Brett Gardner: 0 for 0, 1 R – pinch-run for Porter in the 11th, stole 3rd and set up the play that led to the win
Jeff Marquez: 6 IP, 5 H, 3 R, 1 ER, 0 BB, 3 K, 1 E (throwing), 7-7 GB/FB – picked a runner off first … 60 of 83 pitches were strikes (72.3%)
David Robertson: 2 IP, 0 H, 0 R, 0 ER, 1 BB, 1 K – safe to say he won't be available tomorrow
Billy Traber: 0.1 IP, 1 H, 1 R, 1 ER – gave up a double to a lefty, and coaxed a fly out from a righty … his second straight day of work, so he won't be available for much work tomorrow
Scott Strickland: 2.2 IP, 2 H, 0 R, 0 ER, 2 BB, 1 K – both walks were intentional … not going to be available for tomorrow's game
By

I can't say that I'm the biggest fan of the MetLife Regular Season Countdown Clock. In fact, I railed against it on Opening Day. I do, however, get a kick of the guys the Yanks dig up to pull the lever. This season, I've seen Bucky Dent, Paul O'Neill and Michael Kay (along with one other that I'm forgetting) do the honors. I really hope someone on the Internet is keeping track of the special guests for every game; I haven't found that resource yet.

Anyway, last night's was by far my favorite of the season. Buck Showalter was in town, and the long-time Yankee farmhand and former manager pulled the lever. He did it on screen with no emotion and something of a frown on his face. It was good to see that Buck Showalter, gone from the Yankees since the end of 1995, hasn't changed one iota since then. Can we add Buck Showalter's demeanor to the list with death and taxes? · (12) ·
"Good one to win."
That's what the e-mail from my dad said a few minutes after Mariano Rivera and the Yanks sealed the deal on their crisp two-hour thirty-three-minute victory over the Indians. Once again, the Yanks are at .500, and now they embark on a road trip to Detroit and Tampa Bay before facing a Mets team also playing below expectations.
Today's game was a complete win. The Yanks offense powered four home runs as they scored, and Robinson Cano continues to show signs that he's snapping out of his season-long slump. He's three for his last six with a double and a home run. The beleaguered Jason Giambi added an upper-deck blast, his third of the season off of Paul Byrd, and Johnny Damon and Wilson Betemit added solo shots.
On the pitching front, Mike Mussina threw four strong innings before a hit batter and a few hits brought the Indians back into the game. But he emerged, at his magic 86-pitch limit, with a win to improve to 5-3 on the season. His 4.36 ERA is far beyond my expectations for him.
While Ross Ohlendorf and Joba Chamberlain combined for three scoreless innings, the game ended as it should. Mariano Rivera nailed down the save. It took him four batters this time, and he's now given up five hits on the season.
Let's stop, though, for a second and appreciate Mariano Rivera. The Sandman has now appeared in 13 games this season. In 14 innings, he's given up 5 hits and no walks while striking out 12. He has saved all 9 of his save opportunities. And oh, yeah, he's 38 years old. Right now, opponents are hitting .104 off of Rivera.
Every season as Rivera gets older, I've wondered if he can keep this up forever. Will this finally be the season that Rivera starts to return to Earth? While last year, he struggled early, and I thought we may finally be seeing that decline, he finished ridiculously strong in 2007 and looks better than he's ever looked in 2008. He's throwing his fastballs around 93-95 with perfect accuracy and immaculate mechanics.
Right now, Rivera is the Yankee I most look forward to play in a game. The Yanks have at least three sure-fire Hall of Famers on their team in Rivera, A-Rod and Derek Jeter. A-Rod can change a game with one swing; Jeter has a legitimate shot at a top five slot on the all-time hits list. But Mariano Rivera just goes out and does his job with a ruthless efficiency game in and game out.
At some point this year, Mariano Rivera may walk a batter. He may give up more than one hit every four innings, and some team may even manage to push across a run or cause him to blow a save. But who cares? He's Mariano, and he's just flat-out amazing.
By

Well, if the first baseman in the window happens to be one playing in Altanta and represented by Scott Boras, the asking price could be $20 million a year for 10 years, according to Jon Heyman. Heyman, relying on some unnamed sources, reports that Scott Boras will expect conversations for Mark Teixeira's services to start at $200 million for ten years. Teixeira will turn 29 at the start of his big payday, and while Heyman says, on page two, that the Yanks are the clear front runners to land the first baseman, I'd feel much better with a five- or six-year deal with some options. · (45) ·
If the Yanks lose today, they could end up in last place. Yikes.
Today's game features a battle of the slow-ball pitchers. Paul Byrd, another infuriatingly average pitcher the Yanks can't seem to knock around, takes the mound for the Indians. Mike Mussina, who now knows he can't blow hitters away and is in the middle of a hot stretch, grabs the ball for the Yanks. This could be a four-hour slugfest; it could be a three-hour 3-2 game. No matter what, today, we see what happens when slow and slower face off.
Meanwhile, on the lineup front, Jason Giambi is back in to butcher balls at first base and make outs. Considering that Moose pitches to contact these days, I have to wonder if sticking Giambi in the field is a bright idea. It also may take more than four plate appearances every three games to get Shelley Duncan's bat going. At Scranton, he got regular work, and he hit well. In New York, he plays every few days and doesn't hit. The jury's still out on that one.
Game time's at 1:05 p.m. today, weather permitting. There's no better way to kill an afternoon at the office than with a Yankee game.
Damon LF
Jeter SS
Abreu RF
Matsui DH
Giambi 1B
Cabrera CF
Cano 2B
Betemit 3B
Molina C
Mussina P
By

Get a load of this gem from Steve Phillips in a Mag article on how to fix the Reds: "Have owner Bob Castellini ring Hank Steinbrenner and tell him you've got a way to move Joba Chamberlain into the Yankees' rotation. Offer Jared Burton, who's whiffing hitters in bunches, and Jeremy Affeldt for Phil Hughes. Sell Burton as Chamberlain's eighth-inning replacement and Affeldt as the situational lefty the Yanks lack." Steve Phillips must think the Yankees' GM is Steve Phillips. What's Mo Vaughn up to these days, anyway? · (30) ·
By

Life is rough for Derek Jeter. The Yanks' star short stop has, according to an amNew York report, dated six members of Maxim's 2008 Hot List. Jessica Biel, Scarlett Johansson, Mariah Carey, Vanessa Minnillo, Gabrielle Union and Jessica Alba make up the lucky six. · (23) ·
One day, I'll understand how Cliff Lee has managed to start the season 6-0 with an ERA of 0.81. I'll one day understand how opposing hitters have managed just 25 hits off Lee in 44.1 innings. I know the walks are key; he has issued only two this year. But his stuff just doesn't scream out untouchable success.
Tonight, I watched from the third deck as Cliff Lee put on something of a strike-throwing clinic. He threw 103 pitches, 76 of them for strikes, and the Yanks found themselves in few three-ball counts tonight. What he did, though, was to keep the Yankeess off balance by changing speeds. None of his stuff is overpowering; his pitches range from about 79 to 92 miles per hour. But he pounded the zone and kept the Yankees hitters guessing.
Or at least, I think that's what he did. Part of me thinks that the Yanks probably should have crushed Cliff Lee. But the unstoppable force that is Cliff Lee just keeps rolling along. On a night like tonight, you just have to tip your cap to Lee and hope that the Yanks end their 14-inning scoreless drought early in this afternoon's game.
Now, instead of dwelling further on this loss, let me regale you with a tale from the stadium tonight. Every night, after the second inning or so, a lucky fan gets to answer a fairly easy Yankee trivia question on the DiamondVision screen. It's long been my family's theory that the people with the giant cards and the announcer do everything in their power to make sure the contestant gets the answer right. For example, on Ron Guidry Day, Ron Guidry was probably the answer to the trivia question. Other times, the announcer will go, "Is it A, Beeeeeeeeeeeee, C or D?" drawing out the B to the point of absurdity.
Tonight's trivia question: Who threw the last Yankee perfect game? Was it: A. David Wells; B. David Cone; C. Don Larsen; or D. Jim Abbott? The scoreboard announcer then noted that, as a hint, the answer was in the stadium, and then they flashed on David Cone sitting in the YES broadcast booth.
The contestant picked the card for A. Not only would any fan know that David Cone's perfect game in 1999 was more recent than Wells' 1998 effort, but anyone with half a brain could have made the visual connection between David Cone in the broadcast booth and the picture of David Cone on the scoreboard.
When the contestant go it wrong — and it takes some skill to actually get the answer wrong — the scoreboard announcer seemed a little shocked. He amusingly urged the guy to get glasses and thanked him for playing. As the crowd booed the clueless for getting the answer wrong, I laughed at the absurdity of it all. It was one funny moment during an otherwise dreary performance by the Yankee offense.
It's reached the point where I'm starting to think that Torre's bringing Scott Proctor into 10-0 games just to fuck with us.
Triple-A Scranton (5-1 win over Charlotte)
Brett Gardner: 1 for 3, 2 R, 1 2B, 2 RBI, 1 BB, 1 K – Chad Jennings said it was a classic fast guy double – bloop over the third basemen's head that he ran into extra bases
Alberto Gonzalez & Eric Duncan: both 1 for 4, 1 RBI
Jason Lane & Justin Christian: both 0 for 3, 1 BB – Lane K'ed twice … Christian was picked off first
Greg Porter & Chris Stewart: both 2 for 3, 1 R, 1 BB – Porter hit a solo jack & K'ed … Stewart doubled & committed a throwing error
Steven "don't call me" White: 6.2 IP, 3 H, 0 R, 0 ER, 4 BB, 3 K, 6-10 GB/FB
Billy Traber: 1.1 IP, 2 H, 1 R, 1 ER, 0 BB, 2 K – the 4 outs came against lefties … the two hits came off of righties
Scott Patterson: 1 IP, 2 H, 0 R, 0 ER, 0 BB, 0 K – 1.54 WHIP this year after a 0.78 WHIP last year