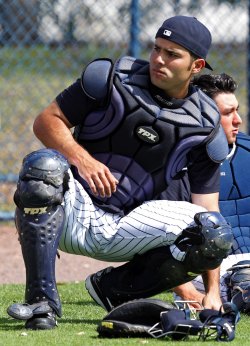 Despite the competitive overtures, the Yankees' backup catcher situation, at least in terms of Opening Day, is likely settled. Austin Romine might have made a decent case, but when Joe Girardi announces the 25 men headed to the Bronx on March 31, expect him to call Jesus Montero's name. With Francisco Cervelli sidelined for the next few weeks, it's a sensible temporary option that could aid Montero's development.
Montero breaking camp with the big league club acts in the same manner as a September call-up. While Montero did spend time with the team last September, he was not placed on the active roster. He can get that experience during the first two to three weeks of the season. During that time he can start six or seven games, giving Russell Martin a rest and perhaps horning in on a start or two at DH. That would not only give him time traveling with the big league club, but would give him 25 or 30 PA of experience.
At that point perhaps the Yankees will have a better idea of what they want to do with Montero. If they think he can be a valuable contributor to the big league club in a part-time role, they can install Cervelli at AAA. If, on the other hand, they think he needs to play every day in order to hone his defensive skills, he can take the shuttle to Scranton and allow for Cervelli's return. In that way, the cup of coffee acts as both a taste of the big leagues and as a further evaluation period.
The most prominent objection to using Montero as a backup is that it won't afford him regular at-bats — or, in Montero's case, regular reps behind the plate. Behind Martin he'd likely play once, maybe twice per week. Combined with a few appearances as the DH, and that amounts to maybe 250 PA during the course of the season. For that reason, I wouldn't advocate Montero spending the entire season in the bigs unless there was room for him to play every day, preferably behind the plate. But for two or three weeks, there isn't much downside.
There are really only two negative aspects to utilizing Montero at the start of the season. First is service time. He'll accumulate some, but if they option him when Cervelli returns it will be a negligible amount. He's going to end up in the majors at some point this season and will start his arbitration clock. Two or three extra weeks won't make a huge difference. Second is using an option. If the Yankees called up Montero in, say, June, and kept him up all year, they wouldn't burn an option. If they use him as the backup they will (assuming they send him down in a few weeks). But if Montero develops as hoped, the options won't be an issue. They won't need them anyway.
When the Yankees assembled for spring training it appeared they had clear paths for their catchers. Martin was the starter, Cervelli was the backup, Montero would continue to hone his skills at AAA, and Austin Romine would wait at AA for an opportunity for advancement. Cervelli's injury threw things off temporarily, but the Yankees can use this as an opportunity. Montero can get a taste of the big leagues before heading to AAA and getting regular reps behind the plate. At the same time, the Yankees can further evaluate their best prospect. Cervelli's injury might have changed the team's plans, but it might end up being a net positive.