When Alex Rodriguez went down with a quad injury that will keep him on the shelf for a few weeks this year, he hadn't been off to the same start he enjoyed last year. Admittedly, that's not a fair comparison. How often does any player hit 14 home runs in a month while single-handedly carrying a team?
But despite a slower start, he still had a vital role in the lineup. As the cleanup hitter, he was hitting .272./330/.506 with 4 HR and 10 RBI in 81 at-bats. Those are poor numbers by A-Rod's standards, but to suggest that the team doesn't miss him is wishful thinking at best.
In his absence, the Yankees' replacement third basemen have been downright awful. The three replacements — Wilson Betemit, Alberto Gonzalez and Morgan Ensberg — have now enjoyed 70 plate appearances as third basemen this year. Collectively, they are hitting .239 with a .271 OBP and a .269 slugging percentage. That is utterly woeful.
Things don't look much better behind the dish either. As a catcher, Jorge Posada hit .321/.345/.429 this year in 29 plate appearances. The other three catchers have put together 114 plate appearances and are hitting .224/.263/.348.
While it's easy to say that the Yankees were a .500 team without A-Rod and, hey, wouldn't they still be a .500 team now, that ignores the reality offered by those who have tried to replace Jorge. The Yankees are missing a ton of offense right now, and it's showing in the product on the field. The middle of their lineup is weak; Shelley Duncan had to hit cleanup against lefties, and even Derek Jeter found himself penciled into the four hole for one game. The bottom of their lineup — drawing well below league-average production from the C and 3B spots — has become a terrible liability. It's a cascade issue.
The Yankees probably could have withstood an injury to either A-Rod or Jorge. They probably would be two games behind Boston had just one of them gone down. But with both out, this team's offensive production slides off the table. Get well soon, guys.
By

PeteAbe has some news on how some young players are doing as they rehab from injury. The Good: Jeff Karstens is close to returning to actual games that count, Humberto Sanchez is throwing all his pitches and is less than a month away from getting into games, and Andrew Brackman's rehab is coming along just fine. The Bad: Chris Garcia and CJ Henry are still MIA. Pete also notes that Phil Hughes will be rockin' some new specs the next time he takes the mound. Hopefully he goes with the big old school glasses like current Rice ace Ryan Berry. That'd be sweet. · (22) ·
For the first time in their team history, the Tampa Bay Rays find themselves in uncharted territories: Following a 7-1 drubbing of a lethargic Yankee team, they are six games over .500, a franchise high-water mark.
Following tonight's loss, Mike and I were talking about this game. We both agreed — and this is hardly breaking news — that the Yankees without Jorge Posada and Alex Rodriguez are a vastly inferior team than they are otherwise. The middle of their lineup lacks punch, and the bottom of the lineup — led by a struggling Jose Molina — is fairly heinous.
I was all set to write about how the Yankees look old and bored and the Rays looked young and exuberant. But then Mark Feindsand beat me to it:
If you've ever watched the Rays play, it's easy to see their enthusiasm and excitement, both on and off the field. They joke around in the dugout, they run around the field like a bunch of kids and they look like they're having a great time playing the game.

Compared to the Rays, the Yankees look like a bunch of 60-year-olds.
That about sums up the play on the field tonight.
Meanwhile, let's talk about Andy Pettitte. Over his last four starts spanning 21.1 innings, Pettitte finds himself 0-3 with a 6.75 ERA. He's given up 28 hits and six walks while striking out a respectable 17. Pettitte just hasn't had it lately, and the Yanks need him to find it.
Tonight, Pettitte's problem seemed to be one of pitch selection. He was hitting 89-91 with his fastball, which should be fast enough to get out hitters as he mixes in his curveball and cutter. But Jason Barlett beat him on a curveball — the third straight curveball of the at-bat. Pettitte got a little too cutesy with a player hitting .248 with no power, and Barlett delivered the death blow.
The Yanks find themselves again treading water. They're yet again one game under that .500 mark, but they haven't lost ground to the Red Sox, losers of three out of four in Minneapolis this weekend. At some point, something's gotta give. The Yanks need to turn it on. Can they really afford to wait another week while A-Rod recovers?
Check this out: Florida State's Buster Posey, a legit candiate for the #1 overall pick in next month's draft, played all nine positions tonight. From the Game Notes:
Posey plays all nine positions, fourth Seminole in the Mike Martin era to perform the feat and first since Mike Martin, Jr. vs Furman in 1994.
Position order: Catcher(1st); First base(2nd); Second base(3rd); Shortstop(4th); Third base(5th); LF(6th); CF(6th, 2outs); Pitcher(7th); RF(7th 2outs).
Chone Figgins, eat your heart out. Do you think it's a coincidence that the last player to accomplish that at FSU was the coaches' son? Posey also hit a grand slam in the game. Afterwards he hunted down Osama Bin Laden, cured cancer, and convinced Steve Lombardi that Brian Cashman is actually a pretty good GM. (h/t Brian at TCBB)
Triple-A Scranton
Game 1 (2-1 win over Indianapolis in 10 innings)
Brett Gardner, Jason Lane & Cody Ranson: all 1 for 5 – Gardner K'ed twice & swiped a bag … Lane scored a run & K'ed … Ranson K'ed
Justin Christian & Eric Duncan: both 1 for 4 – Christian doubled, drove in a run, walked & stole a base… Duncan drove in a run & was walked intentionally by an old friend
Nick Green: 2 for 4, 1 BB
Bernie Castro: 2 for 3, 1 R, 1 K, 1 SB
IPK: 1 IP, 1 H, 0 R, 0 ER, 0 BB, 0 K – see you on Thursday
Scott Strickland: 3.2 IP, 3 H, 1 R, 1 ER, 2 BB, 3 K, 5-3 GB/FB
Scott Patterson: 1.1 IP, zeroes – second straight outing allowing 0 baserunners
Billy Traber: 1 IP, 0 H, 0 R, 0 ER, 1 BB, 0 K
David Robertson: 2 IP, 1 H, 0 R, 0 ER, 1 BB, 1 K, 3-2 GB/FB
Steven Jackson: 1 IP, 1 H, 0 R, 0 ER, 0 BB, 1 K, 2-0 GB/FB
In tonight's lineup, Joe Girardi has his short step penciled back into the oh-so-familiar number two spot in the lineup. So I wonder: Did Joe Girardi put Jeter in the cleanup spot yesterday as something of a joke? The weather forecast called for 100 percent rain, and it seemed clear that the game would get delayed. Jeter had just gone through a stretch of homer-less at-bats. So Girardi writes a joke lineup. I wouldn't put it past him.
As the Yankees gear up to face the Tampa Bay Rays for a four-game set in Tampa, the bad news out of, well, down the road in Tampa is that A-Rod will miss the Subway Series. Alex had another MRI today, and he's not quite ready to begin his rehab stint. While the Mets are holding back Johan Santana for a day to face the Yanks, the Bombers will be without the cleanup hitter for at least another week.
It's Andy Pettitte vs. Matt Garza in the Trop tonight.
Damon LF
Jeter SS
Abreu RF
Matsui DH
Giambi 1B
Cabrera CF
Cano 2B
Molina C
Gonzalez 3B
Pettitte P
Game Notes: Ian Kennedy had a solid first inning at Scranton. He threw 12 pitches, 7 for strikes and gave up 1 hit. The baserunner was erased on a caught stealing.
By

Updated at 6 p.m.: Word on the street right now is that the Kei Igawa Experience 2008 is over, for now. The Yankees plan to call up Ian Kennedy to face the Mets on Friday Rays on Thursday. The Yanks were pleased with the confidence and approach Kennedy showed last week in his AAA, and the plan right now is to have Kennedy toss an inning tonight as a tune-up for Thursday's start; Darrell Rasner would face the Mets on Friday. These plans could change, and we'll keep an eye on the 6 p.m. AAA game to see what goes down. · (13) ·
Via Rich comes an interesting tidbit in this Ken Davidof blog post:
Well, I think it's about time for me to give up on Kei Igawa. I didn't see Friday's game, but the brutal numbers speak for themselves. My faith was based on the faith of people whose opinions I respect. The Padres claimed Igawa on waivers last year, and San Diego GM Kevin Towers routinely makes great pitching acquisitions. And the Red Sox have been hoping that the Yankees give up on Igawa, so that Boston can make an end-around effort to get him (obviously, the Yankees wouldn't give Igawa directly to the Red Sox).
While we know that the Padres were interested in 2007, Buster Olney feels that the Padres have long since passed the point of caring about Kei Igawa. But enter the Red Sox. Davidof suggests that the Red Sox are now interested in Igawa and I cannot, for the life of me, figure out why. A left-handed fly-ball pitcher throwing in Fenway would get utterly rocked by opposing teams. Plus, the Red Sox are not suffering from a lack of pitching depth.
So what's the story here? Why would the Red Sox even be remotely interested in Igawa? Unless they wanted to stick to the Yanks by turning Igawa's waist-high, 88-mph fastballs into something they aren't and will never be, Igawa's just not a name that makes sense in Boston.
By

Ah, Scotty Bro. Everyone loved Scott Brosius (and no one booed Macus Thames, Jeff Weaver, Homer Bush, John Oledud, Andy Phillips, Bubba Crosby or Johnny Damon for taking his numbers). Jim Baumbach recently caught up with Brosius in Oregon and wrote a nice piece about Brosius' current role as the head coach of the DIII Linfield College team. Brosius sounds like a man enjoying his retirement from baseball. · (8) ·
This is a guest post by Adam Bernfeld. He is trained as an engineer and likes to apply his analytical nature to baseball to differentiate "what seems" vs. "what is". His interests include PITCHf/x, DIPS, the concept of clutch, and Laura Posada.
"Statistics are like women: mirrors of purest virtue and truth, or like whores to use as one pleases."
-Theodor Billroth
It is true that in a vacuum, statistics are almost entirely useless. One can manipulate the numbers to prove any side of an argument. They can however provide illumination in instances where what seems may differ from what is. For example, a few years ago before John Dewan wrote the Fielding Bible, a lot of Yankee fans truly did believe that Derek Jeter was a good defensive shortstop because he both seemed like a good fielder, and our broadcasters told us that he was a good fielder. Similarly, watching a Yankee game, one could be led to believe that Chien-Ming Wang possesses the best sinker in all of baseball. After all, it is 94 miles-per-hour and looks like it is dropping off a cliff. Surely no one's could be better, right? Well, using PITCHf/x data, I hope to crown the true "Sultan of Sink."
For those new to PITCHf/x, it is a system developed by Sportsvision in use by Major League Baseball that uses two cameras to measure the position of the baseball between the pitcher's hand and home plate, which can be used to determine various parameters about each pitch including velocity and break (for a more thorough introduction to PITCHf/x, refer here and here).
Using PITHf/x data compiled by Josh Kalk of The Hardball Times, detailed pitch information can be seen for individual players or in a searchable database. For this study, I will compare the speed, horizontal break and vertical break of the average signature pitch of baseball's prominent sinkerballers from the 2007 season. Based on reputation and ground ball rates, I have chosen a test group that includes: Chien-Ming Wang, Fausto Carmona, Aaron Cook, Roy Halladay, Tim Hudson, Derek Lowe, Sergio Mitre, Brandon Webb and Jake Westbrook.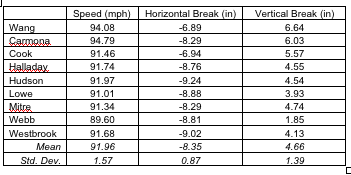 Note in the chart above that the values for break represent the number of inches that the pitch moves compared to a pitch thrown without spin, or, compared to a straight pitch under only the influence of gravity. The negative numbers for horizontal break indicate that the pitch moves inside to right-handed hitters. The positive values for vertical break indicate that the pitch crosses the plate higher than a pitch without spin would have. This may seem counterintuitive as we are talking about sinkers, but in reality sinkers are thrown with backspin and do rise (resist dropping actually), albeit much less than a 4-seam fastball, so they do in fact appear to sink. A 4-seam fastball is gripped across the seams resulting in more backspin than a sinker (or 2-seam fastball) which is gripped along the seams; the more backspin, the larger the positive vertical break. For comparison, Joba Chamberlain's fastball has a vertical break of 11.42 inches, compared to the average vertical break of 4.66 for our sinkerballer group.
The chart above can be shown graphically by plotting horizontal break on the x-axis and vertical break on the y-axis with pitch speed represented by dot size. In this graph, the lower right hand corner, the point (0,0), represents a pitch thrown without spin.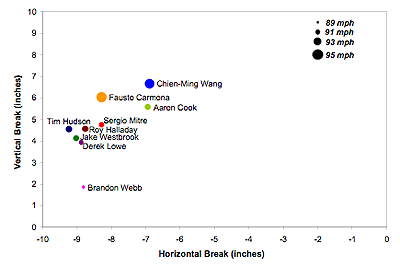 In hopes to build some sort of consensus as to who possesses the best sinker, I used the three PITCHf/x values (speed, horizontal break, vertical break) to create a z-score (also called a "standard score") which is a statistical quantity used to combine multiple values measured on different scales. I then ordered the average z-score of each pitcher from high to low to rank the pitcher with the best combination of speed and break. Think of this as an index of the "stuff" on the pitcher's sinker, or a "sinker-stuff index". This value appears on the chart below alongside each pitcher's groundball to flyball ratio (GB/FB), swing and miss (S&M) percentage, fair ball (FB) hit percentage, and fair ball extra base hit (XBH) percentage. All of these values are for sinkers only, except GB/FB which is the rate for all pitches thrown regardless of type.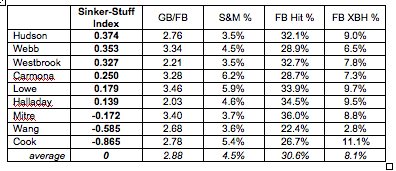 The results of this study are interesting. While throwing one of the harder sinkers in the league (second only to Fausto Carmona), Chien-Ming Wang's sinker actually sinks less than any other member of the test group. This is certainly a surprising observation. In fact, his sinker also has the lowest horizontal break, causing his sinker to rank 8th out of 9 in my sinker-stuff index. This certainly manifests itself in his below average groundball to flyball ratio and sinker swing and miss percentage. Remarkably however, compared to the test group Wang has the lowest percentage of hits off of sinkers, and by far the lowest percentage of extra base hits off of sinkers.
While some may chalk these low hit percentages up to luck, it appears that something deeper may be happening here. Finally though, the stats are pointing towards something that we already believed to be true. What seems agrees with what is, and that is the fact that Chien-Ming Wang rarely allows a hard hit ball off of his sinker. Why then, is his sinker so successful in spite of the fact that it moves so much less than those of his peers? Maybe my methods are all wrong (I hope not). Maybe pitch speed is more significant than pitch break (possibly). Maybe the ease of his delivery, which also includes a pronounced, varied hesitation, has a great effect on hitters' timing (possible). Maybe Wang's defense is better at turning batted balls into outs than the others on this list (unlikely). Maybe the DIPS people are right and hit percentages are no more than statistical variations (possibly, although I believe that DIPS applies more loosely to sinkerballers). Maybe it is a combination of all of these factors or even something that I have not thought of (likely), so please feel free to throw out explanations of your own.
Regardless of the reasons, I am glad that Wang is a Yankee as he gives us a very good chance to win once every five days. While his low ranking in my sinker index does not correlate with his outstanding results, at the end of the day I'll always take the results over the "stuff". Though after much machination, I have not definitively proved where Wang's sinker ranks amongst his brethren, but I hope that this was interesting and informative, and maybe allows you to view the game and the sinker in a different light the next time the Wanger takes the hill.
By

Site news time: We've had something of an ambiguous naming situation going on here since Day 1. The site is called River Ave. Blues and our website's always been RiverAveBlues.com. To ease the confusion of the Ave./Avenue differences, we've acquired the RiverAvenueBlues.com domain name. So you can now reach the site by typing in either address in your web browser. Exciting times. · (9) ·