Chien-Ming Wang gets another start following a Yankees loss, a situation in which the team is 27-7 in the last 34 tries. He struck out nine last time against the Indians. Here's to hoping he has them just as off kilter tonight.
Despite his beautiful opposite-field double last night, Jason Giambi sits against lefty Cliff Lee. It's not so much that Lee is 5-0 with an ERA under 1.00. It's that lefties are 5 for 41 against him this season. Damon, Abreu, Matsui, and Cano all get the nod, though.
Our cleanup hitter, once again, is on the interstate. Yes, it's a terribly small sample size — 27 plate appearances — but Shelley has just one extra base hit all season. I understand the desire to split up the lefties in the lineup. But at this point — and no one ever thought I'd say this — you're better off moving Melky into that spot.
Your lineup:
1. Johnny Damon, LF
2. Derek Jeter, SS
3. Bobby Abreu, RF
4. Shelley Duncan, 1B
5. Hideki Matsui, DH
6. Melky Cabrera, CF
7. Robinson Cano, 2B
8. Morgan Ensberg, 3B
9. Jose Molina, C
And on the mound, number forty, Chien-Ming Wang
By

According to PeteAbe, A-Rod could be a week away from rejoining the Yankees. Right now, the Yanks hope to ship A-Rod and his strained quad down to Tampa tomorrow. He'll workout at the Yankees' complex over the weekend and test his leg in games on Monday and Tuesday before hopefully rejoining the Yankees in Tampa on Wednesday. Sounds good to me. · (1) ·
By

We already know that 2008 All Star Game tickets are going to be the most expensive ever. Today, we can see just how much the Yanks, MLB and the various businesses involved are going to capitalize on New York's Mid-Summer Classic. Maury Brown's Biz of Baseball site notes that the 2008 ASG will be the largest revenue-making All Star Game in baseball history. Ticket prices are off the charts for everything from the Fan Fest to the Derby to the game itself; the networks are selling out their ad inventory for levels rarely seen in baseball; and a recent StubHub deal saw field level seats go for $14,500 each. Somewhere, the U.S. economy is struggling, but baseball in New York is doing some brisk business. · (3) ·
This is usually Mike's department, but I don't see him online at the moment, so I'm going to wrap up this piece by the indispensable Chad Jennings. While his job is to cover the Scranton Wilkes-Barre Yankees, he does a stupendous job of talking to guys like Nardi Contreras and Mark Newman, providing updates from the entire Yankees farm system. While you can find the full list of updates at his site, here's the abridged version.
Humberto Sanchez is on the road back, but he's not at 45 pitches yet. Jennings explains that this is the number of pitches they want a starter to toss from a mound before getting him into a game. This suggests that at least for the time being, the Yankees will use him as a starter. We'll see, though.
For those Chris Garcia nuts out there (I'm looking right at you, Jamal), he's pitching today. I'm not sure where he's pitching today, but it will be four innings or 55 pitches, whichever comes first. We'll see if we can get the results if this start happens to be in extended spring training.
Nardi seems to be very happy about Zach McAllister, J.B. Cox, and Mark Melancon. And really, how couldn't he be? These guys are pitching very, very well.
Finally, no one knows what's up with Sean Henn. Could it be possible that no team claims him off waivers? It seems to me a team like the Giants could afford the roster spot. I guess we'll find out soon enough.
The Indians really seem to have Joba's number. Two of his three career blown saves have come against Cleveland, and he's surrendered more runs to the Indians than to any other team. While Joba now leads the Yanks in blown saves, we can't exactly blame the midges for this one.
Instead tonight, we can look at the game one of two ways. The first way is the "c'est la vie" approach to baseball. Joba's giving up a game-changing home run was bound to happen sooner or later, and as Peter Abraham wrote, the kid's been fantastic so far. That bad night just so happened to be tonight. That home run doesn't diminish his accomplishments so far, and he's still one hell of a pitcher.
Through that lens, the game of baseball takes center stage. Joba threw a fastball, and Dave Delucci beat him on his best pitch. You tip your cap to that. Through the other lens however, we can sit here behind our computer screens and keyboards and second-guess the hell out of this one.
In this light, Joba is certainly the one to shoulder the blame for the loss. But Joe Girardi could draw some negative credit too. One could criticize Girardi for keeping Joba on the bench since May 2. Prior to tonight, he had thrown just one inning since April 28, and Joba is used to getting the regular work of a starter. Maybe he was shaky because he hadn't thrown much later, but who really knows?
So when a one-run lead rolled around, Joba was less than sharp. Prior to the big three-run blow, he had given up a hit and a walk, and he had uncharacteristically thrown more balls than strikes. As he put it, "I was just kind of out of whack out there. You're not always going to be perfect."
So with two on and two out in the bottom of the 8th of a one-run game and the middle of the lineup, albeit in the form of a pinch hitter, at bat, the time was ripe for the Yankee manager to turn the game over to the best closer of all time. Joba didn't have it, and there's nothing wrong with that. If ever there was a tense save situation, it was then.
To further this second-guess to end all second guesses is the fact that Joba, for all the hype and attention, has thrown just 125 professional innings and 88 of those were at the Minor League level. He is, in other words, a rookie. Yes, he is a rookie filled with poise and facing the prospects of a very bright career, but he is a rookie nonetheless. Had Kyle Farnsworth been on the mound in the same situation, Rivera would have entered the game in the eighth.
But Joba is Joba, and he carries around a reputation of invincibility. He had yet to give up a run at Yankee Stadium, and there was no reason to think that Dave Delucci would be the one to get to him. He had thrived in these situations before, and logic would dictate keeping him in.
But fate has a funny way of intervening. Things unfolded as they did; Dave Delucci hit that home run; and the Yanks went home losers with Joba bearing the weight of a costly blown save and a loss. Chalk that one up to fate or chalk it up to a huge second guess. Either way, that was a tough one to lose, and it's really easy to argue that Joe Girardi was faced with a possible/impossible situation. Either choice could be the right one, and either choice could be the wrong one. It's just not fair to second-guess this one much.
Meanwhile, the Yanks are right back at .500 with Cliff Lee and his 0.94 ERA on tap later today. But as we all know, it's still early.
Triple-A Scranton (4-0 win over Charlotte)
Brett Gardner, Justin Christian, Jason Lane & Nick Green: all 1 for 4 – Gardner scored a run, drove one in & K'ed … Christian drove in a run & K'ed … Lane doubled & K'ed … Green scored a run
Matt Carson: 1 for 3, 1 RBI, 1 K, 1 CS
Greg Porter: 1 for 2, 1 RBI, 1 BB
IPK: 7.1 IP, 1 H, 0 R, 0 ER, 0 BB, 8 K, 1 HB, 5-9 GB/FB – 58 of 89 pitches were strikes (65.2%) … Chad Jennings said in an email that he fell behind 2-0 to only two batters (came back to K the first guy, gave up the lone hit to the other), and gave up only 2 hard hit balls all night – zeroes are nice, but those last two stats do a much better job of telling the story … here's CJ's wrap of the game … and to think some called him a failed prospect
Heath Phillips: 1.2 IP, 1 H, 0 R, 0 ER, 0 BB, 0 K, 4-1 GB/FB – 14 of 20 pitches were strikes (70%)
Wilson Betemit has finally recovered from the world's worst case of conjunctivitis. Twenty-two days after landing on the DL due to a bad bout of pink eye, Betemit has been activated, and he draws the start at third base tonight.
Prior to his stint on the DL, Betemit had been swinging like a blind man. On the season, he is 2 for 13 with 1 RBI and 7 strike outs. He will assume backup infield duties, splitting time with Morgan Ensberg at third while A-Rod is out and potentially Alberto Gonzalez if the Former Attorney General isn't sent down. Gonzalez, the Yanks' young defensive whiz, has been sent back to Scranton.
I have to believe that the Yanks may try to move Betemit at some point this season. They could get back some pretty decent returns and seem to have better fielding options in the system. If Betemit hits, he is a valuable asset to the team; if he doesn, his value comes via a trade.
On the pitching front, Andy Pettitte takes the mound in search of a win. His last two starts have been rather uninspiring. He's thrown 11 innings, surrendering nine earned runs on 15 hits — four of which were of the home run variety — while striking out six and walking four. A strong start would do the Yankee rotation wonders, and with a rested bullpen, Pettitte really just needs to get through five or six today.
The Yankees will face Fausto Carmona for the first time since the ALDS when Carmona thoroughly shut down the Yanks. On the surface, Carmona has pretty good numbers; he's 3-1 with a 2.60 ERA. But — and this is a big but — he's allowed 34 hits and 26 walks while striking out just 13 in 34.2 innings. A pitcher cannot succeed for long with a 1.73 WHIP. Will the hot Yankee offense finally break Carmona?
Damon LF
Jeter SS
Abreu RF
Matsui DH
Giambi 1B
Cabrera CF
Cano 2B
Betemit 3B
Molina C
Pettitte P
Game Notes: Get ready for some more A-Rod fun. It seems that like most human males, A-Rod couldn't stomach watching his wife give birth and has thus earned the nickname Faint-Rod. The AP — the nation's most respected newswire service — determined that this story was somehow news. What a disgrace.
By

Text messaging can be an awesome thing. it's how Chad Jennings has kept up on Alan Horne's rehab. The latest word is that he's set to throw from a mound tomorrow and then again on Saturday. If all goes well, he'll face live hitters a week from today, probably in extended spring training. He could join the Scranton rotation shortly after that, but we can't be certain. It appears for now, though, that he's on the road back. · (1) ·
By

While Kevin Long and Robinson Cano continue to work through Cano's slump, all eyes are on Melky's stellar start. Last night, Tyler Kepner posted a piece on the Bats blog about how A-Rod influences Melky's routine. "I have followed the advice of Alex Rodriguez. I'm eating right and working really hard," Melky said. Sounds good to me. · (5) ·
This is the first in the guest column series. It is written by Dan Forti. You can check him out at Boulevard NYC, "an ongoing collaborative effort that strives to bring anyone with a creative vision together."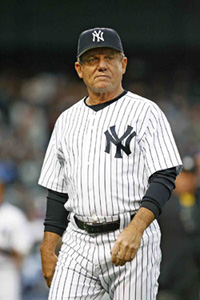 Having been a die-hard Yankees fan since 1996, not too much surprised me during the 2007 off-season. Posada, Rivera, and A-Rod all threatening to leave, but then re-sign? It didn't catch me off guard. I was even prepared for Joe Torre's surprise departure, feeling that it was time for an amicable end to the great Torre Dynasty. However, the one move that I am still surprised about, and upset over, is the loss of our former third base coach, Larry Bowa.
Before his stint with the Yankees, the average fan knew Bowa as the eccentric manager of the Philadelphia Phillies from 2001-04. While his teams had strong players such as Bobby Abreu, Pat Burrell, Jim Thome, and Jimmy Rollins, each year they underperformed. Bowa's fiery personality and in-your-face style of coaching wore down many of his players halfway through each season, and in 2004 Bowa was let go.
In comparison, Bowa's playing career was very successful: He won two Gold Gloves, led the NL in fielding percentages in six different seasons, and shared the left side of the infield with Hall of Famer Mike Schdmit. Every person who played with Bowa respected him for his passion for the game, as well as his dedication to his craft.
During the 2005 season, Bowa's knowledge for the game became apparent through his daily TV appearances on ESPN's Baseball Tonight. Bowa always provided objective and concise analysis, while adding a little bit of his own flare to each show. When Bowa jumped from BBTN to the Bronx, many wondered how his personality would fit in with Torre's calm regime.
I could never have imagined the impact that Bowa would have on this team. He was the best third base coach the Yankees ever had during the Torre Dynasty. Fans who are watching on television usually have a good idea of whether a runner at third should be sent home (various camera angles and instant scouting reports help). During Bowa's stay at third, there was not one play that I disagreed with his decision (compare that to Luis Sojo's miserable performance in the same capacity). He helped the Yankees get those extra runs, which we've always needed with our unreliable pitching.
Bowa's impact could not only be seen during each game, but also during the course of the entire season. Within days of being hired by the Yankees, Bowa reached out to the team's young second baseman, offering to be a mentor of sorts and to help him reach his untapped potential and abilities. Three weeks later, at 7:30 AM on a Tuesday morning, Bowa was hitting ground balls to Robinson Cano on an infield in the Tampa Complex. Each morning, for over an hour, Bowa would have one-on-one sessions with Cano, working on fielding groundballs, turning double plays, and mastering footwork. Bowa saw the player Cano could be, and recognized that a little of his 'tough love' could work wonders for the Dominican kid.
Two years later, Cano has evolved into an All-Star. He is one of the top hitting second basemen in the league, and is an underrated fielder (few others can turn a DP like Cano). Some critics believe that Cano's early-season slump is so bad because Bowa isn't there to keep the second baseman's head straight. Early in his career, Yankee fans have noticed that Cano is prone to mental lapses. But Bowa found a great young man in Cano, and I am confident that the two are constantly on the phone, discussing game situations and methods to endure the mental wear of a 162 game season.
Although Bobby Meachem seems to be an adequate replacement as third base coach, I'm confident that the Yankees miss Bowa's presence in the clubhouse. Joe Girardi has more intensity than Torre, but will always play second fiddle to Bowa and his ability to fire up a team. His coaching style may never be conducive to be a manager, but the Los Angeles Dodgers have one of the best coaches in baseball.
Photo by Al Lerner