By

RAB fave Keith Law sat down for an interview with Lion in Oil. He made a great comment about what a GM's responsibilities really are:

LIO: With the explosion in fantasy sports, it seems like everyone thinks they could be a GM. Could you give us some insight into the things a GM has to do that the average fan might not know about? KL: That's a great question. I got an email a few months ago from a reader who said he thought he could do a much better job than (some GM I won't name) if he could get the chance … and I didn't respond, because I couldn't think of a way of doing it without mincing him into tiny pieces. Seriously – give the average fan a GM job and by 5 pm of his first day, he'll be crying for his mommy.

A GM's job goes so much farther than just setting the major-league roster, but that's the part the average fan thinks about. A GM also has to run the entire baseball operations department, with five or six direct reports including the manager (of course), assistant GM, scouting director, farm director, head trainer, and maybe some special assistants, and to do that job he has to constantly be on top of everything going on with the big-league club and all of his affiliate teams, which includes a lot of crap that you don't hear about on the outside. A GM also has to deal with the media, which even in a soft media market like Toronto is still a big time sink. A GM also has to be the liaison between baseball ops and the rest of the company – marketing, sales, corporate sponsors (all of whom want his time), PR, the team's charitable foundation, and so on. And he has to be accountable to his boss or bosses, which (if he's any good) means managing upwards, regularly talking to or meeting the President or the owner or both. To be good at the job, a GM also has to have a lot of characteristics other than the ability to make trades and write comments on message boards. He has to be a leader, has to be somewhat articulate (a rule I admit is often broken) to be able to deal with the press and to make a strong impression on people in finance or with corporate sponsors, has to have some financial sense, and should be able to evaluate players, whether it's via stats or scouting or both. He has to be able to think strategically, to craft a long-term plan while dealing with short-term realities, and to ignore the media and fans who demand this move or that. And it doesn't hurt to be just plain smart, because a good GM assimilates information from all kinds of sources, synthesizes it, and adjusts his long-term and short-term plans accordingly. Granted, not all GMs have all these traits, but they all have some of them, even the ones we all ridicule. What we see is when a GM doesn't have good baseball skills, and ultimately that will get him fired because results on the field matter most, but there's a lot more to the job than that. Anyway, that's just off the top of my head. It is a huge job, with lots of responsibilities and pressures and none of the boundaries of time that a typical office job has – if you're a GM, your phone will sometimes ring at 11 pm, and you have to take it. You're accountable to everyone.

That last little bit of emphasis is mine, because I think it really puts into perspective the amount of responsibility a GM really has. If I screw up at my job and the Pavano Account ends up costing the company $40 million bucks, I get fired. Relative to me, that's a big deal, but no one outside the front door gives a shit. If a GM goofs and gets fired, he sees it in the paper, on the Web, and on TV. They say closers need to have a short term memory, bit GMs need an even shorter one. Another thing Law mentioned that's worth repeating is that the GM gets direct reports from his manager, scouting director, etc. - a GM is only going to be as good as the people he surrounds himself with. It's a team on the field and a team in the front office. (hat tip to Pinto) · (10) ·
I hate to relive last night's game. I really do. But after posing this question last night, Joe Torre has forced my hand yet again.
After the Scott Proctor debacle ended, our man on the street, Peter Abraham, posted his usual postgame wrap-up complete with audio from the Yankee skipper. Abraham, taking a cue from common sense, asked Torre if he considered using Rivera in a tie game on the road. (Oh, the horrors!)
Here is Joe Torre's answer from the audio clip on Abraham's site:
He pitched in the 8th and 9th just a couple of days ago on Saturday and I wasn't ready to bring him in at that point.
Got that? Joe Torre, Yankee manager, thinks that Rivera threw too many innings on Saturday and couldn't be used in the 9th inning of a tie game the Yanks should have won. Well, as any Yankee fan knows, Mariano Rivera didn't pitch on Saturday. That was the other game this week the Yanks lost in a final at-bat with Rivera in the pen.
No, Joe, Rivera pitched last on Friday when he threw a whopping 20 pitches in 1.2 innings. Funny enough, those are the only 1.2 innings Rivera has thrown since June 16, a span of ten days.
There you have it. The Yankees manager doesn't know when he uses his relievers, and he thinks that his closer can't handle more than 1.2 innings over a ten-day span. So either Rivera is hurt and can't pitch too much or Joe is completely clueless as Rob Neyer intimates today. I know which one I'm picking.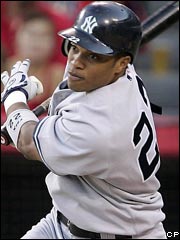 Back in May of 2005, we saw the debut of Robinson Cano. He wasn't exactly a highly regarded prospect — the Diamondbacks rejected him as part of a trade-deadline Randy Johnson trade in 2004. But he tore up AAA in April, and was given the call once the Yanks realized that Tony Womack wasn't going to cut it (which was about four and a half months after the rest of the league knew it). He ended up being an enormous upgrade, hitting .297/.320/.458 for the season, with 14 homers and 34 doubles on his way to placing second in the Rookie of the Year voting. He also struck out only 68 times in 551 plate appearances, a more than respectable 12% rate (which went along with his minor league numbers post-2002). However, one bit of criticism prevailed: the dude swings at everything.
By

How many times can Joe Torre keep Mariano Rivera in the bullpen in the 9th inning in a tie game on the road while some lesser reliever blows it? That's twice in the last three games. Does he ever learn? · (14) ·
There probably will be no game recap. If you didn't see the game, Scott Proctor walked in the winning run. If you did see the game, you probably didn't want to be reminded.
I'll post the pathetic numbers from the last seven days later on.
Expect tomorrow to be a whimsical day. We freakin' need it.
Finding new ways to lose by the day…Â 
Triple-A Scranton (5-0 win over Buffalo)
Justin Christian & Angel Chavez: both 1 for 4, 1 2B – Christian K'ed
Kevin Reese & Omir Santos: both  2 for 4, 1 R, 1 HR, 2 RBI – Santos K'ed
Shelley Duncan: 0 for 4, 1 K
Bronson Sardinha: 1 for 3, 1 BB
Mighty Matt: 6.2 IP, 3 H, 0 R, 0 ER, 4BB, 7 K – threw 110 pitches in outdueling this guy
Chris Britton: 2.1 IP, 0 H, 0 R, 0 ER, 0 BB, 2 K – 18 of 22 pitches were strikes (81.8%)Â 
As you probably already know, the Double-A Trenton pitching staff is having a ridiculous year. Currently manned by Ian Kennedy, Joba Chamberlain, Brett Smith, Jeff Marquez and Alan Horne, the team has also seen the likes of Chase Wright, Jason Jones, Mike Gardner, Scott Patterson, Tim Lavigne and some guy named Clemens take at least 1 turn through the rotation. The bullpen's also undergone a facelift, as Zach Kroenke (promoted from Tampa), Justin Pope (demoted from Scranton) and Lavigne have replaced Kevin Whelan, Gerardo Casadiego (both now with Tampa) and the great Edwar Ramirez (now in Scranton).
To give you an idea about just how dominant this pitching staff has been, here's some numbers:
I ended up turning off the Red Sox/Mariners game in the third last night, with the Red Sox having taken a 2-1 lead. With Jeff Weaver on the mound, it was only a matter of time before the Red Sox lengthened the lead, right?
Much to my surprise, though, that was all the Red Sox would get from him. Now I wish I had kept it on the rest of the way, or at least through the fifth, when the Mariners roughed up Julian Tavarez and Kyle Snyder (who walked in two runs) for five runs. Watching the seventh would have been more fun, as the M's hit up Mike Timlin for three runs — two homers.
(Aside: If the Sox release Timlin this year like they did Alan Embree in 2005, do you think Cashman picks him up? Not "do you think Cash should pick him up (because the answer is a vehement "no"), but will he do it? I think he will. And I will be pissed.)
Keep it tuned to Lookout Landing for updates on the series. I don't know why, but I just see the Sox leaving Seattle without a win.
By the way, best image ever on LL:

Guy in the rally cap: "With guns like these, I should be playing for the Sawks."
Meanwhile, we've got our work cut out for us, as we face Jeremy Guthrie. He's rollin' this year. Thankfully, the Yanks have seen him, but certainly not everyone has. He pitched two innings, facing seven hitters, in 2004. Fifty bucks says Cairo gets the start tonight because of that.
While researching this comment, I came across some interesting information that makes me believe the Yanks were duped into giving Mike Mussina a contract longer and for more money than he deserved. Now, I don't think Mike Mussina himself was responsible for that duping. Rather, the Yankees were simply blind to Mussina's performance.
One year ago today, Mike Mussina was 9-3 with a 3.28 ERA. He had an 8.0 K/9 IP ratio and was averaging 6.2 innings per start. Since then, Mussina has gone 9-9 with a 4.32 ERA. His K/9 IP is down to 6.8 and he now averages fewer than 5.2 innings per start. That is an across-the-board decline that shows no indication of letting up. Moose is, obviously, one year older today than he was a year ago, and old pitchers don't get better.
The Yankees paid for the Mike Mussina that pitched for them from April through June of 2006. They are stuck with a declining Mike Mussina for this year and beyond. For those of you expecting Mike Mussina to be Mike Mussina of old, you should probably just expect an old Mike Mussina instead.