As Mariano Rivera fanned Lyle Overbay and a Yankee win grew closer, I thought to myself, "This game was a perfect textbook example of a Yankee win." Their starter threw seven strong innings; the offense came through at the right time; and the Joba-Mo tandem shut down the Jays to record the final six outs of the 3-2 Opening Day win.
As Rivera got the second out, Paul O'Neill read my mind. "That's just textbook Yankee baseball," he said, while Michael Kay yammered on incessantly sitting next to him. Of course, textbook baseball here isn't much of a stretch. The Yanks won, and they won efficiently.
So let's enjoy the moment in first place and wrap up the game.
The Good: Yankee pitching. While Wang had a few problems locating his pitches, he needed today's outing. As much as those two disastrous postseason starts were last year, he needed to have it tonight. He needed to come out and remind everyone how he's won 38 games over the last two years. When he missed tonight, he missed down, and he managed to go 7 innings on 92 pitches. He got six outs in the air and 13 on the ground.
Joba came in and did what Joba does best. After a bumpy Spring Training, Joba proved why LaTroy Hawkins — "Spring Training don't mean shit" — was right. With a stellar fastball and some great off-speed pitches, Joba ended his appearance with an impressive K of future Hall of Famer Frank Thomas. The first pump returned; baseball is back.
And, oh yeah, that Mariano Rivera fellow is pretty good too.
The Bad: If we're going to nitpick and find bad in this game, it's probably Jason Giambi at bat. He was downright cat-like in the field, but the bat seemed a little slow at the plate. He'll come around.
The Ugly: Opposing pitchers' numbers against A-Rod. The reigning MVP was 2 for 3 with a first-inning double and the Yanks' first RBI of the season. After crushing the ball during Spring Training and dominating the league last year, A-Rod and his $27.5 million a year are still on fire.
Player of the Game: While YES gave their Player of the Game Award to Chien-Ming Wang, I'm going with RAB whipping boy Melky Cabrera. He made two outstanding catches in the fourth inning and brought the Yanks even with the Blue Jays by homering just over the right field wall. That's a good start to the season for the soon-to-be-suspended center fielder.
Big Three K Craniosynostosis Challenge: With 2 Joba strike outs, we've raised a pledged $6.67 for the Jorge Posada Foundation. That's a good start.
Thanks to everyone who chimed in on the game thread. We've cleared 200 comments on a post for the first time in RAB history. Welcome to 2008. How's 162-0 sound?
So yesterday afternoon's planned Opening Day didn't go off quite as scheduled. Mother Nature decided to literally rain on the Yanks' parade for a little while longer, and the Blue Jays and Yankees will try again tonight.
The keyword there is "try." At around 5 p.m., it was still raining in the city, and the hourly forecast for the Bronx looks a little dicey. Forget the countdown clock; this non-stop rain is simply the Baseball Gods' way of telling the Yankees that they should not be messing with baseball tradition with a new stadium.
For the Yankees, yesterday's rain-out meant that the out-spoken Hank Steinbrenner will make tonight's game. The Yanks' Senior Vice President opted to stay in Tampa yesterday when he heard about the expected weather conditions in New York. Funny how that worked out for him.
The lineups are the same; the pitching match-ups are the same. Expect a lot of groundballs skating around on what will be a fairly damp infield. Can Chien-Ming Wang bring home the Yanks' eleventh straight home opener victory? Will Joe Girardi win the first game managed by someone other than Joe Torre since 1995? We'll find out, but no matter the answers, it's time for baseball gain.
New York Yankees
Johnny Damon LF
Derek Jeter SS
Bobby Abreu RF
Alex Rodriguez 3B
Jason Giambi 1B
Robinson Cano 2B
Jorge Posada C
Hideki Matsui LF
Melky Cabrera CF
Chien-Ming Wang RHP
Toronto Blue Jays
David Eckstein SS
Shannon Stewart LF
Alex Rios RF
Vernon Wells CF
Frank Thomas DH
Lyle Overbay 1B
Aaron Hill 2B
Marco Scutaro 3B
Gregg Zaun C
Roy Halladay RHP
Notes: As we did last year and on and off through Spring Training, use the comments to discuss anything under the sun. How's Michael Kay doing? How do the Yanks look? Just chat about the game…Please consider donating to the Big Three K's Craniosynostosis fundraiser we're hosting this year to benefit the Jorge Posada Foundation. We've received pledges totaling $3.235 per Big Three strike out.
By

Salaries continue to skyrocket in baseball, with the average player due to earn $3.15M this year. A-Rod's $28M salary is tops in the game, and in fact he'll make more than the 25 guys on the Marlins' roster PLUS the 8 guys they currently have on the 15-day DL. That's just all sorts of crazy. Be an engineer they all said … you'll make good money they all said … my high school guidance counselor was full of shit. · (4) ·
By

Steve Wang, my statistics professor back in college, is the subject of a column in today's New York Times. The piece, by baseball writer Alan Schwarz, focuses on how Wang is using Chernoff faces to map managerial strategies. It's pretty nifty stuff. · (2) ·
That's one very big HDTV. (Source: Endgagdet HD)
The Yankees today unveiled their latest technological upgrade coming soon to the new Stadium. The team has partnered with Mitsubishi to install the Major League's first true high-def LED display in a baseball stadium, according to the press release.
The new Diamond Vision screen will clock in at over 5900 square feet and will employ 8,601,600 LEDs. That will make for some very impressive-looking marriage proposals next season.
By

While we all think Red Sox fans may whine more than Yankee fans, an impartial winetaster from Canada determined yesterday that the Yanks' charity wine is better than that of the Sox. Bobby Abreu's Finest Merlot and Jorge Posada's Jorge Cabernet trumped the David Ortiz and Jason Varitek vintages. In fact, Ortiz's wine was, in the words of Paul Grieco, a dud. Sounds about right to me. · (5) ·
While all of you are struggling with the heart attack induced by my admittedly mean April Fools prank post, here's a sight from the aborted Opening Day that isn't a joke. The Yankees are counting down the games left in Yankee Stadium right on the scoreboard. Take a look: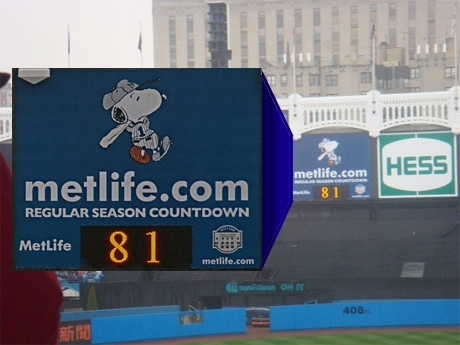 To me, there's something a little bit off-putting about this giant countdown. We know Yankee Stadium's days are numbered, and we know this summer will be filled with tributes to the legends and myths that dot Yankee Stadium history. But do we really need to have the end of the House That Ruth Built rubbed in our faces like this for the next six months? Fans can't miss the new stadium, and now they can't miss this sign either.
Thanks to RAB regular Adam for the shot from today's postponed Opening Day.
Despite throwing a successful 75-pitch outing against Minor Leaguers on Sunday, Andy Pettitte's prospects in the early going this season look bleak. The Yankees pitching depth, it seems, will be tested early.
According to reports out of New York, Pettitte's back did not respond well at all to the weekend outing, and the Yanks believe he could be out for as long as two months. To make matters worse in the eyes of fans, the Yankees plan to replace Pettitte with the much-maligned Kei Igawa who, just a few hours ago, was named the Scranton-Wilkes Barre Opening Day starter.
The Yankees all of a sudden find themselves with a little bit of a pitching problem. While Chien-Ming Wang will retain his place at the front of the rotation, the four pitchers behind him are anything but a given. Mike Mussina will slot into the second starter position, but he's coming off the worst season of his career and had a shaky Spring Training. Phil Hughes and Ian Kennedy, two youngsters who may struggle at times, will follow Mussina, and Igawa will pick up the rear.
When word of Pettitte's injury came down, I, like many of you, probably turned your thoughts to the ace in the hole the Yanks seem to carry in their bullpen. Wouldn't Joba Chamberlain be a much better choice than Kei Igawa? Right now, the Yankees seem unwilling to move Chamberlain out of the pen. They fear that he'll be used too much too soon and will reach his innings cap before the Yanks need to call on him in October.
While the rained out Opening Day and subsequent 7:05 p.m. rescheduling of the game took some of the damper out of the festivities that surround the start of the season, this news casts a veritable pall over what is usually a joyous time of year. This time, Roger Clemens won't ride to the rescue. All of a sudden, the Yanks are left with a hole, and Johan Santana sure looked good in his Mets debut.
But the Yanks have overcome adversity before, and they still have the makings of a championship team. Maybe Kei Igawa can step. Maybe he can pitch effectively. That is, after all, why they play the games. And, oh yeah, Happy April Fools Day.
By

While Morgan Ensberg couldn't stand the heat he got for picking out Paul O'Neill's former number, the long-dormant 21 will return to the field this week if the Yanks ever get to begin their season. LaTroy Hawkins, in an effort to honor Roberto Clemente, will don 21 this year, and Bryan Hoch traces the feelings surrounding O'Neill's number. It will be interesting to see how Hawkins is received for taking what many Yankee fans believe is a number that belongs in the Yankee Pantheon. Hawkins has previously worn 32 and donned 22 with the Yanks in Spring Training. He grew tired of having Brian Bruney call him "Roger." Doesn't that sound endearing? · (34) ·
By

You get one guess. · (26) ·